Advertising agencies can no longer rely on the same tired tactics to help their clients stay ahead of the competition. To be successful in sales, ad agencies need to be more innovative than ever. Because of this, agencies must embrace new technologies. Agencies that offer personalized video services are on top of marketing and advertising trends. These ad agencies, hence, can create more effective and cutting-edge campaigns that resonate with consumers.
Most ad agencies are struggling to increase sales. In order to boost sales, ad agencies need to offer innovative services to their clients. One way to do this is by providing personalized video services. By doing this, they can differentiate themselves from their competitors and attract more business. In addition, personalized video marketing can help improve sales and the effectiveness of advertising campaigns. Ultimately, it can lead to increased sales. Also an increase in profits since clients are willing to pay more to execute innovative video strategies.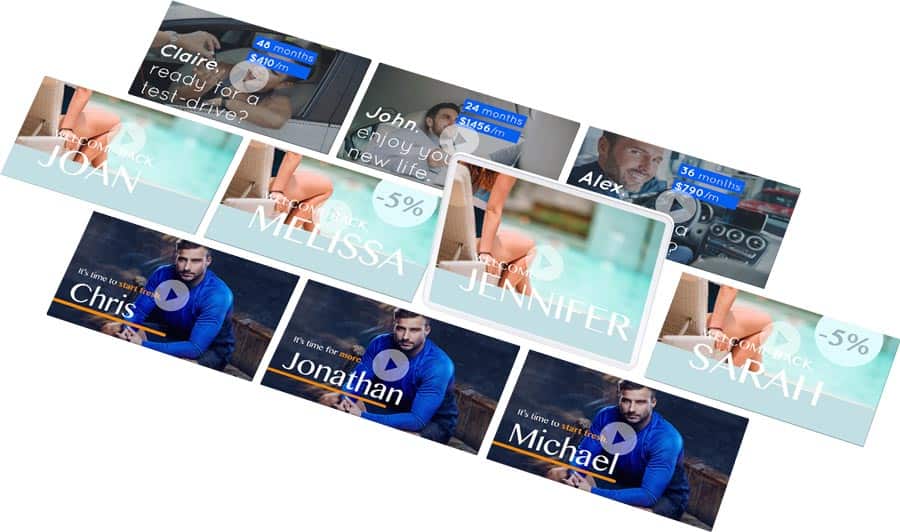 Let me share a few ways agencies can add video personalization to their production and advertising services to increase sales. No matter the expertise of your team, personalized video services can be a revenue generator for digital advertising agencies.
What's Personalized Video Marketing
Personalized video marketing is a form of advertising that uses video to target a specific individual with unique content. It can be used to create custom videos for individual customers or to create videos that are tailored to a specific group of people. Personalized video marketing is a great way to connect with customers. It helps you create a more personal connection with them. Brands can also use video personalization to create targeted content that is relevant to the audience.
Personalized videos are one of the key tools in brand loyalty and customer experience strategies. Thanks to the use of cloud technology, videos are rendered at scale on powerful servers. To illustrate, take the fitness brand Zumba. They have created almost a million minutes of personalized video content using Pirsonal's fast cloud video rendering engine.
A common example is the inclusion of the customer's name in the videos. However, with video technology like Pirsonal's, it is also possible to personalize images, audio with personalized voices, both studio-recorded and text-to-speech (also called TTS, automated voice, AI voice-over), as well as other video clips.
The Characteristics of Personalized Videos
Personalized videos are a powerful tool in brand loyalty and customer experience strategies. This is why digital advertising agencies see these innovative videos as an opportunity to generate new revenue streams.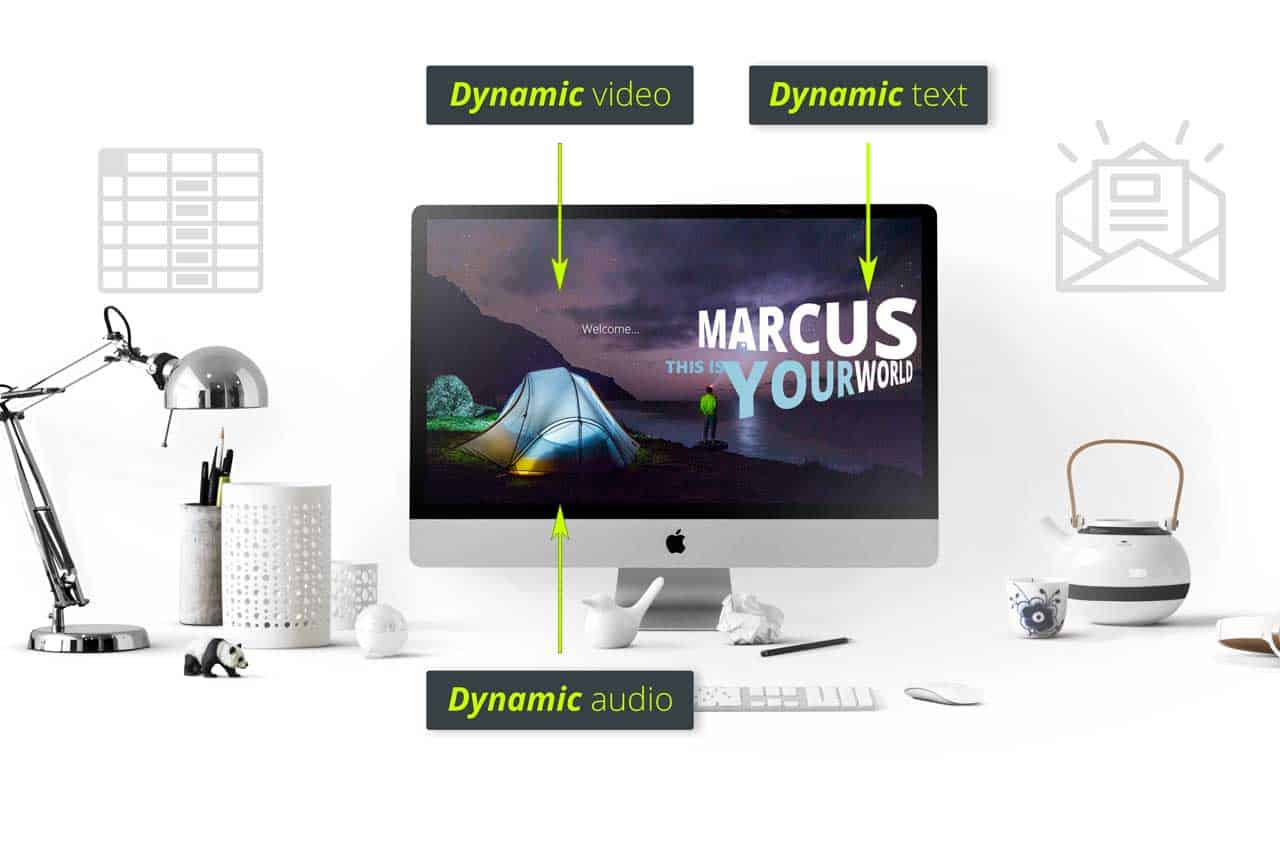 Let's cover some of the most important characteristics this type of video has for an advertising company.
In the advertising space, understanding the key characteristics of these types of videos will help you realize the potential for your direct revenues. Agencies need to strategize with these characteristics in mind.
You can make personalized videos at any video resolution depending on the video personalization software you use. Watch the following video to learn about the best video resolution for personalized video campaigns:
The logic behind this has to do with the client's budget. On top of that, take into consideration the time to deliver the campaign. Some key factors are, as well, the billable resources agencies need to successfully execute a campaign.
6 key features of personalized videos for agencies:
They are usually created in the cloud through specialized servers to render large content volumes simultaneously. However, through Plugins for After Effects (AE), it is also possible to create them in a local environment, although with many limitations.
Depending on the vendor, they can have any duration. However, the most common range is between 45 and 90 seconds.
Depending on the software used, you can create them by combining content and dynamic structure. For example, images, texts, videos, audio, scenes, effects, and the properties of these objects. This flexibility is relevant for agencies and integrators that seek to be creative in advertising.
There are several types of technologies available on the market. Some vendors allow the download of the personalized video file, others not because the customization does not reside on the video itself but on the video player. Pirsonal allows both scenarios, even at the same time.
They are always created from video templates. For example, Pirsonal Editor is a web-based, easy video editing tool to create personalized video templates in the cloud. But those developers who require more flexibility and templates that adapt in real-time to any scenario can use tools such as JSON-based Pirsonal Script.
Marketing with personalized videos is usually more expensive than other alternatives. But, even so, the ROI is superior since the levels of user engagement are multiplied. This is dependent on the volume, video duration, resolution (480p, 720p, 1080p, etc.), simultaneous rendering, and type of technology. For example, real rendered videos with personalization in the video files are more expensive than videos with personalization on the video player. The reason for this is that the later ones don't require video rendering.
To increase viewer engagement, agencies can use an interactive video player that offers support for personalization.
Video Personalization Options with Cloud Video Editing
Personalized video editing software in the market differs in the content personalization options they offer. Depending on the personalized video software you use, there are 5 types of content personalization for videos:
Text personalization.
Image personalization.
Video personalization.
Audio personalization (voice-over, and text-to-speech or TTS).
Properties, events, and effects personalization.
The type of content personalization agencies use depends on the cloud video editing software you use for video personalization. The Pirsonal platform is a complete suite focused on multimedia personalization. One of the tools offered is Pirsonal Editor. This is an easy-to-use, browser-based video tool to create your own templates for video personalization.
With this tool, you add dynamic content to personalize text, image, video audio, and properties in videos at scale. Developers also can use Pirsonal Script, a JSON-based tool to program personalized video templates with total flexibility.
Why Brands Use Personalized Videos
There are many reasons why businesses use personalized videos to market their products or services or to engage with their audiences. First, since most audiences are saturated, brands need effective ways to share their messages and make people react. Personalized videos offer click-through rates (CTR) 164% more engaging than traditional videos.
At the same time, personalized videos are made to be specific to one person. Because of this, they feel more personal and intimate. This means that people are more likely to pay attention to them. If they pay more attention, they remember the message that the business is trying to communicate.
Another reason to use personalized videos is that they are very effective at building relationships with customers. With a personal connection with customers, businesses can create a sense of loyalty and trust. This leads to long-term relationships and helps extend the lifetime value (LTV).
Additionally, personalized videos can help businesses learn more about their customers, which leads to better customer service and marketing strategies.
Where Are Brands Using Personalized Videos in their Marketing?
There are many key moments in the relationship with audiences where brands use personalized videos. Once you understand where to add them to the customer journey, you'll discover ways to maximize your agency's direct revenues.
Customer Loyalty Programs
For example, to build customer loyalty as part of the digital advertising services. Creative agencies can conceptualize strategies to help a customer base understand a specific service or product within the customer's journey.
These strategies can become recurring subscriptions for the agency. Here are three ideas:
Creative teams can design the video templates.
Digital strategists can implement marketing automation workflows.
Consultants can refine marketing segmentation strategies with personalized videos.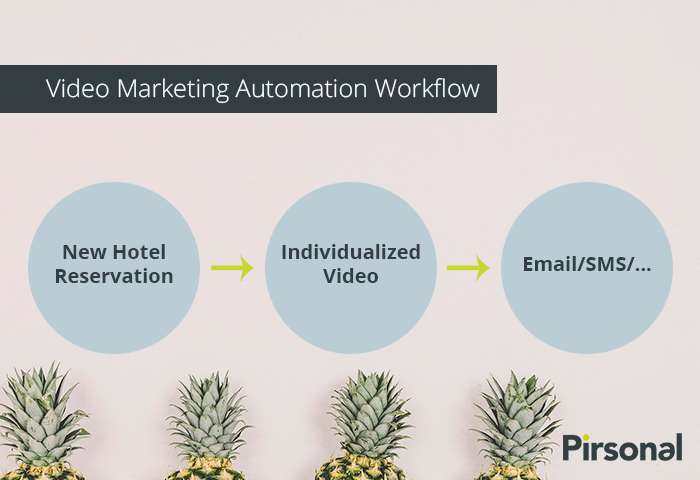 Customer Experience Strategies
Another opportunity advertising companies have is linked to the customer experience. A positive and lasting customer experience translates into a higher customer engagement.
Creative teams can design one-to-one videos for birthday greetings or important dates such as a corporate Christmas video greeting.
In terms of revenue growth rate, these initiatives are usually yearly recurring projects. This means that your agency can bill clients for the personalized video SaaS subscription. But, even better, correspondingly for the execution services associated with the yearly campaigns.
Marketing Automation Workflows
Video marketing automation also represents a growth opportunity for an advertising company. More and more organizations are including automated videos within their marketing automation flows to interact with audiences at scale.
For example, inbound marketing strategies with video. As you know, lead engagement is key to achieving sales acceleration. Think about a lead or potential customer that requests information by filling out a web form. In these cases, the videos are created automatically, powered by the information that the user provides.
Take a look at the following workflow example in real estate marketing with video. It shows how a real estate brand engages with new leads when they request information. There are virtually as many scenarios as lead generation web forms.
Or when a potential customer meets certain characteristics in a CRM, email marketing tool, or database. Often, brands need to boost the click-through rates of their campaign. Video is the perfect match.
Here are more ideas:
Staff marketing. Human Resources (HR) onboarding.
Employees retention. Explaining compensation plans.
Higher education marketing. Freshman onboarding.
Real estate marketing to boost customer experience (CX). From automated property listing videos to sales followups.
Higher return on ad spends (ROAS) with dynamic video ads.
SaaS customer experience with onboarding personalized videos.
Outbound sales campaigns.
Creative user-generated content campaigns with videos.
And more.
With more and more brands managing CX, there are even more opportunities. In fact, a report by Grand View Research shows that the global customer experience management (CXM) market will reach USD 27.12 billion by 2028.
To increase agency sales, therefore, it is essential to understand where personalized video messages fit into the audience engagement needs of brands. This helps you boost video marketing.
The Cost of Personalized Video Marketing
Many factors have an impact on the cost of personalized videos. Typically, the number of videos, their length, and resolution, as well as the concurrent processing, analytics levels, and regulatory compliance are the most important.
The cost per personalized video can range between $0.03 and $1.00 on average. It depends on these variables and the provider you choose. Also, bear in mind that some vendors charge an extra fee to simply access their platform. Which makes it prohibitive for many companies with tighter budgets.
However, software companies like Pirsonal provide a SaaS approach with accessible packages. Enterprise customers will often prefer dedicated environments for volume or regulatory needs, which Pirsonal also offers.
Some agencies include their billable fees in the cost per video. Other agencies, instead, charge the platform fees and execution services separately.
How to Create One-to-one Campaigns
Many ad agencies are looking for ways to create innovative one-to-one video campaigns as part of their advertising services.
These agencies want to create unique campaigns to target the specific needs of their clients. Hence, with a personalized video campaign, an ad agency can better serve its clients. Because of this, an advertising team can be creative in advertising and surpass goals.
In order to create a personalized video campaign, the ad agency must first understand the needs of their client. Then they need to gather granular information about the target audience. Also, how this information can add value to the message the brand needs to share.
Based on this and the client's budget, often account executives help clients decide the video technology that meets the needs of the brand. From there, the creative team needs to think about creative ways to present that information taking into account the customer data and the brand's goals.
A few ideas to be creative in advertising with video:
Tailor your content to buyer personas and augmented buyer personas.
Be authentic.
Go beyond the basics. Create personalized messages that make sense.
Keep it fresh.
Make it interactive.
Think outside the box.
Quality over quantity.
Keep track of your results.
Repeat and refine
Why Include Personalized Video Services in an Advertising Agency?
There is a lot of competition in the advertising space. Therefore, incorporating innovative services such as personalized video marketing helps advertising agencies convey an image of authority in the market. This authority, along with experience, makes a key difference in the sector.
Similarly, strategies with this characteristic are an effective way to help brands in their process of improving the customer experience. In an era where brands need to go the extra mile to evoke trust, these interactions are critical. This, in turn, leads to the loyalty process. Loyalty is essential for a brand to maintain its sales rate and protect its market share.
In addition, the inclusion of this strategy means offering clients the opportunity to cover all digital distribution channels. When marketing objectives are clear, video marketing has proven to be really effective. Whether it is attracting new clients, generating more traffic on the web, among other creative objectives.
In simpler words, the incorporation of this new strategy in the catalog of services of an advertising agency represents a competitive advantage, both for itself and for the clients it handles.
What Services Can Agencies Offer?
Agencies looking to add personalized video services to their offering can get an increase in revenue with the following additional services:
Personalized marketing strategy consultancy.
Buyer persona analysis.
Audience segmentation techniques.
Personalized Video production and design (video copy, video design, voice-over, templates, etc.).
Custom dynamic landing page design.
Personalized Email marketing (copywriting, etc.).
Marketing automation configuration.
Custom API integration.
Report of campaign performance.
Campaign and asset optimization.
Campaign management.
Account management.
Social media ads with dynamic videos.
And more.
As you can see, there are many areas where agencies can add video customization as part of their digital strategies and creative services.
Pirsonal: The Right Partner for Advertising Agencies
Nowadays, adding personalized video marketing to the services of your agency can become a key value proposition differentiator. Partnering with the right vendor, consequently, is essential in your revenue growth strategies.
Pirsonal is one of the main options for agencies and developers looking for flexible personalized video software that helps them succeed. Pirsonal offers an all-in-one platform that goes beyond video personalization to help saturated audiences react. From dynamic landing pages to tools for creative teams and an API for developers.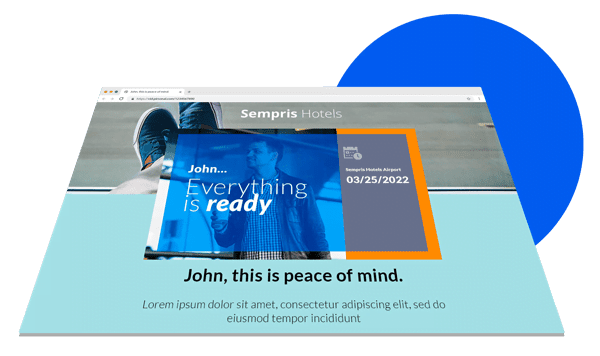 Through free support, specialized professional services, and self-service SaaS software, Pirsonal adapts to most of the requirements agencies have.
In this regard, Pirsonal has become popular in the industry as a trusted and effective alternative to including personalized video marketing services in an advertising agency.
Challenges Agency Sales Team Face
Often, agencies have either clients or sales leads that reach out asking for personalized video services. When this happens, the main challenge is to be ready, find and compare vendors and options in the market.
However, once an agency has decided to upgrade its offering with personalized video marketing, there are key challenges sales teams face. For instance, understanding how personalized marketing works beyond "hello [first name]".
From a business development perspective, another challenge agencies face is understanding where to successfully apply personalized video strategies in the customer journey. Still, most agencies try to sell big volumes because of the economics, but brands have a hard time calculating the potential ROI. This can make the sales process long and tedious.
Recommendations to Sell Personalized Video Services
For many ad agencies, personalized video marketing is a new service. If a lead comes to you with a specific requirement, there is a high chance of sales success. However, if you are doing outbound sales for personalized video services, there are a few recommendations to consider:
Talk to your current accounts. Try to understand their needs. Get their impressions on the service.
Focus on specific business cases where the brand needs to address a saturated audience.
Instead of trying to sell big volume projects, start with a 3 to 6 months pilot.
If your client wants to test the waters, avoid one-time pilots where personalized videos are created and sent only once to the same database. Just like any marketing strategy, this personalization strategy requires optimization. This is why I recommend 3 to 6 months where many campaigns are sent and optimized.
If the client has a big audience and the goal is to send bulk campaigns, avoid sending the campaign to the complete database. Instead, select about 5 to 10 percent of the audience and slowly add more people to the campaign as your team optimizes the assets.
Partner up with a personalized video vendor that also offers free support and professional services. This is highly recommended if it is your first time with this type of project.
Avoid long integrations. This brings frustration to clients and makes projects more expensive. Instead, recommend bulk video campaigns from spreadsheets or connecting the data source with existing integrations (for example, through tools like Zapier, Integromat, etc.).
Prioritize strategy and KPIs tracking over the "cool" or "wow" effect. In the end, we are talking about ROI. If there are specific KPIs, make sure the campaign is well optimized to achieve them. This means that tracking performance is extremely important.
New Opportunities with Interactive Videos
Low-budget projects or brands with big audiences can benefits from interactive videos with the personalization in the video player. This gives advertising companies a wide range of scenarios. As mentioned earlier, interactive videos don't require video rendering. Hence, they are cheaper to produce at scale.
Interactive videos help viewers execute specific actions while watching a video.
In the following example, the video uses a personalized in-video web form to retrieve customer data.
If your clients have many sales development representatives (SDRs), you can add personalized contact information to the videos. Take a look at the example below.
Videos that allow users to choose their own path are popular. In the example below, you see how a real estate brand can help a lead select what to learn next.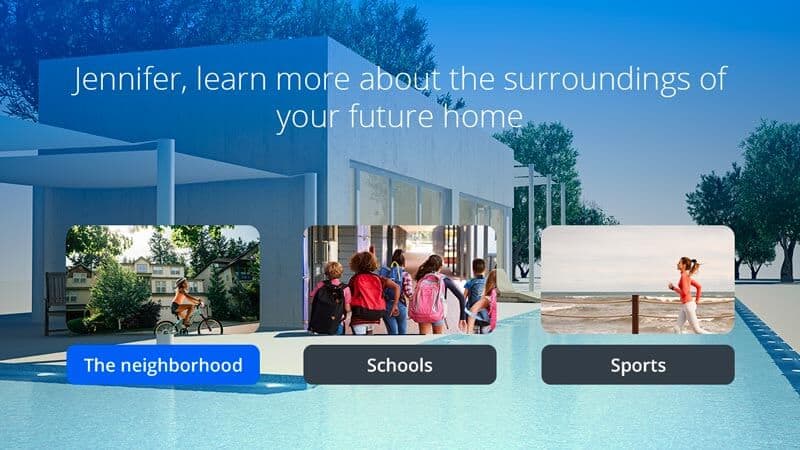 With Pirsonal Player, all these and more interactive scenarios are possible. Since Pirsonal focuses on personalization and automation at scale, you can easily create unique interactions for each viewer.
Conclusion
In conclusion, there are many opportunities for ad agencies to create and sell personalized video services. Video marketing over the years has been quite lucrative but also average. Upgrade your product with video automation to differentiate your agency from competitors.
Talk to your current loyal customers. This will help you understand their needs with regard to personalized messages with video from customer data.
Video personalization strategies are applicable in a range of industries. Focus on workflows that give you room for optimization. From there, scale to new growth opportunities.
Many brands prefer a partner like you to execute with them. Choose a vendor that can help you succeed not only with software but also with professional services.
With Pirsonal, your agency and your clients can try personalized video marketing for free. With our SaaS platform and optional professional services, we can help you succeed
If you are looking for a partner program for personalized video marketing, check Pirsonal's. We'll walk with you, we'll train and help you execute successful projects.