Examples of personalized videos and guide about personalized video marketing
Master personalized video marketing with these personalized video examples, strategies & case studies
See how many brands innovate with personalized videos in email marketing campaigns, customer experience, and marketing automation strategies to boost customer engagement and sales.
Want to know more about how personalized video marketing can help your brand boost engagement?
From Hospitality to Financial Services—Examples of personalized videos to boost customer engagement
Personalized videos are videos automatically created for customers from structured data. As you'll see in the following examples, common customer data used by brands in personalized video marketing are the customer's name, interests, company logo, and more.
Busy marketing teams simplify video personalization with Pirsonal
How B2C brands do personalized video marketing online
B2C brands are known for engaging with diverse audiences through video-based marketing, in which video personalization is included. Video-based marketing is when an organization uses video to promote and market its offering to boost engagement and sales.
Industries like insurance, financial services, and healthcare are known for data-driven strategies. Also, these industries often have access to more customer data for deeper personalization.
Nevertheless, industries like fitness, travel, and hospitality have also embraced personalized video marketing to improve the quality of their touchpoints with video across the customer journey.
Take a look at these examples of personalized videos used as part of marketing strategies in the B2C space.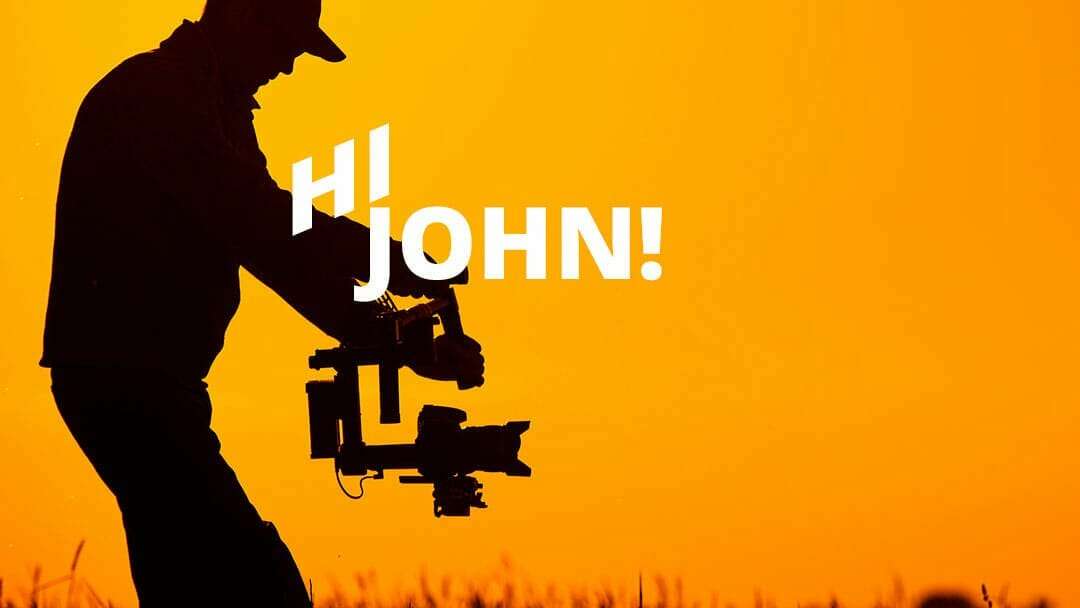 Zumba customizes videos to book more live classes
Making thousands of customized videos is now a fast and easy process. With over 600k minutes of video made to support their localized digital marketing in 7 languages, Zumba quickly creates customized videos to help instructors book more live class worldwide.
eDreams increased sales with timely dynamic videos
Timely personalized videos for customers can provide a significant boost to loyalty, awareness, and sales. eDreams is a great example of how personalized marketing videos encourage new customers to buy more before flight departure.
BMW personalizes videos to deliver a superior experience
Helping customers understand the terms of a contract is key to delivering an outstanding customer experience. This is what BMW Financial Services does with personalized video marketing powered by Pirsonal. These videos are sent by email and SMS.
What are the benefits of personalized video marketing for B2C and B2B brands?
There are many benefits of personalized video marketing for B2C and B2B brands. First, it allows you to connect with your audience on a more personal level with personalized video messages.
Second, it helps you stand out from the competition by creating a unique and customized experience for your viewers.
Third, it can help increase sales and conversions by providing a more engaging and targeted message.
Fourth, when you use online video personalization software like Pirsonal, rendering a personalized video in a specialized cloud is a lot faster. It takes between 2 and 30 seconds per video when compared to hours if you do this with software like After Effects or normal servers.
Finally, it can help build brand loyalty and trust by showing your audience that you care about their individual needs and preferences.
Let's see this with some personalized video marketing stats that also speak about why personalized video marketing is effective.
Better audience engagement
Superior customer experience
Higher sales conversions
Video Automation Helps You Scale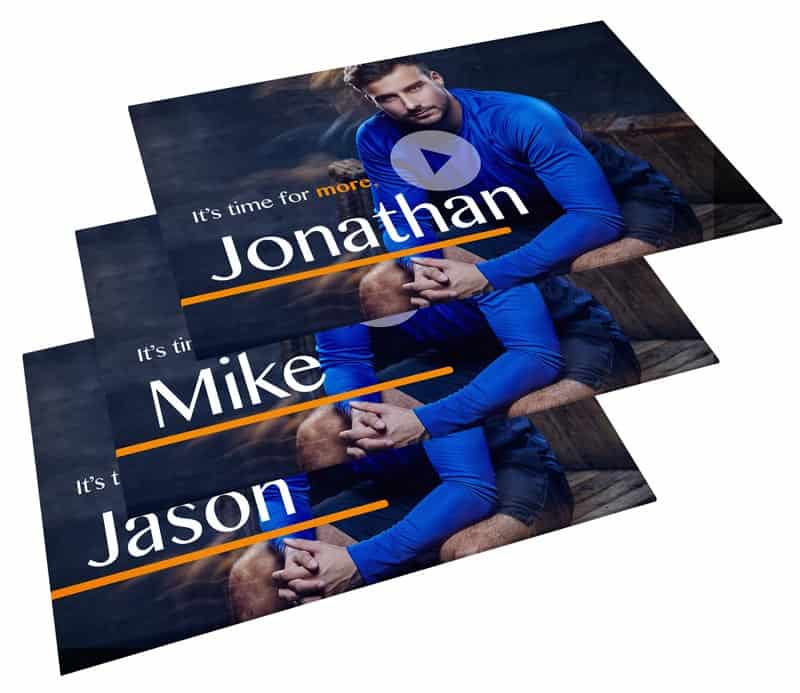 94% of marketers say video has helped consumers increase their understanding of product or service
"The main advantage: achieving individual access to the end customer, with a personalized, direct message and a call to action with great impact."
Homero Val,
Project Manager at Banco Farmacéutico
And get free onboarding. No credit card required.
Case study
Utility brand boosts employee engagement with video marketing personalization
This utility brand needed an effective, fast, and secure manner to communicate complex HR compensation plan changes affecting thousands of employees.
With Pirsonal's simple and reliable personalized video marketing platform, this brand was able to automatically create THOUSANDS of personalized videos in under 24 hours.
Effective personalized interactions.
Fast video production in less than 24 hours.
Secure video marketing platform to protect HR's integrity.
Replicate their success with Pirsonal
Busy marketing teams choose Pirsonal to start with personalized video marketing because they love the expert help and simpler platform

"great personalization possibilities"

"leaders in the space"

"amazing team, excellent service"
Why Pirsonal?
#2 Get help when you need it
Video marketing personalization and personalized video production
How personalized videos work
In a sense, personalized video marketing is similar to other forms of common personalization strategies like email marketing. The output is the main difference.
To create personalized videos online, you need video software like Pirsonal that takes care of all the automatic video editing. This software will use templates with dynamic fields. These dynamic fields will be merged with your structured data.
The result will be, then, unique videos you can use to enrich your marketing and communication messages to engage with customers through digital channels.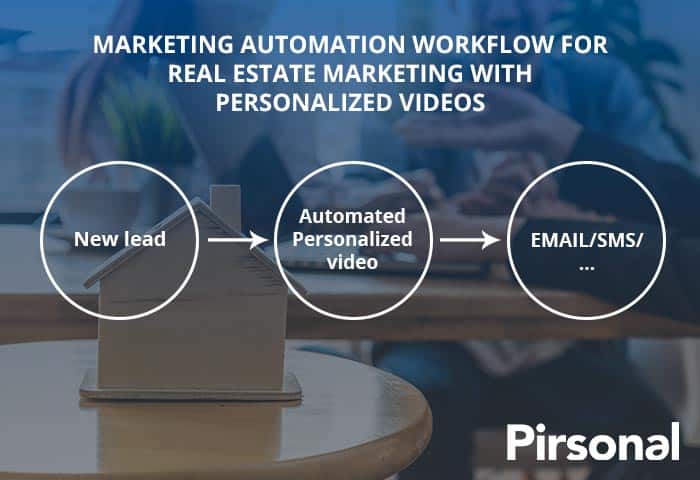 Create a template
Automate videos
Automate customer engagement with a scalable personalized video service that is simple, flexible, and automated.
Wow customers
Deliver a unique customer experience by automatically personalizing landing pages and calls to action.
What can you personalize in a video automatically?
With video personalization tools like Pirsonal, you can personalize the complete content of the videos—automatically.
Most marketers choose text as the personalized content for the videos in marketing, followed by image, voice-over, and video-in-video.
Content that can be dynamic in a video: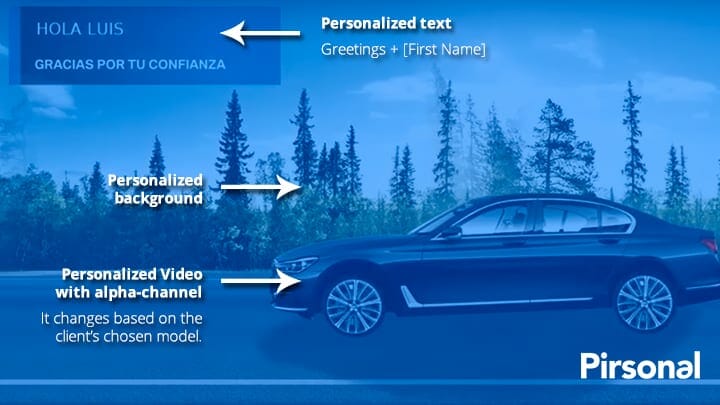 Text: Any text, also with custom fonts and colors.
Image: Add images and logos to videos automatically.
Video: Clips and video-in-video.
Audio: Add personalized voice-over and music.
Properties: Colors, sizes, positions, length, etc.
Effects: Fade in/out, zoom in/out, filters, etc.
And more.
Personalized videos at scale
How do you make personalized videos automatically?
Steps to make personalized videos online:
Design a video template with dynamic fields.
Load the data to make personalized videos for customers.
Send the videos by email, SMS, WhatsApp or any channel.
Example of personalized video templates
How does a personalized video template work?
Personalized videos are made from templates. These templates use dynamic fields which you'll merge with your data.
Pirsonal's approach is a bit different. Simpler. Faster. Cost-effective.
Busy marketing teams and agencies with or without video editing experience can create their own templates or get the help they need from our Professional Services.
With Pirsonal Editor, you make your own personalized video templates from any browser using your own media assets.
This is the process to create video templates:
Use your own media and creative assets.
Make any layer dynamic with a click.
We can do this for you to help you save time.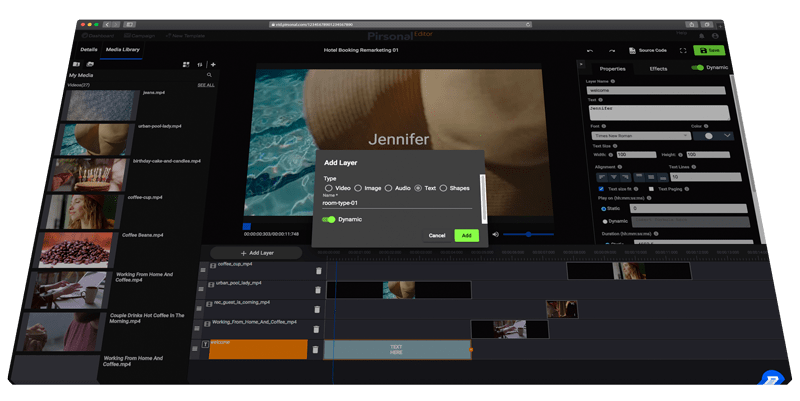 Examples of video effects
Using video effects in video personalization
Video effects are common when you make personalized videos online. The most frequent effects in personalized video creation are the fade-in and fade-out effects for images, video clips, and text boxes.
You can also apply these effects to automatically modify the volume of an audio file.
Many video marketers also use advanced video editing and advertising techniques like alpha channel and chroma key when they edit videos automatically for personalization.
An alpha channel is an extra channel that defines areas of transparency in the video. Think about it as if it was a PNG image with a transparent background.
Chroma key is a digital technique that allows you to replace a color (for instance, a green background) for another visual content.
Watch the following video to see an example of a personalized video that uses the chroma key technique.
Video effects and transformations:
Chroma key (green background) in video and images.
Alpha channel (.mov, Apple ProRes 4444).
Video and image transitions.
Fade-in and fade-out.
Zoom-in and zoom-out.
Movement and positions (X, Y).
Image filters (black and white, sepia, and more).
Video and audio volume.
Dynamic video and audio length.
And more.
Examples of personalized interactive videos
Can personalized videos be interactive?
Personalized videos can be interactive thanks to an interactive video player like Pirsonal Player.
With Pirsonal's software for personalized interactive videos, you automatically add video calls-to-action (CTAs) with personalized content to any video so that customers take action right from the videos.
Personalize video CTAs to make customers react.
Add them to video landing pages to boost engagement.
Use video analytics to know more about your audience.
Example of content personalization
Beyond video personalization
Video landing page content you can personalize:
Logo.
Banner image.
Title.
Description.
PDF, web forms, and more.
CSS.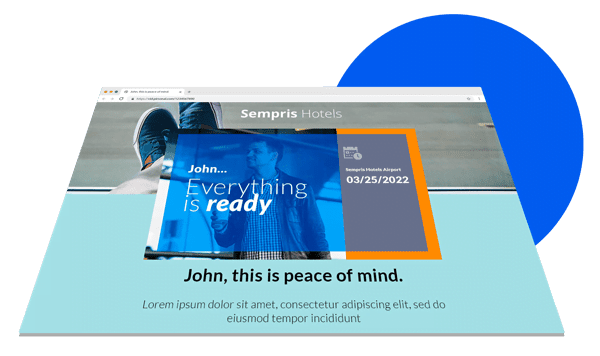 Example of a personalized video marketing strategy
Analysis of marketing videos with personalization
With video analytics in marketing, you understand the performance of the videos and how your audience interacts with them.
When a personalized marketing strategy with video, it is not enough to understand this performance with aggregated information.
Then, it is essential to be able to access video analytics on an individual customer basis.
This is the information that matters the most when creating marketing videos with personalization:
Video plays.
Percentage of video viewed.
Video and CTA click-through rate (CTR).
Geolocation.
And more.
Free Checklist
Steps for a successful personalized video marketing project
Are you thinking of creating a personalized video marketing project?
This personalized video marketing checklist will guide you through ten simple steps to create your own successful video personalization campaign or marketing automation workflow with video.
These ten steps take into account the three key areas of any successful personalization project:
Strategy.
Creativity.
Technical implementation.
Watch the following video to learn more about the three critical areas of any personalized video marketing program.
Personalized video marketing checklist:
Define specific campaign objectives. This will determine every single detail from here. Successful personalized video marketing campaigns run on solid strategy.
Study your customer database. Work with specific target audiences or segments. Extract patterns that could help you create buyer personas or, even better, augmented buyer personas.
Select the information to create powerful hyper-personalized messages. These messages must be fully contextualized for each recipient. For example first name, city,  and interests.
Choose the distribution channel. Do this based on your audience segment. For example, many brands send personalized videos by email, WhatsApp, or SMS. But the best option is what your target audience actually opens.
Integrate the personalized video tool with your data source and distribution channel. With Pirsonal, this is easy because we provide thousands of integrations, a personalization API, and a simple campaign tool to make personalized videos from spreadsheets.
Choose what will trigger the video. For example, if these personalized will be rendered based on a marketing automation workflow or if you'll create them as a batch process.
Work on the video production. From the script to voice-overs, take into consideration all the dynamic data you'll use (texts, images, videos, audio) and all the possible scene combinations.
Write all the personalized texts. You'll use these texts in the dynamic video landing pages, video CTAs, emails, and more. Make sure to use all the dynamic data possible according to the different buyer personas you've identified.
Select 5-10% of your target audience for the A/B test. Iterate until you are happy with the results. We recommend at least three iterations before scaling.
It's time to launch the personalized video marketing campaign. Remember to measure performance and apply improvements where needed. Often, the distribution channel is what requires more attention, followed by the video CTA, dynamic video landing page copy, and finally the video content itself.
Need help executing a personalized video marketing program?
Rely on our team today. Not only Pirsonal provides simple, flexible, and scalable video personalization software for marketing. With our Professional Services, we help you execute your personalized video marketing program so that you succeed.
Example of interactive videos with personalization
Can personalized videos be interactive?
An interactive video is a video that allows viewers to interact with the content in some way.
This can be done by clicking on links, answering questions through a video form, or taking some other action that allows the viewer to engage with the video.
Personalized videos can be interactive thanks to an interactive video player like Pirsonal Player.
With Pirsonal's software for personalized interactive videos, you add calls-to-action (CTAs) with personalized content to any video so that customers take action right from the videos.
Watch the following video to see many examples of CTAs with personalization used in video marketing.
Why video CTAs with personalization?
A video call-to-action (video CTA) is an element in a video that encourages the viewer to take a specific action, such as subscribing to a channel, visiting a website, making a purchase, or submitting a video form.
Video CTAs are 200% more effective when you personalize them with interactive video software like Pirsonal Player as they help to guide the viewer towards taking the desired action.
Types of video CTAs in personalized marketing
#1 Choose your own path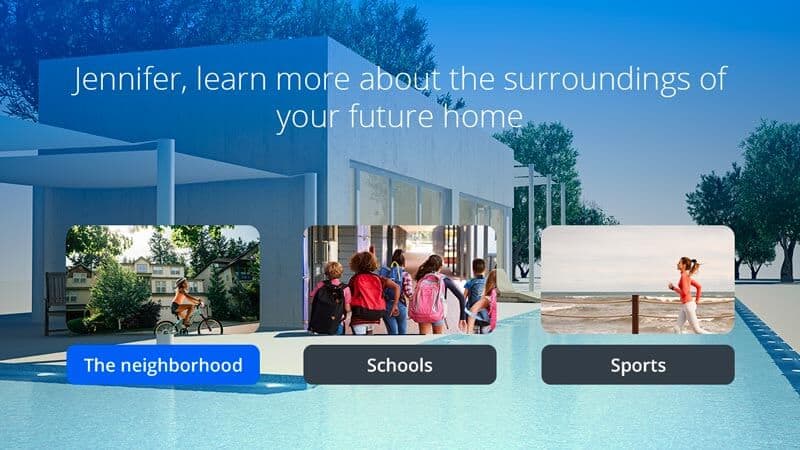 This is a common choice among video marketers. With the choose-your-own-path video CTA, videos become interactive as viewers can choose what to do next.
The image above shows three options a user can choose right from the interactive video.
With interactive video players like Pirsonal Player, you can also personalize these CTA according to the customer's journey to increase conversion rates.
Now, let's take a look at the merge fields with personalization in this interactive video in the following image.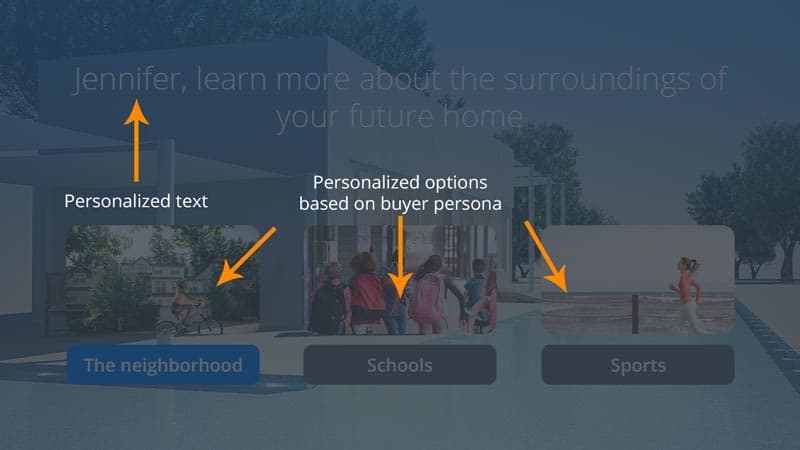 #2 Video form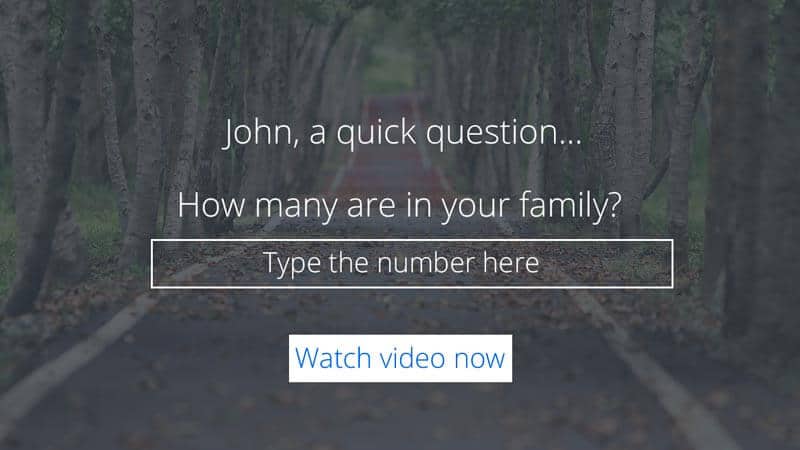 In-video forms are an effective way to learn more about your leads and customers right from the video. You can personalize these video forms automatically, making them highly relevant and effective.
This way, you can gather information about your customers' needs and preferences, update your CRM, and tailor your marketing efforts accordingly.
#2 Video buttons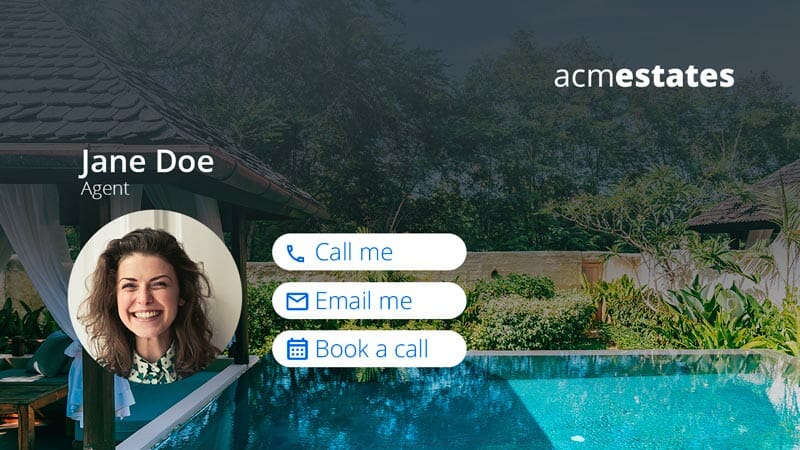 Adding call-to-action buttons to your personalized video messages are another great way of increasing viewer engagement.
Like in this example, where a sales development representative can use personalized videos to book more sales calls.
"We decided to work with Pirsonal because of their personal interaction. You got answers right away".
Stephen Frederick,
Director of Creative Services at Weichert Companies
Get fresh ideas directly from a personalized video marketing expert
Faqs about personalized video marketing
How fast can I create personalized videos at scale?
On average, a 60 second personalized video will be ready in 10 to 20 seconds. The rendering speed can increase based on the plan you choose to close to real-time.
What's the best personalized video software?
Pirsonal is one of the best personalized video software on the market! Although there are some competitors who offer similar services, most of them aren't as simple, flexible, and easy to integrate as Pirsonal's, going beyond video personalization with dynamic video landing pages, interactive videos, and more.
On top of that, Pirsonal renders real personalized videos and also HTML5 dynamic videos, which gives organizations better ways to engage with leads and customers across the customer journey.
However, based on customers' reviews, most of Pirsonal's customers value the responsive customer support and Professional Services Pirsonal offers, which help you succeed with personalized video marketing programs, especially if you are just starting.
What's the difference between a personalized and a customized video?
In marketing, customization is made by the user and personalization by the brand. Hence, if a user adds his name to a video, that's a customized video. But if a brand does this, then it is a personalized video.
What's the difference between a personalized and a dynamic video?
These two terms are often used interchangeably. The variable data from dynamic videos can change, so will the content of the video based on these changes. However, the variable data from personalized videos will not trigger a change in the content of the video.
Can I add images to videos automatically?
Yes, you can add images to videos automatically with an automated video editor like Pirsonal.
You can also apply image transformation and effects to these images automatically, such as filters (black & white, sepia, chroma key, colors), aspect ratio (preserve, crop, stretch), and more.
Can I mix personalized videos with AI videos?
Yes. You can use an AI video generator and mix the content these video tools make with the video content made by personalized video editing software like Pirsonal.
Do I need After Effects (AE) to make personalized videos online?
Not really. With drag-and-drop video tools like Pirsonal Editor, you can create your own templates for video personalization from any browser, even if you are not a designer. However, designers often use AE to build even more powerful effects that you can easily add to your templates.
Once a template is ready, Pirsonal's software will automatically render the personalized videos at scale using specialized servers so that you don't have to worry about scalability and capacity.
Learn with Pirsonal's CEO, Josías De La Espada
Using personalized videos in the customer journey
In this video, Josías explains how to deliver a personalized experience with video and other types of content in marketing across all the stages of the customer journey.
The examples are based on the hotel industry but you can easily apply these strategies to any industry.
A personalized experience in marketing is one that is tailored to the specific needs, concerns or wants of the customer.
This can be done through a variety of means, such as providing personalized content, offering personalized promotions, or creating a unique customer experience.
Why is personalized content important?
If you're looking to increase brand loyalty and customer consideration, personalization is key.
According to McKinsey, over 76% of consumers said that receiving personalized communications was a key factor in prompting their consideration of a brand.
Furthermore, 78% said such personalized content made them more likely to repurchase.
What's a personalized marketing map?
The easiest way to visualize how content personalization works in video marketing and how to create a strategy with different types of content across the customer journey is through what Josías calls a personalized marketing map.
A personalized marketing map is a creative and strategic exercise. It helps marketers understand customer interactions and how to use customer data for personalized videos and other types of content to make people take action.
Take a look at the following example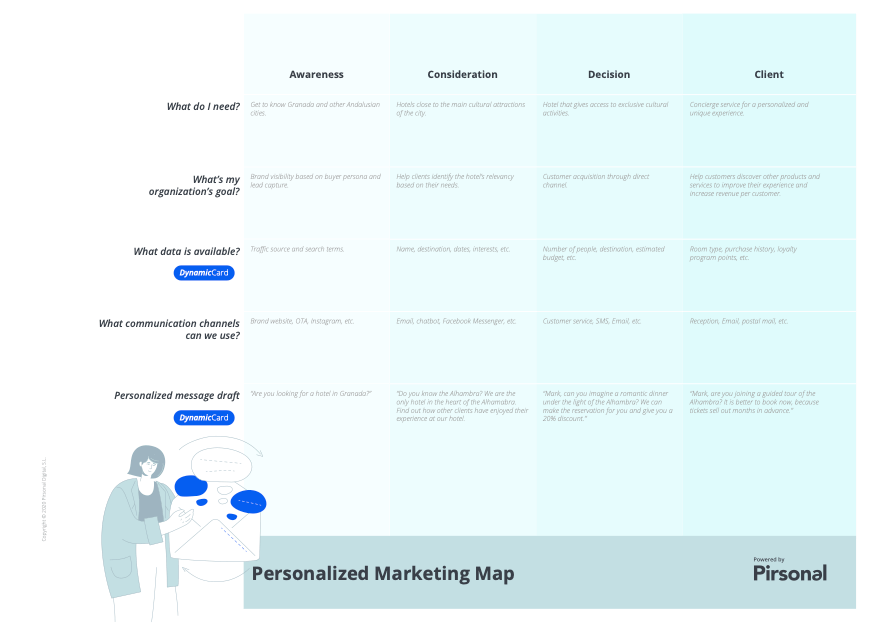 The stages of the customer journey and personalized video marketing
Let's dive into some real-life personalized video examples in different stages of the customer journey.
At the top of the funnel, potential buyers are just beginning their research. At this marketing funnel stage, it is hard to apply common personalization strategies.
This is why, in this example, Zumba does video personalization from the instructor's perspective and not from the perspective of the potential buyer.
During the consideration stage, potential customers are evaluating your offering.
Since businesses often use lead magnets to gather customer data or any type of web form, it is easier to know more about individual potential buyers.
This is why brands can easily use this first-party data to create personalized interactive video content, like Flight Centre does in this example.
At the decision stage, your potential customers are ready to buy.
Since these potential customers have already interacted with your organization, you have more customer data you can use to automatically create personalized content.
Use personalized videos to help customers take one more step in the buying process. In this example, we see how an online travel agency (OTA) uses personalized videos to upsell and cross-sell products.
"We decided to work with Pirsonal because of their personal interaction. You got answers right away".
Stephen Frederick,
Director of Creative Services at Weichert Companies
And get fresh ideas directly from a personalized video marketing expert
Create a Personalized Video Now
Enter your name to automatically create a customized video, dynamic landing page, and interactive video call to action.
Busy marketing teams simplify video personalization with Pirsonal