With today's saturated audiences, one of the best ways to optimize the customer experience is through timely personalized marketing videos. More brands use this resource within the world of digital marketing to attract and retain B2B customers.
The potential that a video has when it comes to transmitting information is unlimited.
Video content has become a major component of online as well as social media marketing for businesses.
With targeted video content, brands deliver all kinds of emotions and sensations to their audience.
With just a few seconds, a video has the power to capture the attention of users and influence their purchase decision.
Now brands have found new opportunities to use video content across the customer journey for one-to-one communications.
When it comes to connecting with the audience and generating greater engagement, video personalization is essential.
For this reason, customer experience managers use personal video to establish a closer bond with customers.
A responsive customer experience strategy
With a positive customer perception, companies bring more loyal customers onboard. To achieve this, brands need to keep their ears and eyes open to understand customer expectations.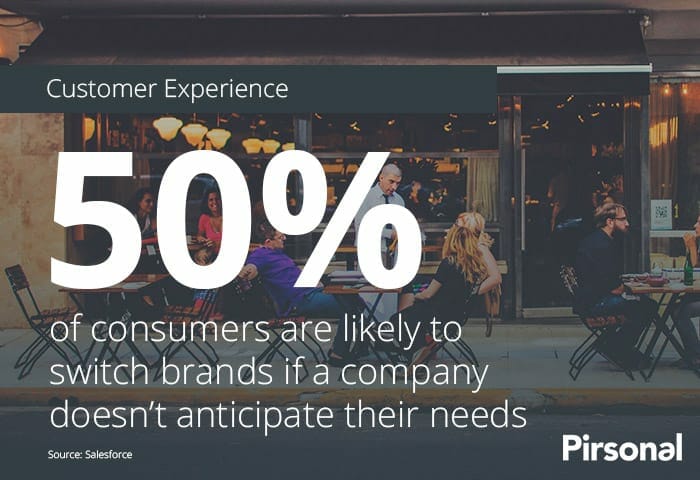 This is one of the reasons why many organizations are increasing the number of customer touchpoints.
With a personal customer touchpoint, companies can better know what their customers need.
They can anticipate their expectations and, with this, design the entire customer journey in a responsive way.
The majority of the customer service departments have increased their budgets.
This is probably related, for example, to the fact that 90% of B2B buyers consider customer experience when determining which product or service to purchase.
At the end of the day, potential customers are looking for a long-term business relationship. Brands, on the other hand, need to improve their engagement and retention rates.
With this in mind, marketers must put the word "individual" into the context of experience strategy to create a more humanized approach to how they deliver products, services, and messages.
Using personalized marketing videos to boost customer loyalty
Customers like to know that they are special. That's why personalized marketing videos stand out and make them feel good about what you're offering. At the same time, customers can be overwhelmed by ads. But personal videos stand out and boost customer loyalty.
In addition to helping in a way that text and imagery just can't, video also allows us to break through viewer engagement roadblocks. It ensures we capture and hold buyers' attention for longer periods.
This is exactly what marketers want when they think about customer loyalty and why targeted videos provide positive customer experiences.
With personal videos, brands can attract more interest from their existing customers. Video personalization helps companies make company messages relevant.
In this context, Pirsonal offers a flexible video marketing technology that helps any budget create personalized marketing videos at scale.
Brands can make these videos in bulk or as part of marketing automation workflows.
Benefits of adding personalized marketing videos to customer interactions
If a company's goal is for its communications to be valued more than the competition's, it should seriously consider improving its customer interactions with individualized videos.
It is an action that allows a firm to be seen as innovative and stand out above the rest in a very competitive environment.
Thanks to a data-driven approach, brands can use different types of personalized and interactive video content to bring complex information to customers in a simple way.
To promote engagement or participation, it is possible to add different components to each video, such as surveys, forms, or buttons to purchase products or to schedule business calls, among many other options.
Through Pirsonal's services, it is possible to carry out a personalized video campaign effectively, with adjusted resources, and in a way that improves the customer experience and contributes to the better positioning of the company in the customer's top of mind.
With positive customer interactions, B2B brands build an army of happy customers. These customers naturally or strategically attract new potential customers.
How to create a marketing personalization strategy
Thanks to one to one marketing and marketing automation, CRM, and email software, you can make your audiences react while you interact with them through the customer journey at scale.
However, the reality is that your competitors have the same concern. Hence, this is why they are already using personalization in their emails, social media ads, and even in their videos.
To boost customer loyalty with personalized messages, you need a plan. Follow these steps:
Set your business and CX goals.
Analyze the customer database.
Select the information you can use to create hyper-personalized messages.
Based on your segmented audience, define the distribution channels.
Take care of the technical details.
What will trigger the personalized messages? Bulk Vs. marketing automation campaigns?
Create personalized messages based on augmented buyer personas.
A/B test with 5%-10% of your audience.
Measure all the results and iterate.
Segmenting your customer base
Especially in B2B, email is still king.
Watch the following video to learn an easy technique to automatically segment your customer base.
Personalized marketing works. But most marketers often have a hard time creating personalized messages because they don't have enough customer data. In the video, you'll an easy way to retrieve customer data from your email campaigns.
I've used this method a few times to engage with leads during the sales cycle so that they can tell me more about the current situation, also with leads that request a free trial of Pirsonal, the personalized video marketing software.
So, how can you segment your CRM contacts? Add a list of 3-6 questions in a personalized email. The text for each question will have a link. Each link will be tracked in your marketing tool with a tag. Whenever a contact clicks on an answer, your marketing software will tag the contact. Use these tags to profile these contacts and learn more about them.
How to create personalized messages for videos
Creating personalized messages for videos requires a different mindset. Killer personalized messages will help you increase your content conversion rates in one-to-one communications. At the same time, this translates into more engaged customers.
Watch the following video to learn how to create personalized messages for emails and videos.
Most of your competitors can easily create personalized video messages. This means that you need to go the extra mile with contextualized messages that adapt to their particular needs.
When you do this, customers are more loyal as they pay more attention to your messages. The key to creating messages with personalization is to focus on the particular context of each customer.