When it comes to advertising and marketing, creativity is key to catching people's attention. One of the most challenging aspects of this is that the Internet has made people more jaded. Therefore, it's difficult to get their attention. But not impossible. Ad Agencies need to be more creative in advertising than ever. Sometimes it is through a clever slogan or through an interesting video ad campaign. Experience shows that agencies need to find new and innovative ways to be effective in advertising.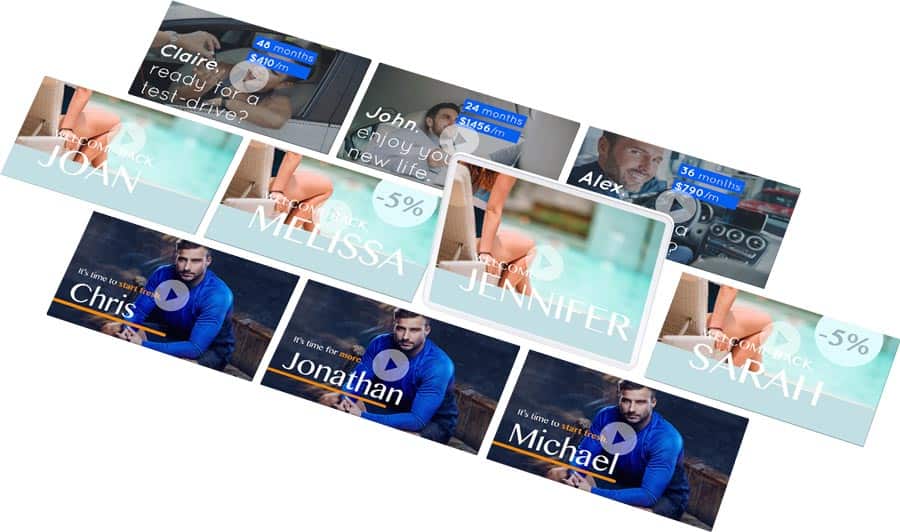 Thanks to ad tech innovations and a creative approach to customer data analysis, agencies can be creative in advertising. Content personalization, contextualization, and individualization techniques in video advertising are key. This will help agencies create highly relevant video content for one-to-one or one-to-many campaigns. At the same time, it helps them stand out from the competition and increases agency sales.
Video provides unique ways to express creativity. Unlike other types of creative content, through video, a creative director can stimulate the visual and auditory senses using customer data. This is a unique characteristic of this type of content. It provides unique personalization possibilities.
Why Is Creativity Important in Video Advertising?
Creativity is a critical factor in video advertising. It is what helps brands stand out from the competition and capture the attention of consumers. Good advertising is eye-catching, memorable, and persuasive. It has the ability to provoke an emotional and rational response. Effective video ads make people want to buy a product, service, or ideal.
Creativity is also important because it can help brands connect with their target audience. In fact, video is more catchy than other assets. Video ads that are relevant to people's lives and interests are more likely to be successful. Companies need to understand what motivates consumers to buy. They need to tap into their emotions. Therefore, creative advertising can make a connection with them that is difficult to break. This is one of the reasons why ad agencies and brands use personalized messages.
Finally, video creativity is essential for keeping advertising fresh and engaging. A few decades ago, customers were more willing to sit through a long commercial break. They would watch whatever was on TV. Times change. With over-saturated audiences, advertisers now need to be more creative and engaging if they want to grab customers' attention.
Creative in Advertising with Video Personalization
With video personalization in advertising, businesses can better target their target customer base with highly relevant and customized messages. This approach results in ads and marketing content that are more interesting and engaging to potential customers. Therefore, it fosters greater customer engagement and, ultimately, boosts sales.
Thanks to technological advances make it easier for operations teams to be creative in advertising with video. Businesses can now collect and analyze data about customer preferences. Similarly, users constantly provide marketing and sales data to brands. This information helps creative agencies develop personalization strategies.
For example, a business might track a customer's web browsing history. With this, brands can determine which products they are interested in. Using this information, the business can then create a personalized video ad that features products the customer has shown an interest in.
A similar approach applies to real-time personalized videos. Brands use them in one-to-one marketing communications. Let's say a brand wants to increase customer retention. With this in mind, it sends unique videos powered by customer data. These videos can help viewers understand what the brand has to offer. This offer can be specific to what triggers buying intent.
Video personalization, therefore, is an extremely effective way to connect with potential customers. It helps brands increase campaign engagement and drives sales. It allows you to apply marketing segmentation techniques at an individual content level instead of at a general audience level.
These videos can be sent as part of personalized email marketing campaigns. Other common channels are personal messages through WhatsApp, SMS, or dynamic landing pages. Social media advertising, with more legal regulation, offers great contextualization opportunities.
Driving Viewer Engagement with Interactive Videos
Even if video content makes marketing communications easier, the majority of brands fail to make viewers react. To engage with viewers, hence, it is important to add interactive elements. This represents a big opportunity for advertising companies.
There are many ways agencies can use interactions in a video campaign. Some ways to do this include adding questions throughout the video that viewers can answer, polls, or allowing viewers to control the video content. Brands use interactive videos to gather feedback from viewers or to allow them to share their thoughts on a topic.
By adding interactive elements, you can keep viewers engaged. With higher engagement rates, interactive videos convert better than videos without custom interactions. Moreover, interactivity helps ensure that they remember the key points of the video. Let's explore some ways to be creative in advertising with interactive content in the video.
Here are some practical ideas to add interactivity to marketing videos:
#1 Add a poll or quiz to your video. This can help you gather information about your viewers and learn more about their interests.
# 2 Use personalized in-video web forms to gather lead and customer data. With Pirsonal Player, you can add personalized web forms to the videos at scale.
#3 Let viewers choose their own path through the video. This can be done with interactive branching videos.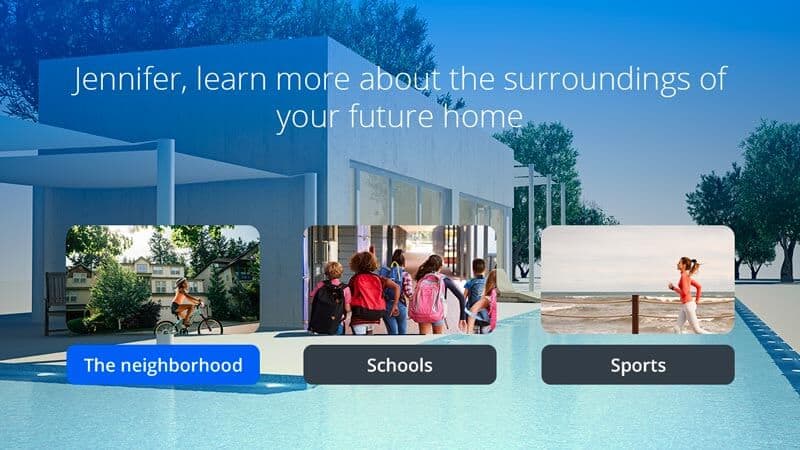 #4 Add clickable hotspots to your video. These allow viewers to click on different parts of the video to learn more information. Ecommerce brands can benefit from this.
5# Let viewers control the playback speed of your video. This can help them consume the information in the video at their own pace.
#6 Showcase customer testimonials in a new way. For example, through an interactive video player, you can let users pick a testimonial that adapts to their needs right from the video.
#7 Create video tours of your business or facility. Viewers love behind-the-scenes footage, and interactive tours are even better!
#8 Host a contest or giveaway on video. For instance, users can collaborate with other users through video.
Moreover, as you see, using CRM data in the interactive video makes the difference. Most brands make videos with sales goals in mind. However, from a content perspective, most videos fail at making people react right away. Marketers, then, need a new approach that makes it easier for viewers to interact from the video.
Interactivity and personalization techniques facilitate this. With appropriate video software in place, agencies can execute effective interactive video campaigns with personalization.
Living Video: Interactive videos with personalization
Nowadays, people consume a lot of video content. It can be a great way to learn something new or be entertained. However, video can be a powerful engagement tool that drives people to react. Increasingly, people are expecting more from their video experiences, including more personalization.
Living videos are a type of interactive video with personalization from a real-time data feed. In some cases, the user's activity is monitored, and the video content is updated as the user interacts. In other cases, information like weather dates or prices is updated in real-time.
The potential uses for interactive videos are endless and creative teams can apply them in a variety of ways. From marketing to education, no matter the industry.
Take as an example the following marketing automation infographic. In hotel marketing, it shows how a new guest made a reservation. From there, an individualized video is made and then sent by email or SMS.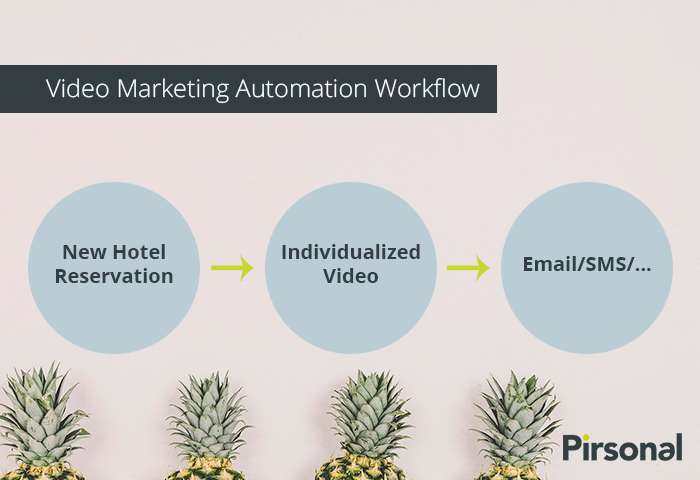 There are a variety of interactive video technologies available. For instance, those that use branching storylines. An increasing trend is using content personalization in video interactions. Tools like Pirsonal Player help you not only with personalized interactions but also decide what triggers the interactions in the video.
As a result, an interactive video becomes a living video that adapts to each customer. Brands can use customer data from their CRM, an API, a marketing automation tool, or more. The type of interaction you pick will depend on your goals and the needs of your audience.
Using Real-time Personalized Videos In Campaigns
There is no question that agencies should use real-time personalized videos in their campaigns. In fact, it opens a wide range of possibilities to be creative in advertising. The technology is there, and through SaaS platforms, it is available to every company. Offering personalized video services helps your agency create a robust value proposition. This value proposition leads your agency and clients to win and retain accounts.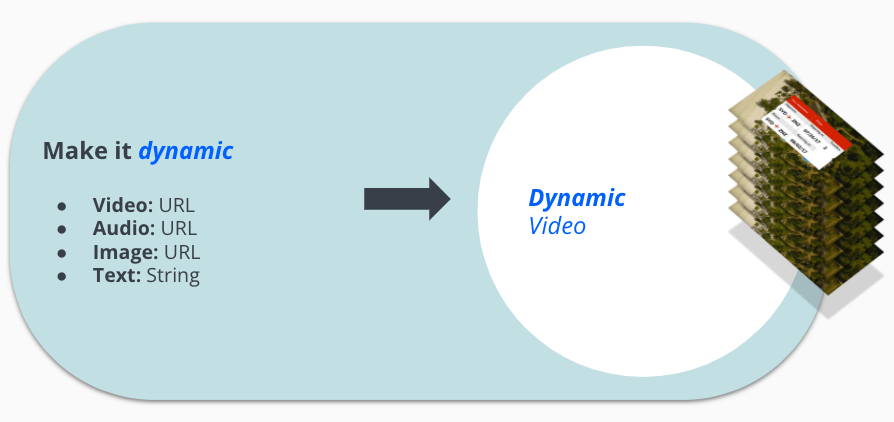 Plus, there's the fact that people are more likely to interact with dynamic videos. Videos with personalization are also easier to remember because they are tailored specifically for them.
Think about it: when you see a video that's clearly been made just for you, and not for some generic audience, it feels like the creators are speaking directly to you. That's an incredibly powerful feeling. As a result, it can help brands build a stronger emotional connection with the target audience.
From strategy to dynamic video template creation. Advertising agencies can find new revenue opportunities with dynamic video services. In terms of personalized video production, these videos are created in the cloud at scale.
Video advertising is one of the most popular and effective forms of advertising. It captures attention, is engaging, and can be executed to deliver a message in a short time frame. The problem has always been that video creation is a very time-consuming and expensive process. You needed a team of people with specialized skills to create a video that was both creative and on-brand.
Under those circumstances, video editing tools like Pirsonal Editor make it easier. Through browser-based, drag and drop software, users can create their own dynamic video template in no time.
In video editing, video personalization offers many options. The following video explains the types of dynamic content for video personalization:
Pursuing Customer Experience through Creative Digital Marketing
Creativity is key to the customer experience. It is the ability to think of new and innovative ways to delight customers and make them happy. When brands are creative in advertising, they are able to come up with new creative solutions to old problems.
With a closer relationship with customers, companies can delight customers in unique ways. New products and services come from this approach, consequently. Similarly, constantly having customer experience in mind helps digital marketing teams strategize better videos.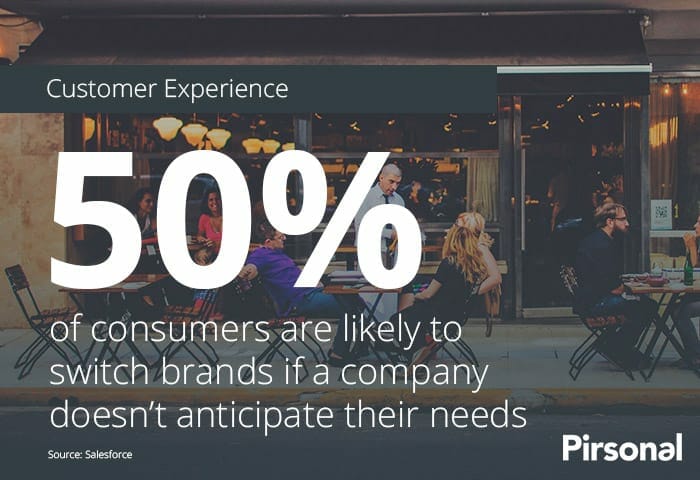 However, creativity is not easy. It takes a lot of hard work and effort to be creative. Companies need to have a strong focus on their customers and what they want. This is where customer behavior analysis provides a realistic approach to marketing communications.
Then, personalized marketing strategies help brands create advertising campaigns with the individual in mind. Creative teams go beyond a target audience. As a result, they create messages dynamically tailored to adapt to an individual's context instead of to a segment.
This way, brands are able to personalize the customer experience.
Reality check: Brands also need to be willing to experiment and take risks.
Ultimately, creativity sets companies apart from their competitors. When a company can create a better customer experience than its rivals, it is certain to stand out in the market.
More than a Buyer Persona: Augmented Persona
An augmented buyer persona is the profile of an individual comprised of all the interrelated information gathered about that individual provided by one or many data sources and the individual's buyer persona. Marketers can follow this path to be creative in advertising. It takes into consideration the individual's particular context to create personalized video messages that fit the individual's needs, objections, desires, and interests, aligned with the objectives set by the organization.
Let's see this with an example.
John is a valuable customer. It's important to understand as much as possible about him in order to create the most effective marketing strategy and creative assets. If your creative team sticks to the buyer persona only, you'll have a pretty good picture of how he may be.
But if you go one step further and use an augmented persona instead, you'll address how he in fact is and more.
His customer profile should not only be based on what you thought you knew about people similar to John. Instead, it should be based on the marketing data he has provided through various channels. This will help you to develop a more accurate picture of who John is as a customer and what he is likely to respond to in your marketing campaigns.
This information is used to create textual and especially contextual messages. This information supports your personalized creative marketing. Also, it helps your customers engage with your message in a deep way.
The following video explains shows how to create a marketing automation workflow with personalized videos. As you'll see, it follows this principle.
What's the Difference Between Personalization, Contextualization, and Individualization
Marketing personalization leverages customer data to connect with customers through custom messages and/or offerings.
Personalized marketing can be as simple as addressing a customer by name in an email or as complex as using customer data to create a unique offer for a specific customer. Regardless of the level of complexity, the goal is always to create a more customized and relevant experience for the customer.
More and more brands embrace personalized marketing every day. This means those already using personalization need to go the extra mile.
This is one of the reasons why individualization is critical.
Individualized marketing takes it to the next level.
Individualized marketing takes place when the individual you want to target, your brand, and you as a creative marketer are aligned. When talking about individualization, everything has to do with more contextualized marketing.
With individualization, you take into consideration things like the context, not only the textual data you have access to. You process the meaning of the customer data in creative ways.
Individualized marketing requires more effort. But since you are contextualizing the marketing messages, customers and brands are on the same page.
Contextualization is the land in the middle. It allows brands to adapt to the buyer's context without using personalized or individualized information. A common scenario for contextualization is advertising through social media channels.
Conclusion: Technology Helps Agencies to Be Creative in Advertising
Advertising agencies need to create videos for brands with a new approach. They need to think about unique viewers, instead of a general target audience. This approach comes with many challenges to being creative in advertising. But at the same time with many creative possibilities that make buyers react.
New ad tech and marketing software make this easier than ever before. With automated video creation, customer data analysis, and a variety of communication channels, agencies can deliver a unique creative solution to each customer.
Fortunately, technology has advanced to the point where anyone with basic video editing skills can create a high-quality video. This has opened up the market for video advertising. To offer greater value, agencies need to provide unique technologies that help clients achieve campaign goals.
Agencies can now help businesses create real-time personalized videos that are tailored to their specific needs. This video creation can be done at scale. This can include creating custom templates, adding motion graphics, and even including interactive content. Additionally, more brands are embracing customer experience organizationally. Henceforth, real-time video personalization can help them catapult loyalty and increase lifetime value (LTV) metrics.
Pirsonal is a customer experience and marketing automation software focused on multimedia personalization. It is scalable, flexible, and cost-effective. Curious about how to use video personalization in your next campaign? Then, try Pirsonal free today. Need help with a project? Contact us today or join our partner program for agencies.