Competition in the hotel industry is ferocious. Hotel marketers are looking not only for new ways to surprise their customers but also for a new approach that allows them to stay away from the competition.
Hotel marketers and sales directors are facing unprecedented changes in a saturated industry. This situation demands marketing professionals to be more creative with their hotel marketing strategies for hotel businesses. Hotels need to stand out in a crowded hospitality industry worldwide.
In less than 3 years, hotels and resorts have encountered two situations that have had a strong impact on their marketing and sales, budgets, and on their new customer acquisition processes.
First, regulatory changes brought by the GDPR, which pushes hotels towards conversational marketing during the customer journey. To know more about this, check this report that talks about GDPR and the impact of marketing individualization and personalization on the hospitality and travel industries.
Then, COVID-19, which is helping hotels to create warm personalized marketing messages through social media channels and email marketing campaigns.
The hospitality industry continues to grow, with consumers traveling and being more educated about their choices more than ever. This requires a creative approach to the hotel marketing strategies followed by hoteliers.
But it also faces customer experience and marketing challenges that require marketers to be creative and try new approaches that connected with guests.
COVID-19 has affected every sector across the globe. Data shows that the hotel industry is one of the industries incredibly damaged by the COVID-19 international crisis. According to McKinsey & Company, in the worst-case scenario, US hotel revenue per available room will be down 20 percent by 2023. For most marketers, this represents an unprecedented scenario and customer experience challenge.
In fact, at the beginning of the global pandemic, many US hotels were closed, especially luxury hotels, international events were put on hold and family and business trips were canceled. For example, in early May 2020, occupancy was less than 15 percent for luxury hotels and around 40 percent for the economy.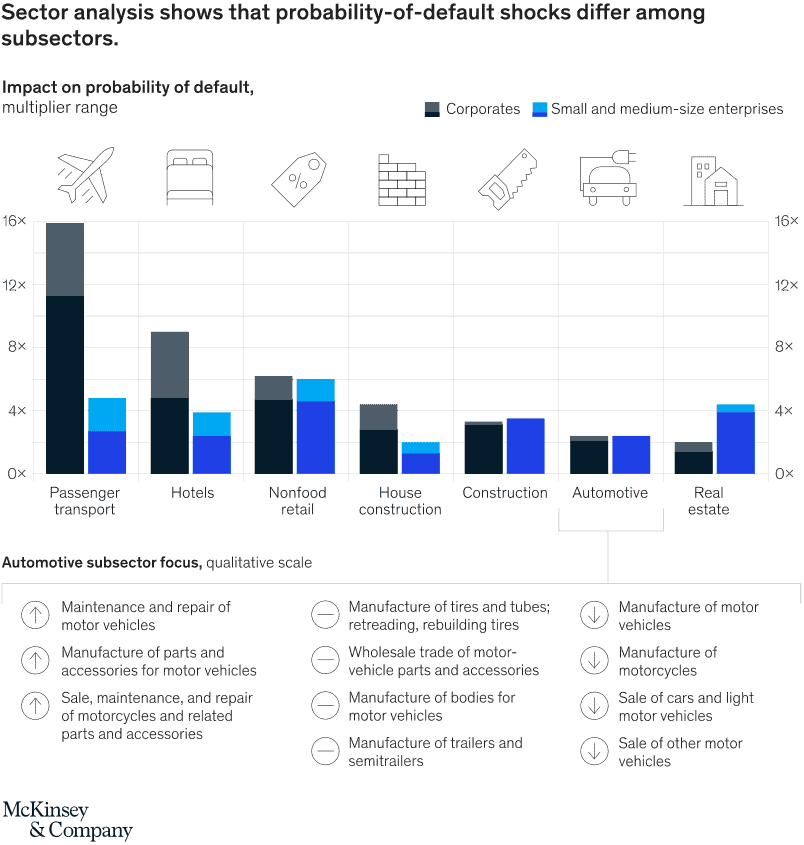 Hotel Customer Engagement After COVID-19
The post-COVID-19 scenarios bring several challenges for marketers that want to keep customer engagement as it used to be. Marketers see more personalization opportunities as they now try to bring the one-to-one experience online, as it is and/or used to be offline. Also, marketers need new hotel marketing strategies ideas after COVID-19. If under normal circumstances hotel marketers already had to make a significant effort to improve the customer experience, retain customers, and attract new customers, now the challenge is accentuated even more.
At the same time, for many hotels, customer engagement has decreased, not because of their particularities, but especially because of the context in which the hotel guests are immersed. This also translates into new customer engagement challenges that hotel marketers, sales directors, and stakeholders need to address urgently.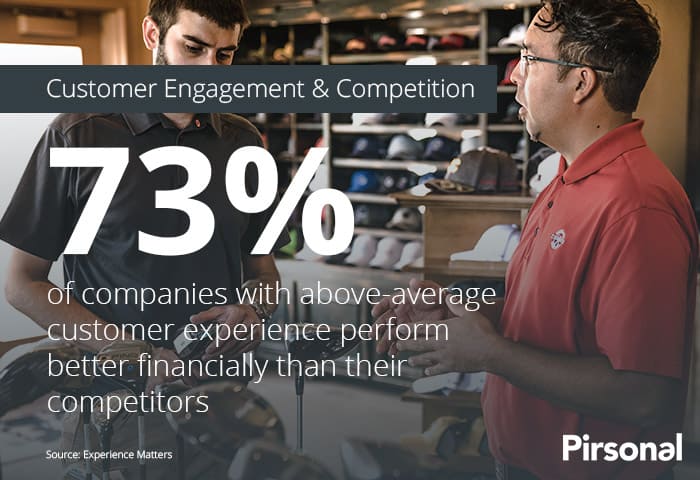 Due to the COVID-19 pandemic, families, businesses, and people have changed. Their needs, requirements, and objections have also changed.
The hospitality industry has historically been linked to excellent customer experience. Likewise, it was one of the industries with the greatest technological penetration and with a desirable knowledge of the client when compared to other industries.
However, the reality of the hospitality industry is different. Hotel marketing ideas that once worked can no longer be applied in the same way.
For years, many hotels have not invested enough time or resources in the implementation of marketing tools that allow them to get to know their customers better. Marketing and data analysis software that allows them to embrace personalized marketing in a comprehensive way, not only through offline experiences.
This will probably be the trend for the next few years. Where hotels will be more focused on the digital plane, with greater knowledge and documentation of buyer personas and, even better, augmented buyer personas.
An augmented buyer persona is the profile of a specific customer. It is comprised of all the interrelated information you gather about your customer. You'll usually use a set of data sources to know more about that person. Once you have this person's buyer persona and you take into account the data you gather in close to real-time, you can create a truly personalized customer experience for that person.
Hotels will invest more or start investing in personalized marketing communications, adapted to the specific needs of each guest, thus allowing them to transmit the same closeness and empathy that they achieve face-to-face long before arrival at the hotel.
The Key And Essential Hotel Marketing Strategies Followed By Successful Hotels Include:
All these factors, among others, have a direct, measurable impact on your hotel marketing strategy.
Now, let's briefly analyze what some hotels are doing to create successful marketing strategies to drive more direct bookings, and loyal clients, and increase their revenue per client.
1. Guest Reviews
Guests are constantly evolving, which also means that marketers in the hospitality arena need to evolve with them. According to TripAdvisor's TripBarometer, 80% of travelers will not book accommodation without reading reviews first. Likewise, now more than ever, health and safety measures are part of these reviews, and word of mouth plays a key role.
Actually, 89% will usually do some research on a destination's activities and restaurants before reaching their destination. This means that researching a destination and reading reviews on accommodation are entrenched behaviors, which affect the way hotels attract more direct sales and reservations through their own e-commerce and digital channels.
Depending on the culture, guests can be price-sensitive when thinking about a destination, a hotel, and the experiences associated with that destination. We learn from TripBarometer that 11% of travelers made their decision based on a great deal in a sale. But, guess what? A personal recommendation has a bigger impact on what prompted travelers to start thinking about their trip (15%) and only 3% of them because they saw an ad.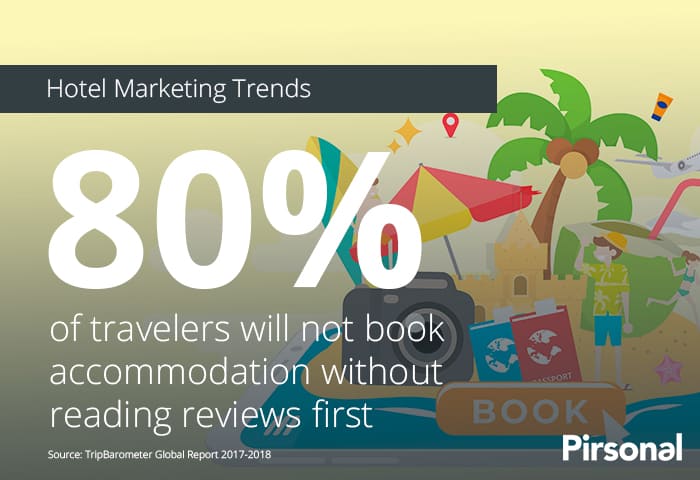 What do travelers do first when thinking about the order in which they book their trips? Well, 29% don't start by choosing accommodation; they start by arranging transport to the destination. After comparing all the options and finding what works best for them, researches suggest that 22% of hotel clients booked their accommodation first and only 11% of them did first when they saw a great deal.
Movement restrictions and quarantines are a determining factor for guests. They are factors unrelated to the customer's experience with the hotel, but which nevertheless affect their engagement.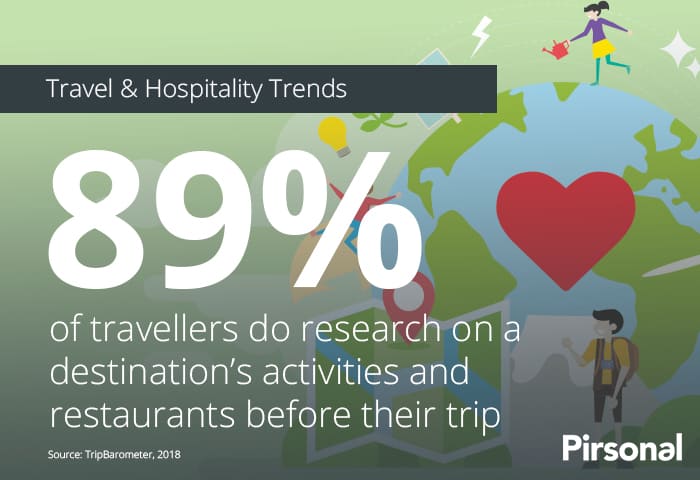 2. Supply to the buyer's desire for an innovative experience
Several large successful hotels have realized that modern travelers planning their tours look for more than just a bed and a room-service menu. For example, during and after the COVID-19 crisis rural tourism faced a boom in several regions.
Also, with the increase of Airbnb and other home-sharing services, many outlets now exist for travelers to book a basic sleeping accommodation. In addition, studies recommend that these options are especially popular for millennial business travelers who take more frequent trips than their older colleagues. Nonetheless, these travelers also want to spend less time in their rooms rather than in the hotel. In response, hotel brands are aggressively marketing to target these social customers with experiences such as social happy hours, guest meet-and-greets, yoga classes, and hotel scavenger hunts. Such targets effortlessly demonstrate sophisticated audience segmentation, a strategy that any company or a brand can use to create a more effective marketing plan.
3. Digital Presence is a must
Currently, adoption of technology is important to stay competitive. Unfortunately, or fortunately, just listing the hotel online is not sufficient; the digital presence is a must. Nowadays, social media has become a vital marketing strategy.
Moreover, with review sites such as Trip Advisor which helps in influencing customers decisions, it is important to get involved to get a share of the hotel industry market size. Hotels also have to make a bigger effort to generate leads online and maintain constant engagement.
If you haven't started or are not serious about social media marketing for your hotel or resort, pay attention to the following benefits or incorporating social media as part of your hotel marketing strategy:
Increased exposure
Growing website traffics
Developing fan following
Generating sales leads
The rise in business partnerships
Advancing sales
4. Personalized And Customized Experience
Hotels have access to a massive store of data regarding their customers' preferences, and the best establishments use this information to offer intensely personalized messages that bring back their guests repeatedly.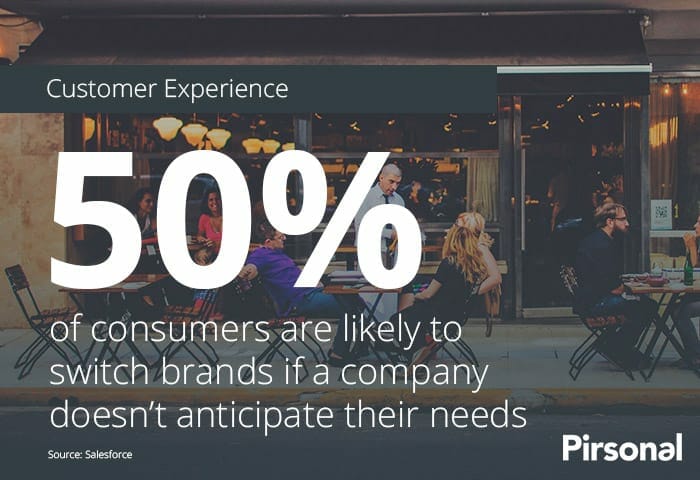 For example, Ritz-Carlton: When a family's young child left a stuffed animal at a Ritz-Carlton property, not only did the parents receive the toy mailed to their home a couple of days later, but also won a series of photos showing the stuffed animal on various adventures throughout the hotel (essentially a targeted marketing message designed to let the family know what they could look forward to on their next visit). Learn more about personalization in the travel industry with this podcast episode.
5. Marketing segmentation
Marketing segmentation in the hotel industry represents a great opportunity, as hotels move to the digital arena. One of the first steps when segmenting your audience is to create subsets or subgroups with common characteristics:
Demographics: Demographic segmentation is one of the most commonly used forms of segmentation. Analyze who they are based on criteria such as age, income, number of family members, race, gender, occupation, education, and nationality.
Skills and knowledge: The things your prospects, users, and customers know and how they apply this knowledge.
Things your target audience like about your products
Behavioral activities: Analyze the behaviors and decision-making processes. For example, think about their lifestyle, how, when, and why they buy, and more.
Psychographics: This takes into account how your target audience thinks and divides markets according to lifestyle, personality traits, values, opinions, and interests of consumers.
How your target audience uses your product: Do they use your product like you initially expected? When do they use it? With other people?
How they buy your products: Similar to the behavioral activities, looking at their processes, how much they spend, when they buy, from what device, if they buy based on a special promotion, and more.
This approach helps hotels become customer-centric with marketing automation as one of their best allies.
6. Onboarding clients with personalized videos
Hotels are gradually joining the unstoppable wave of personalized marketing. Hotels can also onboard guests with personalized videos and multimedia marketing to better connect with each customer during the customer journey. Take for example a booking confirmation message. Hotels can smartly use the booking and client details to create robust personalized marketing strategies where each new guest receives a personalized email containing a personalized video.
Watch the following personalized video example used by a hotel in Mexico:
Want to see more personalized video examples and see how you can add personalized video marketing to your strategy? Here you have a full guide on personalized video marketing with examples, case studies, and strategies.
We helped this hotel with our video production services for personalized videos. This hotel automatically makes these personalized videos using Pirsonal's personalized video platform. Each guest receives a video that is personalized according to the buyer persona. The marketing videos are viewed on a dynamic or personalized landing page and include a personalized call-to-action.
Don't worry. You have to create these videos one by one. You can create videos automatically with specialized software like Pirsonal.
How can you apply this to your hotel marketing? With each hotel reservation, each client provides information on arrival and departure date, name, surname, in some cases birthday, tastes, how many people will be at the hotel, how many rooms are necessary, budget, experience preferences, and much more. With all this information we can automatically create a totally personalized video for each person to increase sales, totally adapted to the individual context of each of them. The more contextualized and personalized the experience, the better conversions of upselling, cross-selling, and engagement you will see. Here you'll find a full webinar about how to increase sales and loyalty with personalized video marketing.
The following webinar explains more about this hotel marketing strategy with personalized videos:
Data-driven marketing personalization in the hotel industry has huge advantages when compared to other industries. Simply fact: Customers share data and preferences from day one, the moment they make a reservation. Start by looking at a your structured data creatively and by improving the quality of your lead and guest data for marketing efforts.
Using interactive personalized videos can also increase marketing conversions, as hotels can use personalized calls-to-action that adapt to what each guest needs in order to take action.
7. Create Personalized Emails
Did you know that according to Revinate email segmentation delivers 72% higher revenue per recipient than non-segmented campaigns? Use this segmentation to create personalized emails based on the lead's profile or buyer persona.
The following infographic shows a personalized marketing email example:
Check this video that explains this personalized email for hotel marketing:
If  you want to create a personalized marketing strategy for your hotel, make sure to download this free personalized marketing checklist (PDF) with the steps I recommend to create a strategy from a pilot stage to when you are ready to scale.
8. Be unique while creating content
Hotels follow the concept of content marketing as it's inexpensive and has the potential to lead to a significant ROI when adapted correctly. Many leaders are pleased by just using their brand blog as an outlet for content. However, few different hotel companies are proving that being creative about content presents new opportunities for engaging with customers on a more practical level.
For example, Four Seasons, a brand recognized globally for its commitment to offering luxury to its guests throughout their experience. It produces regular content for its brand magazine, carrying on the tradition of luxury and presenting guests a foretaste through the lens of the Four Seasons lifestyle into the brand's destinations and activities.
9. Direct Marketing
Direct marketing includes leaflets and promotions that are beneficial and will continue to play an indispensable role in the hotel industry marketing strategy. Direct Marketing in the hotel industry acts as a potent force in attaining customers. The hospitality industry is all about service, and it's by the direct interaction that customers can be retained.
10. SEO
SEO is amongst one of the most useful and majorly used marketing strategies in the hotel industry. Hotels have huge records of e-mail id of all the customers, but they don't use it. It is necessary to have repeat sales and thus e-mail marketing helps to retain existing customers and gain new ones. In addition, SEO helps the hotel website to ensure organic growth online.
11. TV and Newspaper Advertisement
Marketing strategies such as TV and Newspaper advertising are still active, but are quite expensive. Globally, top brand hotel chains shell out a considerable part of their marketing budget for advertising in newspapers. Perhaps, the return on investment is not as high as compared with digital channels. In the past, it was used as one of the key marketing strategies of the hospitality industry. Though, competitors such as Airbnb and others are compelling the hotel industry to come out with innovative and cost-effective marketing strategies.
12. Increased use of Social Media
Nowadays, social media plays a vital role in hotel marketing strategy. Since a long time, social media has been a platform for businesses to sell their products. For example, Facebook has around more than two billion monthly users, and transactions are increasing with currently about 50 million active small business pages. Similarly, Twitter and Instagram are accessible and helpful in influencing one's business. Social Media allows the freedom and creativity for the marketing campaign. Besides, video content is on the rise, and while it's great to build brand alertness, it can also be used for strong marketing messages, potentially driving direct bookings.
13. Pay Per Click Advertising (PPC)
PPC mode of advertising plays an important role in hotel's online marketing campaigns. For example, around USD 8 profit is gained on average for every USD 1 a business spent in Google AdWords. PPC ads also show a positive impact on organic click-through rates. On an average branded PPC can improve clicks by around 27%.
14. Marketing Automation Workflows And Personalized Marketing
Marketing automation allows hotels to create the right message, sent at the right time to the right guest or customer. Creating workflows aligned with the customer  journey helps hotels be proactive and responsive. It also helps hotels scale their marketing efforts and to adapt to the needs guests have. Personalized marketing improves hotel one-to-one communications by creating marketing messages that are relevant to the individual.
Hotels need to double the engagement effort across channels. Personal data plays an important role in the hospitality, travel, and leisure industry as larger volumes of personal data from guests are processed. When marketers conceive marketing as a conversation, this data can be used not just for analytical purposes, but also to create marketing automation strategies using personalized messages that resonate with segmented target audiences and, specially, individuals.
The following video explains how to create a marketing automation workflow from a content perspective, using personalization. This type of marketing automation workflows can be applied to any type of content, not only personalized videos. In the video I explain how to create a marketing automation workflow for a hotel step by step.
If you want to take a closer look at the document shown in the video, make sure to download it free from here.
15. Update Your Messaging And Stay Ahead Of Market Recovery Stages Or New Adverse Scenarios
In the current times, hotel customers need reassurance from hotels. Aligning your hotel marketing strategy with the present and upcoming social climate is key. Hotel marketers must get this marketing message across long before guests arrive to the hotel. In fact, long before the customer starts considering the hotel and even long before hotel guests read the first review.
Therefore, situations such as the current and future ones positively force hotel marketing, sales and customer experience executives to update their content, messages and communication channels during the customer journey. The customer journey can change at any time.
For example, watch the following video showing how a hotel explains security measures in the context of the COVID-19 health crisis:
16. Data-driven Approach
Data analysis firm Pattterns discovered something impressive about the content hotels post on social media. They observed that most hotels make critic decisions based on intuition and past experiences. There is an obsession with the most viral publications, campaigns, and influencers of the industry. But, is this the right approach, from an ROI and data perspective?
For example, Guillermo Fernandez from Pattterns and his team discovered  that image data science had a transcendent impact on booking reservations for hotels in Riviera Maya. They saw how unique images that reflect the uniqueness of Riviera Maya were able to generate more conversations around the hotels and more sales when compared to generic images that don't really speak about what makes the location and hotels different from other market options.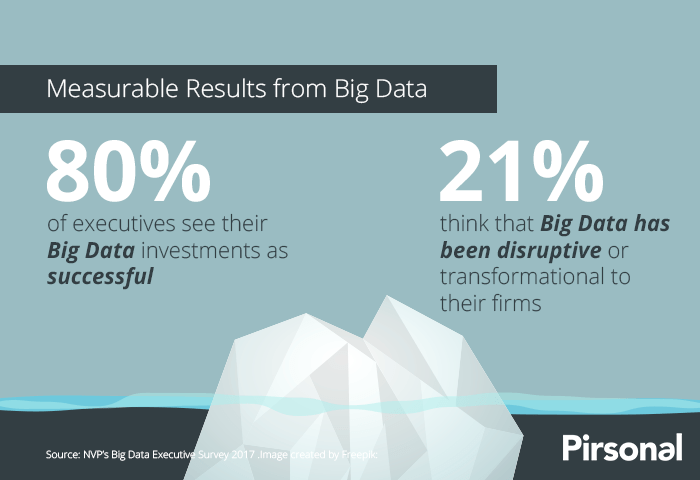 In our visual era, using image data science to create a unique and customized social media content strategy seems to be appropriate. Shooting videos and taking pictures that reflect the unique aspects of a hotel and attracts the attention of potential clients and leads. This allows even customers to share more about their publicly share their experience with others, in turn attracting new customers to the hotel's sales and marketing funnels.
This methodological approach also helps hotels create personalized marketing content that has higher chances of conversion, which makes it a perfect fit for any hotel ecommerce, social media or marketing manager.
17. Web Optimization and Personalization
Did you know that the average hotel website conversion rate (bookings divided by unique monthly visitors) is typically below 2%? Let's see this with an example: Take 100 people visit your hotel website. Out of which, less than two will make a booking, and more than 98 will look around before leaving to make a booking somewhere else either with your competitors or with the OTAs.
If your hotel invests in SEO, online media, paid search, public relations (PR) or social media to bring users to the hotel website, chances are that you are wasting part of your marketing budget. Why? 98% of your website visitors are not converting. On balance, it's easier and inexpensive to generate more revenue from the existing traffic than to get more viewers to the site, specially if your pages rank high on Google.
Furthermore, attaining even a slight conversion rate increase can create a huge impact on a hotel's bottom-line. According to MarketingProfs, web personalization increases sales by 19%, which makes marketing personalization the perfect fit for any hotel, regardless of the size.
18. Lead Generation
There are countless ways hotels and resorts can generate leads online. This allows hotel businesses to create and send marketing campaigns, specially through email, in order to increase sales through flash campaigns and to build trust and branding.
For example, imagine a Facebook Ads or Facebook Leads campaign using the ASK Method by Ryan Levesque. What is the ASK Method? The ASK Method is a marketing methodology to figure out what your customers want before they even know what they want themselves.
Core Principles Of The ASK Method For Hotel Marketing
SMIQ (Single Most Important Question): Deeply understand the pain and passion of your market at a deep level.
Language: Speak the language of your prospects and reproduce their patterns –  This is very close to marketing personalization.
Buckets: Identify the buckets in your market. This will help you create marketing segments to create targeted messages and better or new products.
Other Lead Generation Ideas for Hotels:
Newsletters
Digital waiting lists
Quizzes
Surveys
Contests
Referral programs
Web chat tools
WhatsApp
Conclusion
There is no right hotel marketing strategy. As a marketer of a hotel chain, an independent hotel or associated establishments, you must take into account a mix of strategies.
You must take into account what is the current situation that your hotel is facing, but without stopping planning and acting with respect to the most likely situation that may occur.
The most recent events show us that the hotel industry is not impervious. As marketers, we must always be one step ahead, while walking alongside guests during the customer journey, causing them to repeat and attract new customers.
Most hotels struggle to engage with guests uniquely. Let us analyze your current situation and share free advice so that you can help hotel guests take action, and increase direct sales and engagement that brings them back. Book a free consultation now!