To increase insurance sales and keep the level of growth, insurance companies and brokers need to update the way they do sales. Nowadays, customers require a deeper level of interaction.
At the same time, potential clients are constantly bombarded with marketing messages. Building customer trust is more challenging than it used to be.
With the majority of marketers using video in marketing, multimedia content is a clear winner across every digital channel.
All audiences love video content. In fact, when crafted appropriately, different types of video can helo insurance sales agents sell more way before customers are in touch with them.
An interesting study by MarketingSherpa found that organizations using video had an average conversion rate of 6.7%, which is significantly higher than the 3.36% of the non-video group.
Even way before Covid, potential customers already needed an emotional connection to buy an insurance policy.
Using video in insurances marketing provides a scalable way to increase the close rate of new insurance customers.
Online video offers clarity and helps companies build trust.
So, how can insurance marketing teams increase sales of often hard-to-understand policies?
In this article, you'll learn how to boost sales of insurance policies with video in marketing.
1 Create explainer videos to educate potential insurance buyers
Explainer videos are a great way to educate insurance buyers during the customer journey. Also, explainer videos can become a powerful video SEO tool.
Remember that YouTube is the second most popular search engine out there.
According to David Levenson, president and CEO, LIMRA, LOMA, and LL Global, "COVID-19 has raised consumers' awareness about the importance of having life insurance coverage".
This means that more people are seeking information about a topic that is complex.
For example, we all have heard about life insurance policies. Even then, many people can't really explain what's included in the life insurance policy they bought online.
On many occasions, an event in your potential customers' life can trigger the need to find more information about an insurance-related topic.
"Nearly a third of consumers (31%) said they were more likely to purchase coverage due to the pandemic", says Levenson.
There are many topics related to insurance products that can be easily explained with online videos. Platforms like YouTube, Facebook, or TikTok can be your biggest allies.
A quick search in Google Trends will show that insurance-related topics are extremely popular in the US.
With this in mind, populate your online video channels and social platforms with explainer videos.
Make sure that these videos clearly address your audience's key concerns.
To increase customer engagement with video, take the time to create videos that either are a good fit across audiences or segment them based on buyer persona.
This takes us to the following tip.
2 Analyze content performance to create insurance explainer videos that make leads react
A lot of insurance businesses create blog posts to promote their services. One of the first steps to making a great marketing video for insurance products is to take a look at the performance of your content.
Let me explain.
When you analyze the performance of your existing written content, you can understand the questions people have.
This information will help you find patterns in the questions viewers want to be answered.
If your insurance company is not the best in content creation and you don't have this performance information, there is still hope.
Where?
In your competitors' content and social media channels. Take a closer look at what they are doing, use SEO tools to see what's performing best.
From there, choose the topics and questions. You want to find opportunities with original video content that answers the questions and concerns of a potential client.
But, wait a minute…
Don't create video content just to get video views.
As I mentioned earlier, focus on creating videos for specific target audiences.
From there, make them react in any way you can measure.
For example, by leaving comments, posting questions, chatting, or similar, you can gain greater exposure, increase engagement and connect them with online insurance agents.
A positive customer interaction often leads to more sales.
3 Create personalized videos to convert insurance clients faster and increase customer satisfaction
Personalized videos are one of the main ways insurance companies can build an emotional connection with buyers.
With personalized videos, insurance companies can create data-driven video content that uses customer data to contextualize the offering to what's relevant to the potential customer.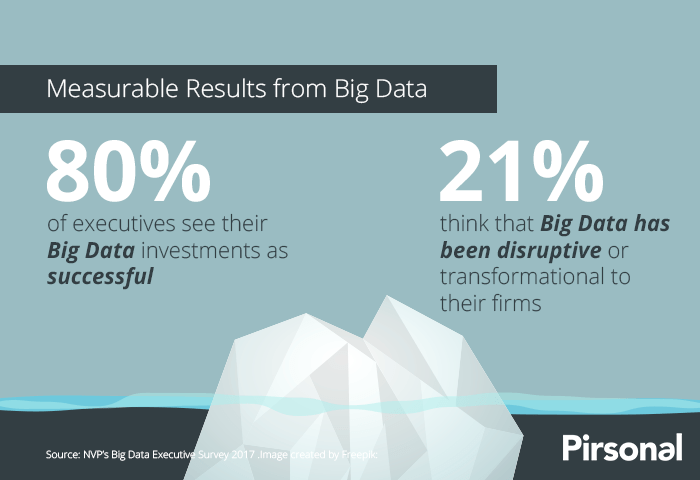 Great emotional connection leads to higher engagement.
Personalized video software like Pirsonal can help your insurance business create videos automatically.
Many insurance brands don't want to take the risk of paying for innovative marketing campaigns.
But at the same time, with many potential customers saturated by constant marketing messages, including yours, it is harder to get their attention.
Same way. there are many types of insurance policies. With this, an average individual gets easily confused.
This is where personalized video marketing can help an insurance business explain complex information.
Brands that are able to win their customer's trust, get loyal customers.
This is one of the reasons why more and more insurance brands are investing in customer engagement strategies with personalized video. Also, this is why it is important that creative teams learn the skills to create this type of video.
Personalized videos offer a great completion rate when compared to videos without personalization.
This is one of the key video goals marketers have in mind when producing video.
Video marketers combine storytelling with customer data to make the content highly relevant to prospective clients.
If you are wondering how to create a personalized marketing strategy to boost insurance sales, watch this video:
4 Use interactive videos with personalization to engage with a larger audience
There are many times when creating personalized videos is not a good fit.
This often happens when an insurance customer experience department realizes that the size of the addressable audience is just too big.
Often, a big target audience also means a lot of people that will never open an email.
Let's take for instance insurance renewals. It makes no sense to advertise to an email database of people that are no longer clients.
In cases like this, the email open rate will be extremely low.
Something similar happens when insurance marketers send an email marketing campaign to people that are no longer among us because they were born 120 years ago.
It sounds like a joke, but it's actually quite common.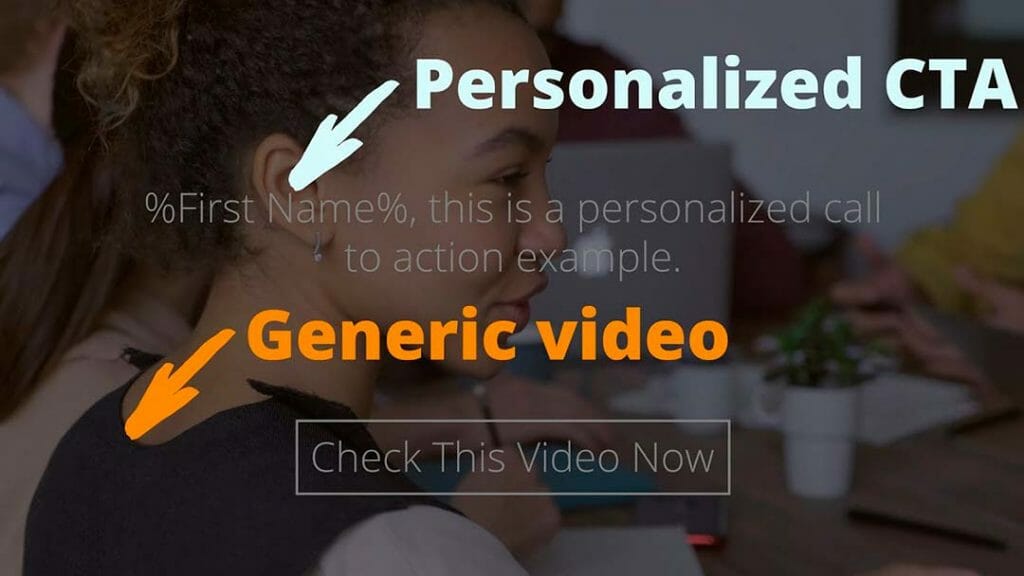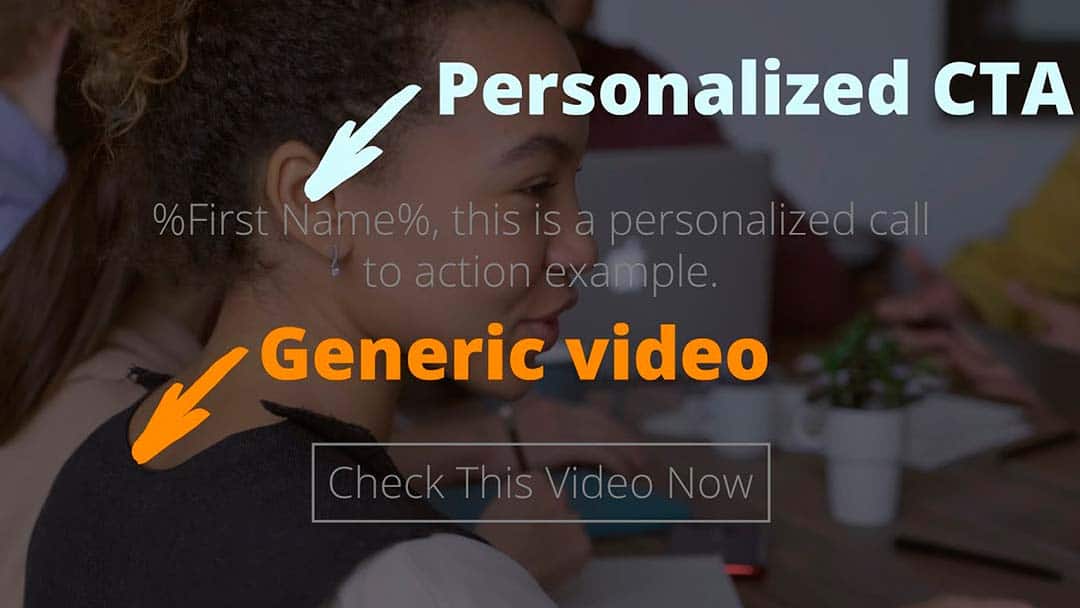 Personalized video marketing campaigns help organizations improve customer engagement.
In order for this type of video to work and deliver great ROI, video marketers and customer experience (CX) teams need to have a clear segmentation strategy in place.
Often, proper segmentation is not viable because CX managers rely on IT departments to share customer data with them, or old CRM data.
Using interactive videos with personalization becomes then a better strategy. Interactive videos help companies boost customer experience.
With the right interactive video platform, you can automatically add personalized clickable content to any video at scale.
For example, in event marketing, Pirsonal Player helps you add personalized calls to action to your videos.
Since these video CTAs can be data-driven, the level of effectiveness is higher when compared to generic videos without interactive content.
In fact, a personalized CTA is about 200% more effective in terms of click-through rates.
Also, in this case, there is no video rendering in the cloud. This makes this approach more cost-effective, especially for marketing budgets for wide audiences, unengaged audiences, or real-time scenarios.
5 Use video marketing across the life insurance policy customer journey
Insurance marketers usually talk about either attracting new customers or helping them renew their life insurance policies.
In order words, sales professionals make a big effort to convert leads to sales, and retention teams invest resources to keep clients away from churning.
There is nothing wrong with either goal.
But customer engagement comes after delivering many positive experiences across the customer journey.
Use video marketing to keep customers constantly engaged with the insurance product they have.
This way, they will constantly understand the value. When this happens, they'll also attract new customers from their network.
For example, help them understand how their life could be like without the right insurance policy at critical times. From Christmas to holiday travels, they are countless everyday scenarios.
Closing thoughts about selling more insurance sales with video in marketing
Marketing videos are a fantastic way to encourage prospective insurance buyers to convert.
A robust marketing strategy for insurance brokers uses video across the customer journey.
This happens in both social channels but also through direct communication channels like email marketing, WhatsApp, or SMS, where personalized messages are a must.
Personalized videos can help you increase lead engagement to close more sales.
Thanks to automated tools like Pirsonal, you can create marketing automation workflows with videos that drive a higher level of engagement than conventional videos.
You can try Pirsonal for free, or even our team can guide you step by step to help you succeed with more insurance sales.
The best way to get your video noticed is to create videos that are valuable to your target market.
Track content performance, yours or your competitors', to understand what your audience needs.
This will ultimately lead to more insurance sales because viewers will have a better experience.
When you are able to keep the level of positive interactions, customer engagement increases, which also attracts more customers.