Looking for a guide on how to improve a customer journey map with personalized video marketing? You're not alone. With the pandemic and market recessions, even more, businesses embrace video marketing.
In fact, 78% of people say they've been convinced to take action by watching a video.
Similarly, 75% of brands with high member engagement choose to focus on personalization and automation.
And there is a reason for this.
Creating an effective customer journey map with personalized videos is an effective way to help brands engage with busy customers at every stage of the customer journey with tailored touchpoints.
By automatically creating videos that are tailored to the individual viewer, brands create a more personal, intimate connection with their target audience.
This ultimately leads to more engaged loyal customers across the customer journey. And more engaged local customers also means higher sales conversion rates and extended lifetime value (also known as LTV).
But for most marketers and agencies, personalized video marketing is quite complicated.
Why?
It requires the right customer experience strategy, video personalization software, and marketing automation tools so that it boosts your brand's engagement.
But don't panic!
This guide will show you how to use personalized video marketing when you map the customer journey to create more engaged and loyal customers.
What Is A Personalized Video And How Does It Look In The Customer Journey?
A personalized video is a type of video where every piece of content is tailored to a specific person.
Here you have an example:
What if TV ads or YouTube videos were actually tailored to our individual needs?
Every text, voice-over, video clip, image, and even the full script.
It would be amazing, right?
Key performance indicators (KPIs) like the view-through rate would significantly increase.
In fact, research shows that this is what 71% of consumers expect brands to deliver personalized experiences.
This is exactly what mapping the customer journey and using personalized videos do.
With personalized video technology, everything in the video content is tailored to a specific customer.
The following video summarizes how personalized video marketing works:
Then, a personalized video in marketing is a data-driven video that is created specifically for an individual customer.
Powered by customer data, these videos take into account the customer's specific needs and wants, and are designed to address them directly, even by name.
A personalized video is powered by structured customer data. Here is an example of structured customer data:
Thanks to a personalized video platform like Pirsonal's, these videos are automatically created at scale.
By personalizing the content of the video, businesses can create a more meaningful and impactful experience for their customers.
Why automatically?
Simply because otherwise, it would take hours, days, and even weeks with conventional video editing tools.
Guide on automatic video editing
Those that know a bit about video editing are aware that rendering a video can take several minutes or even hours.
However, modern video personalization uses cloud video editing at scale. Thus, a personalized video is in fact created in a matter of seconds or even close to real-time.
This is how Pirsonal client and fitness brand Zumba was able to create over 600k minutes of long-form full HD videos in just a few days.
They did this to support their instructor marketing with a solid video personalization strategy that drove more engaged leads to their website and marketing funnel.
BTW, if you are curious, in many cases, personalized videos are also called individualized videos.
Individualized marketing takes place when the potential customer, your brand, and you as a video marketer are aligned.
7 Reasons Why Personalized Video Marketing Is Important In Your Customer Journey Mapping Strategy
Daily, all your potential customers are saturated with marketing and sales messages. As a result, this makes it difficult for brands to get their attention.
Because of this, video has become the preferred way of interaction between brands and customers.
In fact, researchers show that video is easier to remember than other forms of communication.
It also enables the sensory appeal dimension of the customer experience (CX).
The sensory appeal of the customer experience in video marketing is the way a video stimulates the senses.
The sensory appeal CX dimension is key during the consideration, intent, and purchase marketing funnel stages.
However, even then, historically, videos have been generic and not specific to individuals.
This is surprising when, according to Accenture, 83% of consumers are willing to share their data to enable a personalized experience.
This means that for many years, organizations have just used part of the potential of video in marketing.
A customer journey with personalized video marketing changes this.
How?
By creating videos that are specific to an individual viewer, brands can create a more intimate and interactive customer experience.
Let me share with you 7 reasons why you should add personalized videos to your digital marketing strategies.
If you want to learn more about how video marketing and customer experience work together, make sure to watch the following video:
Now, let's cover 7 critical reasons why personalized video marketing is important and how it affects the customer journey.
#1 Personalized video marketing adapts to the buyer's journey
The customer journey is not linear. It's actually quite dynamic.
Your video marketing should also be dynamic.
Personalized video marketing, then, is an effective way to reach your target audience and provide individual buyers with the customer engagement they need, at scale.
By adapting the video content to the buyer's journey, you can ensure that your videos are relevant and engaging.
Not only that but also that they are helpful.
For example, when you use personalized videos as part of your customer onboarding strategy.
In fact, customer service is one of the areas that benefit the most from marketing with personalized videos.
Want to learn how better onboarding videos?
This is what a healthcare organization did.
What impact does this have on their user experience goals?
This Pirsonal client now sees a 78% viewer engagement with personalized customer onboarding videos.
As a result, their customers have a positive experience that translates into accelerated payments.
Watch the following video to learn more about this case study:
#2 Personalized video marketing helps you be creative in advertising
Personalized video marketing helps businesses automatically adapt the full video content to the individual viewer.
This means that every text, image, audio clip, video content, scene, color, and more, can be fully personalized according to the current customer.
This advertising approach helps brands and agencies be creative in advertising.
Although some personalized video solutions offer limited capabilities, Pirsonal's personalized video software helps busy marketing teams and agencies personalize any aspect of the video content, at scale.
Watch the following video now to learn what can be dynamic in a video depending on the software use you use:
This is, for example, how one of our clients, pizza brand Papa John's, was able to create one of the most creative user-generated content ad campaigns with customized video.
One of the key video goals of their campaign was to drive engagement with customized videos through social media platforms.
In the campaign, they combined humor, soccer, and user-generated content to drive social media engagement.
The dynamic was simple:
Users could access the campaign's landing page. There, they could submit a web form with their name and other information.
Based on that information, a customized video would be automatically triggered by Pirsonal's personalized video API.
In less than 6 seconds, users could watch the video. They could also share the video through social media channels.
As you can see, creative advertising allows businesses to create a highly customized and engaging experience for each viewer, increasing the chances of conversion.
When choosing the forms of content with the highest engagement rates, use video. Especially through social media platforms, most audiences love video.
Guide on automatic video editing
#3 Personalized video marketing helps agencies increase sales
Many ad agencies thrive due to their innovative services and strategies. Ad agencies can increase sales when they offer personalized video services to their clients.
By doing this, they can establish a competitive edge and increase clientele.
Furthermore, personalized video marketing can bolster sales numbers or related services like video production or customer experience strategy, and the efficacy of marketing and advertising campaigns.
Similarly, your agency's sales team can see an increase in profits.
Services agencies can offer to boost revenue with personalized video marketing
Video personalization gives video production, creative, and marketing agencies many options to create new offerings and boost existing ones.
Here are a few ideas:
Personalized marketing strategy consultancy.
Buyer persona analysis.
Audience segmentation techniques.
Personalized Video production and design (video copy, video design, voice-over, templates, etc.).
Custom dynamic landing page design.
Personalized Email marketing (copywriting, etc.).
Marketing automation configuration.
Custom API integration.
Report of campaign performance.
Campaign and asset optimization.
Campaign management.
Account management.
Social media ads with dynamic videos.
And more.
Simply put, clients are willing to pay more to execute innovative video strategies.
This is how some of our partner agencies are able to increase agency revenue, retain clients, and wow their clients' target audiences.
#4 Updating your customer journey map with personalized video marketing helps you use the full potential of first-party data
Personalized video marketing is a powerful way to use first-party data to create highly relevant and engaging customer experiences and improve your customer journey map, marketing content, and sales collateral.
What's first-party data? It's the information an organization collects directly from its customers.
Since your organization owns this information, you can use it to enrich marketing and sales messages.
By understanding the customer journey, you can create targeted and personalized videos that address the needs of each individual customer.
This involves creating videos that are specifically tailored to the viewer, based on factors like their name, language, interests, location, demographics, and past interactions.
This is, for instance, how travel brand Flight Centre used first-party data to make a personalized video for leads that request information about custom travel packages.
This online travel agency (OTA) is aware of the importance of providing positive experiences through the sales process to drive higher sales conversion rates.
As a result, they increase lead engagement, boost brand awareness, and accelerate sales with interest-based personalized videos.
Here is the process:
Whenever a lead requests information, this information is then added to their marketing platform.
At the same time, Pirsonal's personalized video software customizes a video, a personalized call-to-action and a landing page for each lead.
First-party data is often managed through customer relationship management (CRM) software and marketing tools.
It helps organizations to be more precise in their messaging.
Personalized videos are more effective than traditional marketing videos, as they are more likely to capture the viewer's attention and interest thanks to this first-party data.
Additionally, they can help build a stronger connection with the viewer, as they feel like the video is speaking directly to them.
#5 Personalized video marketing can help you increase customer engagement in the customer journey
Video is one of the most popular forms of content on the internet, and for good reason.
Engaging, visually stimulating, and often entertaining, video is the perfect way to get your message across to customers.
And with personalization, you can take things to the next level, making sure that your message is targeted and relevant to audiences of one.
Marketers know that by understanding your customer base and creating targeted content, customer engagement goes up.
And with interactive personalized video, you can deliver that content in a way that is both engaging and effective.
So if you're looking to reach your customers and deliver a message that resonates, consider using personalized video marketing in your customer journey.
#6 Personalized video marketing is now more accessible
Not long ago, personalized video solutions were quite out of range for most small and mid-size brands. It was even a bank breaker for small departments within larger organizations.
But as technology has become more sophisticated and accessible, personalized video has become a powerful marketing tool for companies of all sizes.
The cost of making personalized videos at scale can vary depending on various factors.
On average, the cost per personalized video ranges from 0.03 USD to 0.99 USD, depending on the specific requirements of the client and vendor.
Free Personalized Video Software Trial
One of the main reasons for the price of personalized videos is these videos are individually rendered or made in the cloud at scale.
However, making personalized videos is comparable in cost to other types of marketing communications at scale.
For instance, direct mail marketing.
Personalized video, thus, is an excellent marketing communication tool that offers better customer engagement rates than other types of messages.
At the same time, with interactive videos with personalized calls-to-action (CTA), there are even more cost-effective ways to supercharge any video with personalized interactions.
This is commonly known as personalized interactive video. This is when you add clickable content to the videos.
Watch the following video to see how personalized interactive videos work:
This video CTA can be personalized at scale with tools like Pirsonal Player.
This video marketing strategy helps you improve the engagement and conversion rates of any video you share with your target audience across customer journeys.
Since this strategy doesn't require cloud video rendering, it is extremely cost-effective.
 #7 Your competitors are not doing personalized video marketing
Video is one of the most powerful tools in a marketer's toolkit, but most organizations make generic videos that don't really speak to their customers.
Those that personalize customer videos, however, bit the competition with higher engagement.
Personalized videos are a great way to connect with customers and deliver a message that resonates. They can be used at various points in the customer journey, from awareness to consideration to purchase.
Is personalized video marketing effective in your customer journey mapping?
Now that you know why personalizing videos is important, you probably wonder if this type of marketing is effective.
The short answer is yes, it is extremely effective when done right.
This is from our own experience, helping busy marketing teams at multinational brands, agencies, and nationwide organizations.
These clients range from many industries, including travel and hospitality, insurance, financial services, and service providers.
So, why is it effective?
Creating or updating a customer journey map with personalized videos combines many of the best engagement strategies that help audiences of one take action.
For example, reports suggest that marketing with a personal touch is 202% more effective than non-personalized techniques.
At the same time, it boasts 20x the ROI of non-personalized media. It also increases customer loyalty and satisfaction.
This is the experience of one of our clients, a known car brand.
Their agency chose Pirsonal to boost customer engagement by adding personalized video marketing to the customer journeys.
Just within the first months of launching their personalized video marketing program, they were able to increase customer engagement by 25%.
As a result, this brand increased customer lifetime value and brand awareness.
It also decreased after-sales support costs by answering key customer questions with video in advance.
So why not give it a try? With video being the #1 form of media used today, it's easy to see why personalized video can capture and keep an audience's attention.
When you create videos that are tailored to your audience, you ensure that they hear your message loud and clear.
How to create a personalized video marketing strategy for the customer journey mapping
For many organizations, it all starts with a pilot or proof of concept (POC) when they have bigger plans for a particular campaign.
Other brands will simply go big from day one when they approach the customer journey mapping with personalized video marketing.
No matter your case, watch the following video to learn how to create a structure for your strategy:
These are the steps I recommend after helping brands like BMW, Zumba, Mitsubishi, and many agencies.
Step 1: Determine your business goals
Personalized video marketing can be an extremely effective tool in the customer journey, but it's important to have clear goals and KPIs in mind.
Having a track record of previous marketing campaigns can help you compare, iterate, and improve your results.
Keep in mind that not every customer will respond to personalized video marketing in the same way, so it's important to tailor your approach accordingly.
As you'll see, having specific customer segments and clear buyer personas will set you apart even from competitors using video personalization.
This will be the foundation for everything else. Personalized video marketing is not magic, but it can be extremely effective with the right strategy.
Step 2: Analyze your campaign's target audience
Now, analyze your target audience. What are their needs and pain points? What are their interests?
It's essential that you study your target audience and build buyer personas when creating a video personalization strategy.
This way, you can produce videos that not only contain customer data but also address the needs and wants of your viewers.
This is a bit time-consuming but at the same time, it will set you apart from other brands doing video personalization.
Here is an easy approach:
Look at your customer database.
See if you can find any patterns that will help you create buyer personas that match your business goals.
Create a target segment from this data.
Step 3: Analyze and select customer data
In order to create powerful, personalized messages that are fully contextualized to each recipient, you'll need to select the right information from your data source.
This data could include first name, city, and interests.
When choosing customer data, make sure to follow this simple technique:
Take a look at the information you have access to.
Choose the information that will likely trigger the user's interest.
Validate if this customer data will add value to the message.
Ask yourself (or a percentage of users) if this data requires interpretation. Why? You want users to learn something new and help them in their journey.
If it does, adapt it. This will not only increase engagement but also help with the engagement of future communications.
By using this information, you can create a message that resonates with each individual customer and helps move them along their journey.
Common data sources are CRMs, marketing automation tools, and email marketing contact lists.
Step 4: Choose the right marketing channel
Now that you've segmented your audience, it's time to define which distribution channels you'll use to communicate with each individual.
For example email, SMS, WhatsApp, display ads, and more.
Email is the most common channel among businesses.
Through this channel, organizations often add personalized video links as a button, thumbnails, or hyperlinks.
On average, the one with the highest click-through rate (CTR) is a thumbnail. When possible, personalize thumbnails to increase the CTR.
By doing so, they can increase the likelihood that customers will watch the video and, as a result, boost their engagement with the brand.
Email is the most common marketing communication channel among organizations.
Watch this video now to learn how to create personalized emails for personalized video marketing:
Below, you'll find the email I explain in the video. The image shows an example of a hotel onboarding email following a personalized marketing strategy.
Now, here I've highlighted the personalization or merge tags:
Step 5: Integrate with your CRM or marketing tool
It's time to decide the source of the data source.
The most common choice is a spreadsheet for one-time campaigns and CRMs for marketing automation workflows.
For example, the following image shows a marketing automation workflow for real estate marketing.
This is the marketing automation process: When a new lead gets into the CRM, an automated personalized video is made. Then an email, SMS, or WhatsApp message is sent.
You can, however, use any digital customer data source. For instance, custom integration with an application.
Step 6: Choose what triggers the video
Decide when you want to create the videos. For example, when a new contact is added to a CRM like in the image above. Or when it is the contact's birthday.
Or like in the following image. When there is a new quote request, an individualized video is triggered.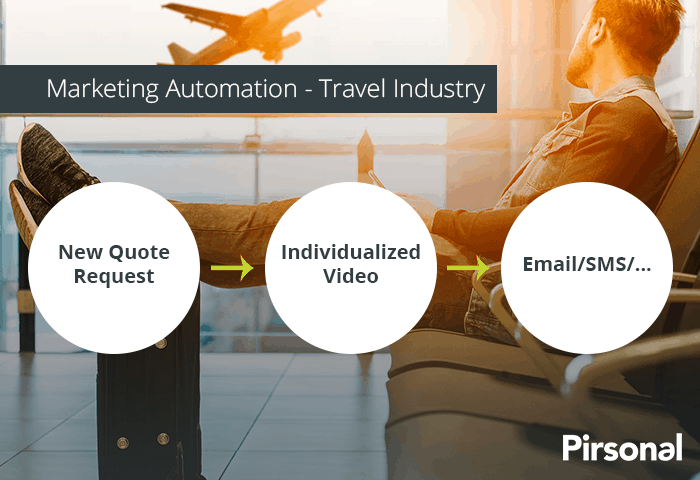 With video personalization software like Pirsonal, this is really easy.
Pirsonal integrates with your favorite marketing tools.
Step 7: Write the script and create the storyboard for the personalized videos
It's time to work on the content for the personalized videos.
Here, think more than words and text.
Take into consideration all the dynamic data you can use to help customers achieve your goal.
But make sure you are aligned with their needs, concerns, and requirements.
Whenever you can, don't limit yourself by just "printing" data.
Your customer already knows his name.
For example, interpret CRM data to help viewers clearly understand a complex concept based on their unique situation.
Remember…
Everything can be dynamic in a video:
Text
Voice-over
Music
Images
Video-in-video
Scenes
Properties
And more
Step 8: A/B test with a percentage of the contacts
Most marketing teams skip this step. In my opinion, it is a big mistake to skip.
Take the time to A/B test messaging and the performance of the communication channel.
To do this, simply select a percentage of your target audience. I usually recommend about 10% of the total contact list.
Here are some of the things you should pay attention to during these tests:
Email open rates. Test email subject lines. Most campaigns fail at this point. The same applies to any other distribution channel you can track, like WhatsApp.
Email CTR. This is really important if contacts need to click on a personalized thumbnail, button, or link to open a video landing page. This is by far my favorite option because you are able to track viewer behavior and can focus the attention of the contact on one call to action.
If you instead embed the video in the email, you would need to find a different approach like the gigabytes consumed. This would give you an average of the times the video was played.
Video plays. At a glance, you want to know how many videos were played when compared to the total number of contacts that received the email, SMS, or similar one-to-one message.
Percentage of video viewed. If you want to optimize the moment in the video when the video CTA should be displayed for maximum video CTR, pay attention to this one too. Basically, you want to know where viewers stop watching the videos on average.
Also, use this information to re-organize the content of the videos to boost viewer engagement.
The number of call-to-action clicks or video CTR. In most cases, I recommend adding clickable calls-to-action to personalized videos. CTAs help you measure the success of a video campaign. With interactive video players like Pirsonal, you can personalize these CTAs.
Conversion rates. What should contacts accomplish? Is it buying a product? Is it to start using a product or service? Make sure you have your KPIs in place and track them as well.
Specialized video marketing tools like Pirsonal simplify this information. This way, you get what you actually need to evaluate the success of a video campaign with personalization.
How many times should you iterate? About three times should put your campaign in an excellent place.
Just like any great marketing campaign, you need to make sure you run tests and perform changes before you go big. Whatever "big" means on your end.
Also, don't be shy. Ask customers what they think. This will help you improve performance according to real-life feedback that sometimes you won't be able to see by just analyzing reports.
Step 9: Launch your video campaign
Once you have the type of numbers that make sense on your end, it's time to launch the campaign.
Even if you have already launched previous tests with about 10% of your audience, if it is your first time running a personalized video campaign, take it in steps.
For example, let's say the email list for this campaign is 10k contacts. Then, simply start with about 5k.
And then, continue with the rest.
Why this way?
If you have the time, it simply helps first-times take things easier and see better results.
Don't forget to send follow-up messages to contacts that haven't watched the video after a period of time.
Since you are considering doing personalized video marketing in the customer journey, you'll want to see more examples, case studies, and strategies.
I wrote another whole article on personalized video marketing with many examples and strategies. Read my article about personalized video marketing with real-life B2C and B2B examples.
Step 10: Analyze the video campaign's results
If your conversion rates are easy to measure and track, you'll know best when to go back to the analytics.
Most batch or email blast campaigns should see this after 1 or 2 weeks.
If these videos are part of a marketing automation workflow, it will probably take between 1 and 3 months to see clear results.
Avoid These Mistakes When You Use Personalized Videos In The Customer Journey Map
Especially first-timers often have a hard time when they start with personalized video marketing.
Here are some of the common mistakes when creating a personalized marketing campaign with video.
Not planning with enough time
Yes. I know. It seems obvious.
But trust me. It is not.
Like any other marketing campaign, doing things right takes time.
On average, our customers take about a month to launch a campaign. These are organizations that know what they want from day one.
Some will take between 3 and 6 months. These are organizations that need a few internal approvals and have more complex video production needs.
Choosing the wrong video personalization tool
Yes, personalized video marketing can work wonders for your campaign.
But if you're like most marketers, you don't need all the bells and whistles that will push your campaign off the cliff before it makes it to your boss's desk.
There are great video personalization tools on the market. For example, Idomoo, Vidyard, or Sundaysky.
However, most brands don't need a Hollywood production.
They don't have a big team of experts on video personalization working on this.
They can't afford it either.
So, many start their vendor shopping quite excited until they realize that most vendors are "out of their league".
So, choosing the right software for video personalization is a crucial step to your success.
My recommendation?
Before you guys even start, put an end to overcomplicated personalized video marketing.
Here are a few questions to help you choose well:
Do you have experience with personalized video marketing?
Who is going to edit the templates for the videos?
Would you like to make fast changes to the video templates?
Do you need to launch this project in less than three months?
Do you have a limited budget?
Do you have specific data protection, compliance, or legal requirements?
What's the size of your audience for this initiative?
How many personalized videos will you make monthly, per campaign, or year?
Do you need a self-service platform anyone in your team can use?
Do you need help executing this initiative?
What are your video goals and expected KPIs?
Are you looking to boost engagement, not just video views?
Do you need real individualized videos or HTML personalization that looks like a video?
When compared to other video personalization tools, one of the reasons why customers choose Pirsonal is because it is simple, flexible, and automated.
This helps anyone from your team make personalized videos at scale.
But even more than that.
For example, now anyone can automatically create dynamic video landing pages and interactive videos with tailored calls to action.
And, if you need help, simply ask. With our video production and video marketing services for personalized videos, we walk with you.
Not having a buyer persona will kill your customer journey map with videos
It is tempting to just keep the [First Name] field and say "Voilà!".
But you can do better.
Start with a buyer persona or even an ideal customer profile.
What's a buyer persona? A buyer persona is a fictional character created to represent a user type that might use your product or service but also is the person that will consume your marketing messages.
A buyer persona is a key part of any personalized marketing campaign.
Want to go the extra mile?
Sending irrelevant personalized video messages won't help a customer journey map perform better
Nowadays almost any company can create personalized video messages.
Your competitors also create personal videos.
Creating a buyer persona is only one of the steps to creating a personalized marketing campaign focused on the individual.
Don't focus on the tool.
Don't focus on the type of content.
Focus on the people.
For personal videos to be effective, you need to have one thing in mind: Every video should bring new satisfied customers onboard.
Make sure to create videos, landing pages, emails, and more tailored to the viewer's needs.
Focus on making them take action because you've addressed their concerns and desires individually.
Video personalization won't save a bad campaign. Maybe just a little.
Also, with the help of marketing automation, be customer-centric. Here you have 13 tips to create a customer-centric strategy.
Using un-updated customer data in your customer journey map
Old, rotten customer data misses the point of personalized video marketing.
In the majority of cases, customers won't change names. But, what about their current context?
Make sure to use the most recent, updated first-party data you have access to.
An easy example of this is the bounce rates from email marketing campaigns because of old or wrong email addresses.
Not re-engaging across the customer journey
I've seen many brands that focus their effort on that first big campaign.
And that's it.
There is no remarketing or retargeting.
That's a huge mistake. Because people simply need a reminder.
Simply put, if the user hasn't opened the email, send him another email.
If the user hasn't seen the video or clicked on the call to action, send him another message, and so on.
Video marketers are no different.
As marketers, we should be more focused on getting people's reactions rather than sending attractive campaigns.
Types of videos you can automatically personalize in marketing across the customer journey
With the help of personalized video technology, you can virtually personalize any type and style of video automatically. These are some common examples:
Explainer videos.
Stock and footage-based videos.
Animation videos.
Whiteboard videos.
Motion graphics videos.
Typography videos.
Screencast videos.
360-Degree videos.
Educational videos.
Product videos.
Viral videos (especially user-generated content).
There are many other types of videos marketers use in marketing communications. However, commonly, some are not a good fit for 1:1 marketing if you are planning on rendering real videos.
For instance, long-form video content can be costly since most personalized video vendors use video length as a pricing factor.
On average, the length of personalized videos ranges from 30 to 90 seconds. Nevertheless, some organizations choose to use longer videos when they need to explain complex information like compensation plans, insurance policies, or contracts.
In almost all cases, you can use an interactive video player like Pirsonal Player to increase viewer engagement with personalization.
For example, personalized CTAs are about 200% more effective than generic CTAs. With Pirsonal Player, you can automatically add these data-driven video CTAs to these videos.
No matter the type of video or style you choose, video marketing personalization is an incredibly powerful tool that can help you forge a deeper connection with your target audience.
So make sure to choose the type of video that best adapts to the different customer journeys.
Choosing the best type of video for the customer journey and marketing funnel
In my experience, not every type of video and personalization delivers the same result.
Why?
Because not every video is just about views.
Your videos should take prospects, leads, and buyers on a journey to boost the customer experience (CX) and help them take action.
You want more than just pretty pictures.
To choose the best type of video, start with a customer journey map and have the marketing funnel in mind.
If you are new to the customer journey map concept, no worries.
A customer journey map is a diagram that shows the steps your customers go through in engaging with your company.
This will lead you to the four customer experience dimensions:
Entertainment
Informativeness
Social presence
Sensory appeal
Watch the following video now to learn these customer experience strategies and what type of video you should use according to the customer journey and marketing funnel stage:
Note that the same concept applies to Hubspot's flywheel model.
Also, in the video, I go step by step through a hotel marketing strategy example. You can easily adapt the same concept to any industry, product, or service.
Let's analyze what every funnel stage has to say about the type of video you should use in your personalized customer journey strategy.
These are the four basic marketing funnel stages:
Awareness.
Consideration.
Decision.
Purchase.
Awareness
At the top of the funnel, potential buyers are just beginning their research.
They are looking for helpful information—not a hard sell.
Your video marketing strategy needs to adapt to this.
With this in mind, make educative videos.
For example, if your brand is an online travel agency (OTA), educate and inspire viewers about your destinations, things to do in the area, or how to plan a trip.
At this stage, it is hard to apply common personalization strategies.
Nevertheless, until the potential buyer opts in, you will not have customer data you can use to personalize the content.
However, in some cases, you'll have access to geolocation, intent, and interest information.
The best type of videos during the awareness marketing funnel:
Social videos.
Video vlogs.
Awareness videos, thus, will be more effective if they focus on specific marketing segments.
Consideration
Here, potential customers are evaluating your offering.
To explain how to use video during the consideration stage, let me continue with the hotel marketing example I shared in the video above.
Now that potential hotel guests are interested in your destination or in any product/service you offer, it's time to start selling the unique experience your brand offers.
This is why it is important to highlight what makes your offering different from the competition.
Also, share the best, unique features marketing segments and potential buyer personas love.
The best type of videos during the consideration marketing funnel: 
Vlog videos.
Video testimonials.
Talking head videos.
360 tour videos.
Social videos.
Personalized videos
Interactive videos.
During the consideration marketing funnel stage, businesses often use lead magnets to gather data.
This means that you can now use this information in personalized interactive video content.
Decision
At the decision stage, potential customers are ready to buy. They compare prices, read reviews, and ask for recommendations.
Marketing professionals can reach potential customers at this stage with targeted ads, special offers, or by providing detailed information about their product or service.
Best types of videos during the decision marketing funnel stage:
How-to videos
Animated videos
Welcome videos
Personalized videos
Interactive videos.
This is the time to highlight what makes your brand unique.
Since you have gathered lead data in advance, use this information to help customers take one more step in the buying process. Personalized videos are the perfect fit at this stage.
Purchase or Client
This is when the lead finally becomes a buyer.
But this is not enough.
Use video marketing to support your upselling and cross-selling strategies.
It's also the perfect time to use video so that customers repeat.
Best types of videos during the purchase marketing funnel stage:
Thank you personalized videos.
Interactive videos.
User-generated video content (UGC).
Continuing with the hotel marketing example, personalized video helps hospitality companies increase loyalty.
Here is an example:
What's a personalized marketing map and how to use it with video?
A personalized marketing map is a tool I use to help me know and visualize the type of personalized customer interactions and pieces of content an audience should see in order to take action.
Here you have an example: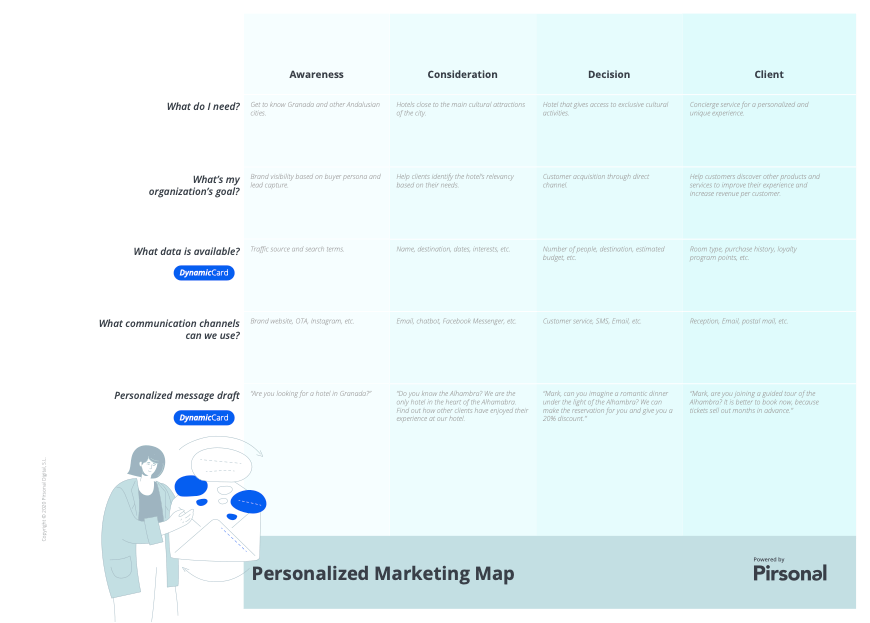 The following video explains how I use it. Watch it now to learn how you can use it as well to create more effective personalized marketing campaigns with online videos.
The personalized marketing map takes the following aspects of your marketing:
The marketing or sales stage.
The customer data you have access to at each stage.
The type of content that better fits the user's needs.
Your business goals at every stage.
The customer's goals and context at every stage.
By using a personalized marketing map, you can ensure that your marketing efforts are focused and effective and that you are reaching your target consumers.
This type of marketing strategy can be used for both online and offline personalized marketing initiatives and can be customized to fit your unique needs.
If you are looking to develop a more targeted and effective personalized marketing strategy with video, a personalized marketing map is a great place to start.
A personalized marketing map helps me create personalized customer journeys. This makes it quite similar to a customer journey map.
But with customer journey mapping, you don't go that granular in terms of customer data, customer personas, type of content, and the piece of content you can use to engage with audiences of one at scale.
How to make personalized videos for marketing in the customer journey
If you want to learn how to make personalized videos for marketing, you'll see that this differs depending on the video personalization software you choose.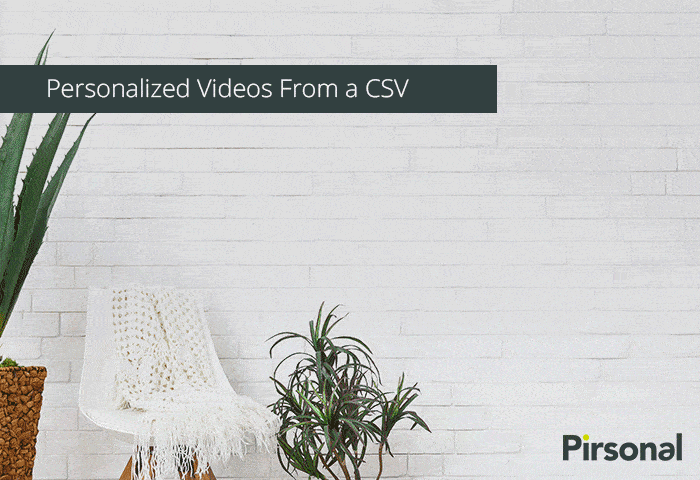 Generally speaking, from operations or production perspective, this is the process:
Create a template for personalized videos. This template will have dynamic fields you'll use to merge your data source with the template.
Upload a spreadsheet or connect your CRM with the video personalization software.
Send the video messages to the contact list containing the video URLs.
Another key factor will be your level of expertise.
For example, busy marketing teams and agencies choose Pirsonal because it is simple yet flexible.
This means that anyone in your team can use Pirsonal.
You don't need to use After Effects or similar professional video editing software unless you want to.
Everything is browser-based. Including Pirsonal Editor, a video template editor that helps you create your personalized video templates in a blink.
But it also gives you the tools and resources you need for complex scenarios.
Also, since we provide free support and optional Professional Services, we help walk with you to help you succeed.
What's the difference between personalized videos and personalized interactive videos?
As video personalization matures, more video marketers start to focus on the effectiveness of the initiatives.
This means that, even when the "wow" effect is still important in many cases, it is not the most important thing for those with more experience.
This brings new video technologies that combine forces to help audiences of one to take action.
With this, the difference between personalized videos and personalized interactive videos is quite simple.
Personalized videos refer to individual video files. These individual video files with personalization are created by software like Pirsonal at scale.
However, personalized interactive videos refer to interactive videos that use personalization in the content.
Depending on the interactive video tool, these personalizations can also be applied to the interactions. For example, personalized calls to action.
Here is an example of how personalized calls to action work with interactive videos:
How to outsource a personalized video campaign to an agency
If you simply don't have the time, chances are you'll consider outsourcing a campaign with personalized videos.
Well, chances are your agency won't have experience with personalized video marketing. But, they'll have other complementary skills that are a perfect fit for this type of video marketing.
In the following video, you'll learn what your agency needs to know from you to successfully help you with this project.
As you'll see in the video, every project has three important areas:
Strategy: Your agency will need you to define and share specific business goals, target audience brief, number of personalized videos you expect, and KPIs, among other areas.
Creative strategy: Here they'll need to know what's required from them. For example, designing dynamic video templates, voice-overs, dynamic and personalized landing pages, and more.
Technical implementation: Bulk video creation or part of an automation workflow? Also, any security requirements and more.
Personalized video marketing pricing and how it impacts your customer journey mapping strategy
Understanding the cost of personalized video marketing will help your company create a solid strategy.
There are two types of costs you can expect:
Personalized video software or licenses.
Professional services.
Every personalized video software has a different pricing structure.
In the end, the cost has a lot to do with the value offered by the vendor to a target audience.
However, it also has to do with the characteristics of your need.
Also, some video solutions for personalization are quite flexible. Others are a box you can't manage directly. These factors affect pricing as well.
As mentioned, on average, the cost per personalized video is between 0,03 USD and 0,99 USD.
The table below shows the average prices for personalized video creation depending on the number of videos you need to create per month or year, the duration of the videos, and the the video resolution.
| | | | | |
| --- | --- | --- | --- | --- |
| Number of Videos per Month | Video Duration | Video Resolution | Cycle  | Cost |
| 1000 | 60 seconds | 480p | Month | 149 USD |
| 2500 | 60 seconds | 480p | Month | 359 USD |
| 6000 | 60 seconds | 480p | Month | 649 USD |
| 12000 | 60 seconds | 480p | Year | 1524 USD |
| 30000 | 60 seconds | 480p | Year | 3612 USD |
| 50000 | 60 seconds | 480p | Year | 6396 USD |
Guide about personalized videos pricing
Often, this doesn't include Professional Services, which with platforms like Pirsonal are optional and range between 1,700 USD and 15,000 USD.
These are the key characteristics that have an impact on the price of personalized video software in the cloud:
Video length. Recommended: 45-90 seconds.
The number of personalized videos you need. Some video personalization software focuses only on big volumes, other companies have a more flexible approach.
Video Resolution. Recommended: 480p if the videos are for 1-to-1 communications, 1080p for social media and ads, 720p or 1080p for high-end products, 4K for TV content.
Access to the platform or software. Recommended: Some platforms charge an extra fee to access their platform. Choose a platform with a software-as-a-service (SaaS) approach if self-service or account visibility is important. Pirsonal offers a SaaS model.
Simultaneous video rendering. This only affects the high volume and time-sensitive campaigns.
Duration of the contract. Some solutions like Pirsonal offer free trials and flexible SaaS models that help you upgrade or downgrade at any time. Other solutions require long-term commitments.
Video hosting. Most companies only need 1 month of video hosting. Some vendors like Pirsonal give you the option to host the videos wherever you want.
Security and data protection requirements.
Processing requirements. For example, data centers located in a specific region or country.
Closing thoughts
Video marketing personalization is, then, one of the key ways to break through the noise and customer base faces when presented with a video.
As the customer journey becomes more complex, brands need more effective ways to help customers pay attention, take action, and become satisfied customers that come back.
Personalized video marketing uses the type of content we all pay attention to, combined with highly relevant customer data.
This makes it more effective than other types of video marketing strategies.
So if you're looking to take your video marketing to the next level, consider video marketing personalization across the different customer journeys.
Most first-timers find personalized video marketing complex.
But it doesn't have to be that way.
At Pirsonal, we simplify personalized video marketing so that anyone in your team can successfully make personalized videos, interactive videos, and dynamic landing pages across the customer journey.
Want to give it a try? Request a free trial today! Have questions and need help? No worries, we literally walk with you to help you succeed with personalized video marketing. Contact us now!