Buyer personas are a great deal. In the last 8 years, I've helped a few companies with their digital marketing challenges, especially those related to 1 to 1 interactions. I've worked with different budgets, target audiences, products, and people that have helped me learn a lot about one of my favorite things besides spending time with my family and tech. startups: People & Marketing.
Regardless of the size of the company, I've seen the same mistakes countless times. Don't take me wrong. I've worked with solid people. But prior to going deep with personalization I pretty much made the same mistakes. Creating campaigns and marketing automation workflows, even with personalized videos, without thinking about each one of the individuals in the database, CRM, email marketing tool.., you name it.
Watch the following video to understand how this plays a key part in the way you create personalized messages.
Buyer personas are a crucial part of any personalized video project. In the end, we are talking about personalization and personalized marketing should always be based on real users, leads, and clients to achieve a higher grade of effectiveness. If not, you are, basically, throwing your marketing budget into the trash.
For sure, if you have a wide audience, or maybe I should say wild, you'll get a decent percentage of them to sign up, buy, download, repeat… But that doesn't change the fact that would still be throwing your money in the trash.
The first step to understanding why buyer personas are that important when considering personalized video marketing is to recap and understand, once again, the key role segmentation plays within your strategy, regardless of if you are thinking about creating bulk personalized videos (also called batch personalized video rendering) or if you are implementing a marketing automation workflow using personalized videos (this is by far my favorite).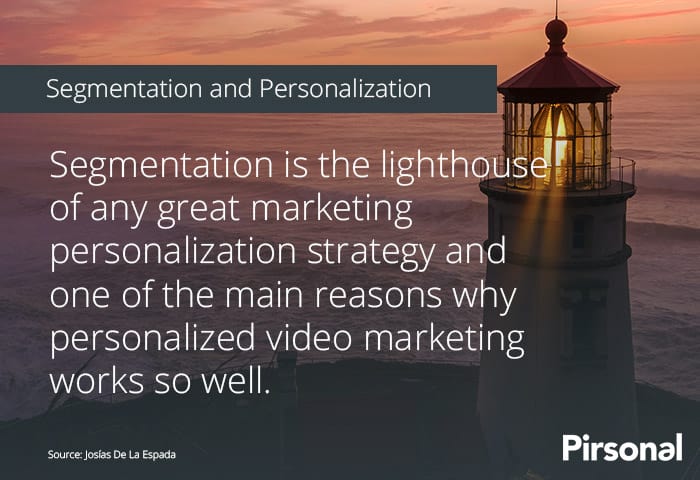 As I shared a few weeks ago, if personalization is the rock, segmentation is the lighthouse of any great marketing personalization strategy and one of the main reasons why personalized video marketing works so well. But there are occasions when using personalized videos in your marketing makes no difference. There is no magic here. Just analysis, strategy, great contextualized content, and, of course, a segmented audience.
Attention is one of the most desired resources brands want. According to IDC's "Can Machines be Creative? How Technology is Transforming Marketing Personalization and Relevance" about 32% of marketing executives said that they were personalizing their marketing communications to a greater extent. However, only 10% had completely personalized their digital communications.
This represents an opportunity for companies that really want to understand the who, how, when, why and if of their clients. One by one.
Take These Things Into Consideration When Creating A Buyer Persona
A buyer persona is a fictional character created to represent a user type that might use your product or service but also is the person that will consume your marketing messages. Sometimes we put a lot of effort thinking about X or Y product's buyer persona but don't invest the same amount of "quality time" with them when creating these marketing messages.
In the end, we are talking about a specific person with specific needs, desires, and concerns that will watch a personalized video and understand that you care about him because you have contextualized the full experience to what he needs. Because you have individualized the answers to his potential concerns. The closer you get to this persona, the more chances you'll have to improve your personalized video conversions. Take a look at these personalized videos examples to understand how each company is addressing a different type of customer in a unique way.
After defining what you want to get from your marketing messages, study your customer database (CRM, email marketing tool, CSV, etc.). Create segments, defined by common characteristics. Extract patterns that could help you create these buyer personas based on what you already know about them. Then, amplify this information with real data of the leads or customers you want to target.
Defining your target audience is just one of the steps to creating a solid strategy. Download this checklist to know how to create a robust personalized video marketing strategy from scratch.
Select the information you can use to create powerful personalized and hyper-personalized messages based on your data source. These messages must be fully contextualized to each recipient. For example: First name, City, Interests. This will serve as a good basis to create each and every marketing message and content, from personalized videos to images, email templates with dynamic fields or even landing pages that adapt to what you know about each individual.
Want to go one step further? Then, take a look at this article where I explain why sometimes buyer personas are not enough and why and when you should go the extra mile with an Augmented Buyer Persona.