Personalized video marketing is the latest trend in Marketing that allows businesses to build stronger relationships with customers. It combines everything the majority of audiences out there love: dynamic multimedia content and a personal touch applied to real-time communications powered by marketing automation tools.
Obviously, I'm a product guy. Now, for real, customers expect to see personalized touch-points as the outcome of a fluent conversation. A real conversation takes into consideration the context, where both sides do their best to understand what is relevant to the other and how this affects them.
The more accurate the context, the better both parties will respond. The answer that a customer expects is a more adjusted offer and message presented by the brand. What the business expects is a more satisfied customer and a lasting relationship, regardless of whether that connection has just started.
This article will help you to understand some of the benefits brought by personalized video marketing to businesses, no matter the industry, and how this marketing trend can be applied to yours.
Personalized video marketing is based on data
A robust personalized video strategy keeps the choice of your segmented audience on priority by combining creativity, automation, and data in a unique way that increases your customer's chances to convert. This is what you want. More, better and faster conversions.
As marketers, all we care about, besides our families :-p, is how well our marketing campaigns are performing. Am I right? This is the way modern marketing runs. The fact that we can track virtually anything gives us more options than ever. For example, in conversion optimization, the smallest change could mean the biggest impact and this can be monitored in real-time.
We live in an era of data and technology obsession. Think about it… Back in 2012 Viviane Reding – then Vice-President of the European Commission and EU Justice Commissioner – stated:
European data protection rules will become a trademark people recognize and trust worldwide.
This statement translated into the widest reform of privacy and data we've seen. And yes, from our perspective at Pirsonal, being a European company makes our life a bit more difficult. However, it also gives us a market advantage, especially when serving data protection-minded companies. It's a DNA thing applied by default.
And here we are. Businesses around the world are still freaking out because of the implications GDPR brings to their day-to-day marketing operations. Do you know why? My guess? It's because data has become and is becoming one of the key tools behind our strategies, messages, and campaigns, regardless of our marketing stack.
There are some industries for which, because of their budget and type of business, data is key. Industries such as financial services have invested heavily in data initiatives, and are still dealing with the tip of the iceberg.
This is what I learned from NVP's Big Data Executive Survey 2017. Their research shows that senior business and technology executives representing many of the world's largest and most sophisticated companies strongly believe in a data-driven culture for their organizations. Also, the survey clarifies that 85% of respondents report that their firms have started programs to create data-driven cultures, but only 37% report success thus far.
Why is this? According to the experts, Big Data technology is not the problem. The challenge comes from management mindsets, alignment between departments, and general organizational resistance.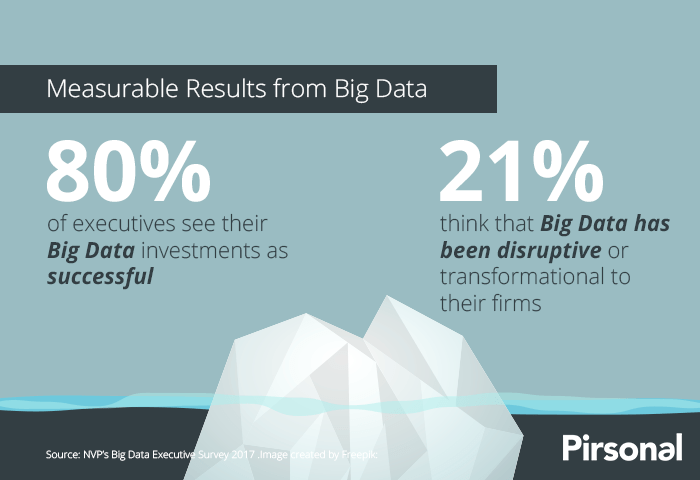 More and more companies use data points to highlight customer intent, location, content consumption behavior, desires, and even potential next steps. All of this allows businesses to create more personalized brand experiences in real-time through several channels.
The other side of this reality is that most companies haven't used their customers' data in the smartest ways possible. Creativity has commonly been limited by the things we know by heart but hasn't been powered by the things that move our hearts.
Do you know what's one of the most interesting facts about customers? Regardless of where they are at in the customer journey, it has been proven that they are, actually, people.
According to Forrester's report "The Future Of Omnichannel Advertising Must Be Customer Obsessed", companies haven't done that much to really understand their consumers' ad sentiment. Along with this, Forrester adds that their short-term thinking has led them to a crisis in consumer ad experience.
All I see here is money getting away. Cost of opportunity. Limited business growth. More often than not, brands forget that they are talking to people. So, on one hand, businesses have a lot of information and on the other, they don't use it correctly or enough.
Often, companies think that they need a lot of information to start creating more relevant 1-to-1 messages. It's clear that the more data a company has about segmented groups of customers and target audiences, the better. However, when talking about communication and creating targeted messages, what matters is how we contextualize the information we have access to in order to evoke a reaction.
The following infographic shows some basic information a (fake) company could use to create a personalized video marketing strategy based on tastes and physiological profiles.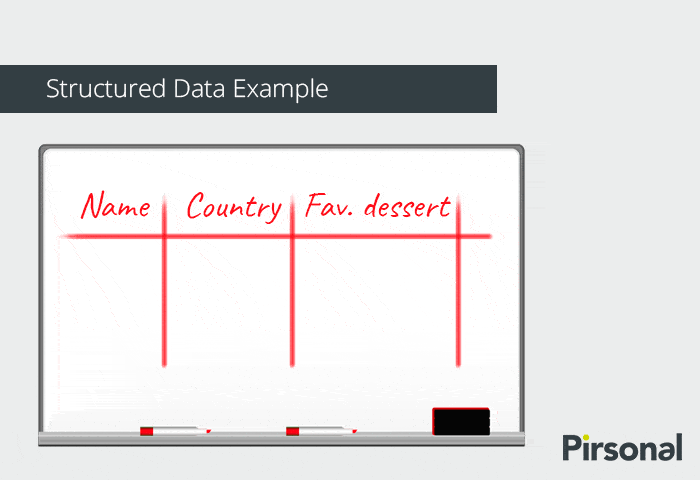 When a business uses the data as it is, we call this textual information. When it "translates" this information into something even more relevant for whom will see the dynamic messages, we call this contextualized information. Here you have another example: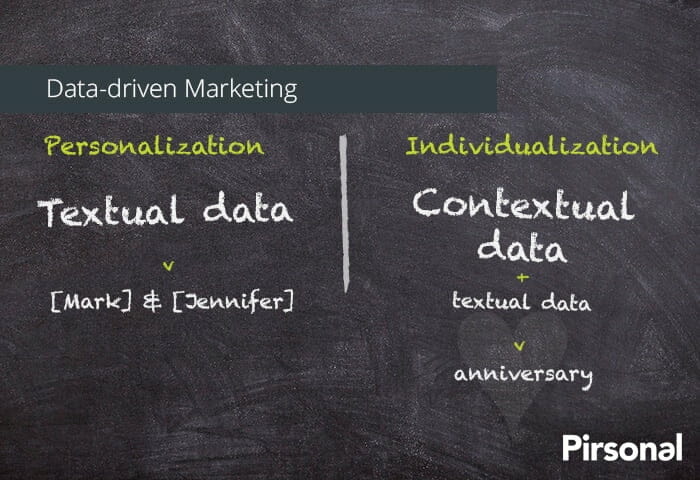 How can businesses use personalized video marketing
In this context, let's cover the ways businesses can use personalized video marketing as a key relational differentiator when engaging with their customers. Let's start by asking why you should, as a marketer, even consider including personalized video marketing in your arsenal.
BTW, if you are considering personalized video marketing, you'll want to see more examples, case studies, and strategies.
That's why we created a complete guide on personalized video marketing. To see many personalized video examples for B2C and B2B marketing, you can read the personalized video marketing guide with examples.
When you work in marketing, customer relationship management, and sales, everything you do is focused on clear goals. Every time I hear a client speaking about KPIs, percentages, and things like that I just get excited. Why? Because measuring makes us better at our jobs and this has a direct impact on what our companies can expect from us.
I remember that time when a marketing lead told me that he wanted to apply personalized video marketing techniques to the financial organization he represented just because he thought it was cool. Between you and I, that comment made me wonder if I should start to worry.
Personalized Video Marketing requires strategy: from the personalized video template to the information that will be used for the creative assets and even the marketing automation that will take place. Everything is related. A personalized video marketing strategy caters to the needs of a person and shortens the "little" space between the message from the brand to the buyer, his intent to buy, and to do it more often. Personalized Video uses variable data that connects with individuals in a way that is relevant to their needs, desires, and context.
Using personalized video marketing is a major shift in the way businesses understand customer engagement. It speaks about how pertinent and aligned a message, a brand and a customer's needs are.
These are a few of the key benefits personalized video marketing delivers to businesses:

A video is an effective way of communication
Video is an excellent way to reach out to individualized audiences not only to promote your offering but especially to help them understand key information in a visual way. Using video helps the message to be appealing, important, and even urgent.
Take as an example the following video. It helps a potential customer get excited about a trip she requested information about.
According to Wyzowl, 81% of companies use video as a marketing tool. Video is a central part of our daily routines. On average, we watch about 1.5 hours of video per day. 72% of people would rather use video to learn about a product or service. This makes it the type of content customers would expect to consume.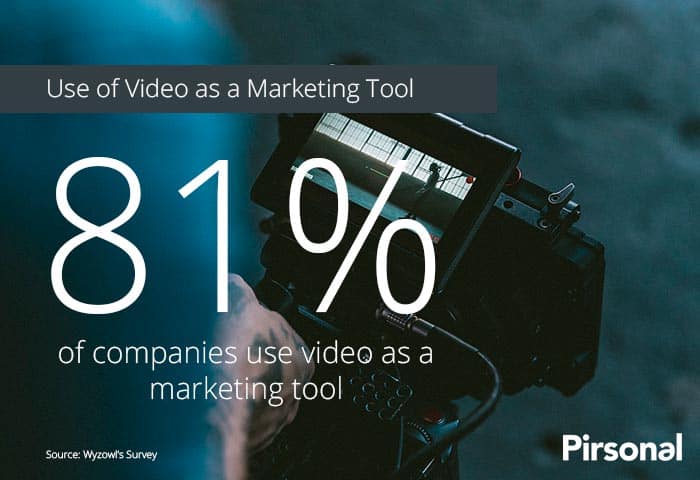 Using dynamic information brings more opportunities to the game, and this is what personalized videos do. Effective communication can build better relationships and will help increase customer loyalty.
Personalized Video Marketing positively engages customers
There is so much noise out there. Grabbing customers' attention has become more difficult. It requires more strategy, several impacts, and sharing the right message at the right time. Personalized Video Marketing, combined with marketing automation, helps to engage customers positively and allows brands to be more responsive. It also helps to increase customer retention, which will ultimately increase revenue as it is more expensive to attract new customers than to retain them.
Take as an example the financial services industry. After-sales is a huge challenge for any company that really cares about its business. I'm not only talking about keeping a steady growth but about skyrocketing it. This case study talks about how the financial services division of a leading European automotive brand increased customer engagement by 20% with an after-sales personalized video marketing strategy.
Fill out the following form to download the free customer journey case study:
Want to learn how to use personalized videos across the customer journey? Read this article about using personalized videos in the customer journey now.
Personalized Video Marketing increases the trust of people
Every business needs to build trust. It's one of the essential factors that can influence your success in the market. Personalized Video Marketing helps build the confidence of the customers in your business and leaves a good imprint on them as well. One of the best ways of building trust is by understanding your customer's needs and reflecting this in your communications and offers.
In fact, according to IDC, 34% of marketing executives have made brand relevance a top priority and 41% of them see customer loyalty as the top one.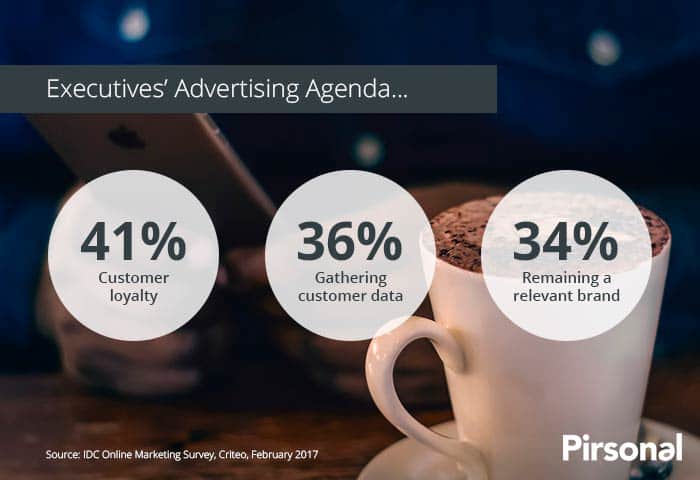 Personalized Video Marketing attracts each customer uniquely
In today's world, we all expect to get what we want with just a click. The more personalized a call to action is, the more likely the user will positively respond to it. This is why about 46% of marketers create customized calls to action. By combining personalized videos with dynamic calls to action within an interactive video player, marketers are able to create the perfect match that attracts customers and leads them to accelerate their decision-making process.
Personalized Video Marketing is an excellent return on Investment
Every company needs a good return on its investment (ROI). Personalized Video marketing is not the cheapest marketing strategy, but it is a cost-effective one in terms of ROI when working with segmented audiences, with a clear strategy and measuring specific KPIs. Today's companies' war is called "attention span". Getting to your customer's heart not only on time but constantly is the only way to succeed.
On average, the cost per personalized video is between 0,03 USD and 0,99 USD depending on the characteristics required by the client. With this information, you can estimate the ROI you can expect based on the size of your audience and the requirements of your campaign.
Watch the following video to understand the pricing for personalized video software:
Personalized Video Marketing is already aligned with your marketing automation
Thanks to the use of technology and integrations, we've made personalized video marketing a natural step in any business' marketing stack. For example, at Pirsonal we provide more than a thousand integrations with third-party business applications and a developer API to easily create personalized video marketing automation workflows.
Take a look a the following marketing automation workflow example, where a personalized video is automatically created based on structured data. What matters is deciding what business goals you want to achieve with personalized video marketing and this will determine the next steps and requirements.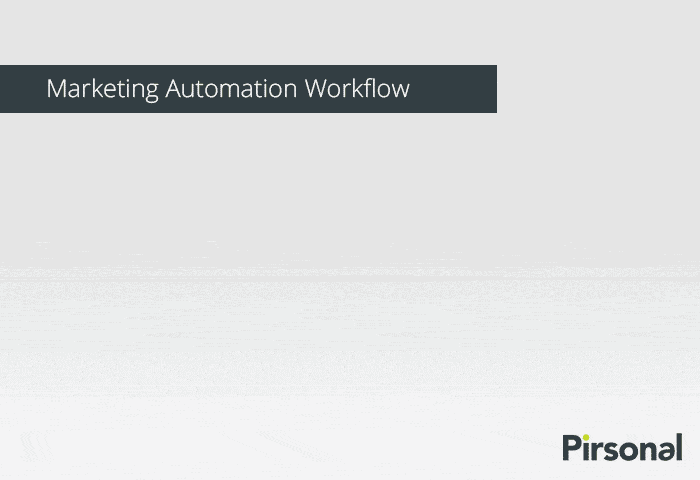 Takeaway
Personalized video marketing campaigns are more than just a trend. It's here to stay as it utilizes the data, creativity, and dynamic messaging businesses need in order to multiply their engagement and reduce the gap between what a company offers and how they offer it.
The ability to use customer data, advanced or as basic as it can be and multimedia content across the customer journey can now help any business to start creating personalized video marketing strategies adapted to how they currently get in touch with their segmented audience.
In any case, our recommendation is to start simple and grow from there using the communication channels you already have in place. From there, update or add some more personalized touchpoints based on triggers. Focus your message on the desired call to action that will move your customer to your sweet spot.
At Pirsonal we help companies like yours get there with both our personalized video marketing platform and our professional services packages. Feel free to reach out to one of our experts for more information.