Easily Integrate Your Data and React
Empower your individualized videos with the software and data that drive your business to engage customers at scale in an individualized way.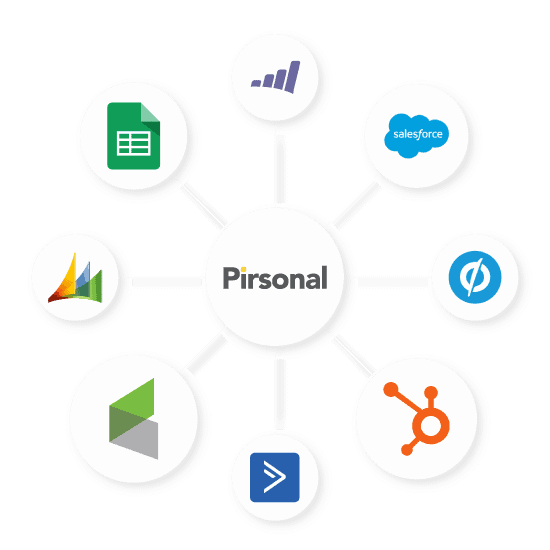 Pirsonal Integrations
Marketing automation is responsive. Your videos should be too. With more than 3000 integrations, Pirsonal makes it easy to automatically create Individualized Videos based on your triggers and data.
Empower your marketing automation strategy with highly engaging videos that connect with the right customer at the right time.

API: Easy to integrate

Webhook Support

Trigger-based or batch mode
Integrations with your business apps

Salesforce

Pipedrive

Google Sheets

Excel

Infusionsoft

Hubspot

Highrise

Microsoft Dynamics CRM

Marketo

ActiveCampaign

Act-On

Intercom

Unbounce

Autopilot

Drip

SharpSpring

Nimble

Webmerge

Wufoo

SurveyMonkey

Typeform

123ContactForm

Paypal

Zapier
Simple or Complex Marketing Automation Workflows
Connect Pirsonal to one or several applications. Easily, instantly and automatically integrate the individualized videos you create with Pirsonal in your email marketing campaigns, or send them by SMS or even as Facebook personal messages.
Pirsonal helps you combine marketing automation and video individualization so that you can connect with your segmented audience as you already do but with higher conversations and better reactions.

Create filters

Powered by your data

Merge data from several apps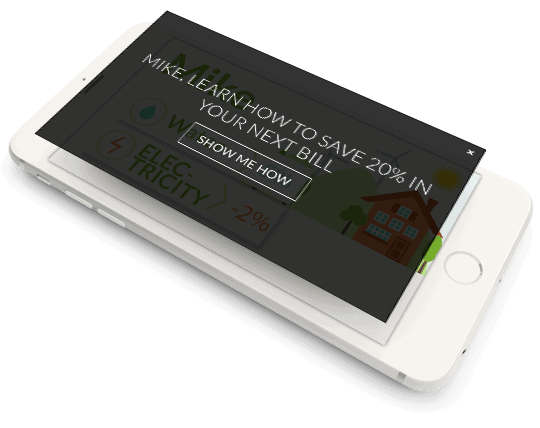 One Automation To Rule Them All
Interact with each customer through an individualized video, player and landing page, automatically created within the same marketing platform and automation workflow.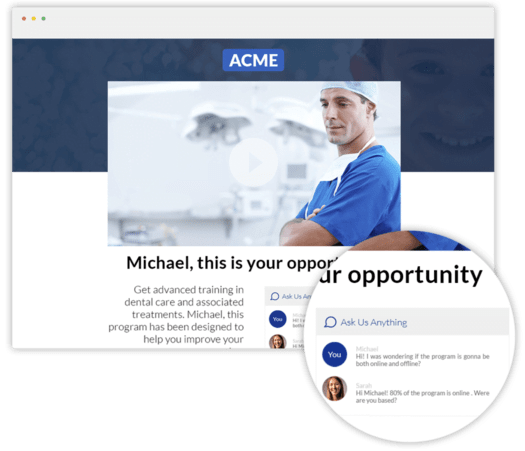 Individualized Video Player
Instantly empower every Individualized Video with a Dynamic Call to Action, custom HTML or the Data Magnet lead generation form individualized for each customer.

individualized Video Landing Page
Pirsonal Pages are attention-driven video landing pages automatically created and individualized for every customer to address their specific needs.

Custom Metadata
Easily attach relevant information to every individualized video. A customer ID or a telephone number? Instantly add consistency to your automation workflow.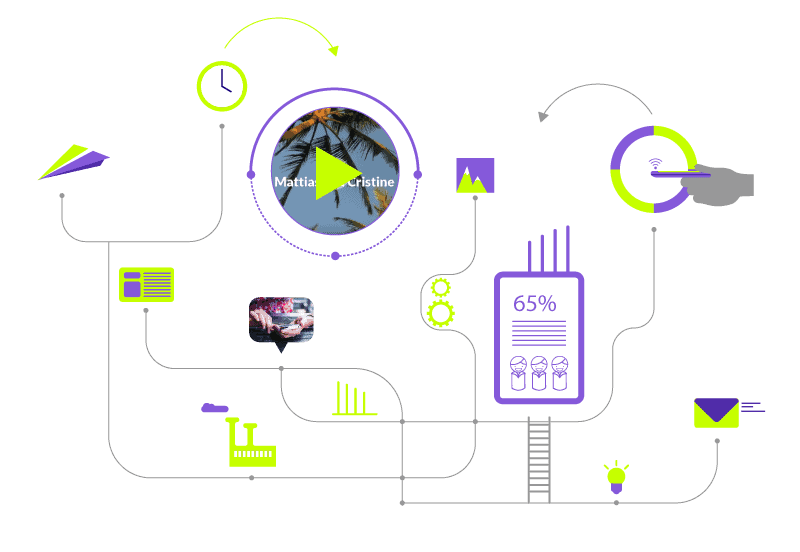 Need A Custom Integration?
Create custom integrations and applications on top of Pirsonal's Individualized Video API. Get all the power of the automatic video editing cloud, video management, video analytics, video player and landing pages within any project, based on your own triggers and data source.

Documented API

Connect your own app
Pirsonal Has More Features
A Secure Individualized Video Platform
We take data security very seriously. From shielded video processing to data encryption and secure video hosting.
Magic Link
Through Pirsonal's Magic Link the videos are automatically created when an individual clicks on a link. Behind the scenes, we already know the data and template to be merged.
Protected Webhook System
A Webhook is a push notification from Pirsonal's servers to yours or to any software. Through our platform, they can be password-protected. Pirsonal can instantly communicate with any app the moment a video has been created to integrate the videos in your emails, SMS, a CRM or any system.
YouTube Integration
Automatically upload the individualized videos to your YouTube channel with custom metadata and dynamic fields. Easily manage the videos' privacy settings from the Pirsonal Platform or from Pirsonal's API.
Amazon S3 Integration
Pirsonal integrates with Amazon Webservices so you can securely host the Individualized Videos in your own S3 bucket.
Use Your Own Video Hosting
Use your own video hosting, integrate the individualized video files wherever you want through Pirsonal's API, the Individualized Video Platform for developers.
Custom Metadata
Attach any relevant information to every video, from a customer ID, a telephone number or an email. Pirsonal makes it easy to integrate and manage every video with any automation workflow.
Video Encoding
Pirsonal takes care of the video encoding so that every individualized video works on any type of platform.
Custom Video Output Profiles
Pirsonal's Automatic Video Editing Platform takes care of the complete processing, transcoding and rendering of your Individualized Videos. Create the video in one or several formats and resolutions, create custom video profiles.
Flexible Templates
Create Individualized Video Templates on the fly thanks to Pirsonal's documented, JSON-based scripting language.
Template Creator
Create custom individualized video templates with Pirsonal's tools, or rely on Pirsonal's Professional Services team to help you achieve your goals.
Custom Video Output Profiles
Pirsonal's Automatic Video Editing platform takes care of the complete processing, transcoding and rendering of your individualized videos. Create the video in one or several formats and resolutions, create custom video profiles.
Accelerate sales. Increase engagement.