The world of advertising is becoming more and more data-driven. Advertisers can use first-party data to third-party data to optimize video campaigns and improve ad targeting.
Although in ad-tech not everything has to do with data. Organizations and agencies must be more and more creative in advertising.
What impact does the data-driven approach have on video advertisement? And, even better, in the dynamic content brands can create to optimize ad targeting?
It's no surprise that advertisers are looking for ways to maximize return on ad spend (also known as ROAS).
Often, in order to achieve this goal, advertisers start by understanding what kind of content their target audience watches on TV or online.
However, technology and creativity have more to offer.
This is not even a small percentage of the possibilities.
With more diverse audiences, channels and competition, advertisers need more efficient ways to target their audiences.
This also affects the type of content they create. In many cases, digital advertising agencies need to constantly think out of the box.
Video is king, but the process of producing videos advertisements has nothing to do with this royal status.
Especially if clients need to apply a data-driven approach to improve ad targeting with dynamic formats and ad creatives.
In the context of granular, global audiences, are there more efficient ways to do video advertising at scale?
In this article, you'll learn what data-driven video advertising is.
You'll also learn about why personalized video ads are the future of marketing and how this strategy maximizes ROAS, improves campaign efficiency, and boost ad targeting.
What is data-driven video advertisement?
A data-driven video advertisement is a type of personalized video you can use in advertising to target specific shoppers.
No matter the size of the organization, brands automatically make these ads using data from any source or feed.
From a video creative and content perspective, we are talking about a living video.
This opens up an immense world of possibilities. Advertisers and marketers can be more creative in advertising.
Video personalization is possible thanks to different tools that allow having a scalable process in place.
Let's take a look at a simple personalized video ad example:
In this example, fitness brand Zumba uses personalized video ads to help instructors connect with their audience worldwide.
They use ad localization to adapt the ad in seven languages: English, French, German, Spanish, Portuguese, Korean, and Italian.
In this example, the ad personalization is quite simple. They personalize the text of some of the scenes to help viewers know that a particular instructor is available for sessions in their local town.
Templates for dynamic video ads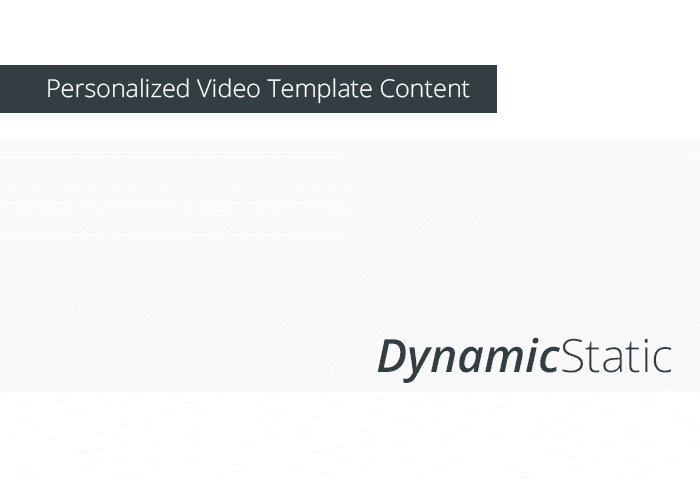 Templates help you repurpose structures, scenes, and creative assets like images, texts, video clips, audio files, and vector shapes.
These video ads can change in size, color, content, and other attributes in order to best match the viewing experience for the viewer with personalization.
The objects that make up a template can be dynamic or static. You can customize the dynamic objects with your custom data feed.
Video editing software for advertisement at scale
A video editing software handles all the processes and stages related to making videos online or on local machines.
For instance, rendering the videos at scale but also transcoding them so that the video assets are available in different formats.
More and more, brands need to adapt their content to a variety of devices, channels, and platforms.
So brands can automatically optimize ad creatives in landscape or portrait modes. Also, the customization takes place in different screen sizes and many other variables.
In some cases, advertisers use audience segments to target a potential buyer, a niche, or a more generic target audience.
In many cases, advertisers provide a feed with structured data ready to use.
With this information, advertisers create many combinations of creative video ad formats in bulk in the cloud (learn how to manage this with this podcast episode).
In other cases, the data is ever-changing, as the customer's journey changes. Interactive video ads make this possible.
Often, thanks to interactive video software or player, viewers engage with the video content. For example, personalized Calls to Action are 200% more effective than generic ones.
As you can see, a targeted advertisement with video requires a specific mindset.
Brands and creative agencies need to think about fluid content instead of rigid assets.
In fact, organizations can complement their advertising strategies with direct personal messages through email, SMS or similar channels.
For example, with Pirsonal Pages, brands can automatically create dynamic landing pages with personalization. On these landing pages, viewers will find a personalized video with a personalized Call to Action.
Thanks to individualized analytics, marketers can know who has seen what. This becomes a great opportunity for retargeting and remarketing campaigns.
Are data-driven video ads good for advertising?
There are many reasons why brands and agencies are shifting toward making video ads with personalization.
For instance, customers want personalization. A report found that 33 percent of consumers say they want a more personalized ad experience.
Online buyers even spend more time with ad content that is personalized to their needs.
Also, marketing executives are starting to find gold in the data-driven approach.
Advertising performance has been a huge deal in the last few years.
Because of this, social media advertising platforms like Facebook or Google Ads have done an incredible job in automatically optimizing ads.
The same has happened with programmatic ads, which democratize inventory and distribution access in real-time.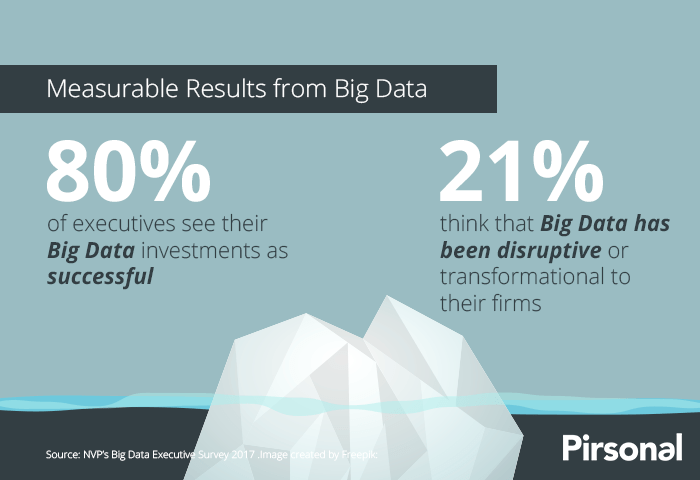 But there is more to this.
Let me cover three key reasons why data-driven video ads are good for advertising from a brand and marketing agency perspective.
1) Video campaigns with dynamic ads offer better CTR
From a business goal perspective, with ad prices going up and a war to get not only eyeballs but reactions, the objective is to improve ad targeting and increase the return on ad spend.
Data-driven videos prove to be more successful than traditional ads because you can tailor them for specific audiences.
This improves their effectiveness significantly.
One of the key reasons why this happens is because data-driven videos help improve click-through rates (CTRs) and cost per click (CPC).
We see an example in what Coast Digital did for one of their clients. With dynamic video ads, they achieved a 94% increase in CTR.
For many advertisers, video completion rates are challenging.
That Coast Digital found is that  "not only was the link CTR improved by using dynamic ads, the actual percentage of users who stayed to watch the whole video was 1,248% higher than that of the traditional video element".
In many cases, data-driven videos ads are automatically created by analyzing the qualities of an audience.
Some of the common ways are by organizing audience segments by age, gender, location, or interests.
This analysis determines which ads should be made and then shown to a potential customer to provide the most relevant.
The more relevant a video ad is, the higher conversion rates are.
If you need some inspiration, listen to the following video to learn seven easy ways to segment your audience today:
2) Faster video production with real-time personalized videos saves time and money
From an operational perspective, data-driven video advertisements help agencies and brands scale their video ad production in no time using cloud rendering.
With little effort, technology makes it easy for advertisers to produce videos in many combinations.
At the same time, thanks to modern ad-tech, integrations with players like Google Ads, Facebook Ads, or any programmatic advertising platform becomes a no-brainer.
A few years ago, companies needed to produce videos in different video file formats like MP4, WebM, and OGG. Also, in different video resolutions.
You can make dynamic ads at any video resolution depending on the video personalization software you use. Watch the following video to learn about the best video resolution for personalized video campaigns:
Nowadays, this is generally handled by a content delivery network (CDN). This makes the process a bit shorter, which is always good news.
Every time the most popular file format is ready, API integrations automatically upload the videos to the chosen ad network. This reduces manual work.
3) Dynamic video content keeps the ads responsive, fresh, and relevant
Another reason why brands and advertising agencies use dynamic ads has to do with the way online shoppers buy.
More and more, the customer journey requires a personalized approach. The customer journey is much more complicated than it has ever been before.
For example, customers are no longer willing to wait for service. They want to know they're important and fast service response.
What's more, they want to know that their experience is worth the wait. To make matters worse, customers are now more connected than ever before.
Shoppers connect to the world with the help of their smartphones. They connect to everyone and everything – including their favorite brands.
Advertisers and agencies need their advertising strategy to adapt to this reality, sometimes even in real-time.
From copywriters to designers, ads producers need to force their minds to be creative in advertising in new ways.
For example, crafting the structure of templates that will create automated videos they will never double-check.
Types of video ads with dynamic ad creative
There are different types of video ads driven by data brands can create. Choosing one or the other often comes down to the budget, production workflow, and audience diversity.
From a personalized video software perspective, they are all the same.
It's more a matter of when and how to create the videos. From there, choosing the right distributional channel is imperative to achieving success.
There are always at least three steps in the process of creation and distribution of video campaigns:
Data source, which often is given by the trigger.
Getting the video ad creative ready.
Uploading the videos to a video hosting service or distribution platform, like a social advertising service.
With this context, let's see the two popular choices for data-driven ads.
1) Real-time personalized videos
Real-time personalized videos have historically been related to marketing automation and CRM marketing.
The reason for this is that marketers and customer experience managers are more and more getting used to sending personalized messages with video to leads and customers based on a particular customer's journey.
The following infographic shows an example of the travel industry.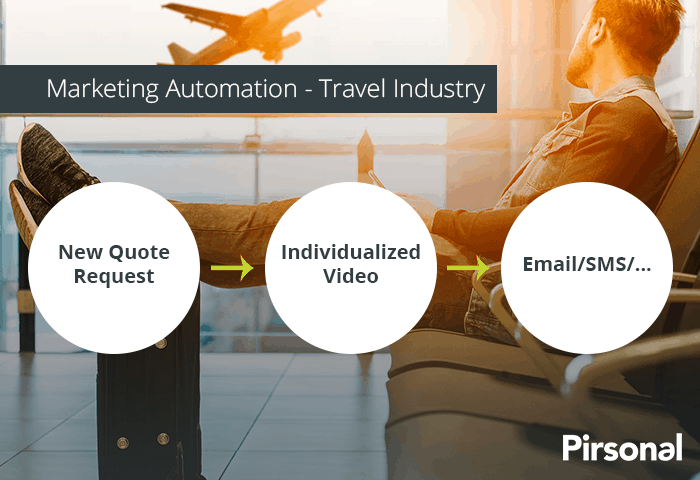 In this example, an online travel agency (OTA) automatically creates an individualized video when a lead requests information. When the individualized video is ready, the user gets an email or SMS.
But this is slightly easier to manage when we talk about processes defined by marketing automation software and tools.
Most of these applications deliver email, SMS, WhatsApp, or any other type of 1-to-1 messages to targeted customers.
So, even if the video content is created close to real-time, in most cases, the sending process gives organizations a few seconds of grace.
Rendering personalized video ads in real-time
In advertising, the challenge is greater. Buyers make decisions faster.
Depending on the advertising budget, audience segmentation, size, and how granular the personalization needs to be, we could talk about just a few thousand videos to millions of ad creative combinations.
The sooner the video ad creative is ready, the better.
With Pirsonal Ads, brands can enjoy exclusive processing power to make videos ads at scale.
A targeted advertisement can affect the decision a buyer will take at the very next second.
So, when we are talking about real-time personalized video ads, the video content is almost immediately created upon a trigger ("if this, then that").
Once it has been created, it is instantly presented to the viewer.
The complete process needs to be highly optimized.
This scenario is usually more expensive as it requires more processing power.
The different video ad formats and creative need to be ready as soon as possible.
At the same time, the ad creative assets must be optimized for fast processing.
With the current ad-tech stage, brands can use machine learning to personalize content for each shopper's online behavior.
With this performance optimization process, machine learning refines and delivers increasingly personalized advertising creative content.
2) Bulk video ad creative
For many, bulk video creation for advertising is often easier to manage. In this scenario, producers already have the data they'll use to produce the videos.
The videos are created first as a batch process, then distributed.
With the little help of an ad-tech like Pirsonal's, brands trigger the videos at once. Then, the videos are automatically rendered.
Once the video combinations are ready, the files are either manually or automatically uploaded to the distribution platform.
This could be a platform for social media advertisement like Facebook, a programmatic advertising network, or a platform for native video ads like YouTube with YouTube ads.
In fact, even with generic ad creative, social media advertisement is already huge.
According to Statista, 37.9 percent of respondents reported that they have made anywhere from one to 25 percent of the time a purchase after viewing either an online or social media advertisement.
As for the data feed, the popular choice is a spreadsheet (XLS, CSV, etc), but it could virtually be any digital application that manages structured data, like Airtable, Smartsheet, or Google Sheets.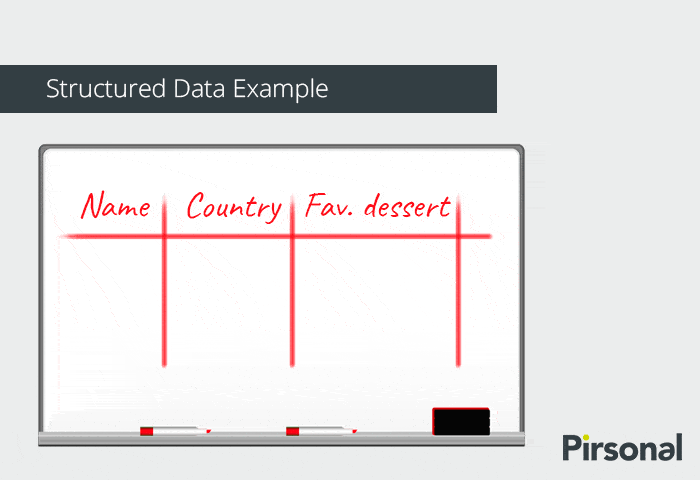 More and more, organizations use tools like Zapier or Integromat to create video ad creative assets.
Most advanced advertisers and agencies might prefer a custom API integration.
In the following video, you'll learn how to easily make personalized videos using Google Sheets, Zapier, and Pirsonal:
How to make dynamic video ads with online video editing software
Dynamic video ads are created automatically with video editing software for personalization in the cloud or on normal computers.
If you are looking for an efficient way to create your video ads at scale, you should consider using the cloud Pirsonal's.
You can customize dynamic videos based on an individual's interests.
This is why targeted advertisement with dynamic multimedia content is much more relevant than traditional static video advertisements.
Creative specialists need to take this into consideration when creating the storyboard, masterpieces, and general conceptualization of the assets.
Creative assets in dynamic ads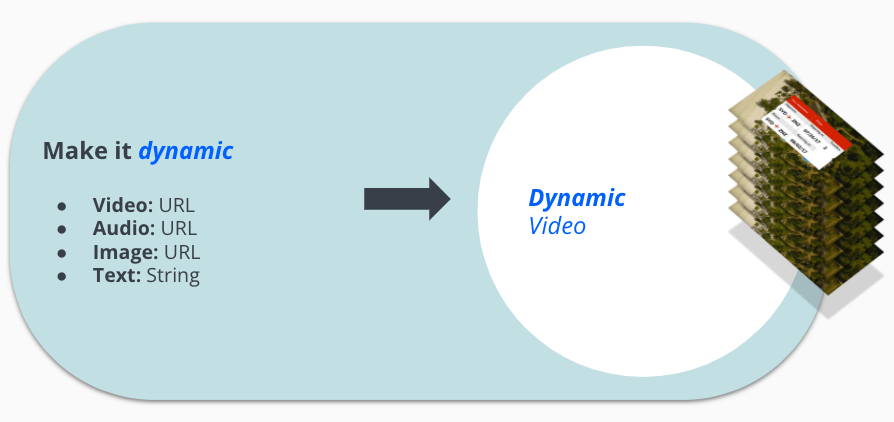 These are the types of customizable content that can be part of a template:
Video clips: Through the data source, brands provide the file or the URL of hosted files.
Audio files: From text-to-speech (TTS) to prerecorded voice-over or AI-generated soundtrack, there are many options. Brands provide either the files or the URL where the files are programmatically downloaded from.
Images: Personalized images are a common choice. From JPG to PNG or GIF images, users provide the file or the URL of the files.
Text: The most popular one. Simply add a text string from your data source!
Vector shapes: Depending on the tool you use, vector shapes like rectangles can also be dynamically added.
With online video editing software like Pirsonal, this content can be dynamic or static.
Effects and properties for dynamic video content
Depending on how you plan to produce the video ads, and the flexibility of the video editing software you use, there are many effects and events you can apply to dynamic and static objects within a template.
The most common events and effects are:
Object tracking: This is when a dynamic object follows the same movement and dimension as another object.
Fade in and fade out: These are gradual transitions that either have an object fade from transparent or to transparent content.
Zoom in and zoom out: Zoom in means focusing on a particular object to increase its size or make a visual object look larger. Zoom out is the opposite.
X, Y, object movement: You can change the position of an object using coordinates.
Image filter: Changing the appearance of an image. For example, using black and white filters, or sepia.
Text adjustments: On many occasions, the length of text objects is unknown. Using automatic text size fit helps you make sure that text boxes always look good.
A flexible video tool like Pirsonal allows you to update properties dynamically. You can even make properties and attributes available for personalization.
Using cloud video editing software gives you the ability to create your ads using specialized processing power at scale.
The operational video campaign process
The overall process of creating a dynamic advertisement with video usually looks like the following:
Define your business goals and create an advertising strategy.
Decide on the workflow. For example, are the videos going to be created in bulk from a spreadsheet or triggered by specific criteria?
Design and create the ad creative assets.
Create a personalized video template. Video editing tools like Pirsonal Editor make it easy to create templates for dynamic video ads. For more flexible scenarios, Pirsonal Script allows developers to create and update templates using JSON.
Make the video advertisements at scale.
The following video shows how Pirsonal Editor works:
Dynamic Video Ads Pricing
The price of producing dynamic video ads at scale is similar to the cost of producing personalized videos automatically. On average, the cost per personalized video is between 0,03 USD and 0,99 USD. For dynamic video ads, one of the key cost metrics is the volume and video rendering speed.
Watch the following video to understand how dynamic video software companies charge for their platforms.
Final words
The ad-tech world is always evolving. Now is the time to apply this evolution to advertising content.
Video advertising software like Pirsonal Ads helps brands and agencies become more creative in advertising with fluid content.
Brands are constantly on the lookout for new and innovative ways to reach and engage their target audience.
Dynamic video ads are an excellent way for brands to improve ad targeting and ROAS.
When brands create a personalized experience with video, this also brings an opportunity to improve advertising operations.
Dynamic video ads have quickly become one of the most popular and effective new advancements in the industry.
Viewers are more likely to respond to video ads when they are relevant to their interests or based on what they are watching.
Data-driven video advertisement helps brands avoid the "skip" culture, which has become the norm for many consumers.