Over the years, the concept of a video marketing platform has evolved. This happens as a result of changes in the behavior of audiences. It has also evolved thanks to the rapid adoption of new strategies and technological tools that increasingly align with each other.
For example, according to Social Media's Today 2019 State of Marketing Automation Survey report, 75% of all companies already use at least one kind of marketing automation tool. These statistics tell us that the majority of organizations use some kind of marketing automation tools for their marketing.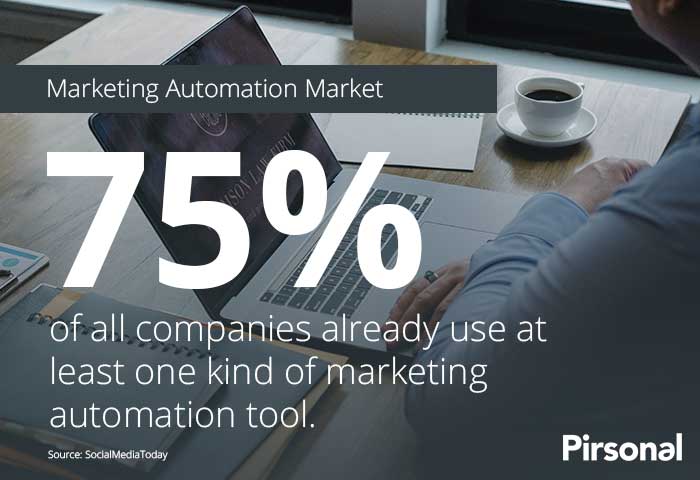 We also see that customer experience (or CX) adoption is growing. In fact, according to research from PWC, 86% of buyers are willing to pay more for a great customer experience.
For this reason, it is important to understand how to choose a video marketing platform that suits the needs of your organization.
To correctly choose the video marketing platform that your organization needs, it is essential to analyze what are the operational characteristics related to the production of audiovisual content. You should also pay attention to the content consumption and engagement needs of the target audiences, and the marketing objectives your organization has.
Key Video Marketing Platform Features And Characteristics To Pay Attention To:
Video Hosting For Distributed Or Delocalized Audiences
Video Search Engine Optimization
Powerful Video Editing: An Alternative To Affect Effects (AE)
Real-Time Rendering To Improve Marketing Conversions
Interactive Video Player To Increase Viewer Engagement Rates
Video Marketing Integrations To Create Automation Workflows and Funnels
Pricing structure
I'll go over each one of these platform features from a strategic perspective. Keep reading.
Marketing automation and customer experience focus primarily on individuals that receive a unique experience and personalized marketing messages. This is the opposite of broad audiences who receive a totally equal and impersonal experience.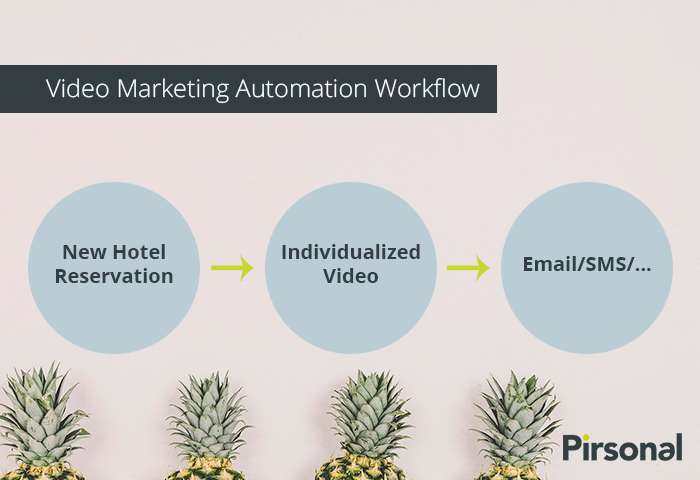 Because of this, online video marketing strategies also need to reflect this approach. This means that it should take the viewing experience into consideration. Your online video approach needs to be close to the way your target audience thinks, behaves and consumes your content.
Here is where personalized video marketing lends a hand to marketers and CX managers. Creating unique digital videos assists them in achieving a very simple, yet complex goal: Reach the hearts, minds, and pockets of micro-segmented audiences through highly relevant communications.
People know what they'll find when they visit a YouTube channel. But, should the experience and content be the same for the complete audience on the mailing list when they receive an email from someone from your organization?
BTW, to learn how to create personalized emails that get conversions, check this article.
Customer expectations are more important than ever. As competition increases and audiences are saturated with marketing messages, making sure that your video marketing efforts are aligned with your target audience's expectations and goals is vital to success.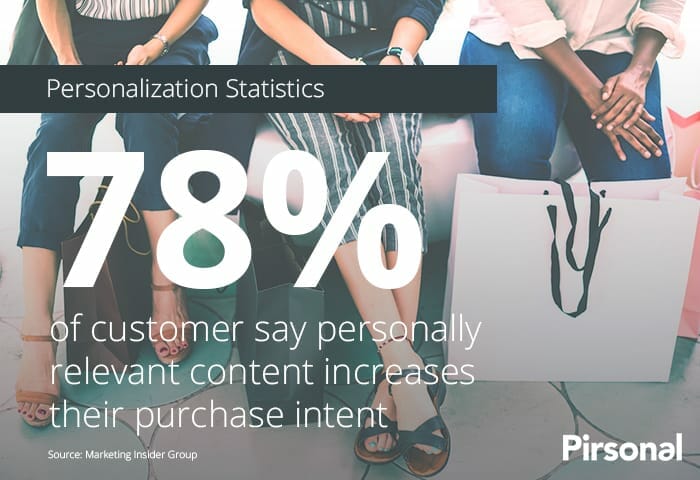 In this article, I will share some recommendations based on my experience with digital video marketing over the last 17 years, as well as the analysis of different video marketing tools.
This analysis will help you choose a video marketing platform and strategize wisely. You'll be able to understand what video marketing technologies, strategies, and connected tools will do better to your digital presence and customer experience.
Why Video Marketing Is Imperative In 2022?
To keep it simple, we all love video. To stick to the facts, daily online video content consumption around the world went up since the start of the COVID-19 pandemic. Online video platforms doubled on average from 3 hours 17 minutes to 6 hours 59 minutes of content viewed by global audiences.
From an eyeballs perspective, digital video content already had an engaged audience. Long before the pandemic, it showed very outstanding growth rates.
In fact, nearly 50% of today's online search engine inquiries are video searches related to specific services or products. This is one of the number one reasons why content creators invest more time and resources in creating content to boost SEO.
Three mind-blowing stats that make the business case for video marketing in 2021:
Your competitors are investing in digital video: According to the latest research by Wyzowl, 85% of marketers make use of videos in their campaigns.
Strategic video content helps you drive more organic traffic: Businesses that use video in their content strategy see 41% more organic traffic than those that don't.
Topic-specific video content helps you convert leads faster: Having a video on your landing page can increase your conversion rate by 80%.
How Video Marketing Is Evolving to Video Marketing Automation
Often, video marketers and brands wonder what makes a good marketing video. A lot has to do with choosing the right video marketing platform and having a solid video marketing funnel in place.
The growth of the internet has spawned new "attention markets" in which people devote increasing amounts of time to consuming online content.
Brand marketing efforts are becoming more comprehensive. This means that they work in conjunction with other disciplines and departments of their respective organizations.
This is not only from an operations perspective. It also affects how brands are creating video marketing strategies in a more holistic way.
A potential or current customer of a company is more exposed to brand impacts than 10 years ago. This impact occurs through a variety of channels and types of content, both physical and digital.
Although, the most constant impacts are notably in the digital field. This in turn is driven by how users of digital services consume information.
This consumption is done in three ways:
Powered by their own initiative, proactively seeking information and services of interest to them.
From recommendations based on their possible interest.
Thanks to advertising, which forces brands to become creative in advertising with a more granular segmentation.
This consumption by increasingly global audiences poses several challenges for brands when creating video content:
While video production is cheaper today than it was 10 years ago, video is still the most expensive digital content to produce.
It is difficult to create scalable and even real-time multimedia content, given the processing times, and manual editing work.
Video production still requires some specialization in many cases.
These challenges give rise to a new pour of video marketing initiatives. They give rise to their natural evolution, thanks to technological innovations, as well as the consumption habits of audiences.
This is how and when video marketing automation shines.
What Is Video Marketing Automation?
Video marketing automation is a mix of video technologies and processes that allow anyone to make videos automatically, on the cloud, at scale. Video marketing automation workflows are often connected to other digital production or marketing tools.
Thanks to fast processing servers, the use of databases, and the rapid technology evolution, automated videos help content creators, marketers, and brands to automatically make videos online and to quickly integrate this content within their marketing and advertising content.
Video rendering takes place through powerful private or public clouds. This allows producers to rely on machines that are far superior to any professional computer. Video marketing automation combines the processing load between several servers and generates digital content in a fraction of the time.
Time is not the only benefit video marketing automation offers. One key characteristic of video marketing automation is the production cost. When you combine fast cloud video processing with the fact that a lot of content can be created in a matter of seconds, the cost per video goes down drastically.
This makes video marketing automation a perfect fit for modern digital video marketing strategies.
What You Need to Know About Personalized Videos if You Are an Agency
For most agencies, personalized video marketing is something new. Understanding how video personalization works is key to successfully choosing software for your next video automation campaign.
The following video goes over the main FAQs advertising, marketing, and video production agencies ask when they try to find personalized video software for their next campaign.
Choosing a Video Marketing Automation Software: Key Aspects For Marketing Automation And Customer Experience
Both on a budget level and on a creative and operational level, it is essential to take into account the main features and characteristics that a video automation software should have. This is critical if your goal is to create marketing automation strategies to support your customer experience efforts with video.
Next, I will detail the main areas in which you will have to look to choose correctly.
Video Hosting For Distributed Or Delocalized Audiences
Most organizations do not want to deal with a video hosting platform. Hosting videos online is often a topic that overwhelms them. Because of this, you should choose a video software that not only automatically edits videos online, but also hosts the content safely.
When looking for a video software vendor with a focus on marketing automation and audience engagement, you should take into account the following aspects:
1. The number of videos
The number of videos you want to create over a period of time is really important. For example, if your plan is to create one-to-one videos and need to create thousands of them, you don't want to choose a platform that can't handle the heavy demand.
If you are working on a personalized marketing strategy or account-based marketing (ABM), chances are that your individual videos won't receive a lot of video views, but you'll create a lot more videos than what's average for video marketers that produce video content for platforms like YouTube, Vimeo, Facebook or Instagram.
2. The average length of the videos
Individualized videos tend to work better when they are short and fully contextualized.
But publicly available videos work just fine on platforms like YouTube, Vimeo, or Wistia. Some of these platforms also have editing capabilities.
Let's not forget that YouTube is the second largest search engine. YouTube is currently reading, understanding, and indexing video content to help users find more information online.
3. The average weight of the videos
Usually, the more optimized they are, the better, since this reduces the buffering time for the user to play the videos, as well as the cost of bandwidth.
There are different types of videos. Quality videos are usually created in 720p or 1080p, but this doesn't mean that you should always create high-resolution videos.
Standard-resolution videos (480p) are a really good idea when under the following scenarios:
Your user base has a poor internet connection because videos load faster.
When you create personalized videos on a large scale because, as this is cheaper.
When the 1:1 videos (both, personalized or customized videos) need to be created in a short period of time, usually triggered by a user. High-resolution videos take three to four times longer to process.
Any video resolution is possible with average personalized video software. Depending on the video personalization software you use. Watch the following video to learn about the best video resolution to make personalized videos
4. Video expiration
This is particularly important if the video platform automatically deletes the videos after a certain period of time. This is more important than it seems at first glance.
For example, if you are creating personalized videos automatically and the videos are sent to users who are evaluating the renewal of car insurance and the video is sent 3 months before the currently contracted insurance expires, it would be highly recommended that the personalized video is accessible for at least three months.
If it were less time, it is likely that the user wants to watch the video again and the video is no longer available, which would cause a bad customer experience.
5. Location of the audience that will play the video: Using A CDN
For example, if you have a very geographically dispersed audience, you will need a provider that uses a content delivery network (also known as a CDN).
A CDN refers to a geographically distributed group of servers that work together to provide fast delivery of Internet content. Basically, it allows the requested file to be accessible on the server closest to the user.
Video hosting service comes with all of our plans. In standard plans, the stay will be between 1 and 3 months. In custom plans, it will really be what the client needs.
Likewise, we have integration with clouds such as Amazon S3 or Azure. This is particularly important for organizations that prefer to have full control over the files, hosting the videos themselves.
Video Search Engine Optimization
Custom video SEO is typically not important. However, video SEO is vital for automatic video production of product videos, advertising, or editorial content creation.
If SEO is important for your video marketing project, then you should consider a video tool that allows you to add tags, titles, descriptions, and video cataloging automatically.
You should bear in mind that platforms such as YouTube have had content upload limits for a few years depending on the type of account, as well as the total number of videos you have already uploaded. Generally, it will be a maximum of 99 videos every 24 hours or 199 videos every 24 hours.
Powerful Video Editing: An Alternative To Affect Effects (AE)
Without a doubt, the most widely used professional powerful video editing tool is After Effects, from Adobe. However, it is not the only option.
Most ad agencies, as well as video production companies, use After Effect, Premier, or a combination of programs depending on the type of creativity, design, and production they require.
Effects play a very important role when choosing an automated solution. No doubt. For this reason, After Effects is the preferred choice of publishing professionals, since being part of Adobe, it goes very well with other programs of the firm.
But this advantage also plays against it. Adobe After Effects has an important learning curve.
Let me explain…
Many advertising and marketing agencies, as well as developers, have no real experience using After Effects or the like and prefer cloud software. Saving time, avoiding licenses, as well as the possibility of integrating their applications with automatic video editing in the cloud is something they value much more.
These "indie" video programs on many occasions do not allow the same effects as After Effects, however, they allow other functionalities, flexibility, and ease of use that make them a better fit for most commercial projects.
This is the case with Pirsonal. A software created by us that allows you to automate the creation of personalized videos at scale. Besides having powerful effects such as fade-in, fade-out, among others, it allows total flexibility in real-time.
Developers like Pirsonal because can use our Personalized Video API to create their own automated integrations and flows. Also because we offer Pirsonal Script, a complete scripting language that allows you to create JSON-based video templates. This gives a lot of flexibility.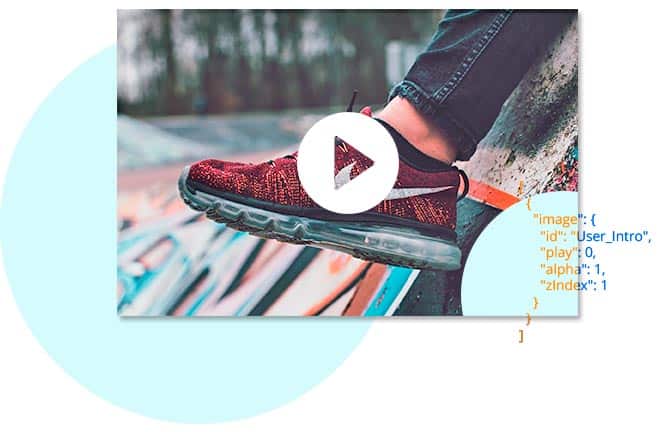 Marketers without knowledge of video editing, as well as agencies, also consider Pirsonal to be a good fit because it gives access to Pirsonal Editor. Pirsonal Editor is a web-based and drag&drop, dynamic video template creator.
Real-Time Rendering To Improve Marketing Conversions
Real-time video rendering can occur in a number of ways. This will depend on the desired video technology, mainly marked by the automation and distribution flow that your project needs. The way your segmented audience consumes or plays the videos is also important.
There are two types of real-time videos:
1. Real videos rendered in the cloud
This option generates separate, individual files in the cloud. That is, if you have an audience of 1000 people and you create a personalized video for each of them, the video marketing software will actually create 1000 MP4 files (and/or any other format).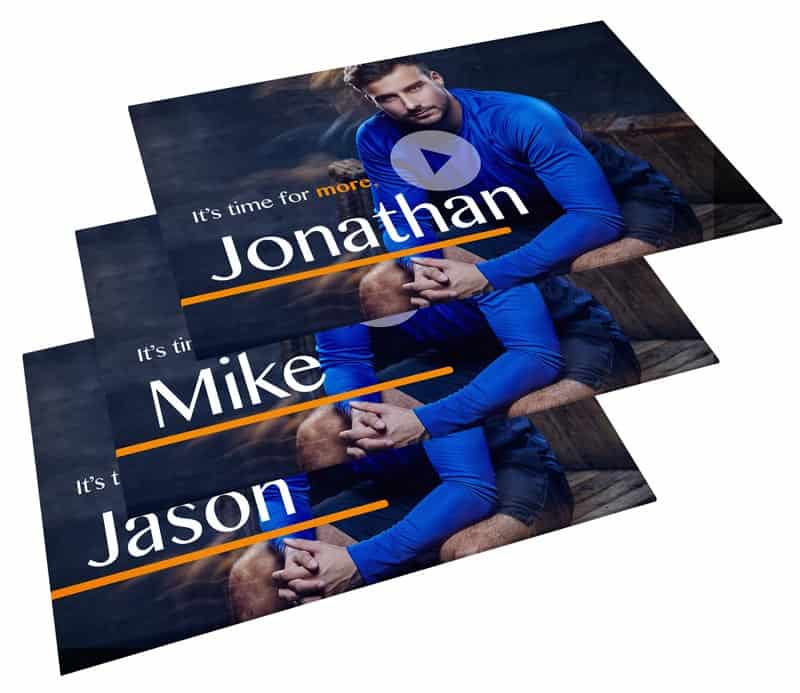 The main advantage of this approach is that it is more secure and allows files to be downloaded. The main disadvantage is that creating videos in real-time is more expensive since it requires more processing resources.
2. Videos with dynamic or custom fields in the video player
This option is less common. It allows you to use a generic video in the background to which you add personalization of images, videos, vectors, or audios in the video player itself, but not in the base file.
The main advantage of what I call player-based personalization is that the digital content is available in real-time. It is not necessary to render the video. Rather, it involves various layers of HTML and other technologies. This drastically reduces the loading time in the user's browser. It is also cheaper.
The main disadvantage is that the videos cannot be downloaded and that there may be compatibility problems on some devices.
Interactive Video Player With Personalized Call-to-Action To Increase Viewer Engagement Rates
A video player is simply an application that helps the user to control and play a video. For automated marketing, and to increase customer experience, an interactive video can be a very powerful tool to engage with leads and customers depending on the user or buyer persona.
In the video marketing funnel, it is very important that the player you choose offers an interactive and unique experience to each person.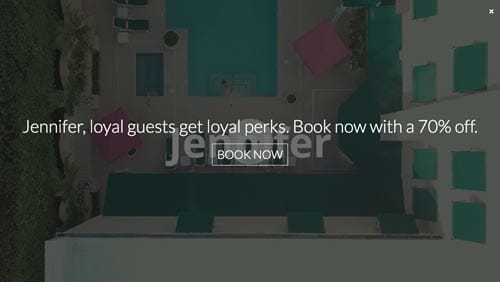 This is where the concept of an interactive personalized video player comes in. An interactive video player focuses on enabling various interactions based on user behavior, while the personalization takes to the person's context.
For example, an inbound marketing potential customer has different needs than an outbound lead. This should impact how a video player reacts within the buyer journey.
As weird as it sounds, video viewing is not as important as evoking a reaction. A robust video marketing funnel does this.
These are the main characteristics that an interactive video player must have to be aligned with an automated marketing strategy:
It must empower the user. This means that you must give them the possibility to interact and choose how to continue the conversation with the brand (remember, marketing is a conversation).
An interactive video player should allow personalized calls-to-action (CTA), as these are around 200% more effective than generic ones.
It must allow video analytics on an individual basis (that is, videos and individuals), as well as on a campaign basis.
A video player for marketing automation needs to facilitate the creation of A/B tests. These test can also be used by a creative team to increase video engagement when the marketing or CX team see that the video views go down. The main goal is to help video viewers to convert, faster.
It must allow the configuration of calls-to-action and other customizations through API so that the video player can "talk" with other applications that you use in your marketing.
It must be easily embeddable, responsive, and available on any device and in some cases even through mobile apps. This gets easier with HTML5 video.
You must take into account the privacy of the user and legal requirements like GDPR. Check this report to learn more about how GDPR and personalized marketing can work together.
If you are cx-oriented, an interactive player should send analytics data to tools such as Google Analytics and Facebook pixel so that you can create more segmented audiences that you know better and better.
If you are working on a personalized marketing strategy, It should let you choose when to display the CTA for each user since each person can have different characteristics that drive a CTA to display in different sections of a video.
As user experience rises, it should be a friendly, customizable video player, or have a neutral UI that doesn't interfere with your branding. Customizable players like the ones by Wistia or Vimeo are a good option for branding purposes.
Some video solutions allow video emails or to play a video in an email. This is great for pure engagement or branding campaigns. Platforms like YouTube offer this by default for Gmail/Gsuite users, and other platforms specialize in offering this.
Pirsonal Player is an interactive video player for personalized videos. When you make personalized videos, you create the right message for each individual powered by your data.
When you use Pirsonal Player, you show the personalized call-to-action each individual needs. This helps you to move them to the next step in your marketing funnel.
Video Marketing Integrations To Create Automation Workflows and Funnels
One of the most important points in a video marketing strategy nowadays is the ability to connect video creation with customer information. This can be done during the customer journey, especially when the customer needs a little help to make a decision or to better understand complex information.
Likewise, the possibility of creating automation flows that are updated when a video has been created for a person, or for a video advertisement, or for editorial content.
I will focus on automation flows to connect with segmented audiences.
There is an increasingly latent trend through which business and marketing applications are more connected to each other.
As companies know their audiences better, it is important not only to store information but above all to analyze and use it.
Use this customer data to make videos that adapt to your customer's context. That is, specific, unique scripts, addressed at a particular person.
When you can create fully contextualized messages, you are creating them from what I call augmented buyer personas. Is the natural, data-driven evolution to buyer personas.
An augmented buyer persona is the profile of an individual consisting of all the interrelated information gathered about that person. This information is given by one or more data sources and the buyer persona of the individual, plus this person's particular context.
Through integrations with tools such as Hubspot, Salesforce, or ActiveCampaign, it is possible to create personalized videos automatically.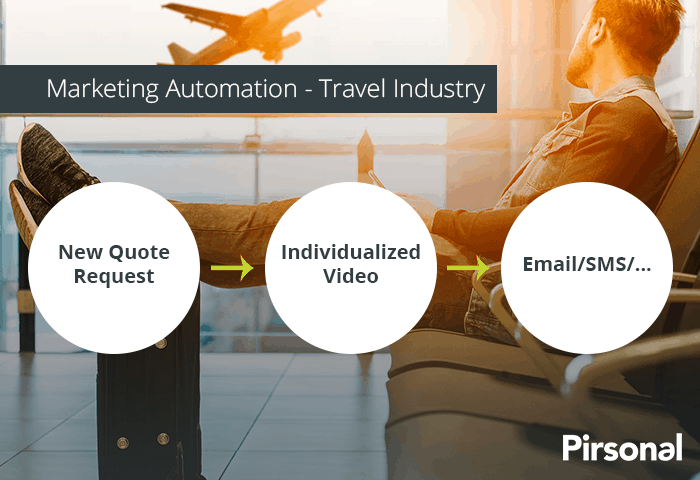 With webhooks, it is possible to send personalized video data to other platforms, like Salesforce or Hubspot, or even Google Sheets. Thus, you can create automated marketing campaigns that constantly connect to sales processes.
For example, Pirsonal Pages is a dynamic landing page that the Pirsonal platform automatically creates for each person. You can personalize each landing page, the same way you can personalize the videos, and the calls-to-action. On Pirsonal Pages, you can also embed third-party applications like web forms or calendar applications, which can also be personalized.
This can help you create email campaigns with higher open rates, clickthrough rates, and responses.
For example, in account-based marketing, instead of targeting a massive audience, you target audience segments with specific characteristics.
You can also implement this approach as part of a content marketing strategy. When you capture leads and reach out to them, you can use personalized clips that make them react.
Learn more about Personalized Video Marketing
How Much Does it Cost to Create Automated Videos?
Video automation software alternatives for marketing offer different pricing structures. In the end, the cost has a lot to do with the value offered by the vendor to a target audience (brands, video production companies, advertising agencies, and more). However, it also has to do with the characteristics the client needs.
In general, the cost per automated video is between 0,03 USD and 0,99 USD. This depends on your requirements. This doesn't include Professional Services, which with video SaaS platforms like Pirsonal are optional.
Cost factors for video automation software:
Video length. The average duration is 45-90 seconds.
The number of personalized videos you need to create per month, campaign, or year. Some dynamic video automation software focuses only on big volumes. However, other tools have a more flexible approach.
Video Resolution: 480p, 720p, 1080p, 4k.
Access to the platform or software. Recommended: Some platforms charge an extra fee to access their platform. Choose a platform with a software-as-a-service (SaaS) approach if self-service or account visibility is important.
The number of automated videos you need to process simultaneously.
Duration of the contract.
Video hosting. Most brands only need 1 month of video hosting.
Security and data protection local requirements.
Processing requirements (for example, data centers located in a specific region or country).
The Bottom Line
Video increases engagement like no other content. This was way before you could personalize it. Even before you could add it to your marketing automation processes.
As audiences evolve, they also demand conversational marketing that responds to their needs and objections. It is not a surface level anymore.
Consumers love and understand visuals. They expect information that is easy to digest but related to their lives.
Marketers need ways to create visual content at scale. We need this content to be relevant to our target audience's needs, as this increases customer experience.
Long-term, a better customer experience translates into higher customer engagement. At the same time, it means a robust lifetime value with more loyal customers. More loyalty attracts more customers that spend more overtime at a lower acquisition cost.
Video marketing automation helps marketers to create this unique video content for one or for many with the same effort. Thanks to the use of data, cloud rendering, and integrations your video marketing can be granular.
One story at a time, at a fraction of the time, and in a cost-effective way.