If you like to optimize digital marketing processes, automate repetitive tasks, or if you are into marketing automation, chances are that you have stumbled upon Zapier. Now, with our Zapier app update, you can make personalized videos work in a seamless way with your marketing automation efforts with a data-driven approach.
In this article, I'll tell you everything about our latest Zapier app update to help you make personalized videos from any data source and manage custom data fields within your marketing automation workflows.
We made it easier to attach more customer data from your data source (trigger). This way, Pirsonal can help you enrich your marketing campaign and customer data automatically between apps (trigger and action).
Thanks to Pirsonal and Zapier, there are literally countless ways to create personalized videos and to add these one-to-one videos to any marketing and sales automation process.
First, let me explain de basics.
What Is
Zapier
Zapier is an integrations platform. This powerful tool allows end-users to integrate the web applications they use in a matter of minutes or even one or two hours in some cases. I love it because you don't need to be a developer to use it.
I'm a marketing automation and personalization expert. With Zapier, I can do a lot without relying on my more technical colleagues. This no-code approach helps me save a lot of time and money, especially for midterm marketing projects.
With the Zapier platform, you can create simple and complex automation workflows with triggers, actions, filters, and data transformations between thousands of applications.
Among the business applications Zapier supports, you'll find email marketing tools like Mailchimp, Elastic Email, and Hubspot. You'll also find marketing automation software like ActiveCampaign, ClickFunnels, and Infusionsoft by Keap.
Here you'll find Zapier's app directory.
What is Pirsonal
Pirsonal is a flexible personalized video marketing software. The video marketing platform is crucial because it allows marketers, developers, and agencies to engage with unique audiences, one at a time, through multimedia content that is unique to the individual. It does this thanks to video marketing, marketing automation, and personalization technologies, all-in-one software.
The Pirsonal personalized video platform automatically video content, dynamic landing pages, and personalized calls-to-action (CTA). You can create this content as a batch campaign or as part of a marketing automation process.
Most companies that personalize their marketing messages with video do this because they want to improve customer experience. These brands also do video personalization to boost loyalty and accelerate sales.
Personalized

Video Integrations

Zapier is also Pirsonal's integrations partner. We've built a quite straightforward Zapier app that allows you to make personalized videos, dynamic landing pages, and personalized calls-to-action (CTA) at scale.

Here you have a personalized video example:

Also, through our app, you can easily update any third-party software with the personalized video link that our video software generates. Along with this link, our application provides all the information associated with each video or unique viewer.

Here you have a personalized call-to-action example, powered by Pirsonal Player: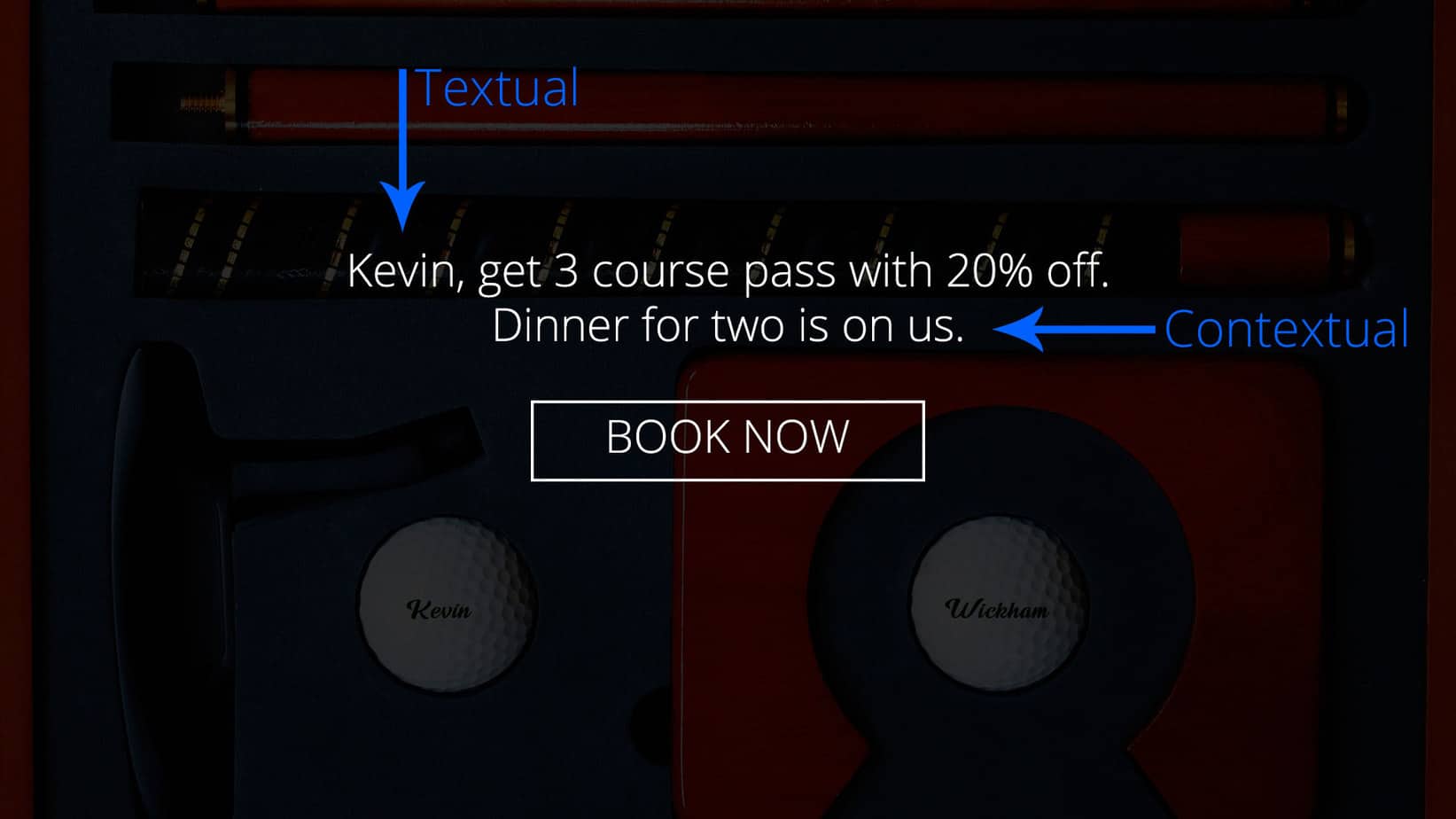 There is a variety of use cases where leads and customers within marketing, customer experience, or sales processes convert better thanks to personalized video marketing by Pirsonal.
Let's explore different scenarios where marketers, salespeople, brand managers, and content creators use Pirsonal's app within Zapier to automate their video marketing:
A marketing team can create videos from a Spreadsheet using Google Sheets. In the same way, a marketer can update a Google Sheets document with the video that Pirsonal provides.

Salespeople

can accelerate sales or increase after-sales

customer engagement

with

personalized

video quotes and

onboarding video

s.
A

university

, insurance company, or SaaS company can engage with a segmented

target audience

through a

personalized

email

marketing campaign

with video to convert more marketing and sales leads into paying customers.
By the way, I created the most comprehensive guide on how to create personalized videos, personalized landing pages, and personalized calls to action using a spreadsheet or even Google Sheets connected to Pirsonal through Zapier. Here you have a video the explains the full process:
Add Custom Metadata To Your Videos To Boost Your
Video Marketing Strategy
Until now, Pirsonal users only had the "keyword" and "email" fields to attach customer data to the personalized videos' metadata fields. This was a huge limitation for people like myself that love moving data from one application to another marketing application.
With this app update, Zapier users that use our personalized video app have a new field called Custom Metadata that allows them to add structured metadata to the personalized videos.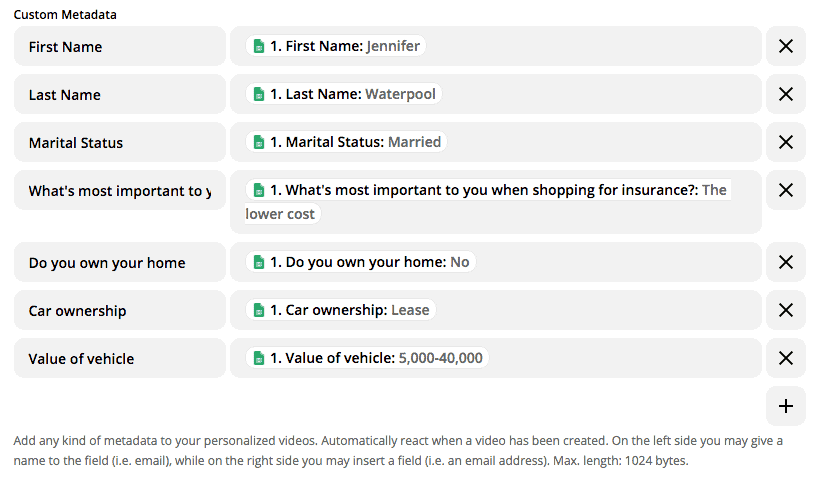 This metadata is not available to the video viewer. It's only available behind the scene so that our clients can create more complex data enrichments from our application to other applications. It makes it easier to manage automated workflows.
This information is saved in our database so that you can use it for other marketing automation processes.
Try Pirsonal and Zapier for free now to engage with your customers, one at a time with personalized video marketing and customer experience. Please note that this app is invite-only still. To access the app, simply create a Pirsonal account and go to "Integrations".
I believe that marketing tools should share the same customer data. For example, if a company uses a CRM, marketing automation software, and customer support software, all these three apps should store the same information about a lead or customer.
Video personalization is all about data. One of the main features our Zapier integration offers is that you can make data-driven personalize video messages at scale.
But there are other processes that run around the video content. For instance, an email paragraph that is updated based on a field in the custom metadata field from a video.
No matter the type of video, from explainer videos to educational videos or creative, data-driven video ads.
For example, you can create personalized explainer videos to onboard new customers to your service and increase customer retention. You can uplift your inbound marketing strategy by rapidly engaging with inbound leads when they request information. Or you can simply create video marketing campaigns to raise funds for a non-profit.
Data-driven marketing relies on customer data. You can use this customer data in real time to contextualize your marketing messages. This can help you to anticipate your target audience's questions, wants, and objections based on their individual context.
A personalized video message has different personal elements. These elements or objects are powered by images, videos, texts, and audios from a data source. Through our Zapier app, text and media fields are available for this purpose.
This allows you to create custom strong visuals, which at the same time help you increase engagement rates. These engaging videos keep viewers' attention span at higher levels than generic videos.
Why Customer Data Is Key For
Video Marketers
Marketing automation allows marketers to nurture individuals with messages at scale, at the right time. Personalization makes sure that these messages are tailored to them. Video marketing's goal is then to keep these audiences engage with video content they love.
This form of marketing brings us to personalized video marketing. Pirsonal makes this available to any marketing budget.
When you combine all this, video marketers can create an entire video that fits one person's needs and wants. Thanks to powerful automation tools like Pirsonal and Zapier you can do this for thousands of individuals in a single day.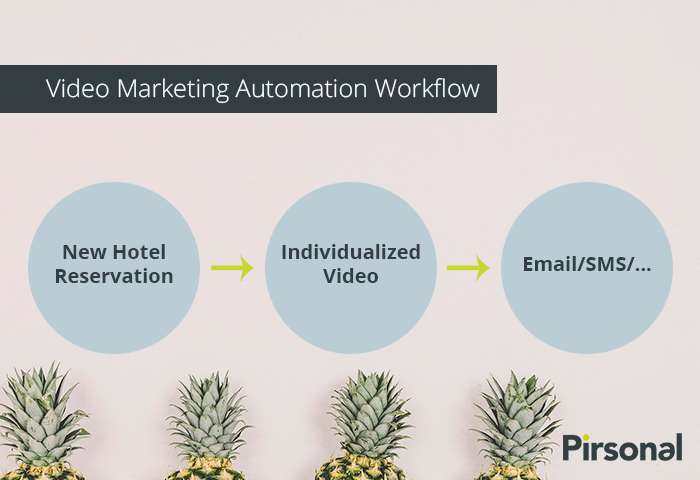 Why do I love this? Sometimes the source application stores data that is not initially available through other apps. This means that an app acts as a data source to create the videos. Then, Pirsonal creates videos, dynamic landing pages, and personalized CTA. Then another app sends the video links by email, SMS, or through any other communication channel.
Often the last app in the process only gets the video link, and that's it. So message that the lead or customer receives is not actually personalized (maybe a first name). This is a huge marketing mistake. These messages should be fully personalized.
This approach helps marketers, customer experience managers, and business developers to be more effective. Simply put: The more you know your audience, the better.
For example, let's say that you build a webform using Typeform where prospective university students request more information. In the webform, you ask inbound leads to share a first name, last name, country, area of interest, and age.
Here is a personalized email example featuring this approach:
Now, every time a lead submits a response, the Pirsonal software makes the videos and dynamic content.
And every time there is a new personalized video story, an app like Hubspot sends an email to the individual viewer.
What you would normally do is to just connect Typeform with Pirsonal to make the videos online and then Pirsonal with Hubspot to send an email marketing campaign including the individual video link.
Check this video to learn how to create personalized emails that get conversions:
The Bottom Line: Customer Data Wins
At a glance, this approach seems fine. But it misses the point. From a strategy perspective, the right thing to do is to also update Hubspot with the information that the lead sends through Typeform.
This way, you can further enrich the marketing messages you'll send with more personal elements. Also, I'm sure the business development or enrollment department in this example will prefer having more information about the leads.
This information can help them increase clickthrough rates and response rates.
In today's marketing, customer context is critical. It helps you know more about leads and customers to help people engage in the buying decision process.
This Zapier app update helps you keep that context intact so that you can create effective video marketing funnels for your personalized marketing efforts.