As audience saturation increases, the traditional forms of real estate agent marketing have to get more creative to grab home buyers' attention. One way marketers are doing this is by using interactive videos. These videos allow realtors to engage with viewers uniquely. Interactive videos keep their attention intact and make them react.
However, many real estate marketers wonder if interactive videos can help agents sell houses. Yes, interactive videos can help real estate agents sell and market properties. We come to this conclusion after analyzing research conducted by Stephan Schwana and Roland Riemppb. In their investigation, they found that video interactivity leads to an uneven distribution of viewers' attention and cognitive resources across the videos.
This is especially true when video marketers present complex information. In these cases, interactive videos help potential buyers to understand the information faster. Hence, real estate clients engage with agents, trust and engagement increase, and this leads to more sales.
There are many ways realtors can use interactive videos for real estate marketing. With more competition, brands need to make an extra effort to get more than video views. Therefore, it is vital to understand the different strategies to use video interactivity for real estate agents and property marketing.
At the same time, personalized marketing and video represent the perfect mix for a marketing funnel. Businesses can use them together across the customer journey to make potential homebuyers react and to promote agents online.
What Is an Interactive Video?
An interactive video is a digital video that allows viewers to control how they view the content and what they'll do next. With interactive videos, potential clients are not passive. For example, a prospective client can choose his own path, interact with clickable content or even submit questions.
If you're looking for a real estate engagement booster, then interactive videos are just what you need. Videos with interactions give marketing and sales professionals a way to continue the conversation with a potential client.
For example, with the power of video and the internet, home buyers and sellers can experience a property before they even visit it in person. Also, sales associates can book more meetings with clients.
At the same time, customer experience (CX) professionals with a data-driven approach can use interactive videos to learn more about their audience. The reason for this is that video in real estate boosts CX.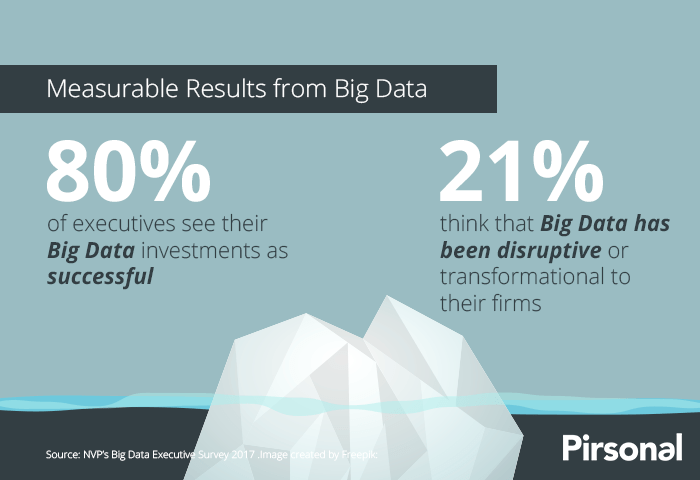 For a video to be interactive, businesses require specialized interactive video software. Most video players allow a basic level of user interactions. However, a more advanced interactive video platform will help you do a lot more to engage with your target audience.
In modern digital marketing, email marketing campaigns are a good example. With marketing automation software integrated with an interactive video platform, realtors can create a personalized marketing funnel.
Why Interactive Videos Are Important in Your Real Estate Marketing Strategy
Video marketers use interactive videos to engage with unique viewers because prospective buyers are bombarded with many marketing messages every day. This makes it harder for the real estate industry to engage with buyers. Lower engagement translates into lower conversion rates.
Real estate companies should use interactive videos in marketing because video calls to action increase clicks by 380% according to a study made by KISSmetrics. Sales associates need a high level of sales engagement to close deals. Interactive video platforms support agents' marketing strategy by delivering more effective video click-through rates than videos without interactions.
But also, there is an important customer experience (CX) challenge. Research by The American Marketing Association proves that videos improve CX. With better CX and video marketing, realtors can sell more properties through digital channels. By the way, check this guide to boost video marketing with personalized video messages.
The report explains that sensory experiences like buying or selling products digitally with product videos are 106% stronger than the other dimensions studied by researchers. With this, interactive videos are key to buying and selling properties because they activate sensory experiences.
Thus, this type of content helps in the creation of a robust customer experience management (CXM) strategy in real estate marketing. This is thanks to the different types of video interaction supported by this technology. At the same time, the video completion rate goes up because viewers connect with the video content.
How to Improve Real Estate Marketing with Interactive Videos
Interactive videos are an excellent way to optimize your brand. Likewise, these types of dynamic and personalized videos are a great remedy for marketing fatigue. In fact, according to a recent study, 43% of consumers prefer interactive video content over other types of video content.
With video interactivity, real estate agents can improve sales and marketing engagement. This is due to the fact that interactive videos require viewers to take an active role in the video. This can be done by asking viewers to answer questions, make choices, or even complete tasks.
3 ideas Real Estate Marketing Ideas with Video Interactivity:
1. Make sure that the video is responsive. The modern trend in real estate is toward mobile-first and digital marketing. This means that your interactive video must be mobile-friendly. Accordingly, it should also be responsive to allow users to play, pause, or skip the video when they want. This also applies to the HTML content presented in the video.
2. Differentiate between one-to-one messages and one-to-many. In sales and marketing, leads and an unidentified web user are totally different. If a potential buyer or seller gets into your marketing funnel, chances are that you have retrieved customer data. This information can lead you to a highly relevant video interaction. Then, personalized video calls to action are a perfect tool to improve sales engagement.
3. Use interactive elements sparingly. Too many interactive elements can be overwhelming and can distract from the main message of the video. In my experience, focusing on one CTA is more effective. Similarly, if you embed the videos in dynamic landing pages, make sure to reinforce the same message from the video call to action in the landing page content.
The following image shows an example of a dynamic landing page. I've highlighted the personalization tags that Pirsonal Pages supports.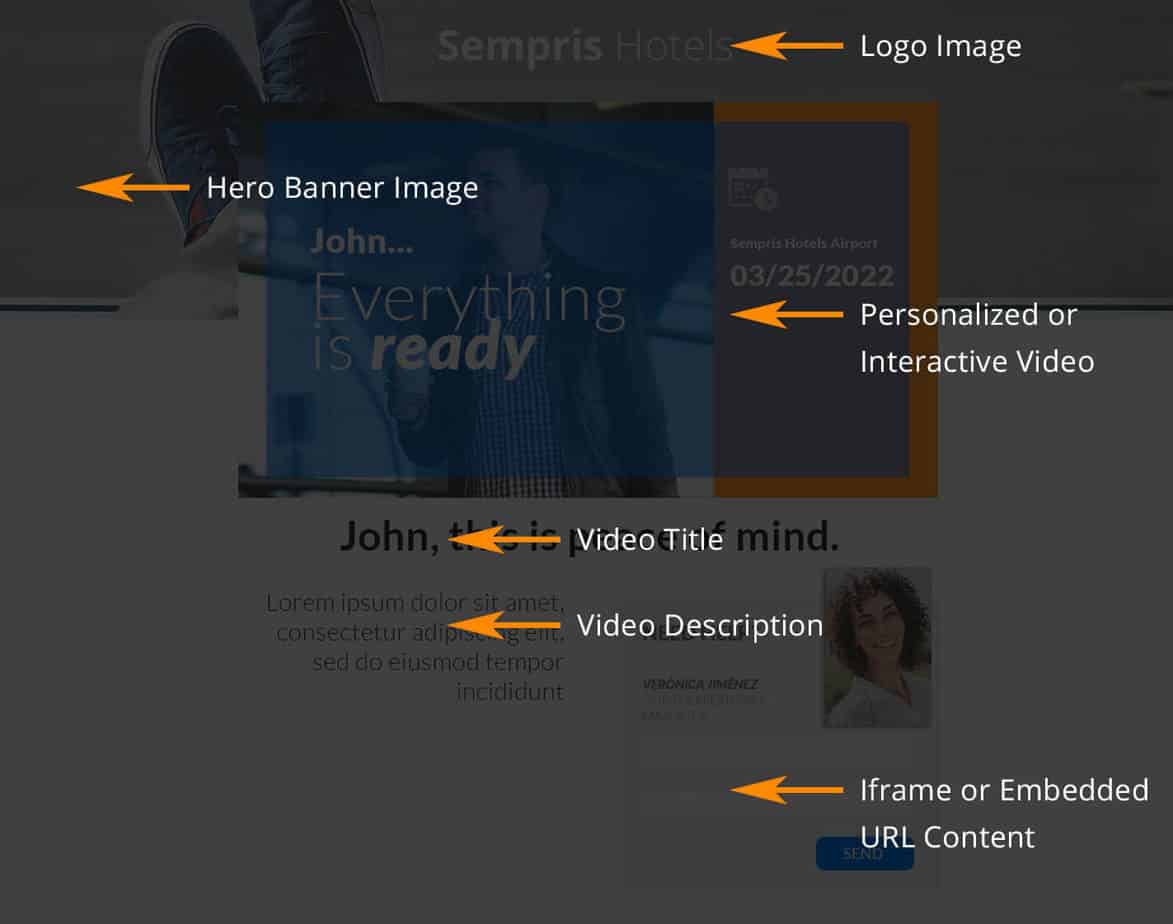 Choosing the right interactive video software for your real estate business is a combination of art and science. As you learn below, draft your goals and strategy first. Then, as a real estate professional, put yourself in the shoes of your potential client to understand what they need.
Interactive Video KPIs for Realtors
In video marketing, there are many KPIs to pay close attention to. Let me cover three significant video conversion performance indicators for realtors from a content perspective.
These are the three video KPIs realtors should pay attention to:
Video click-through rate
Video completion rate
Call to action engagement rate
A high video click-through rate (CTR) is an indication that your viewers are interested in your content. It means they are clicking on the video to watch it, which is a good sign. However, if your CTR is low, it means that your viewers are not clicking on the video. Why? Most likely because they are not interested in it.
Unlike in the educational world, in marketing and sales, interactive videos often require more than the initial CTR. This is where video calls to action (CTA) play a significant role. Therefore, smart video marketers understand that video views are not enough.
A high completion rate (CR) is also essential because it means that viewers are actually watching your video until the end. Thus, this is another good indication that a buyer is interested in your video. If your CR is low, it means that viewers are not finishing your video. Why? Well, most likely because they are not interested in it.
However, another reason could be that the CTA has good conversion rates. So, make sure to look at all the facts when optimizing your video marketing strategy.
There are many ways to use video in real estate marketing. If you want viewers to take action, use interactive video to improve your interaction rates.
What is an Interactive Video Ad
For those that invest in digital advertising, interactive video ads bring new opportunities as well. These ads are a great fit for advertisers looking to be creative in advertising.
Interactive video ads are a new type of online ad that allows users to interact with the ads in order to learn more about the product or service being advertised.
These types of video ads are generally more effective than traditional online ads. For visual and tangible products like real state properties, these ads represent a great opportunity. However, they are not that extended in the market.
Interactive video ads can be used on websites, social media platforms, and email campaigns, although with some limitations. They can be customized to fit the specific needs of the business.
Bear in mind that if you are running interactive video ads, your performance indicators could vary substantially. In this case, video engagement itself is not the end goal. It is often more important to measure CTR, contact conversions, and return on ad spend (ROAS).
Examples of Interactive Videos for Real Estate Agent Marketing
Understanding the use of interactive videos in real estate marketing will help you win more business. With digital being one of the primary marketing channels, this is the key to achieving your branding and sales goals.
For Real State Agent Branding and Lead Engagement
Personal branding is critical in agent marketing. In this example, an HTML video layer shows the agents' contact information and the company logo.
Note the different contact options. As you can see, the video has clickable buttons. With this, viewer engagement increases, making it easier to book a meeting with clients right from the video.
Many real estate brands help sales associates with marketing operations and resources. With a video marketing automation tool like Pirsonal, you can automatically add these interactive options at scale.
To Know More About Leads and Accelerate Sales
As I usually say, "don't forget to ask". In-video forms are really effective. Pressing the "play" button is a micro-commitment. Micro-commitments help users to further commit and take action. When you include a web form in a video, therefore, you have a unique opportunity to learn more about leads and customers.
If the in-video web form connects with a CRM or marketing automation tool, sales associates can greatly benefit from this marketing technique.
For example, say a lead requests information through a lead generation landing page but doesn't provide information about their particular context. With smart questions, you can know this. Personalization tools like Pirsonal Player help you ask unique questions to viewers automatically.
To Help Viewers Choose Their Own Path
People watch videos because they are easy to consume information. However, sometimes viewers need more specific help. They want to know more about a subject or get answers to concerns.
Interactive video technology helps viewers to explore more options. For instance, with video menus and navigation elements, users can choose their own path. This is critical, especially in the digital customer journey.
Indeed, the sensory appeal in video marketing is the way a video stimulates the senses. This is one of the reasons why video marketing is so powerful. Potential buyers are more involved in the journey. They can listen to a voiceover that guides them through key characteristics, and choose what to watch next.
Using Personalization in Interactive Videos
Most marketing professionals are already familiar with the idea of personalization—tailoring content to fit a specific person. It's a powerful tool that can be used to increase engagement and conversions. And when it comes to interactive videos, personalization is even more important.
By personalizing an interactive video, you can ensure that each viewer sees a video and the interaction that is relevant to them. You can do this using audience data to create personalized video experiences, or by using interactive features that allow viewers to choose their own path through the video.
Take a look at the following image. It highlights personalized fields in an interactive video. With proper marketing automation and a sharp marketing segmentation strategy, you can automatically add personalized interactions to videos.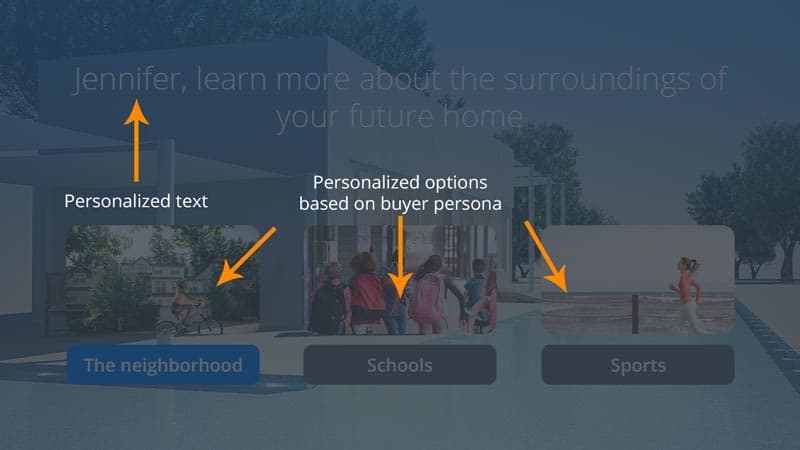 How to Make Interactive Videos
To make interactive videos, video marketing professionals need a video player that offers support for custom interactions with the viewer. In the end, videos are always played by a video player. However, not every video player allows customers to add clickable content or other interactivity options to the videos like interactive video players do.
Follow these steps to make interactive videos:
Define your marketing goals and strategy. Without this, you'll waste time and money.
Decide what you want viewers to do to help you accomplish your goals. For example, with Pirsonal Player you can add web forms with personalized questions to the videos. This is an easy way to learn more about online marketing leads and customers.
Create or choose the video content. With interactive video software, you add the interactions as layers. But there is much more you can do. For instance, with Pirsonal's personalized video software the video can also be individualized at scale. This is useful for increasing viewer engagement with highly relevant content. When marketing real estate agents, make sure to keep your brand consistent.
Send the videos by email or even add them to landing pages. Regardless, use personalization in the emails and on the landing pages. Marketing funnels are all about engagement. Engagement leads a potential client to the next stage in the sales process. With dynamic landing pages, you can personalize the content buyers see around the video.
The following video is a step-by-step tutorial to learn how to create interactive videos with personalization with Pirsonal Player, Google Sheets and Zapier:
With Pirsonal Player, you can automatically create interactive videos with personalization at scale. This interactive video software integrates with thousands of marketing tools and helps you to easily track viewer engagement.
7 Video Interactions to Improve Engagement to Make Videos Interactive
No matter if you create animated videos or videos with images from a property listing. There are many video interactions you can add to your real estate business videos. The goal is to decrease customer churn and increase customer engagement with video interactivity.
Video interactivity ideas to help you boost your online videos:
Video call to action. Buttons are a great way to keep viewers engaged with your content. By providing easy access to additional information, you can ensure that viewers are able to quickly and easily learn more about your product or service.
Surveys and polls. These marketing tools are a great way to get feedback from your target market. Display questions and potential answers in a video. You can encourage viewers to provide their thoughts and opinions. This interaction is visually engaging and easy to use. In fact, it makes it an efficient way to gather customer information.
Annotations. Video annotations are an easy way to help viewers understand your video content. If you have a global audience, use localization to make them relevant to the viewer.
Subtitles. Similar to the annotations, subtitles help users know what the video is about. You can also use them to translate a foreign language or to clarify difficult dialogue. If there is a chance your audience will play the videos without any sound (muted), subtitles are a must-have.
Popup windows. Popups are a common feature on many websites, but you can also use them in videos. A video popup window will appear over the top of the screen while the viewer watches the rest of the video.
Dropdown menu. This is a type of popover that remains open until the visitor clicks outside it. The advantage of using a dropdown menu is that you allow users to access more options that there is no need to show all the time on the video.
In-video web forms. Web forms in videos are one of my favorite interactive elements. Similar to surveys and polls, they capture user input. As a customer engagement strategy, it makes complete sense. Why? Customers are already paying attention to the videos.
Constant and timely customer interaction is key to increasing satisfaction and retaining customers. Choose the right interaction not only to boost sales agents' online presence but to make homebuyers and sellers react.
Conclusion: Use Interactive Videos to Boost Real Estate Marketing
Real estate agents have a tough job. They need to find ways to stand out from the competition. Marketers, therefore, should show prospective homeowners what their property has to offer. But, more importantly, how the sales associate is capable and has the right powerful tool to help customers succeed.
Sure, traditional marketing tools like business cards and social media channels work. However, to have warm conversations with leads, it is important to add video interactions as part of your digital real estate marketing plan.
Video is the type of content with the highest engagement rates. Using interactive videos as part of email campaigns, property listing and a sales funnel helps video marketers to get more than views.
It helps home buyers and sellers to better understand the property information, and to connect with the sales associate.
Additionally, interactive videos can create a more personal connection with the viewer. This connection can encourage them to take action.
For example, if a viewer is watching a video about a new property, they might be more likely to book a call right away if they are able to interact with the video. This is because they will feel like they are more involved in the process.
When buyers are actively involved, they want to learn more. As a marketing professional, give them the right tools to do so.
Whether you are a real estate marketing agency or a sales professional, Pirsonal's video marketing platform can help your company engage with a saturated audience.
There are many ways to create interactive videos. The best way to learn how to use them is by experimenting. Start today free with Pirsonal.
Also, with our video production for personalized video marketing and execution services, we can help you succeed. Request a free consultation today!