Knowing what are the main video marketing stats for hotel marketing will be crucial a marketer in the hospitality industry. The current major trend in the hotel industry is personalized video marketing as customers are more likely to be a repeat customer if a brand provides targeted personalized offers. Personalized video marketing is an opportunity for marketers to increase the audience reach and engagement in the current environment of continuous overloaded media. But, why video?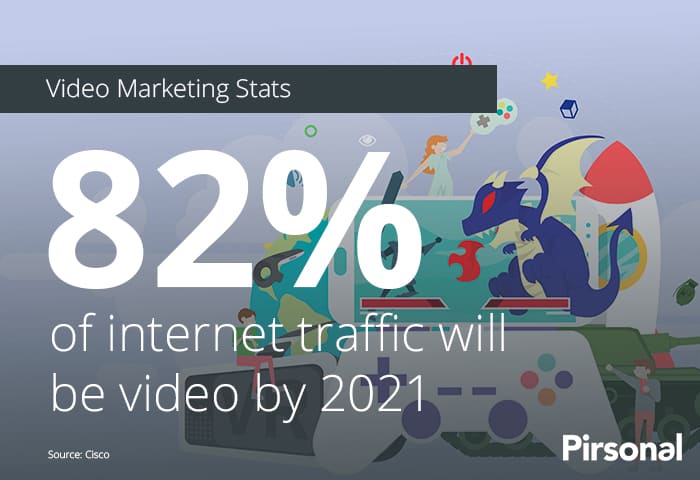 The amount of video, mainly mobile video content, has blasted over the last few years. According to Cisco, by 2021 the video will account for 82% of internet traffic. But there is more than can have a massive impact on your hospitality marketing.
Also, according to Syndacast, marketers are increasingly prioritizing video, around 52% of them name video as the content with the best ROI.
Some key findings related to how much customers opt a video marketing strategy includes:
On YouTube, around 500 million hours of video are watched every day
Approximately about 82% of Twitter users watch video content
Before visiting a store, around 50% of internet users look for videos related to a product or service
Remember that 89% of traveler will usually do some research on a destination's activities and restaurants before reaching their destination. This means that researching a destination and reading reviews on accommodation are entrenched behaviors, which affects the way hotels attract more direct sales through their own e-commerce and digital channels.
Views of travel-related content up 118% year over year (YoY)
According to Invisia, some major statistics in 2017 related to significant video marketing stats for hotel marketing includes:
YouTube has over a billion users (YouTube).
In 2017, online video accounted for 74% of traffic (KPCB).
52% of marketers say video is effective for brand awareness (Wow Makers).
52% of marketing professionals worldwide say video has the best ROI (Syndacast).
Using the word "video" in an email subject line increases open rates by 19% (

Syndacast

).
4x as many customers prefer watching a video about a product than reading about it (

Animoto

).