Personalized call-to-action buttons are 200% more effective than generic ones. This means that more viewers click on the videos. As a result, businesses increase video conversion rates. Using this type of call-to-action, you can get the most out of your video marketing.
Personalization is taking over every aspect of the marketing spectrum. Thereby, it impacts how brands make marketing videos.
From the ideation process to the storyboard and post-production.
In other words, personalization also affects how brands interact with their audiences through video. This is one of the main goals modern customer experience specialists have in mind.
To improve customer experience, use an interactive video player for personalized marketing. This way, you can improve your click-through rate at scale, while keeping the personal touch intact.
In this article, you'll learn how to use personalized call-to-action buttons to increase video conversions. I'll dig into how, regardless of the type of video, adding call-to-action buttons with personalized data can help you deliver a WOW experience.
Let's start with a personalized call-to-action button example:
Customer Experience Demands Relevant Business Videos
When thinking about business videos, customer experience is a big winner. One of the main challenges strategists face is that their videos stay relevant to their particular customers across the customer journey. Relevant videos answer the viewer's expectations. At the same time, move the individual to take action.
You might wonder… What has a video player to do with delivering relevant marketing? Does it really impact the journey mapping?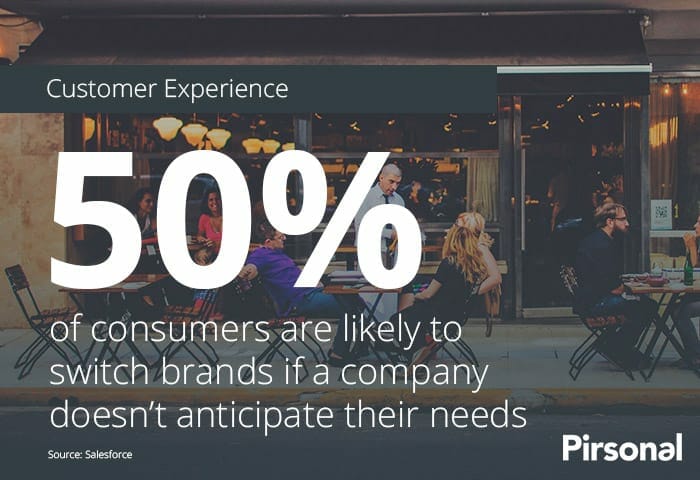 Here is the thing… It doesn't matter the product or service you sell. Nowadays, not even the audience you serve.
In other words, everyone loves video.
But this is not enough for your audience to spend more time viewing your videos.
Certainly, not even to make them click on them.
By definition, an interactive video player helps viewers interact with the video content. But, what is the purpose of an interactive video if it doesn't make users react?
Content Marketing Institute study points out, 71% of B2B marketers use video marketing. B2C peers are not that far, with 66% of them using video for their marketing to engage with viewers.
The question is, why investing in video marketing if you don't optimize your videos for success?
The reason you invest in business videos for customer experience is so that your audience reacts when they watch them.
Right?
In other words, your videos are not relevant if they don't make your audience react.
You want your customers to react through brand awareness, web traffic, or more sales. Chances are that you also want viewers to understand a complex message.
This is why you need to translate viewer engagement into specific performance indicators (KPs).
Here is the thing… If you want a reaction from your audience, you need to give them a clear next step.
That next step is a call to action.
And, since we are talking about multimedia content, this call to action needs to be a visual asset.
What Is A Call To Action Button?
A call to action button is a button that tells the user to take some specified action. A call-to-action button requests viewers to click on a specific link. This link leads them to either a landing page, an email address, a phone number, an app, or a file.
In sales, calls-to-action are the way of asking for the sale to consumers. In digital marketing, this "asking for the sale" materializes with a digital action.
This is exactly what companies should do. Subject to the piece of content, call-to-action buttons are quite effective.
You've probably seen a lot of them. Even today.
Here are some generic CTA button copy examples:
Start Now
Sign up
Start Free Trial
Talk To Sales
A call to action button should give individuals a visual and clear next step or action to take.
On occasions, visitors will find more than one choice, such as:
Calls Us Now
Chat With Support
B2B and B2C audiences understand this form of marketing. Platforms like YouTube, Vimeo, or Wistia already allow users to add CTAs. In fact, video advertisements frequently use buttons.
What Is A Personalized Call To Action Button?
A personalized call-to-action button is a type of call-to-action. It uses customer data in its content to increase conversion rates. Brands use them to make their audience click. They do this by adapting messaging, tone, and business goals based on the individual.
Simply put, you use them to create different versions of what that next step looks like for each viewer.
Marketers do this in different ways. For example through:
Customer relationship tools (CRM)
Email marketing software
Marketing automation software
Spreadsheets where they store lead and customer data.
This information helps companies segment their audience thanks to different data points.
This is what we call structured data.
This marketing segmentation allows you to create customer-centric messages. These messages are then relevant to the individual, not just to a general audience.
Learn more about why personalization and individualization are different techniques. It will help you understand the keys towards data-driven marketing that your audience actually loves, consumes, and helps them react.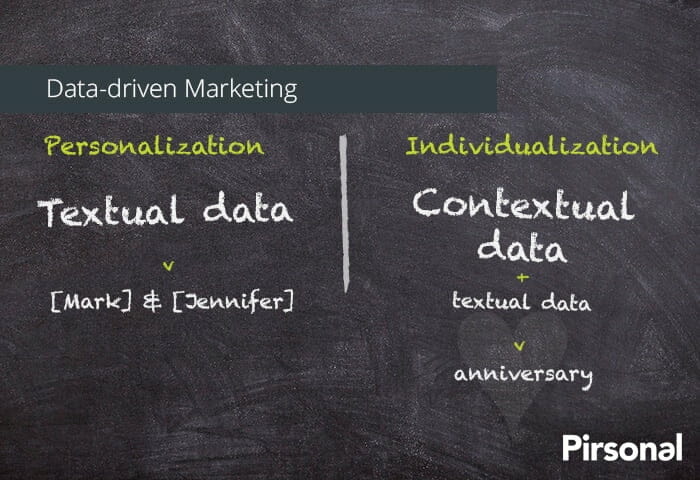 Think about a little kid that knows how to ask for candies from daddy when mommy has already said no.
On the one hand, one of the major benefits this approach offers is the consequent improvement of results.
On the other, personalized calls-to-action buttons are also a straightforward way to display personalized messages in the video. This is easier since marketers can track and decide where viewers come from.
At the same time, companies manage to offer the right solution to the right buyer persona.
Data Points You Can Use In A Personalized Call-To-Action Button
What information can you use in personalized buttons? This is determined by the type of audience you are targeting, as well as the customer management, analytics, automated marketing, and e-commerce tools you have in your arsenal.
For instance, B2B marketers have at least the following data points in their databases:
First Name
Last Name
Email address
Telephone Number
Company Name
Country
Language
Account Rep or SDR
Product of interest
B2C marketers often have less information. For example:
First Name
Last Name
Email address
Shipping address
Navigation
Shopping history (this is big)
What Is An In-Video Personalized Call To Action Button?
In-video personalized call-to-action buttons are data-driven buttons brands use in interactive videos. In other words, they drive more individual viewer clicks, commitment, and overall conversions.
With Pirsonal Player, you can add clickable buttons to videos automatically. Pirsonal Player is a personalized interactive video player. Therefore, it helps you increase viewer engagement through unique interactions regardless of the size of your audience.
In-video call-to-action buttons are one of the most critical steps in your video marketing strategy. However, these types of videos are totally underused by video marketers.
In their 2020 report, Wyzowl found that 89% of video marketers say video gives them a good ROI.
With this context, 83% of video marketers say video helps them with lead generation. Now imagine what you can do with fully personalized call-to-action buttons.
Simply put, you want every person who watches your video to react. With this goal, you want to increase your ROI and do more than your competitions.
This little commitment usually translates into clicks.
To explain, think about account-based marketing (ABM). You can use key data points like position, objections, or demographics to push buyers to the next step in their journey.
This information helps you create human-centric messages.
Call-to-action buttons with personalization help you close more deals. You can address specific objections, expectations, and goals.
These marketing assets give your online video viewers clarity on what do to next based on their particular story.
In short, clickable videos prompt your viewer to act.
Why Personalized Call To Action Buttons Are Important In Online Video Marketing?
Most marketers use video content (92%). However, their audiences are over-saturated. Because of this, video viewer engagement is a top priority. Personalized call-to-action buttons help viewers take action based on message relevancy and segmentation. This increases video engagement conversions.
Moreover, personalized call-to-action buttons help you align your objectives with viewers', which improves customer experience.
Marketers Need A Better ROI From Video
Magisto reported marketers to spend almost as much on video marketing as they do on digital and TV advertising combined in the U.S.
In fact, on average, each American business spends $20K on video marketing every year.
Video creation is so important to advertisers that they will spend more.
According to Statista, ad spending in the Video Advertising segment will reach US$37,418m in 2021. While they expect ad spending to show an annual growth rate (CAGR 2021-2025) of 5.1%.
This means that by 2025, the market volume will be US$45,576m.
McKinsey's research shows that today's personalization leaders increase their revenue by 5 to 15 percent increases. They also 10 to 30 percent increases in marketing-spend efficiency thanks to personalization.
Technology Makes It Easier To Create Personal Experiences Through The Flywheel And Funnel
Technology, customer data, user tracking, and analytics allow marketers to create much more personal experiences across moments, channels, and buying stages.
So, can you do more in order to improve the ROI of your video marketing actions?
CTA button personalization gets your brand into that path. It allows users to stay focus and avoid distractions.
This is where personalization shines.
Customers want brands they love to know them more.
Your interactions with your audience change as they evolve. Think about Hubspot's Flywheel concept.
Flywheels represent a circular process where customers feed growth. This means that your marketing messages should walk with them. This where dynamic messages in your calls-to-action matter the most.
Maybe you created a call to action for a customer who was in a specific situation. However, that customer never consumed the video at the time you expected. Rather, he did it months later, when another type of call to action was more relevant.
Thanks to the use of technology and real-time analytics, these types of scenarios are possible today.
It Is Easy To Track Users When You Are Active In The Conversation
It's time to use this information smartly. Engage with customers with relevant communications. Distribute these messages through the customer journey. Adapt to different touchpoints.
Therefore, 86 percent of people said they expect conversations with customer service agents to seamlessly move with them.
You can also track user behavior in a granular way through analytics tools.
Personalized video marketing platforms like Pirsonal make this easy.
This helps you track individual performance, create re-marketing initiatives, and even re-targeting if you are using tools like Facebook Pixel or our API.
Pirsonal doesn't use cookies to track analytics. We create personalized multimedia content that is specific to an individual matched with an ID.
For example, whenever our personalization software creates video content, personalized CTAs, or personalized landing pages, we put that content behind an alphanumeric and anonymous ID.
That ID is automatically created and associated with any type of customer ID behind the scenes (using our CRM or custom metadata fields, powered by your data).
For example, an email, a telephone number, or a unique ID on your side.
The software creates content for every individual. Then, you share that content only with that individual. Thanks to this, you know who interacts with the personalized content and how.
Personalized call-to-action buttons help your brand build trust among clients and prospects.
Using clickable buttons with interactive videos that apply to each person makes your content human, personal, and unique.
Where To Add Call To Action Buttons In A Video Player
In most cases, video marketers use personalized call-to-action buttons at the beginning or at the end of a video timeline. Further, thanks to marketing personalization strategies and technologies, you can also personalize where to display the CTA interactivity individually.
It is essential to take this into consideration in your video storyboard, script, production, and video editing to squeeze the full potential.
You want the CTA styles and content to be in tune with the audiovisual content of the video. Besides, you don't want it to be a strange item.
Interactive video players like Pirsonal Player are built for personalized marketing and marketing automation workflows.
Pirsonal Player allows you to personalize every single aspect of your calls to action.
Regardless of the size of your audience, this allows you to integrate deep or light video personalization into your marketing automation workflows.
At scale.
Each person is unique.
Personalize When To Display A Call To Action
For this reason, we believe it is more appropriate to also personalize when to show a call to action on a totally individual basis.
This is what 1-to-1 marketing is about. This the core of personalization and video marketing automation.
For instance, let's say you have an email list of 1,000 customers.
You want to email marketing campaigns to drive more sales.
Within this email list, you realize that you have different buyer personas based on your segmentation strategy.
Each of these groups of customers wants to buy different products or services from you.
Since your goal is to maximize conversions, you realize that video can help you reduce friction because multimedia messages are easier to understand and remember.
Based on each customer's industry, location, context, and budget, you can use personalized call-to-action messages and buttons not only to increase views but especially to accomplish your video goal: More sales.
Three Examples Of Button Personalization
If you use a scoring system in your CRM, you know which customers are more engaged. These customers will probably see a personalized call to action at the end of their video. Why? They have proven to pay more attention to your webinars, newsletters, and even purchase a yearly subscription because on top of this they are brand lovers.
Perhaps, if you have a segment of lower ticket customers, chances are that the call to action powered by data shows automatically in the first half of the video. Why? Your metrics show that these users are often not loyal and are more interested in hot deals. The sooner, the better. They are not loyal customers.
But, even better, if you make personalized videos, you can also display the call to action with variations of scenes that are automatically created depending on who the specific customer is.
Personalized Call To Action Buttons Vs. Generic Call To Action Buttons
When done right, personalized messages are more effective than generic messages. This also applies to call-to-action buttons. Both approaches are OK. Choose the one that best suits your strategy, data, and resources.
In the end, a CTA should reflect your video goal.
With this in mind, there are two challenges that marketers face:
Saturate viewers all the time.
Each individual has specific goals, objections, and desires.
This is easy when you know your target audience, thanks to personalized marketing. With this approach, you adapt to each individual's situation through the customer journey.
With the COVID pandemic, not only did overall media consumption jump significantly in the first quarter of 2020, video streaming increased from 19% in fourth-quarter 2019 to 25% in second-quarter 2020.
This means that, if we already were in the engagement war, now the situation is even more challenging.
Video marketing effectiveness comes with results. A personalized call to action button allows you to adapt your messages and link destination to what your data or gut believes is best to show to each individual.
With Pirsonal Player and Pirsonal's dynamic landing pages for interactive videos, you can do this at scale, automatically.
Every video you create tells a unique story. Creating unique CTAs will help you make that story more human, crafted for the person on the other side of the screen.
How To Create Personalized CTAs
Creating personalized CTAs is easy. Specifically, Pirsonal provides different tools that adapt to your workflow, from CSV to Zapier integrations and an API.
With the evolution of the martech tools, marketing operation is more important than ever.
My main recommendation is to choose what works best for you from an operational perspective.
CSV: Through Pirsonal's Campaign tool, you simply need to upload a CSV with your data for one or thousands of individuals.
Zapier: Zapier is an integrations platform that moves data from one app to another app, using triggers and actions. This allows you to create simple or complex real-time marketing automation workflows.
API: Using Pirsonal's personalized video API, you can create custom scenarios depending on your needs and workflow.
Using Different Personalized CTAs In The Customer Journey
There are different calls-to-action that you can personalize in your digital videos. As your leads and customers grow, consequently your relationship with them does it as well. Therefore, your marketing messages need to be flexible enough to adapt to each individual according to their stage.
We can do this with generic or personalized videos. In the end, a call-to-action is a layer of content placed on top of the videos.
This means that a call-to-action is part of the video player and not of the video content itself.
The most common types or format of calls-to-action for video marketing:
Custom HTML: This is probably the most flexible CTA, as it allows to add or "embed" any type of HTML code and layout in a video. Use this type of call-to-action when you need to add images, several buttons, or need a custom UI design or background.
Text and button: This is the most popular one. It comprises text and a button that usually links to a landing page but can also link to an email address, telephone number, a file, or even an app in a store.
Webform: Adding forms to videos is great for lead generation, surveys, or even gathering more data from existing customers.
Password: For industries like insurance or health, video password protection is a big win to comply with local and international regulations.
Take into consideration that there are a lot of video players in the market. You probably already use one, from Vimeo to Youtube to Wistia.
There are, however, no many that make it easy or even possible to scale interactive personalization automatically. Traditional video players are often created for mass marketing. Thus, they are were built with marketing automation and the customer experience in mind.
Choosing one or another type of call will also depend on the type of personalized interactive video player you use. With Pirsonal, no matter the call-to-action you choose, you can automatically personalize all components at scale.
Types Of Links For Personalized Call To Action Button
Sometimes there will be no visible personalization in the button text. However, there will be customization in the button link. Are all your clients the same? Certainly not. An increasingly common practice is to personalize the landing pages where leads and customers land.
Perhaps sometimes, it is appropriate that a lead very advanced in the purchase process speaks with a sales agent as soon as possible.
Or perhaps a top-of-the-funnel lead, who is ultimately watching the same video, should rather download an ebook. This would nurture the lead and help him learn more about a certain topic.
This is what I call visible and invisible personalization.
Visible personalization: When the person sees the personalized content, for example, through a name or location.
Invisible personalization: When the person doesn't see at a glance the personalization. This is more common with links or when talking about personalized videos, clips, or images that are specific to a buyer persona.
How To Optimize Personalized Call To Action In Videos
Conversion rate optimization in video marketing is very important. To optimize call-to-action conversions, often you don't need to go that deep into video analytics.
These are some of the most critical video KPI you should pay attention to:
Viewing percentage
Percentage of the video where the CTA is displayed
CTA Clickthrough rate
The number of times the CTA is shown
There are several factors that can affect these results considerably. This analysis will help you run tests and measure the likelihood of viewers clicking on the call to action.
For example, the length of the videos (this could be seconds, minutes, or even hours), the source of the leads or customers, and how hooked they are to the content you are presenting in the videos.
If your target audience is watching personalized videos, your conversion rates will be higher.
In such a case, you can use the personalization points in your script to push the user to the next point of interest in the video until they reach the call to action.
Remember that this type of marketing is not only about impressions. In most cases, clicks matter more than views. Although, if we are talking about a branding video, this is slightly different.
If it's a generic video, remember that you can also use a dynamic call to action.
The Difference Between Dynamic A Call-To-Action And Personalized Call-To-Action
Dynamic calls-to-action differ from personalized calls-to-action in that we update the information and configuration based on any criteria (for example, a data feed, CRM, etc.).
So, with generic videos, it is advisable to advance the call to action to 50 to 60 percent of the video.
It is also vital to deploy the dynamic call to action based on user behavior. For example, when the user pauses the video. This is like exit intent tactics.
From the insights we've gathered over the years, I almost always recommend adding a call to action ALSO at the end of the video. This means that the same call to action should also appear before the end.
I also recommend reinforcing the message of the call to action with the graphics or audio content. This is even more impressive if it is an automatically personalized video.
Call To Action Configuration
Depending on the interactive video player you use, there are several fields you can configure and update to create personalized and dynamic call-to-action versions automatically.
Here you the fields and options supported by Pirsonal's video player:
CTA Type (HTML or text)
Custom HTML
CTA Body Text
CTA Button Text
CTA Button URL
CTA Start Time
CTA End Time
CTA Duration
CTA Open On Click
CTA Show On Pause
CTA Pause On Show
CTA Show At Start
CTA Show At End
CTA Allow Close
Video Password Config
Video Password Title
Video Password Description
Video Password Button Text
Video Password Field Name
Video Password Place Holder
Video Password Secure Code
Remember that our approach focuses on marketing automation. We allow organizations to personalize the customer experience.