Christmas brand videos are quite common during the holiday season. Just like almost every year, video marketing will shine in creative ways during this festive season.
Organizations from around the world share their best wishes using creative videos to drive hope, engagement and even to re-unite entire teams around something as simple and effective as a video about Christmas.
How can remote teams use Christmas videos to build engagement, trust and to simply have fun?
With this in mind, I've chosen some video marketing best practices and ideas for the perfect Christmas brand video for remote teams to increase staff engagement in 2021.
Plus, for sure your remote staff will have fun while producing any of these brand videos for Christmas and even New Year.
Reality check: We all need an extra dose of happiness!
Christmas is the time of face-to-face interactions. But if your time can't make it to the corporate Christmas party, how about using the power of video to drive HR engagement?
Because of this, it's time to create an effective video marketing strategy for your Holiday season video.
Joy to the remote world!
Christmas Brand Video Marketing Ideas For HR And Remote Teams in 2021
As a word of caution, before you start making a corporate Christmas video, make sure to have the right strategy in place.
Even if these videos are usually sweet, we are still talking about marketing.
Because of this, make sure to create a robust video marketing strategy so that your corporate greeting card video pays back.
Here you'll find 9 questions you should ask yourself to create a corporate Christmas video with ROI in mind.
Did you know that Christmas videos are an opportunity to create cohesion in any remote team, regardless of size?
Today, I'll share 5 Christmas video marketing ideas. You still have time to make the holiday season a great bonding experience.
Now, let's go over these Christmas video ideas.
1) Collaborative Christmas Video: Unify your virtual team around the festive season video
If you want to create a fun brand video for Christmas that unifies your virtual team, how about if your organization makes a collaborative video?
How? Simply make a collaborative team video featuring your staff's talent.
For this, you'll need either a video production company to record, edit and post-produce the video, or savvy videographers.
Your team members only need to share their individual video files.
Then, those files are edited together in creative ways.
Music videos are often a good fit for these types of marketing videos.
Here you have a Christmas brand collaborative music video example:
This team video reminds me of when with my previous startup we created one of the first collaborative music apps in the market.
It's a play-safe approach.
Plus, we all love music videos.
This is a great opportunity to also share the video with family members, friends, and pretty much every Linkedin connection.
This type of video can be shared through social media platforms like Facebook, Instagram, or YouTube.
You can also create email marketing campaigns. Sending holiday cards with video is already expected during this season.
Use this opportunity to raise brand awareness.
Since virtually anyone can participate, use this team video as well to boost employee engagement and cohesion.
Chances are that you'll find new talents among your remote team!
On top of that, if the result is really good (like in the example above), your brand will benefit from the online PR buzz this can generate.
If you want to create this type of collaborative video online, you can use Pirsonal's online video editing API or integrations.
Users would be able to add their own video assets and create unique videos at scale.
2) Parody Video: From management to junior staff, just have fun making a corporate Christmas video
This other Christmas video uses humor. As you can see, this is a marketing video for Christmas that is set in a very corporate environment that can be serious and even boring like the investment world.
But these guys just made the corporate Christmas video fun, entertaining, and easy to watch!
From a creative perspective, what else can you ask from a greeting card video?
Watch this fun corporate Christmas video example now:
This type of Christmas video often requires the help of a video production company or advertising agency.
The reason for this is that it's usually a bit more technical.
It takes into account the fundamentals of professional video editing like sound, light, and a proper video script.
If you can't get help from a corporate video production company or from an advertising agency, no worries.
You can always find in-house talent to make an entertaining Christmas video for your business or organization.
Once you have decided your business goals for the video campaign, ask your coworkers to share ideas about how to get there.
With these ideas, ask team members for a little help recording the video with smartphones.
Nowadays, there are many online video editing tools that anyone can use.
Keep it simple, fun, and to the point around a specific storyline.
For those of you that are in a "strict" corporate environment, this type of holiday card with video will certainly get everyone's attention.
3) Viral Video: Get more social media shares with a brand Christmas video everyone loves!
You are right. Not every brand has remote workforces. Still, little details of the holiday spirit can be shared through viral videos like the one you'll find above.
Want to go big with your brand Christmas video? Check what WestJet did a few years ago for their greeting card video:
The WestJet Christmas Miracle video is a great example that combines PR, social media buzz, even some kind of guerilla marketing, and well-crafted professional video production.
This video has more than 50,000,000 views.
This is one is "close" to a "guerilla marketing" experience.
Fast forward three months and, with the help of 175 WestJet volunteers, three airports, and Santa himself, they made a Christmas miracle happen for more than 250 guests on two Calgary-bound flights.
This attracted a lot of media attention, especially online.
The best video marketing is often the one that is powered by your organic audience.
4) Fun Team Video: Small teams can make a holiday video that resonates with their buyer persona
If you have a small team, want to keep it warm, classy, and fun, you should check this video example now:
Out of curiosity, I went ahead and checked this agency's other YouTube channel videos and found that they had created any Christmas videos over the years.
This agency has less than a thousand YouTube subscribers, so I am tempted to believe that the views they have on their videos are mostly organic.
Similar to the viral Christmas video example shared earlier, making a Christmas brand video that resonates with your audience will help you get more organic views.
This means that you can boost engagement from your online audience, no matter the industry and size of your team.
If you have different niche audiences or clearly identified buyer personas, you can create different versions that adapt best to who they are.
Use marketing segmentation techniques to achieve this.
Here you have another holiday video example:
5) Customized And Personalized Video: Creating a video for Christmas with your customer's name
If you want to play safe and still get a "wow effect", you can also make personalized videos for Christmas. Check the following personalized video example:
You can make personalized videos automatically.
To create this greeting card video with personalization, all you need is a spreadsheet, a CRM, web form, or any other structured digital data source.
Most organizations use spreadsheets.
The following video shows how to make personalized videos using spreadsheets (CSV, XLS) with Pirsonal's video personalization platform:
If you want to improve customer experience, invite your leads and customers to make their own videos in a totally personalized or customized way.
For example, you can ask them to fill out a web form, and when they fill in the web form, a personalized or custom video is created automatically and sent by email.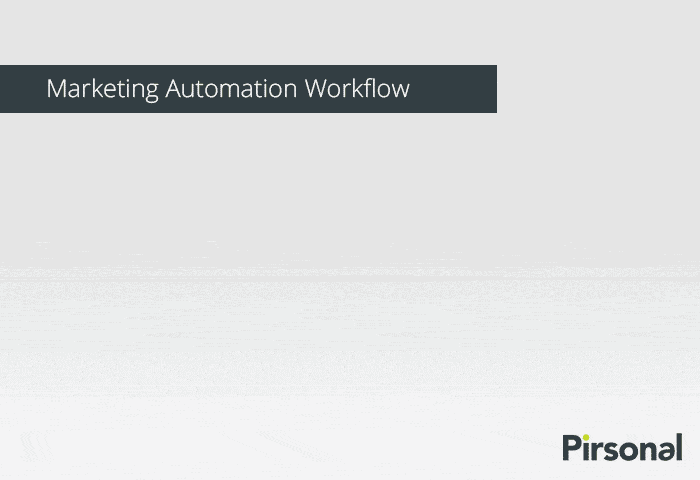 They can create their own holiday cards with video content!
If you have a large audience, budget constraints, or simply need the personalized videos in real-time, use interactive videos instead.
With Pirsonal Player, you can create interactive videos with personalized Calls to Action (video CTA) and content in the player itself.
You can customize these video CTA using HTML, or use the standard ones provided by the interactive video software.
With this interactive video software, even if you have some creative and content limitations, you enjoy the benefits of both scalable personalizations with video and a lower video production cost.
The reason for this is because you can use any existing video without the need of creating a custom video template for the personalizations.
Check this other video to make personalized videos with dynamic calls-to-action and personalized landing pages using Google Sheets and Zapier. The same exact process can be applied to web forms, CRMS, or marketing automation tools.
Video Stats To Understand Why A Christmas Video For Your Brand Is More Relevant For Your Remote Team In 2021
When making a Christmas brand video for 2021, it is important to pay close attention to some of the habits that have changed and affect how and why consumers watch videos during the festive season.
Also, take into consideration some of the strong trends that take place in the work environment.
If you think about 2021, working from home has become the norm for millions of remote workers in the US.
But not only there.
More than ever, many brands have changed to virtual teams around the globe.
This has also impacted media consumption and just overall audience behavior.
It has also impacted consumers' holiday shopping habits.
For example, Nielsen recently released results from their Total Audience Report. In the report, they analyzed Q2 2020. The analysts say that the COVID pandemic triggered a stay-at-home policy for millions of workers that significantly impacted media consumption.
Nielsen's Streaming Meter reported a sizable increase in streaming video usage in the second quarter 2020.
Streaming video accounted for 25% of total television viewing minutes, up from 19% from the fourth quarter of 2019.
The cumulative weekly time spent with streaming video in the second quarter was 142.5 billion minutes, an increase of nearly 75% from the 81.7 billion minutes during the second quarter of 2019.
At the same time, Accenture found that most consumers said they plan to minimize in-store shopping to reduce health risks to essential workers and would like retailers to stay shut on Thanksgiving Day.
Closing Thoughts: Make brand Christmas Videos to Increase Remote Team and Customer Engagement
Many corporate cultures have been updated because of the impact remote working has on them.
For many, this is the first time working from home. You can call this "remote" Christmas.
The same concept applies to associates, contractors, freelancers, or other people that add value to your organization in one or another way.
With a Christmas brand video, you can build team cohesion.
HR managers and marketing teams can help them have a great experience from home.
Christmas videos are not just a marketing asset. This holiday season videos can be a celebration.
Christmas helps me stop and remember. Enjoy. Share.
This is what even corporate or brand Christmas videos should also achieve.
A corporate celebration video can involve many people in your organization. This, in turn, will impact the personal network of each individual.
The results will go much further and will become a branding activity, that started with staff engagement.