Many small business owners offer great products or services online. However, they understand that if their digital marketing was more efficient, they would boost sales and cut expenses. This is why they start with marketing automation as a way to scale sales and be more efficient in their small business.
Especially when a recession hits, budget constraints happen, and online sales slow down. This is especially important with small marketing sales teams. As a small business owner, you want to be able to do more, without increasing the headcount.
Marketing automation can be a game-changer for small businesses. By automating email marketing, social media, and other repetitive tasks, small businesses can save time and money. They can engage with potential customers automatically through an efficient online sales process. But how do you get started with marketing automation?
Many businesses use marketing automation. In fact, 56% of companies use marketing automation to be more efficient in marketing. This means that this is the perfect time to start with marketing automation in your small business.
How Small Business Can Start With Marketing Automation
The best way to start with marketing automation is to define what you want to accomplish. These business goals will also help you define your marketing automation strategy and the best free or paid tools you'll need.
Then, segment your customers based on your ideal customer, buyer persona, or target market. For example, establish a mechanism to identify a satisfied customer. Do the same to identify customers that may churn or cancel a service.
From there, take the time to understand how they interact with you through the sales funnel and customer journey. For example, you can use personalized videos to increase engagement when an online lead requests information.
Once you've done this, find the marketing automation software that is a good fit for small businesses. There are a good number of excellent marketing automation tools. Also, many of these tools offer a free trial. Try them first before you commit.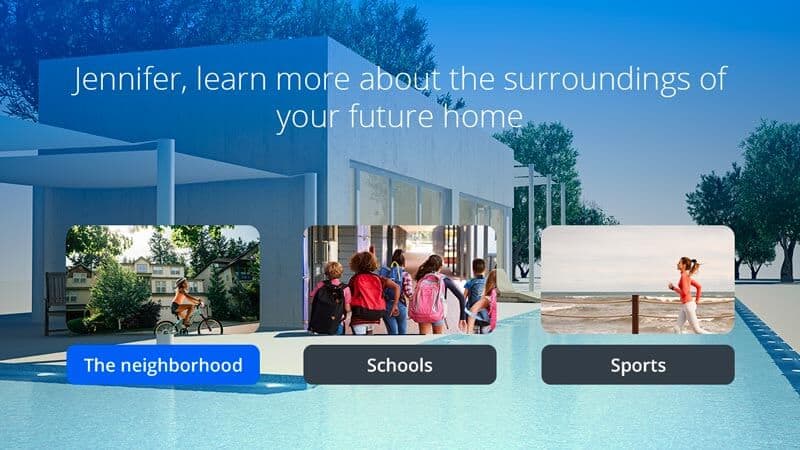 Once you've done this, there are many ideas you can apply to boost engagement and sales with marketing automation for growing businesses. For example, automate long-term touchpoints. This helps you keep the relationship alive and empowers sales teams with interactive videos to increase sales engagement.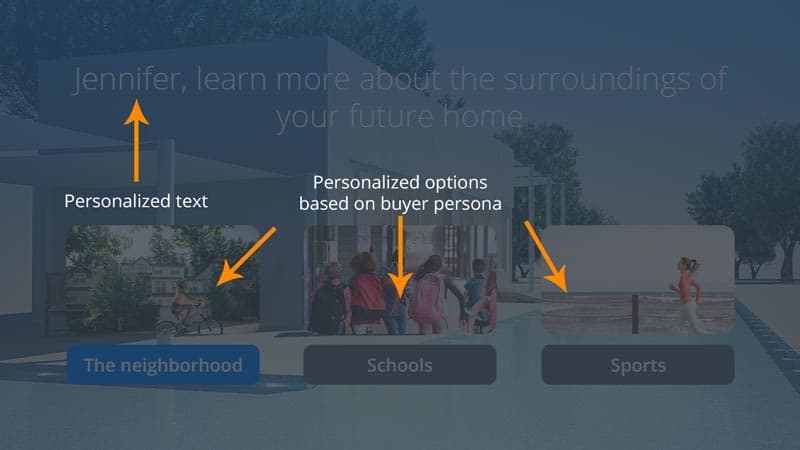 As you'll see, on many occasions, potential customers need timely communications from you to make a decision. Marketing automation helps you do this at scale efficiently.
7 Ideas To Start With Marketing Automation When A Recession Hits
Let me share 7 easy ideas to start with marketing automation. These ideas will help you be more efficient, reduce costs, and increase sales.
Especially when there is a recession in the market, all this is necessary not only to survive but also to grow your business. When updating your marketing strategy with automation, pay attention to all these ideas as a whole. They all work smoothly together.
#1 Gather Customer Data
The fact is, that most small businesses don't gather customer data. And this is a mistake. When businesses collect customer data in a structured way, they are able to serve their clients better.
The benefits of having a data-driven culture are numerous. For instance, a small enterprise can segment customers by location, demographics, or interests. They can also track customer behavior over time. This allows businesses to give their customers what they want when they want it. In short, gathering customer data is essential to running a successful business.
When data is integrated into every aspect of a company's operations, everyone from the sales team to the marketing teams can reap the benefits. Perhaps most importantly, a data-driven culture can help a company anticipate the needs of its customers and create products and services that address those needs. In addition, data can be used to create more targeted and effective marketing messages. By harnessing the power of data, companies can become more nimble, responsive, and customer-focused.
#2 Segment Your Audience Automatically
With marketing automation, small businesses can scale their marketing efforts. But your competitors already send mass email campaigns. They already build email lists. So, how can you stand out?
Most of your competitors won't take the time to segment their messages, even though many marketing automation software offers this basic feature. Even larger businesses wrongly skip this. The fact of the matter is niche segmentation can improve overall campaign performance by up to 425%. Why? Because you'll create buckets of ideal customers.
Hence, the best way to increase engagement with an ideal customer, help people take action, and win more business is to segment your audience. By identifying and targeting specific groups of people, you can more effectively tailor your message and offer them something they want or need. This will not only increase engagement but also help people take action, leading to more business for your small enterprise.
Segmentation can also help your marketing team create better content for marketing. Since you identified, needs and wants earlier, you can send tailored blog posts to leads and customers by email.
#3 Automate Emails Responses
During a recession, your target audience wants a response fast. Often, larger businesses find it difficult to be as responsive as small businesses are. So, be the first one to respond to every email and win more business.
However, the right message is essential for a successful marketing campaign. By using marketing automation platforms, you can send the right message to every marketing lead. This ensures that your campaign is targeted and relevant.
Additionally, a segmentation strategy allows you to automatically add relevant content to these email responses and follow-ups. This makes your campaign more dynamic and responsive to your audience.
When a lead requests information from your company, it is important to be the first to answer their question. Often, leads will request information from multiple companies at the same time. By being the first to answer their question, you can show that your company is better than your competitors.
#4 Create Long-term Touchpoints
As you begin to gather more customer data and segment your audiences, it's time to create tailored touchpoints. Don't think short-term. Create personalized messages that you automatically send across the customer's journey for months and even years.
On one hand, this improves the customer experience for current customers. As a result, you build a solid base of loyal customers. On the other hand, this helps you maintain contact with leads that require more time to make a decision.
By understanding the different needs and motivations of your customer base, you can better design content and experiences that resonate with them. Thus, you can create a deeper level of engagement and loyalty from your customers. During hard times, when sales slow down, customer loyalty is a robust engine that keeps your business afloat.
#5 Make Personalized Videos To Impress Leads And Retain Customers
Personalized videos are a great way to stand out from the competition and wow your customers. Small businesses that send personalized videos by email as part of their marketing campaigns have a definite advantage over the competition.
Check the following personalized video example.
Customers are more likely to remember a video than they are to remember an email or even a social media post. A video is more personal, and it gives the customer a chance to see the product or service in use. It also allows small business owners to show off their personalities and build a relationship with the customer.
With personalized video software like Pirsonal, you can create these videos automatically during the customer lifecycle. Since the content of the video is 100% tailored to the needs, concerns, and goals of each customer, these videos are really effective at driving engagement and moving people to take action. Hence, these videos use variable data from a marketing automation tool or even from a spreadsheet.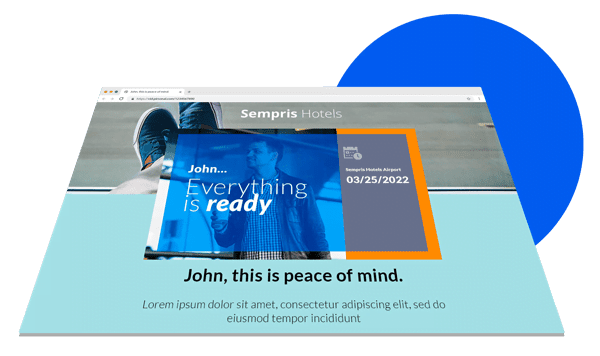 One of the best things about more personalized video tools like Pirsonal is that they can be created relatively easily and cheaply. Also, customers love personalization. With Pirsonal, you can also automatically create personalized landing pages for each customer. This helps you increase relevancy, which leads to better relationships.
#6 Empower Small Sales Teams With Interactive Videos
More and more small sales teams use videos. Some sales professionals record personal videos, others repurpose existing videos to build a relationship with buyers. However, remember that, especially during a recession, it is key to move potential buyers to take action.
Thus, whenever your business development team uses video to communicate with leads, use interactive videos to engage with them. With interactive videos, viewers can take action right from the video.
Interactive video software Pirsonal Player helps you add a personalized call to action to your videos. With this video tool, you make any video highly relevant to the potential buyer with personalization.
The call to action of these interactive videos uses variable data from your CRM or marketing automation software. This makes it easy to scale and use at scale, no matter your sales strategy.
#7 Create Personal Messages Automatically But Sound Like A Human
When you first start using marketing automation in your small business, it's important to make sure your message sounds natural. This will make a big difference in how your customers respond to your communications.
By personalizing your messages and making them sound like they're coming from a real person, you'll be able to build better relationships with your customers and ultimately boost your sales.
Example of Marketing Automation Workflows For Small Businesses
Request More Information From Leads For CRM Marketing
Especially if you manage an online business, you can use lead generation landing pages to attract leads online. For example, say a lead requests information through a lead generation landing page but doesn't provide information about their particular context. With smart questions, you can know this. Personalization tools like Pirsonal Player help you ask unique questions to viewers automatically.
If the in-video web form connects with a CRM or marketing automation tool, marketing professionals can greatly benefit from this marketing technique.
Engage With An Email List With Personalized Videos
If you already have an email list, you can create relevant emails with personalized videos. This will help you boost email click-through rates and engagement. Your email contacts will pay more attention to the messages. As a result, you'll increase sales engagement, which is key during a recession.
The easiest way to do this is through spreadsheets. With personalized video tools like Pirsonal, you can easily upload a spreadsheet with names and more information. From there, you can automatically create personalized videos with variable data in no time.
Then, you can send the videos by email with your marketing automation software of choice, or use an existing integration with marketing tools like Mailchimp.
Conclusion: Marketing Automation Systems Bring Efficiency During a Recession
In conclusion, marketing automation can help small businesses be more efficient in sales and marketing. By automating marketing tasks that would otherwise be done manually, businesses can reduce their operating costs and free up employees to focus on closing more sales.
This, in turn, can help them be stronger during a market recession without breaking the bank. In addition, by automating tasks such as email marketing and social media outreach, businesses can continue to engage with their customers even when budgets are tight. In addition, with personalized video marketing, small businesses can now play in the same league as larger businesses.
Want your small business to start with personalized videos for free? Request a free trial now or talk to our team. We'll help you succeed with marketing automation and personalized video marketing to help your saturated audience take action, at scale.