Automatic video editing software
Automatically edit videos at scale—faster than Flash
Editing videos at speed is tough enough. Making them at scale sounds like an impossible mission. But, is it? Now, you can automate video content creation at scale in no time with Pirsonal's automatic video editing software. Plus, you get all the help you need to succeed.
Examples of automated videos
Video content creation can be automated at scale with specialized cloud video editing software like Pirsonal. Here you have different types of video automation used by brands that needed to launch video marketing and advertising campaigns that scaled with their needs—with responsive support to help them succeed.
Brands and agencies automatically make videos online with Pirsonal in a simpler, faster, and more scalable way. We walk with you to help you succeed.
Case study
Spanish soccer teams speed up video content creation with Pirsonal's video automation software
Videos are a huge part of the sports media industry but they're also time-consuming to edit and distribute—especially when you need to customize them at scale.
It's hard to keep up with all the games and there is always pressure to produce quality video content quickly that keeps advertisers and viewers engaged.
These are some of the challenges this known sports organization and its media partners faced. Until they realized they could leverage video technology to automate video editing in real time.
With Pirsonal's video automation technology, this brand can now automatically make quality videos before anyone else during and after the games.
Their videos combine images, videos, stats, AI text, and voice-overs that are put together by Pirsonal's video technology resulting in ready-to-consume video content.
In a fast-paced environment, Pirsonal helps them succeed:
A business-critical and reliable platform.
Fast and secure cloud video rendering.
Easy video automation API and integrations.
Replicate their success with Pirsonal
Understanding video automation
Automatic video editing (also known as video automation) is a process of editing video footage with little or no input from the user. This can be done through automatic video editing software like Pirsonal that handles this process in a fast, scalable, and secure way.
Pirsonal's cloud video editing software is specifically designed for this purpose. Creative teams automatically add text, images, voice-overs, music, video, and more to placeholders in the videos. But much more is possible!
Through proprietary video technology and specialized video rendering servers, Pirsonal makes editing a large amount of video content a simple and achievable task.
However, in some cases, you can also use general-purpose video editing software like After Effects that have been configured to perform this task on the user's computer. This often results in a slow, tedious and expensive process. This can also be performed with the help of AI video editing.
In either case, the goal is to take raw video footage and turn it into a finished product without the need for the user to manually edit the footage one by one.
Let's take a look at three customized video automation examples with dynamic content from some of our customers. These customized videos were part of online creative advertising and marketing campaigns.
Automatically add text to full HD videos
Fitness brand Zumba automatically made over 600k minutes of video with personalized text to support their localized digital marketing in 7 languages. These videos were rendered in less than a week thanks to Pirsonal's fast video rendering servers.
Automatically add voice-overs, images & video to videos
Ecommerce travel brand Opodo automatically added voice-overs, images, text, and animated video clips to videos to support their upselling and loyalty strategy. Pirsonal automatically created these automated videos which they sent by email.
Automate user-generated video content
Pizza brand Papa John's automated user-generated video content with Pirsonal's video automation software. Every customized video was ready in less than 5 seconds and helped the brand build a highly engaging online video campaign in no time.
Benefits of online automatic video editing for brands and agencies
There are many benefits to online automatic video editing, including the ability to save time thanks to video automation adapted to your own digital workflow, and money since every video costs on average between 0,03 USD and 0,99 per minute of rendered video.
In most cases, it is much faster to let the automatic video software do the work. It can also produce results that are just as good, if not better, than what a human editor could produce.
Online automatic video editing helps brands, video marketers, and agencies in so many ways. It provides new creative ways to build robust media and advertising strategies without worrying about all the hassles manual video editing represents.
Let's explore some of the key benefits of online automatic video editing for brands and agencies that want to scale video production—not the headaches.
Automatic video editing in the cloud saves time
Automatic video editing in the cloud is a huge time saver, especially when it comes to longer videos and when you need to produce a large amount of video content in a short time.
For example, with fast online video editing software like Pirsonal, a minute of customized video in full HD can be rendered in less than 25 seconds. And 20 minutes of full HD video content can be ready in less than 5 minutes.
Thanks to simultaneous video rendering, you can make many videos at the same time. For instance, 1000 videos could be ready in less than 60 minutes. This is a huge time saver, especially when you have a lot of videos to make.
Automatic video editing in the cloud saves money
Unlike traditional video software that requires the designer's manual input, Pirsonal is scalable and can edit videos automatically in minutes or hours instead of days.
Since you can render videos fast and simultaneously in the cloud, you save money and resources that help you focus on other important aspects of the video campaign.
Pirsonal is a software company that specializes in video marketing automation. We have developed software that automates the process of video editing so that your organization doesn't have to build it from scratch.
With Pirsonal, media companies, brands, and agencies save money. They can rely on Pirsonal's robust infrastructure and responsive support at a fraction of the cost.
Automatic video editing helps brands build creative advertising and marketing campaigns with user-generated content
Brands are using user-generated content in creative campaigns. Audiences love making and watching videos! Thanks to video technology, you can now add video creation tools to any video campaign.
Automatic video editing helps brands build creative advertising and marketing campaigns with user-generated video content that is sharable across social media platforms and through direct messaging services like WhatsApp.
Brands like Vodafone, Zumba, or Papa John's have found in Pirsonal a flexible partner that helps them save go-to-market time. Thanks to a combined approach with top video technology and expert support, we can help you build your next creative advertising and marketing campaigns.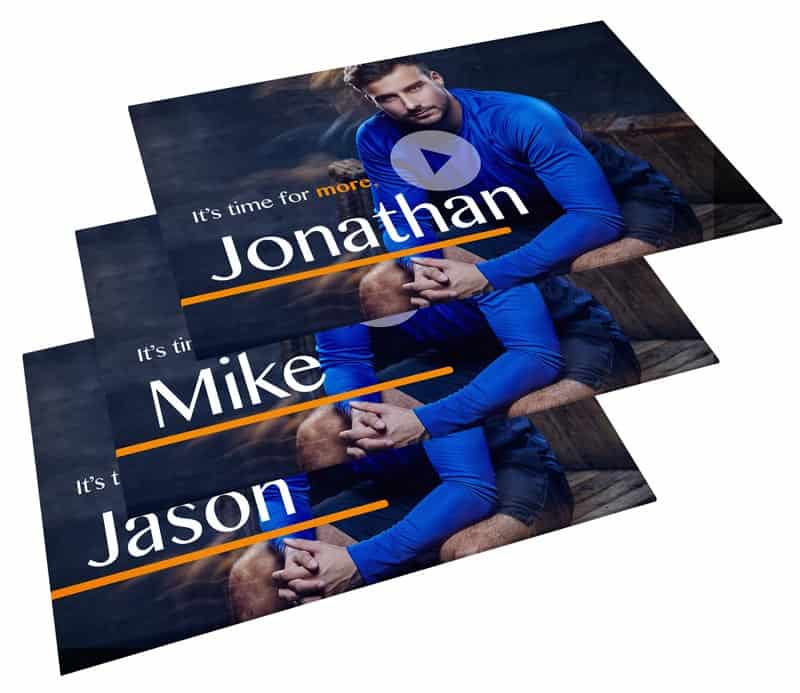 94% of marketers say video has helped consumers increase their understanding of product or service
Video automation process
Video production phases for automated video creation
Video production for automated videos follows a similar process when compared to one-size-fits-all videos. Yet, there are key differences related to how templates are made and how the data is digitally input into the automated video software.
Since video is the type of content audiences love the most, it is important to understand the steps media and creative teams need to follow to produce videos for any campaign at scale.
Pre-production
Like average video projects, the first phase is pre-production. This is where you'll detail all the needs for your automated video project.
During this phase, make sure you ask yourself the following questions:
What are your goals?
Who is your target audience?
What is the key message the automated videos need to express?
And the creative elements that will make these videos stick?
What are your script and storyboard like?
What distribution strategy will you follow?
Do you need any equipment?
And talent?
What's the best automated video editing software for the job?
What timeline do you need to meet?
In many cases, this is the longest stage of the video production process for automated videos. This is especially true for agencies and teams that are just starting with video automation, even when they have extensive experience with video production.
The main reason for this is simply that they have many questions and invest part of their time figuring out what's the best software for automated video editing and what's required from them in the process.
Production
During the production phase, the creative team will start working on the video content based on the director's guidance. This phase will be determined by the type of video output you expect.
For example, if you are planning on filing, you'll need to take care of the lights and camera setup. However, if it is an automated animated video, you'll start working on some animation drafts.
Post-production
The post-production phase takes care of all the final details of the video output. However, this is the phase we'll you'll notice more differences between automated video editing at scale and the traditional one.
Since in automated video editing every piece of content can be dynamic, this needs to be taken into account during the post-production phase.
For example, maybe certain parts of the voice-over content are automatically added by AI software. Similarly, some images, video clips, and text will be provided by a third-party data source in real time when the video is rendered.
This means that during this phase, you need to make sure the video structure adapts to the content of the final output, regardless of the source.
Template creation
Once the post-production or animation stage of the main video assets is ready, it's time to create a template for the automated video creation software. These templates provide the structure for each video. They also define how automated videos finally look and sound.
Anyone can create automated video templates with Pirsonal's browser-based free video tool. If your brand or agency has little time, you can also rely on our Professional Services to help you launch on time.
The assets from automated videos have two states: dynamic and static.
Dynamic assets are those that will be merged or personalized automatically. So, when creating a template with Pirsonal's online video tool, you visually add dynamic layers for images, videos, sounds, and text content.
Static assets are those that are not going to change from video to video, no matter the data source.
With Pirsonal Editor, you can change the state of a layer with a click. This helps you save time.
Creating videos automatically
This is the last phase. During this phase, the automated video creation starts. For this to happen, you need to connect your data source to the cloud video software.
With Pirsonal, this is really easy. Pirsonal's video platform provides thousands of integrations with apps like Google Sheets, Excel, Airtable, and many more.
You can also upload a spreadsheet to the platform to automatically create the videos at scale. And, if you have a custom application, you can also use Pirsonal's straightforward automated video API.
During this phase, you'll also connect the automated video software to the distribution channel you want for this video campaign.
For instance, for YouTube automation, you can connect Pirsonal to your YouTube channel to automatically upload videos to a channel or to AWS S3. For email marketing, connect Pirsonal to email marketing tools like Mailchimp or CRM tools like Hubspot. Or you can simply download a CSV with the video data and stats.
Stages of successful automated video projects:
Strategy.
Creative.
Technical.
"Using Pirsonal was a satisfactory experience. It met the objectives of our project and the customer service was exceptional."
Pablo D,
Developer, Broadcast Media
And get free onboarding. No credit card required.
Brands and agencies choose Pirsonal to automate video content creation in a fast, scalable and integrated way.

"great personalization possibilities"

"leaders in the space"

"amazing team, excellent service"
Why Pirsonal?
#3 Get help when you need it
Video automation software & API
Automate video editing and creation to scale video marketing—not the headaches
Creating videos can be a time-consuming and expensive process. When you create videos, it's hard to scale the production and integrate it within your own workflow—and don't even think about getting it done quickly.
Pirsonal's software solves this by automating video editing and rendering at scale so that you engage with your audience through automated video marketing and creative advertising campaigns. No matter your workflow. Fast.
And there is a big plus. Our team literally walks with you to help you succeed.
Get custom templates
Automated videos are powered by video templates. Get yours from our Professional Services team or built yours with Pirsonal's free online video tools for creative teams and developers.
Connect your data source
Connect your automated video templates to any digital data source. From spreadsheets to custom apps connected to our video automation API. You decide what triggers the automated videos.
Automate video editing
Through powerful automated editing, you automatically make videos online—no matter the volume. Pirsonal makes this easy with specialized rendering servers at a fraction of the cost.
Create quality videos from any type of content automatically
With Pirsonal's automatic video editing software, you scale quality video production at speed.
The simplest type of video automation is adding text to videos. This is why most video marketers automatically add text to video content, followed by images, voice-overs, music, and even video-in-video.
Types of content you can automatically add to online videos: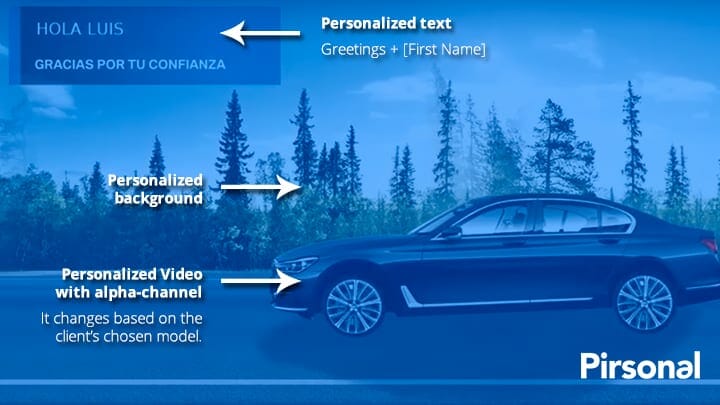 Text: Any text, also with custom fonts and colors.
Image: Add images and logos to videos automatically.
Video: Clips and video-in-video.
Audio: Add automated voice-over and music to videos.
Properties: Change colors, sizes, positions, length, etc.
Effects: Add fade in/out, zoom in/out, filters, etc.
And more.
Make customized videos at scale
Your own video creation workflow
With Pirsonal, there are many ways to make videos automatically. Let our video tools adapt to your workflow—not the other way around!
For example, you can create automated videos from a spreadsheet, connect to tools like Zapier, or even add video editing capabilities to any campaign or application thanks to Pirsonal's straightforward video automation API.
Design your own video automation process:
Scalability gives you fast video creation when you need it.
Integrations save you go-to-market time and resources.
Webhooks notify any application of your choice when a video is ready.
Automated video templates
Create your own templates from any browser or get them done-for-you
Customized videos are made from templates. However, often busy marketing teams and agencies don't have the time or the resources to create these templates.
So their video automation project dies and so does one of the best creative ways to engage with audiences at scale with video.
This is why we created Pirsonal Editor. A free video tool that helps you create templates for automated video generation from any browser.
With Pirsonal Editor, you create templates for video automation in no time. You can even use media assets made with After Effects, Premier, Canva, and more.
Want to save time or resources? Let us create a custom template for you!
Steps to make automated video templates:
Import your own media assets.
Add as many layers as you need.
Make video content dynamic with a click.
Or rely on our Professional Services to help you succeed.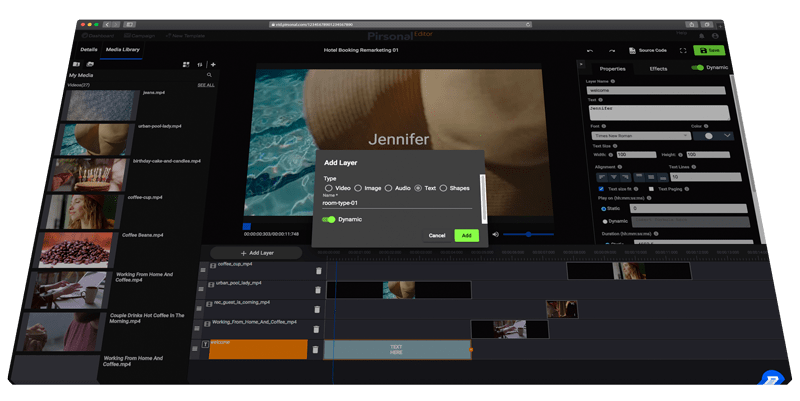 Automatic video enhancer
Automatically enhance videos with effects
Enhance the quality of customized videos automatically with effects and filters. The most common effects in customized video creation are the fade-in and fade-out effects for images, video clips, and text boxes.
With Pirsonal's automatic video editing software, you can also apply these effects to change the volume of an audio file and remove silence automatically.
Creative video teams and agencies also use advanced video editing techniques like alpha channel and chroma key.
An alpha channel is an extra channel that defines areas of transparency in the video. Chroma key is a digital technique that allows you to replace a color (for instance, a green background) with another visual content.
Watch the following video to see an example of an automated video that uses the chroma key technique.
Automated video generation effects:
Chroma key (green background) in video and images.
Alpha channel (.mov, Apple ProRes 4444).
Video and image transitions.
Fade in and fade out.
Zoom in and zoom out.
Movement and positions (X, Y).
Image filters (black and white, sepia, and more).
Video and audio volume.
Dynamic video and audio length.
Autocut and trim.
Remove silence.
And more.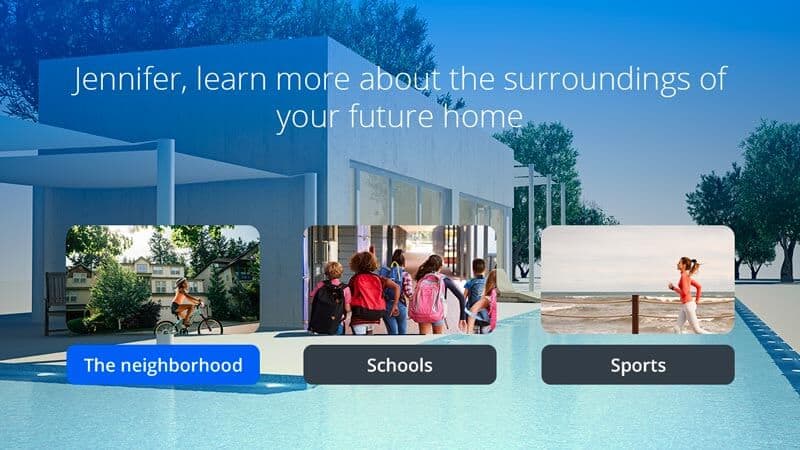 Interactive video player for automated videos
Boost engagement with interactive video content
Automated videos can be interactive thanks Pirsonal's interactive video player.
With Pirsonal's software for personalized interactive videos, you automatically add video calls-to-action (CTAs) with personalized content to any video so that viewers take action right from the videos.
Automatically add personalized CTAs to automated videos.
Instantly boost engagement with dynamic video landing pages.
Improve campaign performance with video analytics.
Dynamic video landing pages
Beyond video automation
Video landing page content you can personalize:
Logo.
Banner image.
Title.
Description.
PDF, web forms, and more.
CSS.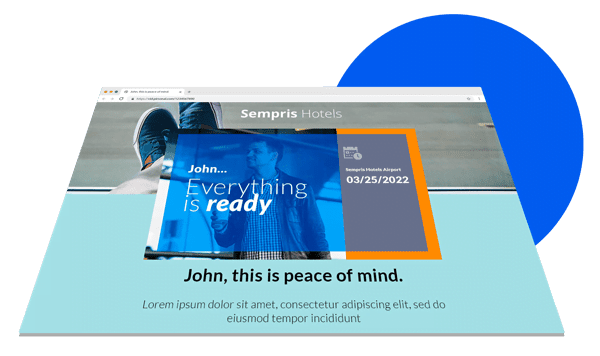 Faqs about video automation
How fast can I make videos automatically?
A 60-second automated video will be ready in about 10 to 20 seconds. The rendering speed can increase based on the plan you choose to close to real-time.
Is automated video creation free?
Pirsonal provides a free trial to help you try the platform at no cost. Subscription plans start at 149 USD to create 1000 minutes of real automated videos per month.
What's the best automatic video editing software?
Pirsonal is one of the best automatic video editing software on the market! Although there are some competitors who offer similar services, most of them aren't as simple, flexible, and fast as Pirsonal's.
In fact, most don't offer the same personalization features beyond video, responsive customer support, and Professional Services that help you succeed with your video marketing automation project—on time.
Can we get help with the execution of an automated video project?
Yes. At Pirsonal we provide specialized Professional Services to help you with strategy, creative services, and video API implementation so that you can focus on other important aspects of your video automation project.
What's the difference between a personalized video and a customized video?
In video marketing, customization is made by the user and personalization by the brand. Hence, if a user adds his name to a video, that's a customized video. But if a brand does this, then it is a personalized video.
What's the difference between a personalized video and a dynamic video?
These two terms are used interchangeably. The variable data from dynamic videos can change, and so will the content of the video based on these changes. However, the variable data from personalized videos will not change once the video has been rendered.
Thanks to Pirsonal's interactive video player, you can add dynamic content to customized and automated videos as well, even if these videos weren't rendered by Pirsonal.
Is video automation the same as AI video editing?
Video automation and AI video editing are quite similar. The main difference is that with AI editing, artificial intelligence tools are used in any part of the video creation process. For example, to edit videos.
Video automation tools like Pirsonal can use content powered by AI, from texts to voice-overs, music, images, or video clips.
Can I add images to videos automatically?
Yes, you can add images to videos automatically.
You can also apply image transformation and effects to these images automatically, such as filters (black & white, sepia, chroma key, colors), aspect ratio (preserve, crop, stretch), and more.
How do I download automated videos?
When you create automated videos with Pirsonal's video software, we'll host the videos for you. Since Pirsonal's video technology creates real videos at scale, you can download these videos from your account.
Thanks to Pirsonal's integration with Amazon S3, you can also host the customized videos in your own Amazon S3 bucket, from which you can easily download them. This can be done either from your AWS account or even from an FTP.
Can I upload automated videos to a YouTube channel?
Yes, you can. Pirsonal automatically creates real video files in MP4, OGG, WebM, and MPEG formats. You can easily upload these files to a YouTube channel.
This is a common practice in YouTube automation. YouTube video automation is when you automate the creation and publishing of content for YouTube channels.
What's the simplest type of video automation?
In our experience, the simplest type of video automation is adding text to videos. This is the most common choice.
However, with Pirsonal's automatic video editing software, you can also add images, videos, and audio content to videos.
Thanks to the flexibility Pirsonal's video software provides, it is also possible to automate editing with effects, variable properties, custom fonts, and more.
Can I mix personalized videos with AI videos?
Yes. You can use an AI video generator and mix the content these video tools make with the video content made by Pirsonal's video automation software.
Do I need After Effects (AE) to make automated videos online?
Not really. With drag-and-drop video tools like Pirsonal Editor, you can create your own templates for video automation from any browser, even if you are not a designer. Developers can also create programmable templates with Pirsonal Script.
However, designers often use AE to build even more powerful effects that you can easily add to your templates.
Once a template is ready, Pirsonal's software will automatically render the personalized videos at scale using specialized servers so that you don't have to worry about scalability and capacity.
Create a Personalized Video Now
Enter your name to automatically create a customized video, dynamic landing page, and interactive video call to action.
Busy marketing teams and agencies automate video generation in a fast, flexible, and integrated way with Pirsonal's video technology and Professional Services
Be the next one — We'll help