As a small business, you need more efficient ways to do marketing online. This way, you can commit to your marketing plan's goals. This is especially relevant if you have a limited budget. This is why today's marketing automation examples can help your business save time and money.
When a recession starts, this is crucial for two main reasons. First, potential clients want to spend less money. Second, when sales decrease, your company needs to retain as many customers as possible to stay afloat. So it is the perfect time to start with marketing automation.
There are many small business marketing automation examples that can help business owners become more efficient. One example is using a tool like Hootsuite to help manage social media accounts. This can help save time by allowing businesses to schedule posts and track all activity in one place.
Another example is using a CRM system like Hubspot to keep track of customer interactions and manage sales leads. This makes your sales team more efficient by keeping all the customer information in one place. It also automates tasks such as follow-ups and appointment scheduling. Hence, your sales team can sell more.
List Of Examples We'll Dive In
The following table summarizes the main marketing automation examples for small businesses. I also added some of the tools I've used.
| | |
| --- | --- |
| Examples | Recommended Tools |
| Know more about leads and current customers. | ActiveCampaign |
| Welcome new customers with personalized videos. | Pirsonal |
| Create marketing segments automatically. | Mailchimp, ActiveCampaign |
| Outbound sales prospecting by email with automated follow-ups. | Mailshake, Saleshandy, Yesware |
| Automate repetitive marketing tasks. | Zapier, Integromat |
| Consistent social media posting. | Hootsuite, Socialbee |
| Use AI to write marketing content. | Frase, Contentbot |
| Create dynamic ads. | Facebook Ads, Pirsonal |
| Automate voice-over and repurpose your content. | Amazon Polly, Google Text to Speech, Acapella |
| Automate site translation to go global. | Deepl, Google Translate API |
| Personalized interactive videos to help viewers take action through any video. | Pirsonal Player |
| Engage with leads with dynamic landing pages. | Pirsonal Pages |
| Use AI to make videos on a budget. |  Wibbitz, Canva |
| A CRM to automate client management. | Keap, Pipedrive, ActiveCampaign, Salesforce, Hubspot |
| Convert more website visitors into buyers. | Optinmonster |
| Eliminate back-and-forth emails to schedule a meeting. | Appointlet, Calendly |
| Automated your marketing plan. | Growth Channel |
| Send drip email campaigns to convert leads into buyers. | ActiveCampaign, Getresponse, Convertkit |
Now, let's dive into these examples and into how your small business can execute them. These ideas will help your business retain and attract more customers while being more efficient.
What Is Marketing Automation?
First, let me explain what marketing automation is. In short, it is the use of software to automate marketing tasks. This can include anything from email marketing campaigns to lead generation, automated personal videos, and even social media.
The following infographic shows a marketing automation workflow. In this example, an individualized video is automatically created from spreadsheet data. Then an email is sent to the contact list. This is a basic marketing automation process.
Marketing automation can be a great way to save time and increase sales efficiently. It can also help to improve the quality of your marketing campaigns and customer satisfaction. With marketing automation systems, business owners can ensure that tasks are carried out correctly by sales and marketing teams, on time, and consistently.
In marketing automation, a sequence is a set of messages or actions that are delivered to contact over time. The most common type of sequence is an email sequence, which is a set of emails that are delivered to contact over a period of time. Sequences can be used to nurture leads, build relationships, and close deals.
Common Use Cases For Marketing Automation
There are many common use cases of marketing automation for small businesses. One is to automate repetitive tasks so that employees can focus on more strategic tasks. For example, if a small business wants to send out a series of emails or drip campaigns. They can use a marketing automation tool to schedule and send emails automatically.
For example, think of a real estate agent marketing. With marketing automation, whenever these sales associates receive a new lead, a personalized video solution like Pirsonal can automatically make a personalized video with information about the potential house. Then an email or SMS is sent to the potential homebuyer.
This frees up employees to work on other tasks. For instance, brainstorming new content for email campaigns to engage with current customers and boost retention. Also, developing new marketing campaigns for a specific target market to increase sales.
At the same time, when you have an email list, it helps build satisfied customers. With timely messages, you can automatically engage with customers through different marketing channels, including social media platforms.
Starting With Marketing Automation
When a recession hits, budget constraints happen, and online sales slow down. Thus, your organization needs more efficient ways to do marketing. Many are getting ready.
The best way to start with marketing automation is to define what you want to accomplish. Then, segment your audience. For example, establish a mechanism to identify satisfied customers. Do the same with those that may churn.
Then, define how you can automatically interact with them through the customer journey or even the marketing funnel. For example, you can use personalized videos to increase lead engagement when a lead requests information.
If you have already implemented a marketing strategy and are not getting results, chances are that you need to redefine your approach. I wrote a detailed article about how to do this. You can also watch the following video.
19 Marketing Automation Examples Strategies For Small Business
You can easily apply the following ideas playing solo or with a small marketing team. Most of these examples are supported by marketing automation software that is accessible. By automating your marketing tasks, you can free up time to focus on other aspects of your business.
However, bear in mind that any of these ideas should support your marketing strategy. Thus, don't force your marketing strategy just for the purpose of automating your marketing. Rather, look at what goal you have and how technology can help.
Along with the marketing automation example and idea, you'll find a recommended tool. I've tried most of these tools. Many offer a free trial period.
#1 Know More About Leads And Current Customers
Marketing automation is a great way to learn more about your leads and customers without the manual process. Often, these individuals visit different pages from your website. This can help you learn about what they are interested in and what they are not.
For example, you can know if a lead that already requested information visited your pricing page.
To do this, add a tracking code to your website. This tracking code will send information to your marketing automation software. As a result, whenever a lead or current customer visits a page, the software will update the contact profile. You'll see exactly what pages and content they found relevant.
You can also use lead magnets and webforms to gather data little by little. Once an individual is your contact list, you can retrieve information through different touchpoints. This helps you enrich the contact profile to work on sales and customer loyalty.
For example, you can use video marketing to gather data. Here is an example of a video with a web form: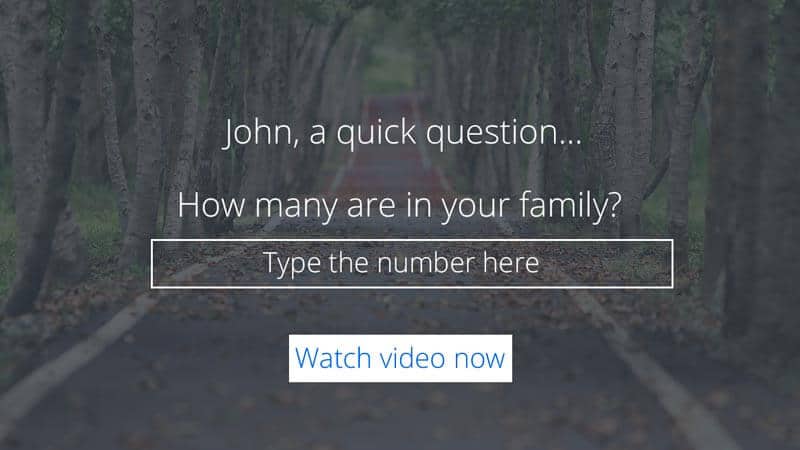 Your sales team can use this information to manually or automatically follow up. You can also send tailored email campaigns to a contact list. Your marketing automation software can personalize these messages.
ActiveCampaign is a great tool for this. Marketing and sales teams can use it to create automation workflows based on user behavior.
#2 Make Personalized Videos To Welcome New Customers
More and more marketing and sales professionals record personal videos to engage with new customers. However, this approach is not scalable or efficient as it requires manually recording the videos. Many don't know they can automatically personalize videos.
Personalized videos are videos with customer data from your CRM, marketing automation tool or even from a spreadsheet. This could be something as simple as a personalized welcome message from the CEO or your team. However, the sky is the limit, and you can also personalize video messages and make effective prospecting campaigns with video.
I created a guide that explains how to personalize onboarding messages with videos. Make sure to read it to help retain customers and help them take action.
For example, in hotel marketing, a hotel can increase revenue by upselling and cross-selling using personalized videos. How? By simply welcoming new guests using the data provided when the new customer made the reservation. The following infographic explains this process.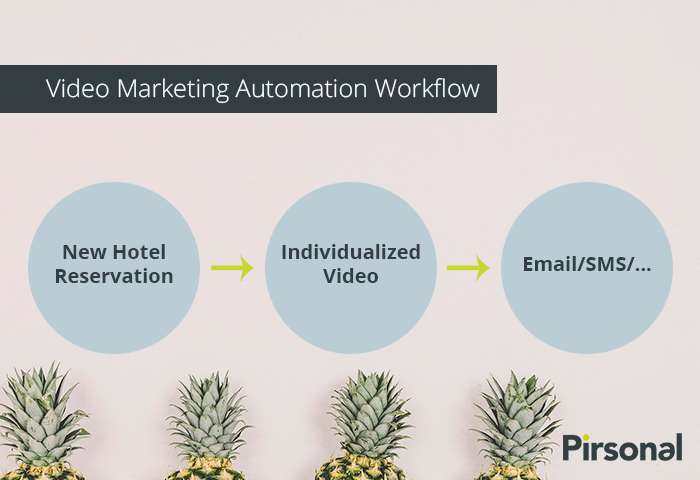 By making these videos personal with customer data, you'll be more likely to connect with new customers In fact, you'll encourage them to stick around. To make these personal videos automatically, use tools like Pirsonal.
#3 Create Marketing Segments Automatically
The reality is that many of your competitors automate their marketing. Even so, many don't use data to segment their marketing messages. This means that, even if their marketing is automated, they are still missing one of the main advantages of marketing automation: segmentation on autopilot.
In fact, even larger organizations skip this. And it is a mistake. In fact, niche segmentation can improve overall email campaign performance by up to 425%. This means that your campaigns can be more effective if you simply segment your messages.
With email marketing automation tools like Mailchimp, you can create audiences from your email list. This helps you send smaller email campaigns to specific groups of individuals that share certain characteristics.
#4 Outbound Sales Prospecting By Email With Automated Followups
Email prospecting can be a time-consuming process, but it doesn't have to be. In fact, email is still one of the main marketing channels for small businesses. With email automation, you can automate the follow-ups and sequences with software.
Even better, when you do email automation for outbound sales strategy in conjunction with reliable data sources, you can target more qualified leads at once.
Luckily, there are many email automation tools. This way, you don't have to do this manually. I've personally used Saleshandy and Yesware connected to my GSuite account. There are many alternatives, like Mailshake or Apollo.
If you want to go the extra mile, connect these tools to Pirsonal through Zapier. This way, you'll take email automation to the next level with video personalization. You'll improve your outbound conversions with highly relevant videos that talk to each person individually.
Before you try them all, make sure to know exactly what you need. Focus on what you want to optimize. Many of these tools have great features to help you be more efficient. However, concentrate on the tools you really need based on what you want to optimize.
#5 Automate Repetitive Marketing Tasks With Integrations
The internet has a lot of marketing tools. Each one serves a different purpose. One of the main blockers many businesses face is that they want to easily move data between applications. Even better, they want to automate tasks without the help of busy IT colleagues,
Zapier and Integromat are great tools that can automate repetitive marketing tasks between thousands of apps. For instance, with Zapier, can connect your favorite marketing apps and create workflows to automate repetitive marketing tasks. You can have it all set within minutes and without IT help.
In fact, many of our clients use Zapier to connect their CRM and similar tools to Pirsonal This way, they automatically make personalized videos, even with email automation workflows.
#6 Consistent Social Media Posting
If you're not automating your social media publishing, you're missing out on a huge opportunity. Through automating posting, you can attract new leads and create brand awareness.
Consistency is key when it comes to social media. Thus, when you automate your publishing, you can ensure that your content is always fresh and engaging.
Automating also allows you to take advantage of social media platforms' algorithms, which can help boost your reach and engagement. So if you're not already using a social media automation tool, what are you waiting for?
Some tools you can use include Hootsuite and SocialBee. With these tools, you can create a social media posting schedule on autopilot.
 #7 Use AI To Write Marketing Content
If you're like most marketing professionals, you're always looking for ways to do more with less. After all, there are only so many hours in the day. So why not use AI to write your marketing content?
There are a number of AI-powered content creation tools on the market that can help you write social media posts, blog posts, and even ads. All you need to do is provide a few parameters and the AI does the rest.
Tools like Frase or Contentbot can help you with this. Not only does this save you time, but it can also help you create better and relevant content for SEO. That's because AI can help you identify patterns and trends that you might not be able to see on your own.
#8 Create Dynamic Ads
Another way to be more efficient in marketing is with dynamic ads. These ads drive more conversions from prospective customers. At the same time, dynamic ads help you decrease your ad spend on Facebook and similar platforms.
Dynamic ads are particularly useful if you run a franchise or almost any type of local business.
By using the data you already have on your customers, you can create ads that are personalized and relevant to them with video content. Use Pirsonal for this. This will help you to reach your target audience more effectively and save money on your ad budget.
#9 Automate Voice-over And Repurpose Your Content
Similar to video, audio is a great way to efficiently connect with your audience. Also, it is unexplored by many businesses, which gives you a great competitive advantage. Text-to-speech or TTS technologies can convert text into audio, making it a cost-effective way to create content.
Your business is producing a lot of content, and you want to get the most out of it. You can do this by automating your voice-over and repurposing your content.
Automating your voice-over will also allow you to create different versions of your content, so you can target different audiences. You can add this TTS audio content to your marketing videos or even use it for an automated podcast.
Some popular TTS platforms are Amazon Polly, Google Text to Speech, and Acapella. In general, these solutions are available for any budget.
#10 Reach New Markets With Automated Site Translation
As the world increasingly does business online, it's more important than ever for companies to have a presence in multiple languages. Machine translation can help you reach new markets quickly and efficiently.
Automated site translation can help you to quickly expand your online presence into new markets without having to invest in the costly process of professional translation. It can also help you to keep your site updated in multiple languages as new content is added.
Online software and APIs like Deepl are a great alternative to Google Translate for sites. Automated site translation is a valuable tool for any business that wants to reach a global audience.
#11 Personalized Interactive Videos To Help Viewers Take Action
A new type of video is becoming increasingly popular. In fact, it has the potential to revolutionize the way businesses do business online through video. Personalized interactive videos are engaging, effective and help you provide a superior customer experience.
Use them to help viewers take the next step in the marketing funnel or customer journey. One of the best things about interactive videos is that the calls-to-action (CTAs) can be tailored to each individual viewer.
These in-video personalized CTAs are between 200% and 300% more effective than generic CTAs. This means that the video can be made as simple or as complex as needed, and it can be customized to fit the viewer's stage in the funnel.
You can automatically add personalized calls to action to any video with the interactive video software Pirsonal Player. As a result, you'll encourage viewers to take action, rather than simply watching the videos.
The following image shows an example of an interactive video with personalization. In the example, the viewer can choose his own path or next step.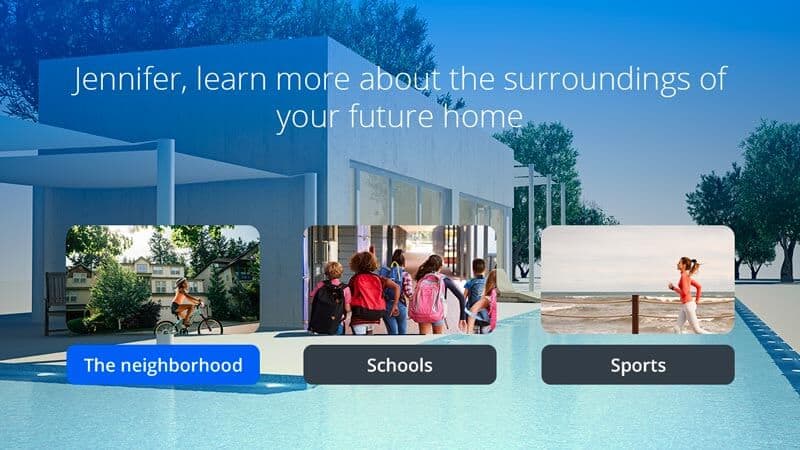 Here I've highlighted the fields with personalization: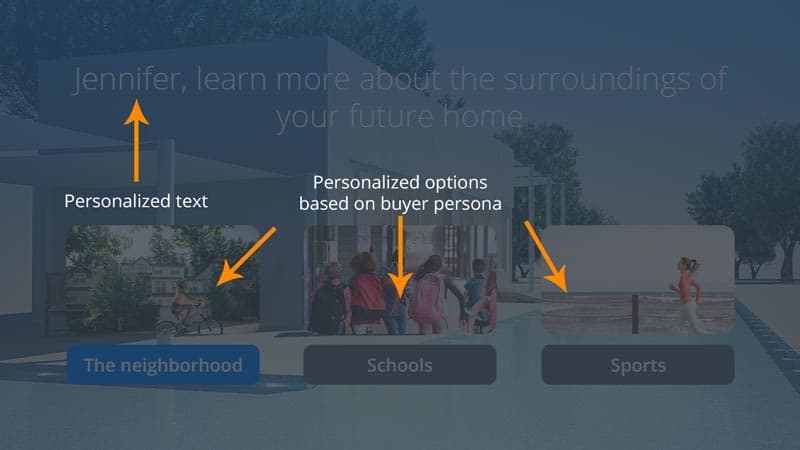 #12 Document Personalization To Automate Marketing Collateral
Document personalization is a powerful marketing tool that can help you automatically generate tailored marketing collateral for your marketing and sales team. For example, create PowerPoint presentations and PDFs with proposals with information from your CRM or email marketing software.
With this, a small marketing and sales team can bring more sales in by creating an engaging and automated sales process. By personalizing documents for each customer, you can provide a more customized and relevant experience that can help increase sales.
Additionally, document personalization can help save time and resources by automatically generating marketing materials that are ready to be used by your marketing and sales team. There are many tools to do this online. For example, Plumsail.
#13 Personalize Your Landing Pages To Boost Lead Engagement
Nowadays, people are bombarded with too many messages. It is harder to grab the attention of your customer base and marketing leads. As a result, many businesses are looking for ways to stand out and one way to do that is by creating landing pages that are personalized for each visitor.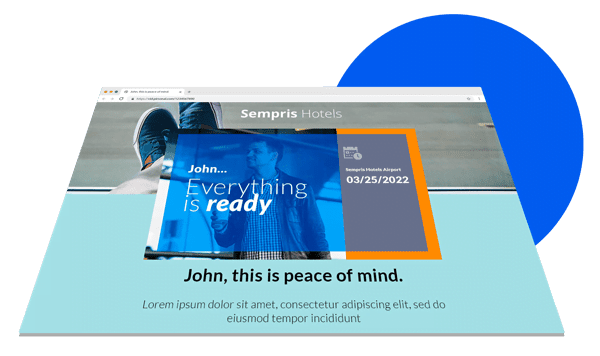 With technology, it is now possible to create dynamic landing pages that are automatically personalized. This means that businesses can now send highly targeted messages to their prospects and customers without having to put in too much effort.
With software like Pirsonal Pages, you can create dynamic landing pages automatically with CRM or any customer data. So, if you are not using this method, you are missing out on a lot of potential business.
#14 Use AI To Make Videos On a Budget
With AI videos you can speed up your video production and save lots of time and money. You don't need to hire a professional video editor anymore. You can create high quality videos with the help of AI.
All you need is a computer and an internet connection. You can create videos using your own photos and videos. Similarly, you can select from a library of stock photos and videos. With a few clicks, you can also add text, music, and other effects.
Companies like Wibbitz and Canva allow small businesses to create videos without expensive video production crews or graphic designers.
#15 Choose A CRM That Helps You Automate Client Management
Most businesses need some sort of customer relationship management (CRM) software to track and manage their clientele base. These tools serve a similar purpose to managing leads. A CRM with a focus on automation makes your sales efforts smooth and easy.
A good CRM goes beyond managing an email list. It can also be a powerful tool to support your sales strategy. It provides insights into your customers' behavior so that you can more effectively target your advertising and promotions.
Popular choices among small businesses are Keap (fka Infusionsoft) and Pipedrive. If you don't already have a CRM system in place, now is the time to research and implement one that will work best for your business.
HubSpot offers a free CRM with most of the features small businesses need to get started.
ActiveCampaign is another one, this time in the middle. It is ideal for businesses looking for more complex engagement workflows with comprehensive features. For example, visual marketing automation workflows, lead scoring, and segmentation.
Salesforce is another popular CRM among small businesses with a larger and consolidated audience. It offers marketing automation solutions for small businesses. However, it requires a lot of customization to get the most out of it. Thus, it is a better fit for small businesses with larger budgets.
#16 Convert More Website Visitors
Are you tired of losing visitors to your website? Convert more of your traffic into leads and sales with a powerful conversion optimization toolkit. For example, lead magnets, exit intent tools and more that help you convert more visitors into marketing leads.
By optimizing your website for conversions, you'll be able to grow your email list, get more leads, and increase sales. Don't miss out on potential customers – start optimizing your website today!
A popular tool in this space is Optinmonters. These tools are more old-school. However, many connect with mainstream marketing automation platforms. This helps you build complete engagement workflows to accelerate your sales process.
#17 Eliminate Back-and-forth Emails To Schedule A Call
Especially in B2B, marketing and sales leads want to talk to sales reps ASAP. Scheduling a call with your business development team can be time-consuming. Moreover, if you have a global audience and need to manage different timezones. It can prevent you from closing the deal.
A calendar application can help eliminate the hassle by allowing you to easily share your availability so that leads can schedule meeting times quickly and easily. All you have to do is to share a calendar link. They'll book a call, and you'll both receive a notification with the next steps.
There are many alternatives out there. For years, I've used Appointlet because it is easy and convenient. There are other tools, like Calendly that offer great solutions for bigger sales teams.
#18 Automate Your Marketing Plan
When you own a small business, there are a million and one things to do in order to be successful. Often, marketing gets pushed to the side because there are only so many hours in the day. But you need a marketing plan to succeed!
With the help of AI, marketers can boost inspiration to create a solid marketing plan. AI can help you learn more about your ideal customer so that you can better target your marketing efforts.
Additionally, AI can help you create targeted marketing campaigns that will reach more potential customers and generate more interest in your product or service. Ultimately, AI can save you time and money while helping you to achieve your marketing goals.
A tool I've been testing lately is Growth Channel. It provides insights about your ideal customer, growth hacks and execution plans to grow your business with marketing.
#19 Send Drip Email Campaigns To Convert Leads Into Buyers
This is probably one of the best marketing automation examples for small businesses. Email marketing automation software allows you to engage with marketing leads through personalized touchpoints.s
This type of software can be used to segment leads, personalize content, and automate email marketing tasks. By doing so, you can deliver a more tailored message to each lead, which can ultimately lead to more conversions.
For example, you can send emails to specific marketing segments to share customer success stories. These drip campaigns can help them during the consideration funnel stage to convert faster.
Many tools offer this option. From ActiveCampaign to Getresponse or Convertkit.
Your Competitors Already Automate Their Marketing
As you can see, there are many opportunities for your business. On average, 56% of companies use marketing automation to be more efficient in marketing. In fact, 40% of B2B companies are planning to adopt the technology to automate manual tasks in marketing. In order to be more efficient than your competitors, your business should start with a marketing automation strategy.
There is no doubt that marketing automation is on the rise for small businesses. More and more companies are beginning to see the benefits of using automation to help with their marketing efforts. At the same time, with so many already on board, it's clear that this trend is here to stay.
Larger businesses already automate some marketing operations. One of the most common ones is the automation of an email workflow. Also, sales teams automate their LinkedIn outreach. With the rise of software as a service or SaaS platforms, there is a solution for almost any budget and need. Some companies can even work with developers to create custom software.
Benefits Of Marketing Automation If You Run A Small Business Marketing
As a small business, every second counts. Also, often, employees wear different hats as resources are limited. As a result, marketing automation is important for small businesses because it saves time, increases efficiency, and allows you to track your return on investment.
When you automate your marketing operation tasks, you free up valuable time that you can use to grow the business in other ways. You can also avoid the common mistakes that often occur when tasks are carried out manually.
Additionally, automation enables you to track your return on investment (ROI) for each marketing campaign. Thus, you can quickly see what's working and what isn't. This information is invaluable for making strategic decisions about where to allocate your marketing resources.
Conclusion: Apply These Marketing Automation Examples To Win And Retain More Business
There are many ways to automate your marketing if you are a small business with limited resources. Automation can allow you to focus on other aspects of your business, and it can also help you reach a wider audience.
In this way, marketing automation is a crucial tool for small businesses during a time of economic uncertainty. There is a wide range of software alternatives for limited budgets. Many offer a free trial period, like Pirsonal, our marketing automation software for video personalization. Start your free trial today!
With these strategies, your small marketing team will help your company gain more visibility. At the same time, your sales force will concentrate on closing more sales opportunities.
Establish your business and marketing goals first. Then decide how your operations could be more efficient with automation software for marketing.