Personalized Interactive Video Marketing Technology Platform
Pirsonal is the personalized video platform to evoke a reaction from your segmented audience. Pirsonal's proprietary technologies are flexible, scalable and cost-effective.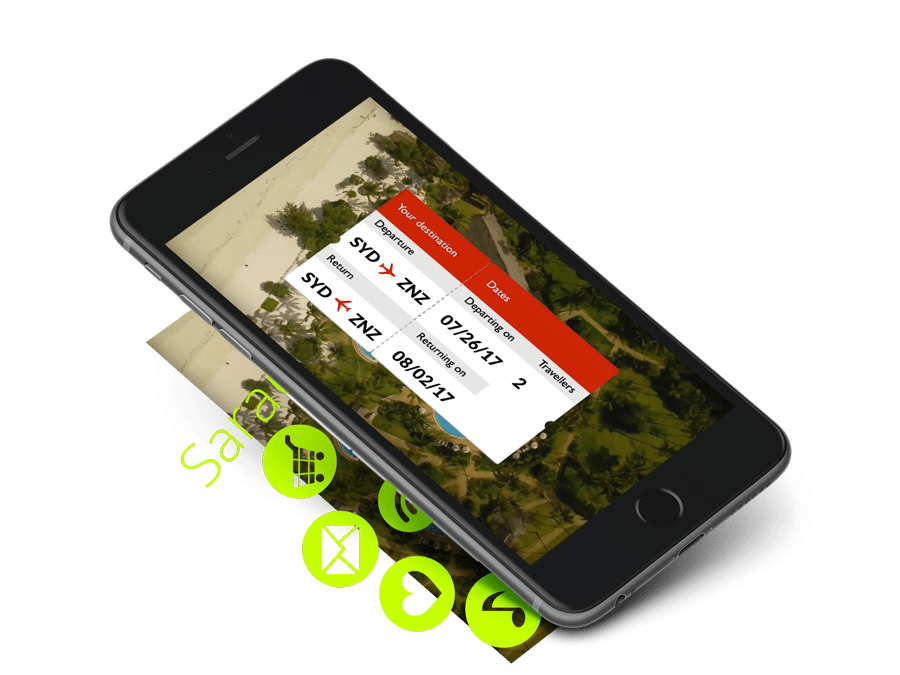 Individualized Videos
Individualized Videos is a complete solution to automatically create individualized videos from any type of structured data to help you accelerate sales and increase engagement like never before.
Pirsonal's Individualized Videos automatically generate scalable, customized videos, taking care of every aspect on the way. Get ready to target your segmented audience on a 1 to 1 basis according to their needs, funnel stage and customer journey.
Stay relevant to your customers and increase revenue by empowering your marketing automation with Pirsonal's video marketing platform. Create countless interactive video combinations based on your data and triggers, to fully adapt your message to what will make your customers react.

It works with any app

Powered by your data

Trigger-based or batch mode
API and Integrations
Create and distribute each personalized video through your own communication channels. With Pirsonal API and integrations your marketing, sales and communication automation strategies get responsive.
Pirsonal's Individualized Video Platform integrates with hundreds of applications to help you automatically create highly Individualized Videos based on your triggers and actions.
Pirsonal API and integrations also enable you to create a personalized landing page for every video and person, powered by a video player with a customized, individualized call to action.
Unlike other personalized video platforms, Pirsonal gives you the workflow and technical flexibility that your business needs.

API: Easy to integrate

Merge data from several apps

Webhook support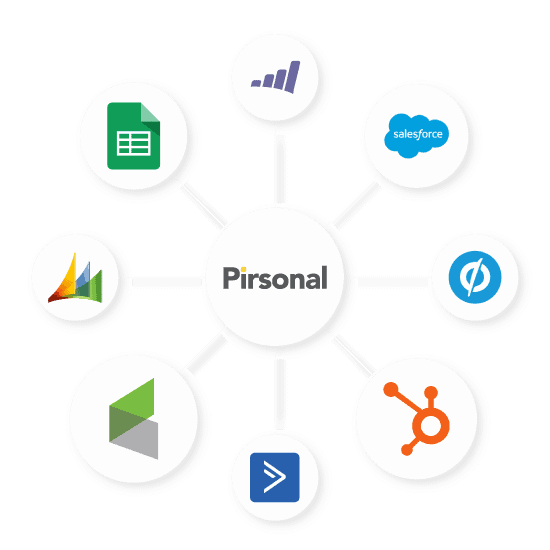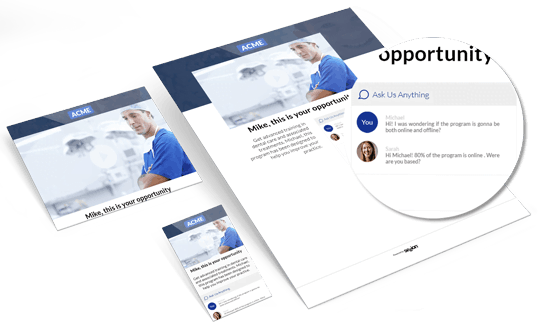 Pirsonal Pages
Each personalized video deserves its own place. Automatically create an attention-driven dynamic landing page for every individual with Pirsonal Pages.
Our Pirsonal Pages allows you to customize images and texts on every Individualized Video landing page. You can even insert third-party applications to increase the interaction conversions and evoke the reaction you need from every person.
As part of the same interactive video platform, these personalized landing pages are instantly created and updated using your own customer-centric data.

Responsinve video landing page

Embed third-party apps
Pirsonal Player
Complete the Individualized Video interaction with Pirsonal Player, an HTML5 video player focused on individualized video experiences.
Pirsonal Player allows you to create and display custom calls to action for each individual, on a video by video basis, automatically. The interactive video player can be embedded wherever you need and offers intelligence analytics to help you react depending on every personalized video's performance.
Pirsonal's personalized video technology automatically manages the configuration of the interactive video player for each person based on the same data source used to create the personalized video.

Also on mobile devices

Match video performance to individuals

Dynamic Call to Actions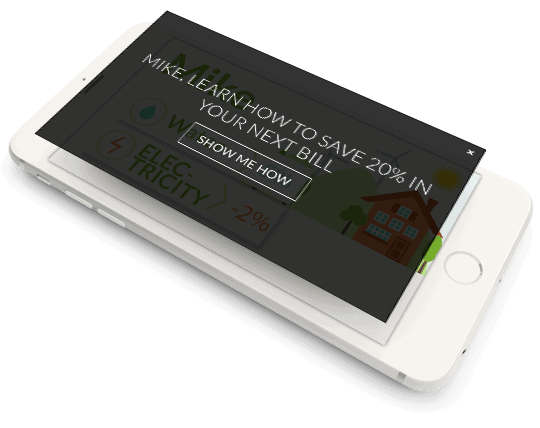 Individualized Video Examples
Individualized Videos are created from templates, which can have a fixed or flexible structure. These are some examples:

Full Individualization
Pirsonal individualizes and edits images, videos, audios and texts to enrich every video and create a 1:1 experience.

Dynamic Fields
Pirsonal creates the videos in several formats so that they can be played on most of devices and browsers: MP4, WEBM, OGG, etc.

Creative Templates
Use your own creative assets designed with any software, from Adobe After Effects or your favorite video editing software.
Pirsonal Has More Features
A Secure Individualized Video Platform
We take data security very seriously. From shielded video processing to data encryption and secure video hosting.
Magic Link
Through Pirsonal's Magic Link the videos are automatically created when an individual clicks on a link. Behind the scenes, we already know the data and template to be merged.
Protected Webhook System
A Webhook is a push notification from Pirsonal's servers to yours or to any software. Through our platform, they can be password-protected. Pirsonal can instantly communicate with any marketing platform the moment a video has been created to integrate the videos in your emails, SMS, a CRM or any system.
YouTube Integration
Automatically upload the Individualized Videos to your YouTube channel with custom metadata and dynamic fields. Easily manage the videos' privacy settings from the Pirsonal Platform or from Pirsonal's API.
Amazon S3 Integration
Pirsonal integrates with Amazon Webservices so you can securely host the Individualized Videos in your own S3 bucket.
Use Your Own Video Hosting
Use your own video hosting, integrate the Individualized Video files wherever you want through Pirsonal's API, the Individualized Videos Platform for developers.
Custom Metadata
Attach any relevant information to every video, from a customer ID, a telephone number or an email. Pirsonal makes it easy to integrate and manage every video with any automation workflow.
Video Encoding
Pirsonal takes care of the video encoding so that every Individualized Video works on any type of platform.
Custom Video Output Profiles
Pirsonal's automatic video editing platform takes care of the complete processing, transcoding and rendering of your individualized videos. Create the video in one or several formats and resolutions, create custom video profiles.
Template Creator
Create custom individualized video templates with Pirsonal's tools, or rely on Pirsonal's Professional Services team to help you achieve your goals.
Custom Video Output Profiles
Pirsonal's Automatic Video Editing platform takes care of the complete processing, transcoding and rendering of your Individualized Videos. Create the video in one or several formats and resolutions, create custom video profiles.
Accelerate sales. Increase engagement.
Or talk to Sales: US +1 (914) 336-4549 | Europe +34 (912) 485-775