Personalization is the rock on which good marketing and sales strategies are based. Personalized videos have become more than just a marketing and sales trend but the tool brands from different industries use to deeply engage with their prospects, leads, and customers. My goal today is to share and explain personalized videos examples that will inspire, educate and empower your customer experience strategy and conversions.
To understand the personalized videos examples I've chosen for you, first, we need to understand a few concepts that will inspire you and help you create your own strategy, not only for dynamic videos but for any type of personalized marketing initiative.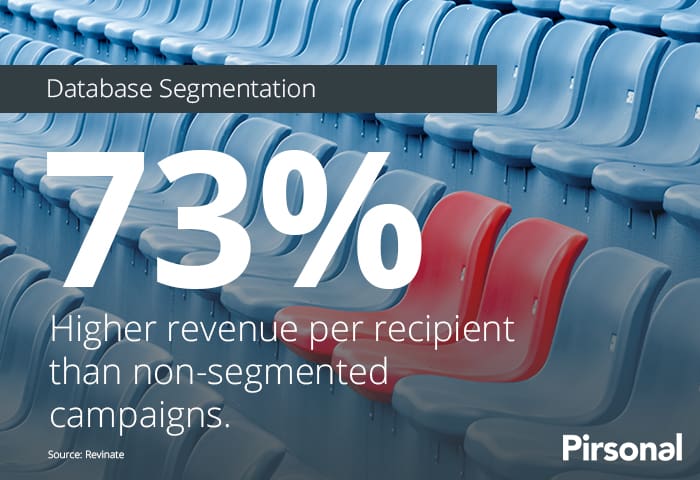 Segmentation
If personalization is the rock, segmentation is the lighthouse of any great marketing personalization strategy and one of the main reasons why personalized video marketing works so well. It connects all the dots when delivering the right customer experience, with the right message at the right time, towards the right individual. It takes into consideration the customer journey, your customers' expectations, concerns, desires and any previous interaction with your organization. There is even more: Any potential interactions thanks to the help of AI or by simply analyzing your buyer personas in light of the information you access to in real-time.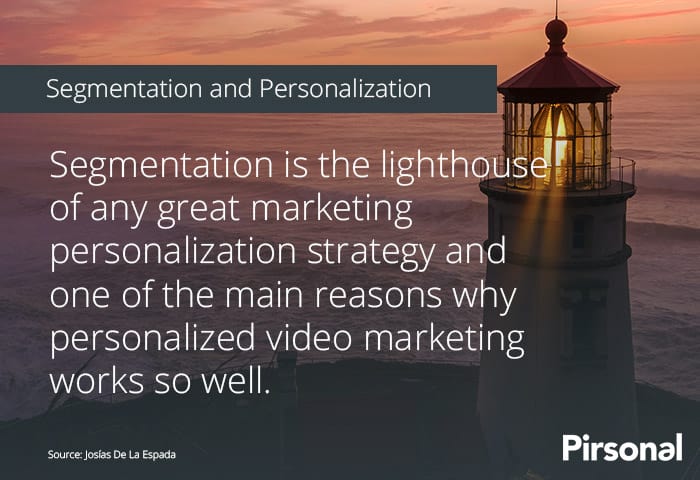 Segmentation is the first step in determining who your personalized videos should target. Segmentation helps you know which groups exist so you can later focus on those when creating a personalized video pilot and then scaling the initiative once you have accomplished your business goals. You can segment your audience in real-time, based on specific filters, usually applied in marketing automation workflows, or you can also apply this segmentation when creating personalized videos on a batch or bulk. In both cases, you should have previously studied your target audience and define who they are.
One of the first steps when segmenting your audience is to create subsets or subgroups with common characteristics. Think about the following concepts:
Demographics: Demographic segmentation is one of the most commonly used forms of segmentation. Analyze who they are based on criteria such as age, income, number of family members, race, gender, occupation, education, and nationality.
Skills and knowledge: The things your prospects, users, and customers know and how they apply this knowledge.
Things your target audience like about your products
Behavioral activities: Analyse the behaviors and decision-making processes. For example, think about their lifestyle, how, when and why they buy and more.
Psychographics: This takes into account how your target audience thinks and divides markets according to lifestyle, personality traits, values, opinions, and interests of consumers.
How your target audience uses your product: Do they use your product like you initially expected? When do they use it? With other people?
How they buy your products: Similar to the behavioral activities, looking at their processes, how much they spend, when they buy, from what device, if they buy based on a special promotion, and more.
Today I'll share with you some simple and sophisticated personalized videos examples along with some tips to create custom videos for each and every types of clients taking into consideration where they are at in the customer journey. As you'll see, personalized videos work even better when they work in harmony with other types of dynamic content. This is, personalized images, personalized landing pages, personalized calls-to-action and more.
Personalized Video Segmentation: Three Important Aspects
This Investopedia article proposes that the segmentation of your clients generally features these three aspects:
Homogeneous. Here, you club together with your clients based on their common needs and create a set of personalized videos that address those needs. But these personalized videos go a crucial step beyond that. They also include enough personalization to resonate with each member of that common group. And instead of painstakingly crafting these dynamic videos, you can automate the process by feeding the Pirsonal platform with client data. For example, your custom videos could address each client by name, carry their picture, mention the company name or talk about previous purchases they made from you.
Distinctive. Each client within the common needs group is also a unique entity. These differentiators could be anything from their age, their designation and department or tenure to the car they drive, the baseball team they root for, their persona and their interests. A B2B marketer can intelligently tap into such data to automatically create personalized videos that account for the individual differences among their clients. Of course, care needs to be taken that the personalized videos do not come across as intrusive.
Reaction. This one pertains to how your clients react to the custom videos. Some reactions will be predictable and common across the entire group, while other reactions might differ from client to client. Your marketing strategy could be to design the interactive elements, especially the call to action, to optimize these reactions and perhaps even turn them into potential leads for the sales team. The Pirsonal platform makes it easy to add interactivity to your personalized videos and tracks the reaction from each of your clients. Take a look at the Pirsonal Player to learn more about this.
What matters is creating the personalized experience your prospects and customer need in order to make them react. Sometimes you won't even use personalized videos but you'll engage with your target audience with contextualized plain emails or even a short SMS. Why? Because the priority is not creating the personalized videos because you have access to a platform that can create them automatically, but creating and delivering the message each and every person needs in order to convert.
A Segmentation Example: A Personalized Email With A Personalized Video
Sometimes you'll use all your arsenal. Take a look at the personalized email example below. It combines a variety of personalized content to grab Kevin's attention in a unique way using the augmented buyer persona approach.
Now, take a look at the same email through the personalization eyes…
Creating a personalized email like this can be demanding since you really need to be in your customer's brain, but in the end, we are not here for average conversions, aren't we? Did you know that email segmentation delivers 73% higher revenue per recipient than non-segmented campaigns?
Key Segmentation Questions To Create Great Personalized Emails With Personalized Videos
An easy way to segment your target audience for your next personalized email campaign with personalized videos is to simply answer these questions:

What data can you actually use? Think outside the box. Don't focus on a Name (only). Let's say your organization is a hotel with a focus on guest experience. If you are planning on using personalized video in travel and hospitality marketing to increase the revenue per guest, everything counts: number of nights, number of people in the reservation, number of adults, number of kids, location of the hotel, dates (are there any activities?), has this guest used a coupon? 

Do they share any demographic similarities?

Have you noticed any behavioral patterns?

What communication channel does each individual prefer? For example, in this customer journey case study you'll see how this financial services brand shares the personalized videos with their customer either by email or by SMS based on the selected communication preferences. You'll also learn how they increase the after-sales engagement by 20% when using personalized videos.
If you want to learn more about how to create personalized emails to increase your marketing conversions, here is a video tutorial I recorded based on the images shared above:
This is what we call "evoke a reaction".
Personalized Marketing and Individualized Marketing
A whitepaper by IDC called "Can Machines be Creative? How Technology is Transforming Marketing Personalization and Relevance" (PDF) brings some light to the subject. They interviewed 459 marketing executives and found out that 34% of them were applying personalized marketing techniques to a moderate extent. About 32% of them said that they were personalizing their marketing communications to a greater extent. However, only 10% had completely personalized their digital communications.
Based on my experience, one of the main reasons for this is because personalized marketing requires time and expertise. Using technology can also make your life easier, but it is not a requirement in some cases.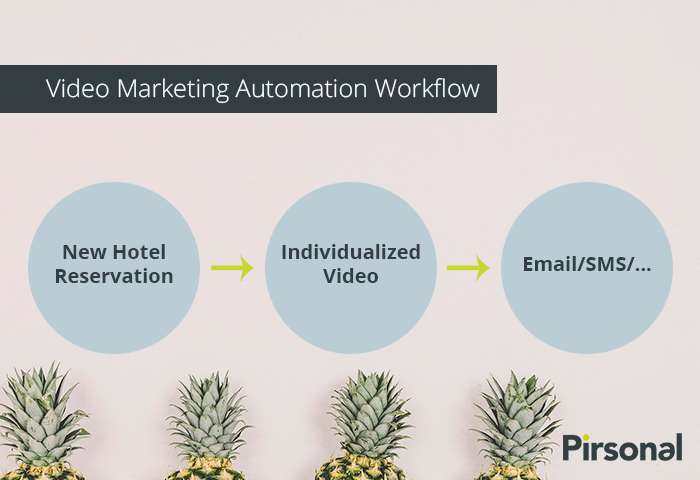 To understand why personalized videos are so successful, we need to take a closer look at human behavior. One of the most obvious choices a consumer has is to, basically, pay attention to whatever a brand is talking about at any given moment. Here is when things like email opening ratio, video engagement ratio or net promoter score are crucial and why analytics and customer experience tools have risen in the last couple of years.
But are personalized marketing and individualized marketing the same concepts?
Not really.
To keep it simple, marketing personalization is about leveraging the data we have available about someone — you name it, a customer, a prospect, a lead or your next-door neighbor — to connect with that person through custom messages and/or offerings. Nowadays, talking about marketing personalization also involves technology and "translated" data. By "translated" I mean information that is not just textual but contextual, transformed into something your segmented audiences will understand.
Individualized marketing takes a different approach. Marketing individualization takes place when the individual you want to target, your brand and you as a marketer are aligned. When talking about individualization, everything has to do with a deeper contextualized marketing.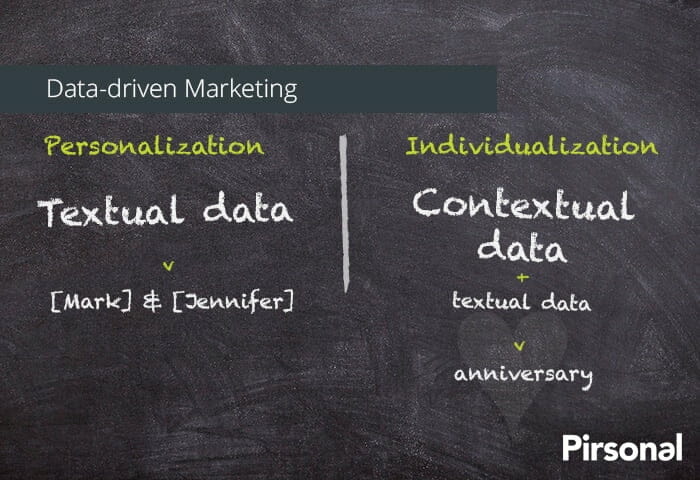 Both, personalized and individualized marketing, can be data-driven, but individualization is more related to your target's context. You can either use Artificial Intelligence or apply old-school brainstorming exercises to find emotional triggers that will make each and every individual react. What matters is that you are able to talk to each individual in a way that makes sense to each one of them, automatically.
From a market perspective, you'll find that the majority of marketers don't really differentiate between personalized or individualized marketing, which has forced technology companies to generalize the term "personalized marketing".
Personalized Video Marketing Automation Workflow
Creating the best personalized videos will require a lot of thinking and a few iterations. In fact, I usually recommend at least three iterations within a 6-month period of time, where you are taking a closer look at the personalized video analytics and standard email marketing performance to then know what to change.
A recommended step is creating a personalized video workflow that will help you understand what dynamic information should be used, what calls to action need to be presented and the path that is needed to create each personalized video and email, all this based on your buyer personas.
The following video will also help you understand how the personalized videos examples I'll talk about later in this article work. Please take a few minutes to watch this video, as it shows the different dynamic scenes and customized data to automatically create the custom videos:
If you want to take a closer look at the document shown in the video, make sure to download it free from here.
Personalized Videos Examples
Now let's cover specific personalized videos examples from different industries and use cases. These are real-life personalized videos, automatically created either as part of a marketing automation process or batch operation. Most of these videos followed the baby-steps to creating a successful personalized video project, from a pilot to a fully scaled campaign. Some of these videos havening rendered in our cloud, creating a custom version for each individual based on the marketing trigger and dynamic data received, others have been created using player-based personalization, allowing faster real-time rendering since the personalization takes place in the browser as a layer.
These personalized videos examples helped our recognition as one of the top 10 martech startups in 2018. These are real rendered videos. This means that if any of these brands needed to engage with 6,000 individuals with personalized videos, the Pirsonal platform then created 6,000 video files.
A Succesful Customer Journey With Personalized Videos In the Financial Services Industry
Context
Customer loyalty is still a top priority for brands (41%). Think about the customer lifetime value. Now imagine an auto brand leasing their vehicles. We can do even better. Imagine BMW Financial Services. One of their top priorities is to keep a customer for the longest period of time. In the end, they sell a financial product, so a loyal client is not really "buying a car", is "buying a house"… Or two.
But buyers change all the time, and this is something to take into consideration when strategizing. For example, in the car industry the repurchase frequency changes based on key factors like the age of the customer (older people keep their cars for longer) or income (higher income translates into earlier repurchase or re-lease).
This is why gathering customer data is extremely important, and using that data smartly is even more urgent. This is how brands become and remain relevant. By contextualizing their offering, messaging and channels to the individual buyer.
Download this customer journey with personalized video marketing case study to know more about a similar use case applied by a European bank, which in this case increased after-sales engagement by 20% using personalized video marketing.
Challenge
In the personalized video example above, BMW Financial Services engages with new customers that have signed a leasing contract. Until now, clients would receive an email or SMS with the contract information in a PDF, which was proven to not be efficient in terms of engagement since it was hard to understand.
Dynamic information
These are the main media objects that are automatically personalized:
Personalized voice-over: Each personalized video uses the customer's name and different types of audio customizations to engage with the viewer. In this case, the voice-over is studio-recorded, using a professional actor aligned with the brand's tone.
Personalized scenes: As you can see in the personalized video example from above, the car model is personalized to each client in the first scene. For this, our partner agency (OBC) created a great intro scene where the viewer sees the car he has signed for, increasing the levels of engagement from the first impression. This brand uses different scene structures, adapting the message depending on the communication channel (email or SMS).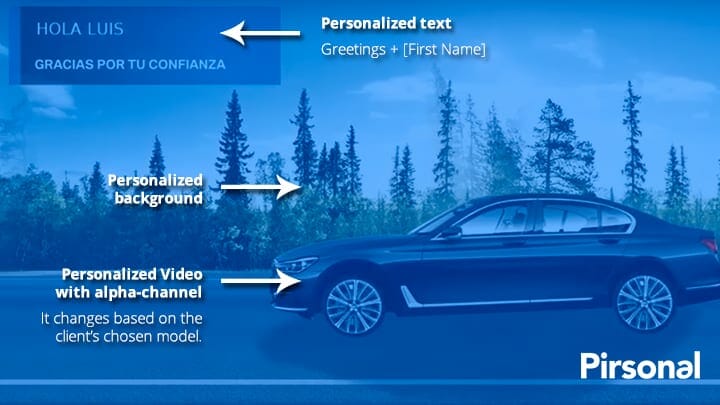 Personalized texts: The customized video uses dynamic texts, like the number of miles that each client can consume per year, as well as the monthly payments, options at the end of the contract and the number of fees that the viewer needs to pay.
Personalized images: The dynamic video also uses tailored images in the background, which are combined with alpha-channel videos for a more integrated visual effect.
Personalized call-to-action: In the production personalized videos, this brand uses the Pirsonal Player, that allows adding personalized calls-to-action to the video, with custom links and personalized messages.
What triggers these personalized videos
To create this personalized video as part of an automated process, the marketing team for this financial services brand uploads a CSV to our partner agency's intranet, which at the same time is connected to Pirsonal's API. When the document is uploaded, the Pirsonal platform automatically creates a video for each client. When the video is created, they use our integration with marketing automation tool ActiveCampaign to send an email to the contacts or our integration with Clicksend to instantly send an SMS, based on the user's preferences.
This brand uses the Pirsonal Player, which displays the videos that are automatically rendered across devices. It also uses a custom landing page created by our partner agency, powered by Wordpress and by our Wordpress Plugin to make it easy to use our player within these landing pages and custom, anonymized URLs.
The following image shows this process, which consists of three stages:
CSV is uploaded.
Personalized videos are automatically created.
Each client receives a personalized email including a custom URL pointing at a video landing page.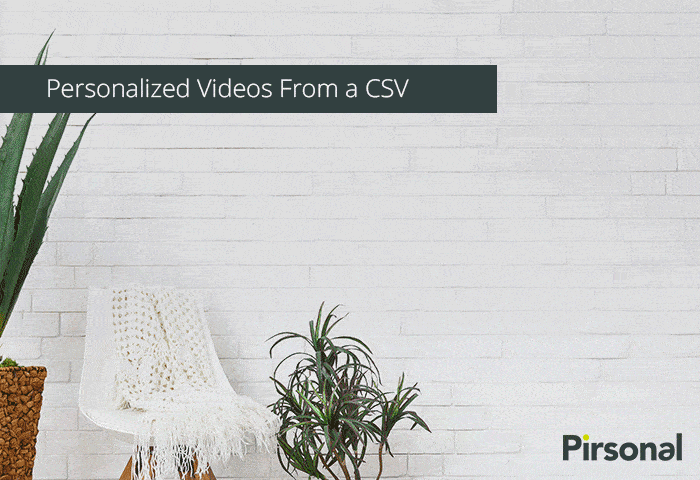 Type of marketing segmentation:
This personalized video example uses a distinctive segmentation where each client within the common needs group is also a unique entity. For example, this is accomplished by using the car model as part of the video intro, which instantly engages with the viewer.
Accelerating Sales and Converting More Leads with Personalized Videos
Context
Flight Centre Travel Group accelerates its sales process by using personalized video marketing powered by Pirsonal. Every time a lead requests information, the brand automatically renders a personalized video, a personalized landing page and a custom in- video call-to-action based on the information provided by the lead such as name, the reason to travel or destination, which makes these videos and emails totally relevant to each individual.
Customers expect to see personalized touch-points as the outcome of a fluent conversation. A real conversation takes into consideration the context, where both sides do their best to understand what is relevant to the other and how this affects them. Used wisely, this makes personalized video marketing an engagement machine.
This increased engagement moves leads to buy more and faster. Every rendered personalized video is then instantly sent by email, which increases customer engagement and builds stronger relationships that translates into more revenue also in the mid and long term. This strategy is aligned with the personal touch of the company towards its customers through all communication channels.
Personalized content drives sales. Travel, in some ways, is the marketer's dream, with so much potential for rich content of all kinds, including text, image, audio, and video.  Check out this other video to get some personalized marketing creative ideas and trends for the travel industry.
Challenge
Offline and online travel agencies (OTAs) face a lot of competition. Customer experience has become the key to the success of brands like Flight Centre, for which personalization is part of the core brand values. Flight Centre offers custom packages according to your needs. Once they've heard what you want, they'll come back to you with a quotation within 24 hours, which also leaves for the lead to engage with other vendors. They needed to convert more leads into customers and move these leads into an email marketing lead to send them target email marketing campaigns.
Dynamic Informacion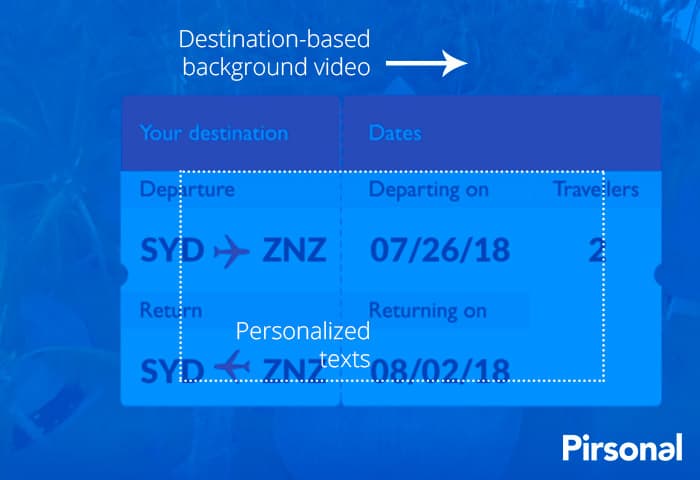 In this case, this personalized video template only uses two types of dynamic objects. It combines in a powerful way the emotional factor (traveling to an exciting destination), the dynamic information (that keeps the excitement and increases video engagement), sounds, music, and images. This is easier to achieve by brands rich in visual content. Let's see more about this:
Personalized texts: Since this dynamic video doesn't use personalized voice-over, most of the narrative is shared through texts. From the name of the lead, to the destination and even the contact details of the travel consultant, Flight Centre keeps the viewer's attention intact.
Personalized background video:  The background video changes based on the chosen destination. In some of these personalized background videos, the brand also uses sound effects that mention the name of the location (for example: "Welcome to Mauritius"), which helps the potential client engage even more with the video and keeps the excitement to then receive another email with the requested quotation.
This personalized video is also an example of the unexpected: Take a look at the "Do you have any questions" scene (00:37). It provides dynamic information of the travel consultant that has spoken with the potential client. This is the scene where the video is often paused. This is aligned with one of the brand's values: Offering a personalized service to their clients, hence the video viewers pause the video to take note of the contact details of the consultant to continue the conversion and ask questions. Clever sales strategy.
What triggers these personalized videos
These travel agency personalized videos examples are created when a travel consultant submits an internal form once this person has spoken with a lead interested in traveling to a destination. Both, the video and the email automatically created for the lead, are fully personalized and connect the sales lead with the travel consultant in a special way that makes the sales process to be easier.
This webform is directly connected to the Pirsonal platform through a custom API integration that sends the data directly to Pirsonal personalized video platform. Once the personalized video is created, the Pirsonal platform communicates with a third-party email marketing tool called Everlytic, to then add or update a contact to a marketing automation workflow, which launches the personalized email containing the link to the personalized video.
The email the lead receives is also personalized based on the information initially added to the webform. The email shows an animated video thumbnail. This gif image is also personalized depending on the destination.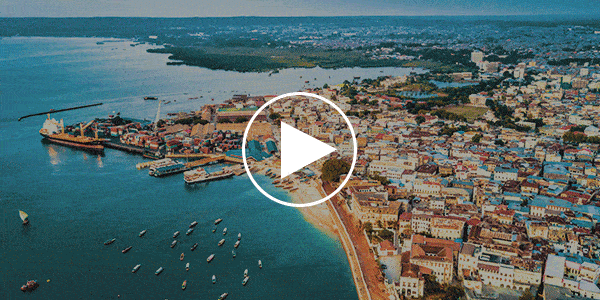 The following image shows the process to create these personalized videos automatically
A travel consultant submits a web form with the information provided by the potential client.
The personalized videos are automatically created from a custom template, using the provided data and contextualizing each custom video to the desired destination.
When the video and personalized landing page are automatically created, the Pirsonal Platform communicates with the Everlytic platform through a webhook, which at the same time activates a marketing automation workflow to send a personalized email to the potential client. There are many reasons why you should consider a personalized video marketing platform.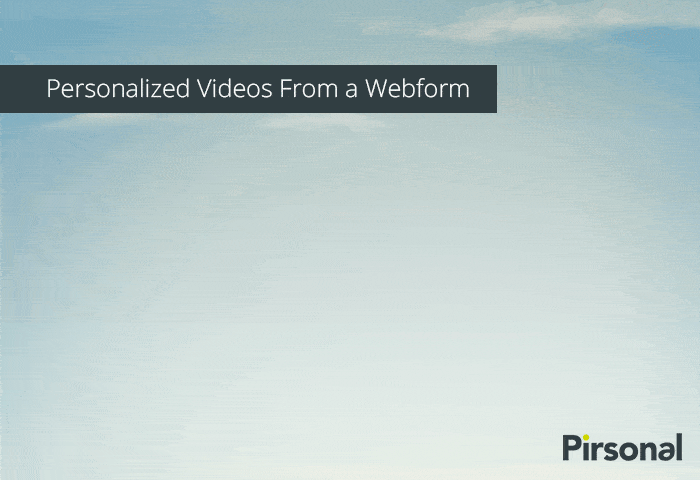 Type of marketing segmentation
This is another personalized video example that follows a distinctive segmentation strategy. As you can see, each client within the common needs group is also a unique entity, where one of the most powerful variations is the travel destination, which will make each video totally different with little effort.
Engaging with a Global Audience with Personalized Video Marketing
Context
Zumba is a global fitness brand, with a global audience and instructors all around the world. One of their brand and marketing strategies resides in helping their instructor reach their audience through several marketing engagement activities. The product and brand team thought about a genius idea to help their instructors better engage with their individual audiences.
How about if each instructor has a personalized video, automatically rendered, to promote each one of them as Zumba instructors in their home-town? With this in mind, Zumba created three marketing campaigns for two of its brands. With this in mind, Pirsonal's Professional Services Team created the template for a long-format personalized training video and two personalized video ad versions. Since the Zumba brand team has great quality material that was created for this campaign, this was even easier.
More than 600,000 minutes of personalized videos were created, using a combination of technologies: real rendered videos and player-based personalization. The strategy was executed by Zumba in 7 languages: French, English, German, Korean, Italian, Portuguese and Spanish, so that each personalized video would resonate with the right audience, aligned with Zumba's location strategy.
Part of the core strategy was to allow the instructors to share the video through social media channels (Facebook, Twitter), text messaging (Whatsapp), and email.
To add even more vitamins to their strategy, each video had a call to action that would lead the viewer to a "find an instructor" landing page.
Challenge
Audience engagement through an instructors network requires giving instructors the right marketing tools that keep them and their audience engaged and excited. Video is the type of content that delivers the best conversions, and personalized videos are about 164% more effective than generic videos.
Dynamic Information
Personalized texts: These videos used text personalization, adapting the content to the instructors local market language across the personalized videos, custom landing page, and social media copy.
Personalized background video: Depending on the instructor's local market language, a localization background video was also dynamic information, which as a result allowed up to seven languages for the three types of personalized video templates.
What triggers these personalized videos
These customized videos were automatically created by the Pirsonal Professional Service team, provided the data in different batches. A CSV was shared with our team with the structured information. Once the videos were created, our personalized video experts shared a CSV per batch containing the landing page URL for each instructor.
Type of marketing segmentation
This personalized video example uses a homogeneous marketing segmentation strategy. This is, you club together with your clients based on their common needs and create a set of personalized videos that address those needs.
Increasing the revenue per customer with personalized video marketing
Context
Opodo is one of the main online travel agencies (OTA) in Europe, part of eDreams Odigeo. As a data-driven organization, customer experience is a vital area, connected to other teams like analytics and sales. Opodo wanted to increase the revenue per customers and figured out that using personalized video marketing would help them achieve this goal.
How can they increase sales and revenue per client from already engaged customers? Thanks to the analysis of previous campaigns they discovered the most successful days to send marketing campaigns to their customers prior to the departure of their flights. Unfortunately, I can't share these insights because is privileged information but can describe what we did.
Similar to other industries, travel offers incredible resources to create engaging marketing campaigns that drive sales based on urgency, destinations and the reason why you need to travel. Based on this, we created a variety of personalized video templates that would follow the same creative style and tone but would have different structures.
This travel brand has several products to upsell and cross-sell, which represents a key part of their revenue stream. These products include Car rental, Transfert, Hotels, Boarding Pass, Selecting your Seat. Some of these products would help them increase the revenue per customer at least 45 euros.
Obviously, not every customer would need to buy the same products, either because that person already had bought X or Y product or because the person doesn't meet the profile of a client that would usually by a certain product.
Considering the days with the highest conversion rates, a personalized email with a personalized video would be sent to these customers, recommending to buy or several products. Adding a remarketing step if the customer didn't open the email up to a certain amount of days before the flight departure allowed the OTA to increase the email opening conversions up to around 40%, which exceeds industry standards.
Challenge
We need to find an easy way to connect with a diverse audience (think about all the people that travel every day, with different ages, gender, budgets, etc.), and to keep the marketing and customer experience cost as low as possible. For this, we used an animation-style personalized video, based on a custom character. Recording, buying or creating footage for each and every location would also have been expensive. With this in mind, we decided to combine the animated style with up to six selected images per destination, which was a fun editorial process.
Dynamic Information
Personalized texts: As in most personalized videos, this personalized video example uses text personalization. It pays special attention to the name of the client and the destination.
Personalized images: Depending on the version, there are up to six dynamic images used in the personalized videos, showcasing the destination.
Personalized structure: With different types of buyer personas, we decided to create a personalized video template that allowed to have a flexible structure to add or remove scenes as needed, based on campaign performance, goals and viewer buyer persona.
Personalized thumbnail: Thanks to Pirsonal's technology, an animated and personalized thumbnail is also created for each individual. The same is extracted from the video automatically. This increases email CTR.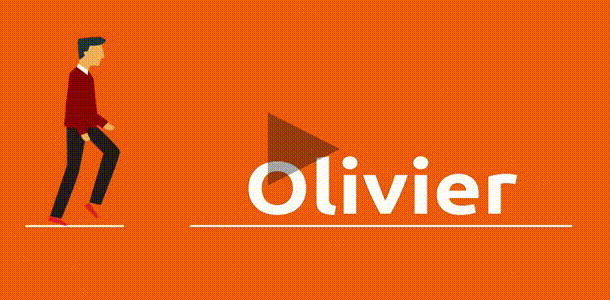 Personalized voice-over: Using personalized audio increases viewing engagement, especially for campaigns sent by email, SMS or any other type of direct message channel. In this case, depending on the custom video version, we personalized the name of the client, as well as the destination, product name, and phrases associated with the product and destination.
Type of marketing segmentation
As it usually happens with travel and hospitality personalized videos, this example of personalized video uses a distinctive segmentation, around the chosen destination and the product that is a good fit for the client.
More Eye-catching examples of personalized videos
Now that you've seen the potential for personalization technology to create truly individualized experiences, you can consider yourself a potential expert. Let me help you with this by sharing even more inspiring examples of personalized videos. Remember, one thing is having the technology, another thing is creating a robust strategy that utilizes our technology.
Regardless of your marketing budget, you'll find smart marketers creating outstanding marketing automation and sales acceleration strategies that connect with their individualized audiences in a unique, personal way. Create solid messages, powered by your data, analysis, and customers to empower your creative messages, connect and sell more.