The most successful SaaS companies are the ones that recognize customer churn as an issue to deal with. This is why more software companies are using personalized interactive videos as a key part of their onboarding programs.
Video content makes it easier for SaaS marketers to explain complex information. Personalization makes the content relevant to each viewer based on their user persona. Interactivity helps users take action, which is critical for customer activation moments.
In this article, I'll share some best practices to decrease customer churn with personalized interactive videos for SaaS companies.
First, just in case, let's cover a few basic concepts like what is customer churn, and what's the difference between real personalized videos and generic videos with personalized Calls to Action.
The Significance of Customer Churn
Customer Churn is as easy as losing customers. There is no such thing as a perfect business, and every business experiences the loss of customers. SaaS companies are no different. Plus, their business relies on subscriptions with recurring payments.
There are many reasons why companies experience the loss of customers.
Customers may be losing interest in the software, or they may be unhappy with the way the company is conducting itself.
From customer support to missing features and a confusing user experience, every single aspect is an area where you'll identify at-risk customers.
The reasons are varied.
But when a potential loyal customer leaves, they can have a serious effect on your subscription-based SaaS.
Because of this, Customer Experience professionals need to establish mechanisms to identify unhappy customers.
From there, they need to find why these unhappy customers cancel their subscription, and how to radically improve the customer journey to increase engagement and Lifetime value.
Here is where a tailored interactive experience makes sense.
Why Understanding Customer Churn Is Imperative to Create Engaging Personalized Interactive Videos
There are many reasons why churn analysis is critical for your SaaS initiative. Understanding what's behind the customer attrition will help you know how to draft the perfect personalized interactive video.
I'll focus on two main reasons that are related to customer success from day one and the onboarding experience.
This is from the perspective of a Product Manager and marketing guy. As a SaaS founder myself, over the years I've talked to many leads and customers.
I invest a lot of my time trying to understand more about their needs, requirements, and expectations.
With this information, I find patterns that help us build better products, understand how they describe our offering, and manage their expectations.
A lot of our processes are manual, even if we are behind a marketing automation tool that automatically creates multimedia content at scale.
Why? Because at this stage, it gives us invaluable data that is helping us create the type of customer journey and value proposition our target audience needs. This customer journey is also aligned with our business goals.
So, back to why it is important to understand what's behind your customer churn rate, here are two strong reasons.
1 Customer Churn Is Expensive
The first is that when customers leave, they are taking their money with them. With this, your business is losing out on potential income.
Actually, for that one, I need to put my CEO hat on as well.
Also, when customers leave, often their data goes with them. Think feedback, new products, revenue opportunities, and expansion growth. All these areas are in danger.
2 Customer Churn Is More than Customer Service Experience
The second is that when customers leave in droves, this may indicate that the business needs to make some decent improvements.
This is when showing the value from the beginning is critical. Now, if you can show this value based on clear customer segmentation criteria, even better.
This is why more and more organizations are investing in Customer Experience initiatives.
Remember, it is cheaper to retain a customer than to lose them forever.
What Are Personalized Interactive Videos
Personalized interactive videos are videos that are tailored to the customer and help viewers interact with personalized content. This personalized content prompts users to click on a button (visible or invisible) or submit information through in-video forms.
Personalized interactive videos are meant to make people react. Depending on the type of interactivity, people who watch them can choose what happens next or simply click on a piece of content that is tailored to the viewer.
This way, they are getting more of what they want. Nowadays, to make sure that your videos are effective, they need to be granular to the audience.
This is why personalized interactive videos are effective. This means that they match up with what the customer wants.
Personalized Interactive Videos For SaaS Companies
Videos are a fantastic way to drive interest in your SaaS offering from new customers when they sign up. But irrelevant videos make no good to your onboarding program.
When you use interactive content, the customer engagement experience increases. With it, mid to long-term customer engagement goes up and so does lifetime value.
Interactive personalized content in video format is a great way to show what your software is all about based on each customer's needs.
One of my favorites ways to do this is through personalized in-video Calls to Action. I'll talk more about that later.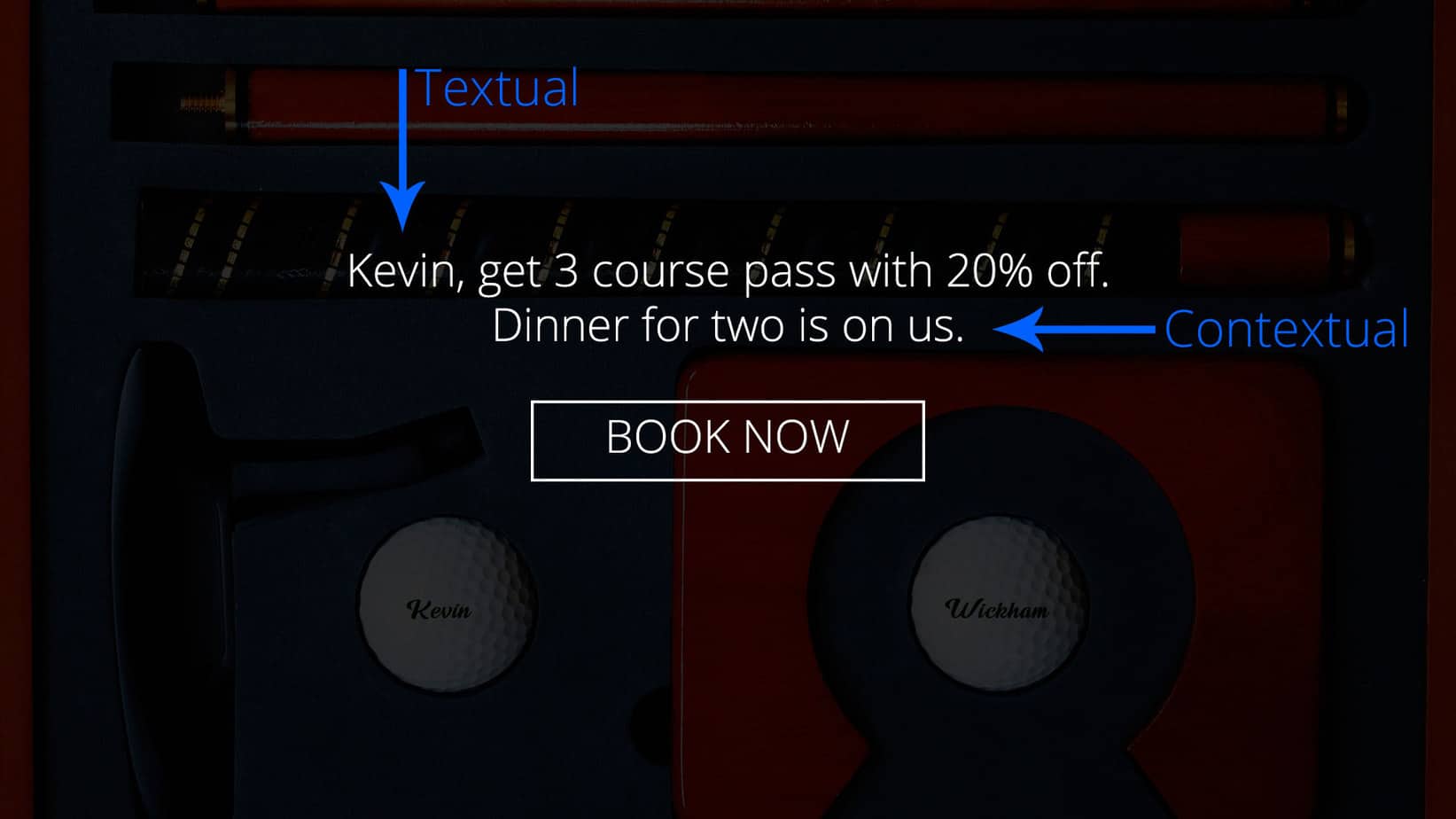 The problem is that many SaaS companies are so focused on sales and new sign-ups, they forget about what happens once a new customer subscribes for the first time.
Organizations have realized that keeping segmented audiences engaged pays back, no matter the size of the audience. Churn reduction is then tied to proper segmentation.
SaaS organizations need to apply this segmentation to build an effective video onboarding strategy.
This segmentation helps you understand what should be the exact step a new customer needs to follow in order to be successful with your offering. The sooner this happens, the better.
Challenges SaaS Companies Face When Creating Personalized Interactive Videos
In my experience, still one of the most difficult things for SaaS companies to do when approaching personalized interactive videos is to be creative enough to make content that will resonate with their unique customers.
Another challenge SaaS companies find is the lack of personalized video templates. Normally, third-party agencies create these templates for their SaaS clients.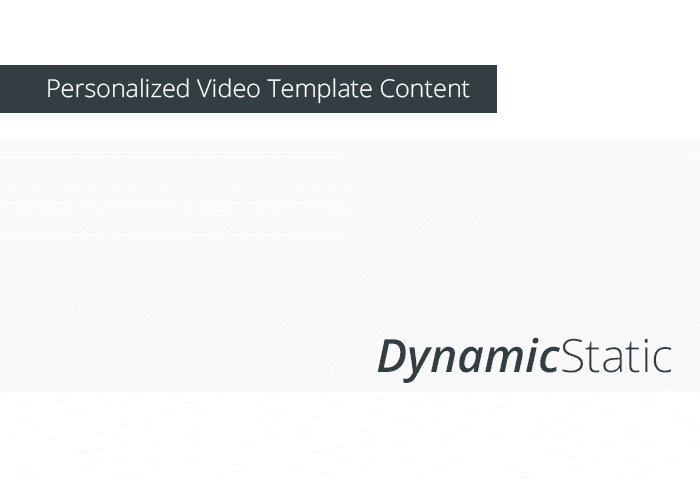 However, there are many cases when using real data-driven personalized videos is not the best option.
Let me explain.
Most software companies can produce their own, generic-ich videos thinking about specific marketing segments.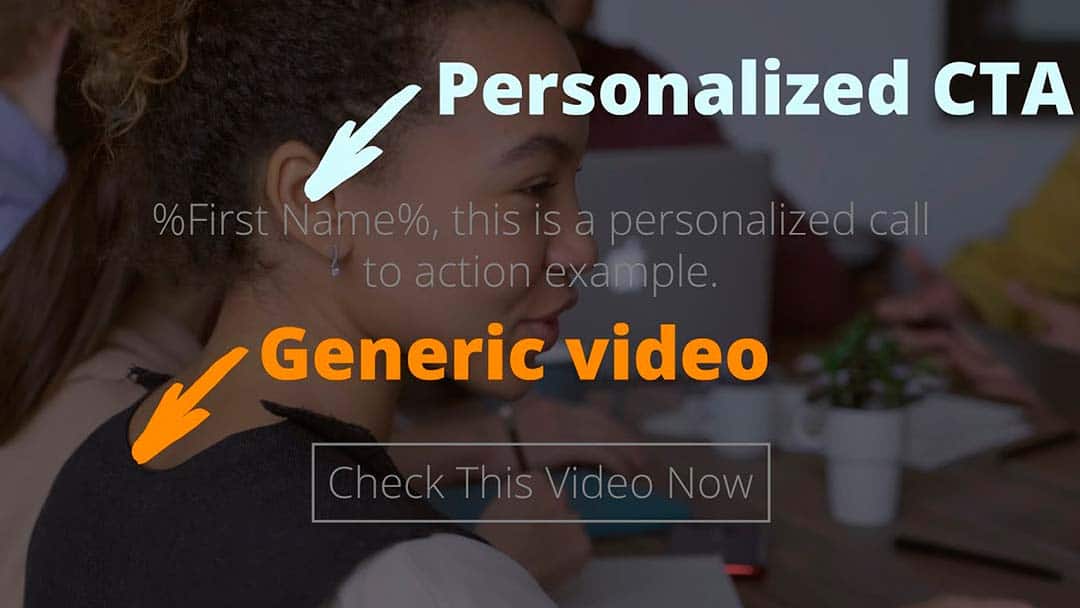 Even if we are talking about a staff member using his own smartphone to record a greeting video or several greeting video options.
Each option can be sent to specific user personas based on segmentation criteria.
With tools like Pirsonal Player, they can still add personalized in-video Calls to Action that resonate with the individual and drive each one of them to take action.
Since content personalization is key to make the experience relevant, this interactive video player helps you add personalized content to any existing video at scale and automatically.
How to Decrease Customer Churn With Personalized Interactive Videos
Personalized interactive videos help you adapt the Calls to Action to what the user needs based on the user's persona.
A major factor in being successful when communicating with any audience is adapting to their needs.
One way to do this is with personalized and interactive videos that allow you to cater the content to their expectations, concerns, and what will make them successful with your software.
Research has shown that when a video is personalized and interactive, viewers are more likely to engage with the video, learn from it, and recommend your product or service to their network.
Videos have been a popular means of marketing for a while now. In order to be successful, you have to keep in mind the different needs of your audience. Innovative video production can help you tailor a video to your audience's needs.
Why? Because the information is tailored to their needs rather and than a wide range of choices that are not relevant to who they are.
Most businesses are coming to the realization that they need to focus more on the experience the customer has with their product.
A customer onboarding experience is one way to make your customers feel included in the process.
One way to make your customers feel included in the process is by adding personalized interactive videos to your customer onboarding messages.
Making your customer onboarding experience interactive will help your customer take action faster.
3 Ways to Use Personalized Interactive Videos to Prevent Customer Attrition or Churn
To Make Help Customers Feel Appreciated
Customers often feel ignored and unappreciated. In fact, feeling unappreciated is the #1 reason customers switch products and services.
For example, you may not be responsive to their inquiries, and they may believe that the company doesn't want their business.
If this happens, the company should offer onboarding videos with personalization to engage with its customers at critical times. For example, to point users to the right customer support representative or account manager.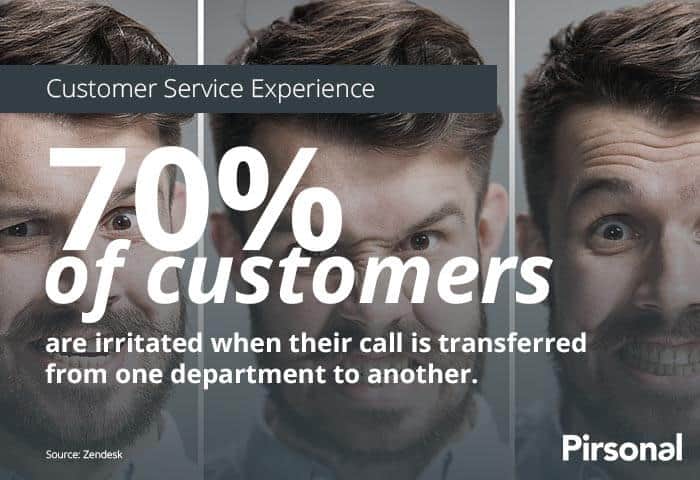 When you create an onboarding video with personalization, it is important to be specific.
Sending the user to a generic contact page is OK, but sending James to talk to Jennifer it's a lot better.
This way, you keep the personal touch intact with a human-powered experience, even when using video automation to scale the process.
To Explain Complex Customer Onboarding Steps
New technologies are becoming increasingly more complex. Especially in the world of SaaS, where companies are scrambling to produce the best product at the best price to stand out in the marketplace.
One way to make life easier for customers is to use personalized interactive onboarding videos to help users understand complex steps and information.
An instructional video is usually a perfect fit for this.
Chances are that you already have these videos in your repository. If you do, you could simply add personalized in-video Calls to Action to them.
By doing this, you keep the budget down, while still delivering great customer service.
Video marketing tools like Pirsonal Player help you do this and track individualized analytics.
This is the best way to ensure all customers are on the same page: adapting the information to their particular profile.
It is also a less expensive and more immersive way to promote your product.
Think about it: with a simple video, your customers will learn about your product and your company. This means they can see firsthand how it works and what they can do.
To Repurpose Product Webinar Replays With a Personal Touch
A webinar can be a great way to onboard new users because the users can do the onboarding themselves.
This allows for them to ask questions along the way, rather than having to wait to speak to customer service reps.
But, how about if you could personalize the video experience?
You can use shorter edited webinar replays and add personalized Calls to Action based on customer activation metrics.
For example, if the user hasn't executed specific onboarding actions, a personalized webinar replay could have a strong call to action that says "John, it's time to send the instructions to a developer from Accenture".
These onboarding videos can be presented to customers through dynamic landing pages. You can automatically create these dynamic landing pages with customer data from your CRM.
Since you can provide customers with a tailored experience, viewers pay more attention.
Closing Thoughts: Gain Loyal Customers and Fight Against Customer Churn With Personalized Video Interaction
Customer churn requires all of our attention. Personalized interactive videos are an amazing way for customers to get a feel for the company culture, the ownership of the business, and the credibility of the company.
With personalized Calls to Action, you can help users follow the specifics steps that will make them successful with your offering according to who each person is.
Personalized videos offer many benefits to SaaS businesses. For example, these videos provide more engagement and help users interact with tailored content.
Interactive videos will appeal to all age ranges and demographics. Even if people are watching your video at different speeds, they will still be able to comprehend it and take action thanks to trigger-based interactions.
Interactive video technologies will increase customer lifetime value and make your customers want to come back for more.
The main goal is to keep your customer attrition rates down and customer retention up. Talk to your customers, analyze your data and find patterns where you can use video to talk to your clients in a personal way.
You can automate the video engagement process with marketing automation tools like Pirsonal.
Since the Pirsonal personalization software is flexible, you can easily integrate it within your existing workflow to help you drive customer loyalty and increase the percentage of customers that love your offering.