Data-driven marketing personalization is quickly becoming the norm among B2C brands in many industries.
Why? By leveraging customer data, brands can create more tailored and relevant marketing campaigns that better engage customers.
One-to-one marketing helps businesses stay competitive and improve sales in a world where individual customers are over-exposed to marketing messages.
Customer analysis, segmentation, dynamic content creation and delivering personalized experiences are four of the most effective data-driven marketing strategies marketing leaders can apply today.
These marketing strategies can be combined into one robust strategy you can use to engage with your audience across the customer journey—from unknown users to customer advocates.
So keep reading to master these data-driven marketing strategies with personalization in B2C industries.
What's data-driven marketing?
Data-driven marketing is a term used to describe marketing efforts that are based on customer data and marketing analytics.
The term "data-driven" has gained strong traction in the marketing field over the last few years.
This is due to the increasing importance of data in digital marketing from two perspectives.
The first one is in terms of marketing and communications messages across digital channels.
Data-driven marketers use customer data in marketing and sales messages in all sorts of marketing channels.
For example, emails with personalized subject lines are 26% more likely to be opened.
This also affects the customer experience, as noted by research that shows that 71% of consumers expect brands to deliver personalized experiences.
This is why dynamic content creation is one of the most important data-driven marketing strategies.
This results in more effective marketing and happier customers that come back.
The second perspective of the increasing importance of a data-driven approach in marketing is in terms of marketing data analysis.
Simply put, by using data to drive marketing decisions, businesses can more effectively target their marketing efforts and improve results.
This is why, according to Accenture, 32% of companies see tangible and measurable value from their data-driven efforts.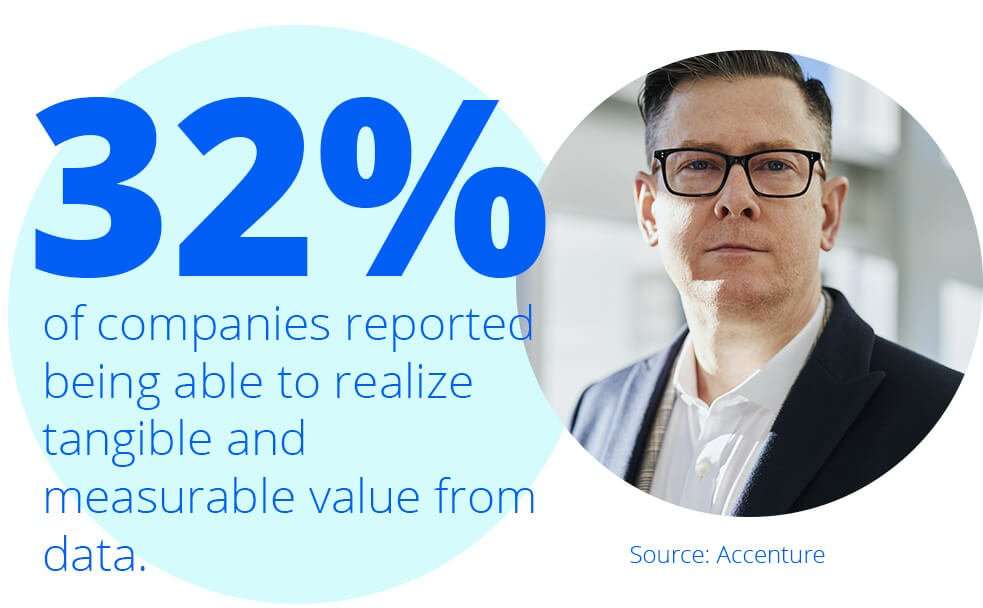 For example, as reported by McKinsey, a consumer-goods company anticipated that sales of beauty products would spike as communities eased out of the Covid lockdown.
The brand tracked reopenings on a county basis, using epidemiological statistics, municipal reporting and traffic data to determine where to focus their media spend.
What was the result?
This data-driven segmentation strategy drove a double-digit increase in sales.
So, as you can see with this real-life and practical example, data-driven businesses are able to over-perform those that don't use data to make better-informed decisions.
5 key data-driven marketing strategies any B2C brand should use today
Now, let's cover the three B2C data-driven marketing strategies any brand can apply today to boost engagement, increase sales and get repeat business.
#1 Customer segmentation for data-driven personalized marketing
In marketing, segmentation is the process of dividing a larger market into smaller, more manageable groups.
This can be done based on various factors, such as demographics, interests or even behavior.
Data-driven personalized marketing relies on customer data to create targeted, customized messages for specific target audiences.
In fact, according to McKinsey, 16% of organizations use AI to segment their audiences. Also, thanks to AI, brands are able to use micro-segmentation in their marketing.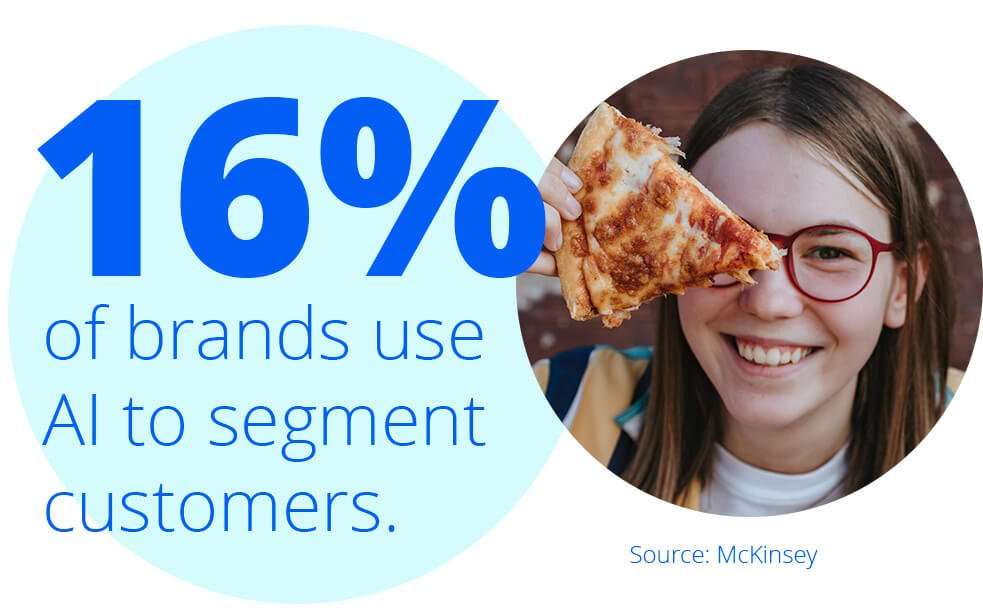 Benefits of customer segmentation in data-driven marketing strategies
Customer segmentation is extremely effective in reaching and converting customers, as it allows you to speak directly to their needs and interests.
It also makes your customer loyalty strategy more effective. This is especially true for B2C companies that are looking to build long-standing relationships with their customers.
It helps brands to better anticipate their audience's needs. As a result, brands can build better products and services that speak to their audience's desires and concerns.
With data-driven segmentation, marketers can tailor personalized messages that make sense.
If you are already segmenting your audiences in marketing, it is time to go the extra mile with data, not just with what you can guess (which is also important).
Why?
If you want to start with data-driven marketing, there is no other way to go.
7 questions to segment your audience for data-driven marketing
Now it's time to go through your customer data. Find new patterns that can help you find new customer segments or new opportunities within the known ones.
There are lots of different ways to segment your markets, including demographic, psychographic, behavioral, and geographic approaches.
But don't feel like you have to limit yourself to those four options! Get creative and try out some other strategies too.
Use the following questions to help you go through your customer data and segment your customers. 
Who are they? When planning your marketing strategy, it is essential to consider who your target audience is. To help narrow down your customer base, consider various attributes such as age, income, family size, race, gender, occupation, education, and nationality. Doing so will enable you to create targeted data-driven personalized campaigns that are more likely to resonate with your target customers across the customer journey.
What skills do they have? Give your data-driven marketing better context by analyzing what customers know and how they apply this knowledge when they interact with your brand, employees, products, and services.
What are their preferences? To create a successful customer retention strategy, you need to first segment your customer base according to what they like about your brand, products, services, and interactions with your team. This way, you can design targeted retention initiatives and personalized marketing messages that will resonate with each group and help keep them coming back.
Behavioral activities: As a business owner, it is important to understand the behaviors and decision-making processes of your customers. This includes understanding their lifestyle, how they buy and when they buy, and why they make the decisions they do. By understanding your customer base, you can more effectively market your products or services to them and improve your overall bottom line.
Psychographics: This market analysis approach considers how your customers think, and segments markets according to the lifestyle, personality traits, values, opinions, and interests of consumers.
How your customers use your product: Do your customers use your product as you initially expected? When do they use it? With other people?
How they buy your products: Looking at their processes, how much they spend, when they buy, from what device and if they buy based on a special promotion can help businesses understand their customers better. This in turn can help them improve their marketing efforts and boost sales.
Customer segmentation tools
Who doesn't love a good customer segmentation tool? With customer segmentation software, you can easily segment your customers according to shared characteristics.
For example, their preferences, the NPS score, customer journey interactions and more!
Some tools are specifically built for segmentation purposes. Other tools will give you the data you need to segment your target audience.
Here are some customer segmentation tools:
As you can see, there are tools intended for customer segmentation but also tools that do offer segmentation options.
Use the handiest one. What matters is to make proper customer segmentation happen according to your needs so that data-driven marketing personalization pays back.
#2 Dynamic content creation
Dynamic content creation is another data-driven marketing strategy to target and engage with B2C audiences—individually.
Dynamic content creation is, then, a process of creating personalized content for individual consumers, based on their specific needs, interests, and individual user behavior.
This strategy is often more effective than traditional, one-size-fits-all marketing materials.
Why?
Since it involves using data to create customized and personalized content that is relevant to the individual recipient instead of static content, it's more likely to resonate with them.
With this strategy, users often see a mix of static and dynamic content.
This allows marketers to display relevant marketing content throughout the customer journey, from prospective customers to loyal customers.
The content that is dynamic can be powered by first-party data from a customer relationship management software (CRM), a third-party API, or from any digital data source.
This can happen in real-time or with information that will unlikely change over time regardless of the customer interactions.
Benefits of dynamic content creation in data-driven marketing strategies
By using data to create dynamic content, marketers can ensure that their message is always relevant and engaging.
There are three main benefits of dynamic content creation in data-driven marketing strategies:
Increased engagement: Customers are tired of boring, irrelevant content that doesn't appeal to their needs and particular context. This hurts the customer and user experience. By creating personalized, relevant content, businesses can keep customers engaged with their brand through great experiences. Thus, they pay more attention to the content, which is now easier to understand, remember, and act on.
Higher conversion rates: Dynamic content is more relevant to customers, so they are more likely to convert. When you know who and how your customers are and deliver dynamic content using this information, you increase your chances of success.
Improved customer loyalty: Personalized content builds trust and loyalty between a business and its customers. Simply put, your target audience is constantly comparing brands. We all love brands that do pay attention to us. When you deliver a personalized experience with dynamic content, your customers feel more appreciated.
Types of dynamic content businesses can use in digital marketing
More and more brands are creating dynamic videos online to personalize emails. This type of content improves the click-through rate (CTR) and online shopping experiences.
When the strategy is well set, customer engagement indicators go up.
These are the most used cases for dynamic content creation across B2C brands. Often, e-commerce brands are the ones that benefit the most from these marketing techniques.
Newsletters and email campaigns.
Landing pages and websites.
Articles, web forms.
Exit intent banners.
Dynamic videos
Dynamic images
Dynamic ads.
Notifications.
Transactional documents.
Direct mail.
Social media posts.
PDFs.
And more.
Dynamic content creation tools for data-driven marketing personalization
Dynamic content creation tools are becoming more popular as personalization is becoming the norm among marketers.
Most tools will help you create personalized emails, some also offer support for dynamic landing pages, and some even for video personalization, like Pirsonal.
Here are some of the most popular ones:
ActiveCampaign: This marketing automation tool also offers a basic landing page builder. The content of the landing pages can be powered by customer data behind an email address. The source varies from the CRM, their Conversation customer support tool, and the marketing automation platfom.
HubSpot: This well-known CRM, marketing and sales tool widely used among enterprise organizations offer support for dynamic content within its landing pages with content powered by CRM. For example, some of our clients use HubSpot in conjunction with Pirsonal Player to embed personalized interactive videos in HubSpot's landing pages using URL parameters.
Twilio: This is a popular choice among developers to integrate email, SMS, WhatsApp, Video, and Audio channels to communicate with customers.
Pirsonal: This personalized video platform automatically creates dynamic videos with customer data. In many cases, this data comes from a CRM, a spreadsheet, or an API. Pirsonal simplifies personalized video marketing so that busy marketing teams can easily create dynamic videos from templates you can easily create online—no experts required.
Froged: This customer support and onboarding toolkit helps product people and marketers improve the customer experience. In my opinion, it is a great tool to create data-driven strategies right from your own product. We used it for about a year or two and were quite happy with this service. We were able to use dynamic fields across the product onboarding messages easily. It provides quite flexible developer tools to make personalization more sticky when connected to your own data source.
Freshchat: This live chat software is part of a wider suite (Freshworks). This is the tool we currently use to support our customers. When well configured, you can do a lot in terms of personalization and dynamic content. This becomes easier when you use other products of the suite like Freshdesk to provide better customer support.
Pirsonal Pages: If you want to boost engagement with video and dynamic content, Pirsonal Pages will make your life easier. With this tool, you automatically create dynamic video landing pages with personalized content. One of the key benefits of Pirsonal Pages is that you can automatically create video landing pages for one-to-one marketing based on CRM data without lifting a finger.
Understanding the customer journey helps businesses to identify areas where they can improve the customer experience. Use these tools along with your segmentation strategy.
For example, make sure to map the customer journey to understand what's the best way to engage with customers using dynamic content.
Bonus: Guide on automatic video editing with dynamic content
#3 Customer Analysis
Similar to segmentation, customer analysis is the process of evaluating customer data to understand customer behavior.
This information can be used to develop personalized marketing strategies that are more likely to resonate with customers and lead to conversions.
Customer analysis, thus, can be a powerful tool for B2C businesses to use in order to improve their marketing efforts.
Customer analysis can also help you measure marketing performance based on patterns.
For example, if you notice that a particular customer is engaging with your brand more frequently, you could target them with more personalized communications.
Or, if you see that a segment is not responding well to your current marketing efforts, you could dynamically try a different approach with them.
By understanding your customers better, you can tailor your marketing strategies to their needs and maximize your chances of success.
If you see repetitive patterns across many customer segments, this information can help you replicate this success through future campaigns.
Many tools with built-in marketing analytics capabilities will help you find these patterns.
#4 Customer experience personalization
Customer experience personalization is another key B2C data-driven marketing strategy for businesses to adopt in order to remain competitive.
By understanding and utilizing user and customer data, marketing and product peers can create targeted experiences that improve customer engagement and conversions.
For example, 94% of companies convert more leads into customers when they personalize the customer experience.
Benefits of customer experience personalization in data-driven marketing
A personalized customer experience offers many advantages for product people, marketing, and sales peers working together towards the same goal of helping customers have an amazing experience that brings them and others back over and over.
These are some key advantages of a personalized customer experience:
It makes your product or service more sticky. For example, by displaying relevant messages across the user onboarding.
It decreases the cost associated with pre and after-sales support. Let's say you see that a customer visited an article from your knowledge base talking about how to solve a certain problem. For instance, you can automatically send a personalized email giving more information and offering help from a support rep. Even better, if you take into account the buyer personas, this anticipation could save you a lot of money if the new customer doesn't have to talk to the call center.
It increases the number of brand advocates with better customer engagement and personalization efforts. Customers like talking about a very good experience or about terrible ones. Your social media marketing can benefit from your data-driven strategy by building an army of happy customers.
It improves the quality of future targeted marketing campaigns. For instance, based on the usage of the application, time of day, or other attributes gathered through your digital product, you can trigger email marketing campaigns with dynamic content.
It helps you retrieve customer feedback early. If the relationship between your brand and customers is great, customers tend to share feedback earlier. This helps you build better products and experiences that bring customers back.
As for the tools to personalize the customer experience, you can mainly use the marketing stack I shared earlier with you for dynamic content creation in most cases.
#5 Personalized customer journey
In the end, all these strategies have to do with personalizing the customer journey.
As customers traverse through their purchase decision journey, it's essential that B2C businesses interact with them in real-time with personalized and dynamic content.
This helps prospects, leads, and customers take action. Also, as I mentioned earlier, it makes it easier to anticipate their needs, concerns and wants.
This process involves mapping out the different touch-points that a customer has with a company, from awareness to purchase and beyond.
By using customer journey mapping, businesses can ensure they understand what their customers are looking for and will provide a more immersive experience that will result in a greater chance of a sale.
Watch the following video to learn how to do this with what I call a personalized marketing map for hotel marketing.
As you can see, customer journey mapping can help businesses identify growth opportunities. For instance, upselling and cross-selling.
In case you want to take a closer look at the image shown in the video, here is a personalized marketing map: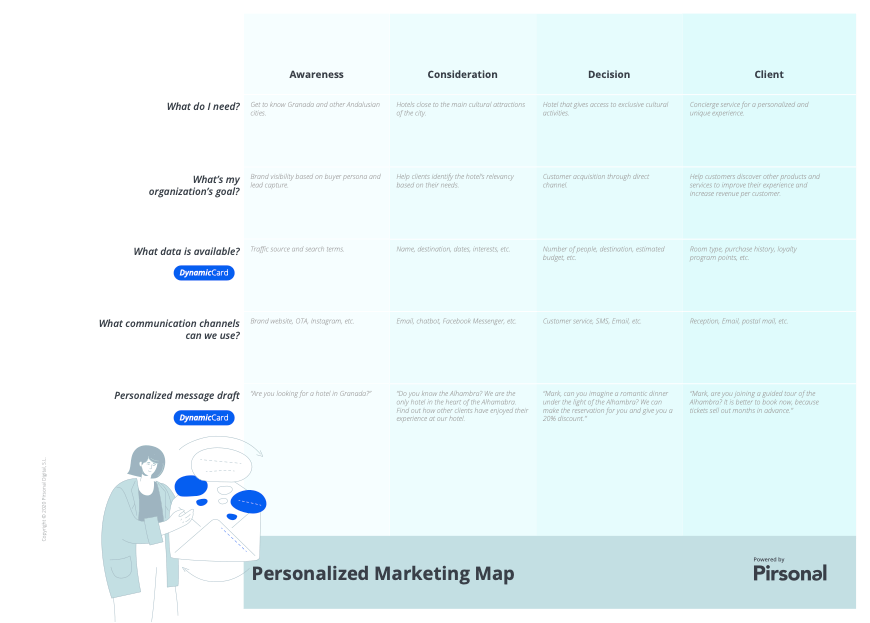 Final thoughts
These marketing strategies are particularly effective in the B2C space because potential customers are constantly exposed to marketing and sales messages they simply ignore.
Data-driven marketing personalization strategies, then, make your digital marketing unique to audiences of one.
This is more effective when you use it across the customer journey and not to limited touch-points.
You can apply these techniques to any digital marketing and sales content, including content marketing, video marketing with personalization, and even direct mail campaigns.
At Pirsonal, we help busy marketers engage with saturated audiences using the type of content we all pay attention to—video.
With a simple yet flexible personalized video software, marketing teams automatically make dynamic videos at scale—no experts required.
You can try Pirsonal free today or request a free demo with a product specialist. We'll help you find customer engagement opportunities using video so that customers take action.