Hospitality marketing has completely changed because of EU's General Data Protection Regulation law, also known as GDPR, to the point where several hotel marketers are not sending email marketing campaigns at all to the databases they've created over the years. We know this first hand, as we speak with hoteliers every week.
One of your goals as a hotel marketer is to gain your audience's credentials, such as email, name, phone number, birthday, and other details of a customer to use it for the promotional activity of goods or services, whereas GDPR's goal is to protect the identification information through data subjects' control over their personal data. Though GDPR has some challenges for marketers and many are intimidated by its implications for hospitality marketing, compliance also has several benefits.
What GDPR Should Bring to Your Hospitality Marketing: A Personalized Experience
Customer's Trust: GDPR compliance is an opportunity for an organization to provide a secure and trustworthy service, and rebuild the trust that many digital consumers have lost. We believe that this eventually will result in greater sharing of data that will allow you to create improved personalized messages, also powered by multimedia content.
User Experience: In the wake of rising GDPR enforcement and its data privacy controversies, companies such as Facebook, Wells Fargo, and Uber create advertising campaigns attempt to put the user experience first.
Improvement in Data Security: GDPR compliance gives marketers the opportunity to improve their data security as they engage with prospects and consumers.
Update Your Social Media: Email marketing strategies are shifting towards GDPR compliance, giving marketers an opportunity to focus on areas, which are not highly impacted, such as social media, SEO strategies, and content creation.
A More Relevant 1 to 1 Communication: According to our clients and the industry, GDPR has turned into an opportunity as it has helped them to be in touch with those clients and leads that really want to be contacted by an organization. With this in mind, organizations can create hospitality marketing messages that are more relevant and increase conversions, allowing personalized marketing strategies, which in our case usually start with a personalized video experience towards an individual, on a one to one basis.
Before you continue reading, take a minute to download this free report about personalized marketing and GDPR, where we go over the main threats, challenges and opportunities marketers are facing based on successful case studies.
Take the travel industry as an example. Flight Centre Travel Group accelerates its sales process by using personalized video marketing powered by Pirsonal. Every time a lead requests information, the brand automatically creates a personalized video, personalized landing page and custom in-video call-to-action based on the information provided by the lead such as name, the reason to travel or destination, which makes these videos and emails totally relevant to each individual. This increased engagement moves leads to buying more and faster. Every personalized video is then instantly sent by email, which increases customer engagement and builds stronger relationships that translate into more revenue also in the mid and long term. This strategy is aligned with the personal touch of the company towards its customers through all communication channels.
As you can see, marketers are not considering this regulation as a restriction to their brand but as an opportunity to provide enhanced service and interaction with their customers. GDPR has created a significant shift. For example, the hotel industry is one of the industries we closely work with. Businesses and brands are in need to embrace this regulation still to create hotel marketing strategies and products powered by real data, which will translate into more direct sales and loyal guests. Smart marketers are focusing on individual marketing rather than marketing to audiences, except for those with deeper pockets. This is expected to result in improved user experience and serve user preferences better. GDPR is not revolutionary or ground-breaking, it simply supports the preference of the consumers.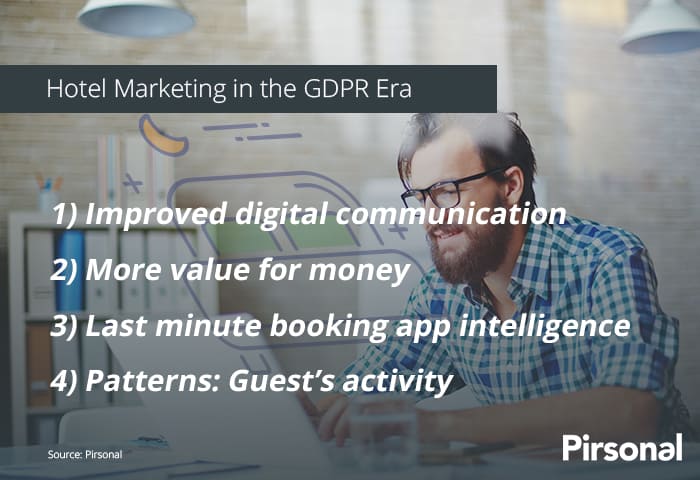 With the shift in focus from an audience to customer marketing, businesses are enforced to think about marketing in an innovative way. This includes creating marketing campaigns that are catered toward an individual, reaching them with the appropriate message, at the right time and using the right medium. This involves investment, but once the people-centric strategy is integrated, marketers can unlock stronger results from their marketing than ever before.