Customer engagement based on personalization makes a difference in your business. This is why you are here. I don't blame you. I'm sure that the current global situation helps you understand that a few things need to change. Marketing budgets are frozen and customers are canceling your services. This means that keeping every single customer happy and engaged becomes a priority.
Either you are in a good position where it's time to focus on making your customers happier or your business is bleeding. Customers are running away from you, even temporarily. If it's time to make your customers happier, it's also time to know them better in order to serve them better. If you are instead bleeding, it's time to double your efforts. Most markets out there will take some time to recover and people are more conscious about their money.
Customer engagement based on personalization is hard but there is no way you can skip it. Your customers demand a one-to-one approach that takes them into account, for real. Over the last 10 years, I've talked to a lot of companies and I've paid for a few services. Sadly, I've also lost some money because I didn't pay attention to how relevant I was to our target audience.
Here is something you already know. Without customers, your business dies. Pretty obvious, uh?
If you have a healthy inbound marketing strategy in place, this is not that obvious. But what happens when every single smart company and family out there is trying to spend less money? Even with a great inbound marketing strategy, you'll relly on the leads and customers you already have.
Here is something you need to remember: If your customers are not engaged, let's even say married, to your business, it's impossible to win them back. If you lose them once, you lose their connections, trust, feedback, money, and so on. Forever.
Customer engagement implies two sides of the same coin.
Your customer.
Your business.
Same currency: Happiness.
As Paul Greenberg said:
Customer engagement is the ongoing interactions between company and customer, offered by the company, chosen by the customer.
This is similar to what, in my opinion, marketing should be.
More often than not, marketing is becoming a conversation started by your customers. When you are not relevant in the conversation anymore, the conversation stops. If the conversation stops because your customer is simply resting or thinking, it's great. We all need to rest. If the conversation stopped because your customer got bored or tired, that's a different story. A sad one.
Today I'll focus on customer engagement based on personalization. If you are already doing fine with customer engagement and do not have a personalization approach, then this article will help you go the extra mile. It will help you extend your customers' lifetime value. At this same time, your churn rate will go down. At last, you increase revenue per customer.
A happy customer from a healthy business is a profitable customer.
If you don't have a great customer engagement strategy in place, this article will help to get started. A human approach converts better and keeps your customers happy from day one. Marketing personalization and marketing automation are your new best friends.
Knowing Your Customer: The First Step For A Personalization Approach
One of the keys to a good customer engagement strategy is based on knowledge. The more you know your customers, the better you can anticipate their needs, desires, and objections. Because of this, you are able to serve them better.
Depending on the type of product, service, industry, and business model, you will take one approach or another to do this right. However, it starts with knowledge. Customer experience based on personalization is based on individualized information.
Engaging With A Large Customer Base
If you have thousands of clients, there is no way you can speak to each one of them. I mean individually. This changes if you are powered by a call center that knows what and how to ask the right questions. Most importantly, that knows that your customers need to express themself (AKA, open answers). Based on your budget, this is not unrealistic. However, back to reality, as an alternative, you can use surveys, quizzes, and segmented interviews to find out what each one of them thinks. You can learn about specific topics that affect their happiness with your service. You can also use focus groups as a way to get more direct feedback. Also, this is where marketing automation shines.
Online communities are also a great source of information. These communities usually work really well and in real time. Active communities help you to test concepts faster, get advanced feedback, and have constant ideas and objections. This helps you create a better experience for your overall customer base.
There are a couple of ways to do this online. For example, using Facebook Groups, Slack, or even YouTube (especially through live shows).
Engaging With Smaller Customer Base
What happens if your customer base is smaller?
If you have tens or even hundreds of customers, use any digital channel, especially those powered by marketing automation. Also, adding the tools I mentioned earlier can be a game-changer to keep it smooth.
What you'll usually find is that the level of service personalization is really high when you can remember the name of all your customers. Although this is a good thing we all need to do, it also comes with a challenge in times of crisis. If your customers badly need your product, they'll stay. If your product is a nice-to-have, you need to work three times as hard to keep them all. Depending on your business model, the economics won't work on your behalf.
So, on one hand, you'll see that customer engagement requires having those customers on board and keeping them for the longest period of time. On the other, a financial crisis of any type and form can hit any business at any time, including yours and mine. This means that you need more customers to keep them happy, spending more, and bringing new referrals to the game. Customer experience based on personalization becomes then a fundamental part of your to-do list.
Use Marketing Segmentation to Deliver More Value To Your Customers
Customer engagement based on personalization helps you create better marketing campaigns. These campaigns resonate with different types of segmented audiences. At the same time, it helps you drive more sales. Marketing segmentation is then aligned with customer engagement. Both strategies should also be based on personalization.
In my opinion, segmentation is the lighthouse of any great marketing strategy.
Segmentation is the reason why personalized video marketing works so well.
Segmentation begins with your audience at the top of your mind. It's the second step in the Personalized Videos Marketing Checklist.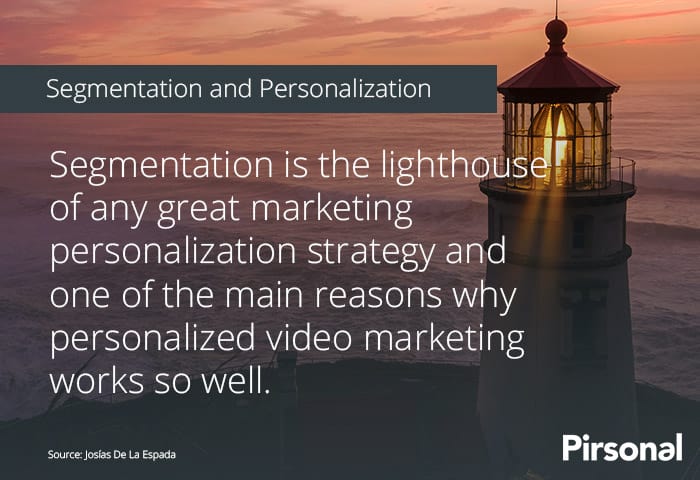 Most brands use a basic level of marketing personalization when they create marketing campaigns. How well do you know your customers? What is your data telling you about them? Probably, a lot. Here is another question: Do you actually use this information to interact with your customers?

Over the last few years, marketers have oversimplified the power of personalization. We often take a look at the data but not really at the people behind every single row. Have you ever thought about this? If you have, we are aligned.
You can use sophisticated marketing and customer engagement software to work on your segmentation. Or you can simply use a spreadsheet. Here you have an example: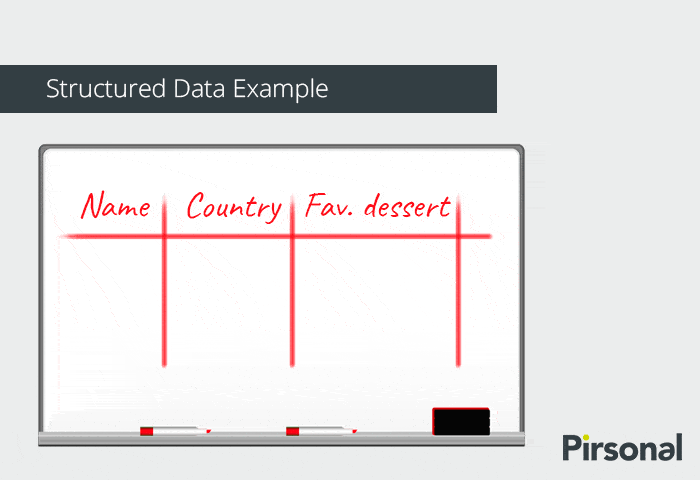 When you segment your audience, you are can create better marketing messages that anticipate your customer's needs. Take a look at this video. It shows how to create a personalized email to customers using marketing segmentation and personalization.
In the image below, I highlighted the different personalized fields I used in this example. Customer engagement based on personalization needs marketing segmentation to become a must-consume by your customers. This approach makes it easy to stand out and to be memorable.
When you segment your customer base, you can also decide which type of content works better for them. You would usually do this based on who they are. Also on how, when, and why they consume the information. You are able to adapt the message in a way that increases conversions and builds long-term relationships.

Customer Engagement And Customization
We need to stop for a moment to add another term to the table. Customization.
People often use customization and personalization interchangeably. These are two different terms with different business goals in mind.
Customization is done by the user. For example, think about an app or service that allows your users to make changes to the experience. This is often because you want them to configure layout, content, or functionality. Customization allows customers to make a product their own.
Hugo Hamel from Enrich3 explains it well in this video. The video talks about the difference between personalization and customization.
Customer Engagement Based On Personalization To Sell More
Start by observing. Then getting feedback. Then implementing. And then go back to the observation stage.
Look for patterns in the different sources of information you have.
If you are the founder of your organization, this is many times more complicated. We tend to have everything well assimilated, in our heads, and we have to make a conscious effort to share and document all this. This is one of my main challenges, actually.
If we are talking about a company with an online presence and lead capture flows, the data source and the type of search that your still prospects do is vital to understand what they are looking for initially vs. what they got when they bought your service.
Customer engagement based on personalization should analyze all these interactions even before an individual becomes a customer. But at the same time, knowing your customers and keeping them happy, will help you understand how to be relevant to prospects in your market and from there how to engage with them in order to convert more prospects into leads, and more leads into customers.
How can you know more about your prospects if they haven't become leads yet?
In this sense, an easy way to start is by using Facebook audiences, tools like Facebook pixel, as well as Google Tag Manager. However, it does not end there. Especially now when tracking users online is becoming less popular and has more obstacles. You want to be able to convert them into leads so that you can have more control over the conversation, which translates into being one step ahead, and showing initiative. More often than not, this conversation is started by your then leads, since it's the most scalable and cost-effective way to do this. Here is where inbound marketing shines.
Customer Engagement Is A Conversation
Modern marketing is a conversation. You need to establish mechanisms to help your prospects start a conversation. Then establish clear ways to continue this conversation with your customers. A great conversation leads to another one, either now or 6 months from now. The same applies to leads.
In other words, get them to give you their phone number, email or any sort of direct messaging contact. That's their way to start the conversation. Then, use marketing personalization, automated or not, to respond to them in the way each one of them needs. This is why marketing automation has become so popular and affordable at the same time.
Use lead capture pages with specific lead magnets to convert these anonymous users into leads. Since you have control over these pages, you can create all the combinations you deem appropriate and be as specific as you want. In fact, you can create a landing page for each functionality, type of client, geographic area, and more. This helps you attract individuals that are interested in specific things about your offering. Create fully customized pages based on customized variables.
Use Personalized Ads To Support Your Customer Engagement Strategy
You can do even more with personalized ads. Take a look at the following screenshot that shows some of the personalized fields to create a personalized video. Personalized ads are great to accelerate the sales process. You can use them to engage with leads. Simply put: Video is the type of content with the best conversions. Personalized videos are about 160% more effective.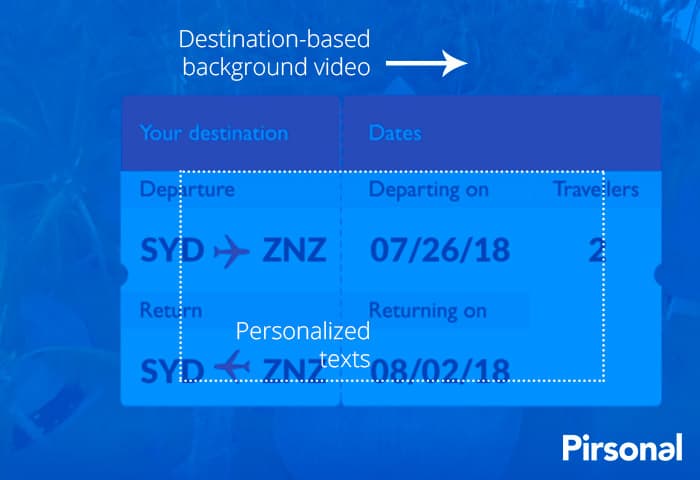 Customer engagement doesn't start when your customer is actually a customer. It should start way before. Competition is increasing for almost any product or service out there only you sell airplanes. This means that you need to start treating leads as customers way before they pay.
If you invest in online personalized ads, you can quickly find out which ads convert best. You can also know which message resonates with various types of audiences. This helps you to align your messaging with your segmented audience because now you know which ads have a higher conversion rate.
But, guess what? Customer engagement based on personalization helps you to create all these content and marketing funnels based on knowledge.
If your source of information is an email list, a CRM, or an automated marketing tool, you basically have gold in your hands.
Use Personalized Videos To Engage With Leads And Attract More Customers
Here is one of my favorite and easy-to-apply examples using personalized video across the customer journey.
In this personalized video example, Flight Centre Travel Group accelerates the sales process with personalized videos powered by Pirsonal. Every time a lead requests information, the brand automatically renders a personalized video, a personalized landing page, and a custom in-video call-to-action. This content is automatically created from lead data. They use the lead's name, the reason to travel or destination, and dates. This makes these personalized videos and emails totally relevant to each individual.
Want to see how other brands are using personalized video marketing to increase customer engagement? Check these examples now.
The reason this personalized video marketing works really well is that customers expect to see personalized touch-points as the outcome of a fluent conversation. A real conversation takes into consideration the context, where both sides do their best to understand what is relevant to the other, and how this affects them. Used wisely, this makes personalized video marketing an engagement machine. Video automation software makes this easier, using an individual's context to increase engagement.
This increased engagement moves a hot lead to buying more and faster. Every rendered personalized video is then instantly sent by email, which increases customer engagement and builds stronger relationships that translate into more revenue also in the mid and long-term. This strategy is aligned with customer engagement based on a personalization strategy, which is one of Flight Centre's value propositions in the market. This type of personal touch helps the brand to stand out in a competitive industry.
The most common type of information available to most organizations is the person's email. The next most common is the first name. If you just use the name, you already have some earned land.
Finding Creative Ways To Know More About Your Leads And Customers
However, as I have said on other occasions, we are talking about the engagement battle. Customer engagement is life or death. I'm sure you want more, right?
True? Just double-checking.
Devise ways to get more information about your leads and clients. You don't have to do it in a single interaction, however, it must happen well before your customers churn so that you can have enough time to interact with them according to your business goals.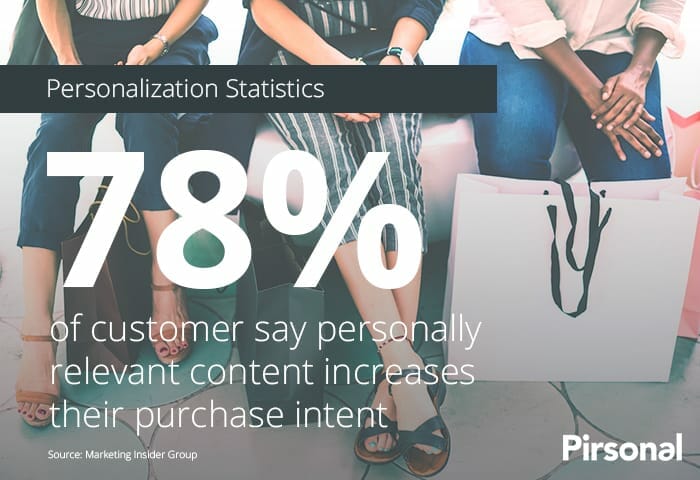 There are a thousand ways to do this.
Here is an easy one:
A few weeks ago I gave a webinar to a small audience. All I had was their email and in some cases their first name.
What did I do?
The webinar was about the Personalized Marketing Map. It is a methodology and tool that I created to help me (and our clients) think creatively about how to use data from a segmented audience to create personalized messages. From personalized emails to personalized videos, some topics in which we are experts at Pirsonal.
I like that Pirsonal webinars, called Pirsonal Talks, are interactive. I like that people ask questions, they can download collateral material, and take clear strategies that they can apply in their businesses. With this in mind, during the webinar, I mentioned that they could download the material I was presenting on my screen. At the time, I was doing a live exercise. In my presentation, I showed the URL from which they could download the PDF.
The result?
Around half of the attendees downloaded the material at that time. As I was showing it and the material has a lot of value, it was a no-brainer. Since all this happened while I was giving the webinar, I was able to request even more information, for example, company name or even the person's full name.
Internally, in the marketing automation tool we use at Pirsonal, I also added various tags to these leads.
This information is gold because afterward, we use it to create more segmented messages and campaigns, with greater personalization. This leads to better lead knowledge, then education, then conversion. If this process is smooth, it also leads to better customer engagement using personalization, which then has translated into more sales.
It is important to find ways to know more about your customers in order to then create a customer engagement process that delights customers and converts them into brand advocates. At the same time, this will help you convert more leads into customers, reducing the friction in the process, and accelerating your sales process.
Customer Engagement And Operations
Customer engagement is 100% related to operations, sales, and marketing. At a certain point, there are things you can do when you have fewer than a hundred customers. You have the time, the expertise, and the know-how and this can easily be part of your corporate culture because you would usually have a small team, fewer processes, and let's not even talk about bureaucracy. But what happens when you are ready to scale and when you add nine hundred customers more in a year?
You are right. Customer engagement becomes then a nightmare if your operations weren't ready for it.
Let me give you two examples.
How Pirsonal Changed For A Better Customer Experience
When I funded Pirsonal we were mainly focused on serving agencies, integrators, and end clients that would also pay for professional services. Personalized Video marketing has historically been quite complex. It's was related to expensive integrations, long implementation, and more. Based on my experience in the marketing and advertising industries and conceptualizing software, I knew there was a better way for "the rest of us". Since we are a bootstrapped company, every single customer counts. Since we are a product-oriented company, led by a marketer forced to do sales :-p, I speak with every single lead and customer. This helps me create better products by thinking about what they need now and to anticipate what comes next.
This approach helped lead the team behind one of the first collaborative music apps in the market, then one of the mobile video editing apps, and then one of the main personalized video marketing platforms.
Doing this gives me knowledge I can not acquire otherwise. Remember what I mentioned above?
Data.
Knowing your customer is key. It gives you a clearer vision to create a solid personalized marketing strategy. Here is where the analysis of your buyer persona comes.
A buyer persona is a fictional character created to represent a user type that might use your product or service but also is the person that will consume your marketing messages. Sometimes we put a lot of effort into thinking about X or Y product's buyer persona but don't invest the same amount of "quality time" with them when creating these personalized marketing messages.
So, with all this, what did we do to help Pirsonal's customer engagement operations?
Know Your Strengths And Partner With Others To Improve Your Customer Engagement
This article is about customer engagement based on personalization. Personalization is based on the individual. Customer engagement is about the people that buy your products.
So we decided to talk to these people.
One of my colleagues is a customer experience geek. He interviewed a few clients and partner agencies to know more about their experience with us. Something that was most highlighted was the personalized treatment they receive in most of the cases from me. They greatly appreciated getting a quick response from day one and the flexibility of our personalized marketing technology, service, and even business model.
All this sounds great, right? Well, I also had some bad news. This personalized touch also comes with a challenge.
The Challenge Behind Customer Engagement And Personalization
From day one my goal was to build a platform any marketer could easily use to create personalized video campaigns in no time. No matter the profile, designer or not, developer or not. In order to scale and achieve our business goals, we also needed more customers and to extend the lifetime value for these customers.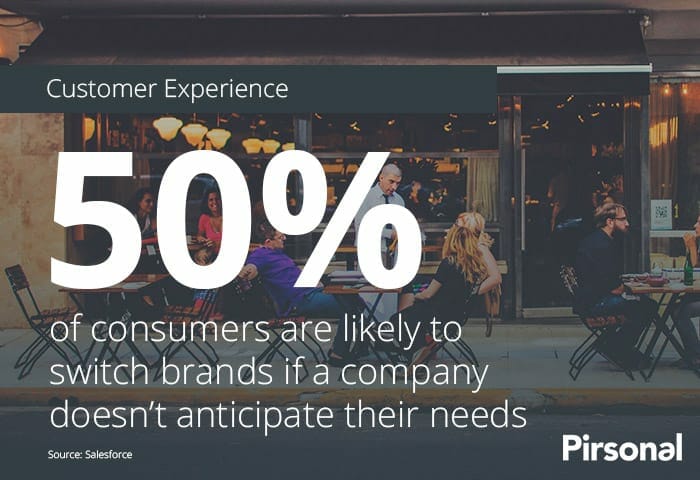 I'm not an operations guy. It's not my forte. Although I do better now.
For us, scaling means, among other things, peace of mind. In order to achieve this, we need to filter a bit more our conversations with leads because time is limited. We also need to educate our leads and customers a lot better. Documentation is then crucial. It makes it easier and faster to get help and to use our platform and products and, why not, to buy more.
This gives us more time to serve them better. It reduces the friction frustration builds. Documenting everything helps us to analyze and use the information we've retrieved during all these years.
As I mentioned, we also offer professional services. We realized that some of our partner agencies had become Pirsonal experts. Some of them are even faster than us. They have more resources and a larger team. They get our support and request the type of product feature you need when you work shoulder by shoulder with the creators of the software (AKA, Pirsonal). With this in mind, we improved our Certified Partners Program to allow these partners to be more successful. We can invest more in our platform, customer experience, marketing, and sales.
Our goal? A self-service personalized video platform. If you want a few tips to choose a personalized video marketing platform, make sure to read this short article. Customers get free support and personalized onboarding. They also get extra help from Certified Partners and our very own professional services. On the one hand, we make less money from our professional services. On the other hand, customers are happier because we can improve our personalized video software more often. We can also create more educational content to improve their experience and knowledge base.
Partner agencies also love this approach because it gives them more business. If they are happy about getting more business opportunities from us, they are also more active and bring more business to us. Since we work as a team with them, we learn more about their expertise and they become personalized video marketing experts.
All this, in the end, requires double-checking all of our processes and using the right tools for our customer experience management. For example, we use Froged to helps us reduce customer churn and increase customer loyalty. Froged empowers the users of Pirsonal's personalized multimedia marketing software. It allows us to convert trial accounts to paying customers. We can communicate with customers using marketing automation and human-powered interactions. This is 100% aligned with what we do at Pirsonal.
Keep A Customer Engagement Culture No Matter The Size Of Your Customer Base
Let me share another example. Do you know Zumba? Very likely yes. Did you know that it is an established brand in the sports and fitness industry? Most likely not.
Honestly, I didn't know that either until we started working with them on personalized video campaigns.
There is something that really caught my attention and that I sincerely admire the branding team. When they talk about their instructors, they talk about them personally. Literally by name. They know who they are. At a glance, this doesn't sound surprising. Well, Zumba has thousands of instructors around the world!
For Zumba, experience with the brand, attention to the community, and the empowerment of this community are key pillars of their strategy.
Understanding the context of your customer segments is vital. It helps you to deliver the best customer experience. This context will be based on the information that you can collect. It also depends on how well you can analyze this customer data. On many occasions, this information will be lodged in your brain, however, I recommend that you can document it in a structured way. If you do this, other people in your team or organization can make use of it. It is not that uncommon that people to switch jobs, right?
The Bottom Line
Customer engagement based on personalization as a strategy pays back. Make an effort to know more about your customers. Use this information as part of your interactions. This will drive more relevant interactions. You will respond to their needs within their particular context. The end result is a happier customer. A customer that stays more time in your house and spends more money. Happy customers bring more customers to your game.