When brands and video marketers need to make personalized videos for marketing as part of a pilot program for the first time, many face the same challenges. Successful personalized video marketing pilots have five characteristics in common. Understanding these characteristics will help you manage the personalized video production process from pre-production to post-production.
To make personalized videos, you need more than just software to create personalized videos at scale. Making videos with personalization requires KPIs, a clear pre-production process, and a segment of the target audience ready to take action.
In this article, you'll learn the five key steps to making personalized videos for your marketing and customer engagement initiatives. This is based on my experience working with brands from different industries over the last 18 years.
#1 Clear KPIs
In many cases, organizations want to try how personalized video marketing performs for them. Maybe that is your case. You've heard that personalized videos are able to increase the view-through rate. Even the click-through rates improve when you use dynamic videos. Although, for many first-comers, it is more about the wow effect through the customer journey.
All those are real facts.
However, to perform a successful video campaign, you need to know what is what you want to improve. This is why you need a clear picture of the key performance indicators (KPIs) you need to hit.
KPIs are a type of performance measurement. They are used to evaluate the success in achieving key objectives. KPIs can be financial or non-financial, and they can be quantifiable or non-quantifiable. Financial KPIs include measures such as profitability, revenue growth, and return on investment (ROI). Non-financial KPIs include measures such as customer satisfaction, employee turnover, and safety record.
Personalized videos can help you with all these goals. In my experience, the more you can quantify them, the better and more realistic the video marketing project is.
This is something that needs to happen even before you think about video personalization. Why? You need to make sure that this video marketing strategy is the right one. You need to know if it will help you accomplish your marketing goals.
Examples of KPIs for Personalized Video Campaigns
For example, let's say you are an insurance company. Let's say you want to increase the number of people that renew their policy. Then you need to make sure you have a specific number you want to target with this personalized video campaign. For instance, you want to increase the number of renewals by three percent. That's a clear and specific KPI.
Similarly, let's say you are an e-commerce business. For instance, you want to use personalized videos for a marketing campaign for Christmas. Let's say that you want your conversion rate to increase by five percent. Then, that's a clear and specific KPI you can achieve with a video personalization program.
If you are considering personalized video marketing, we created a complete guide on personalized video marketing with many examples, case studies, and stats. Read our guide on personalized video marketing and see all the personalized video examples.
#2 Optimized Communication Channel
The second characteristic of a successful personalized video program is the optimization of the communication channel. Email is one of the preferred distribution methods for personalized videos. Although, you can virtually use any digital channel to share dynamic videos with your audience.
When you send a marketing campaign to your target audience, make sure the channel and messages will perform positively.
To send personalized videos by email, there are different conversion metrics and KPIs you can review. For example:
Email open rate,
Email click-through rate (CTR),
Conversion rate.
Bounce rates
Completion rates
If you choose SMS marketing, use a link tracker system like Bit.ly. This will help you know the number of contacts that have clicked on the link.
If you send the personalized videos by email through WhatsApp, you have two options:
Sending the video file as an attachment.
Sending a link to a video landing page.
If you share dynamic videos through social platforms like Facebook, make sure to have a consolidated online presence. Social channels often apply restrictions on the personal details companies can add to the videos. For example, on Facebook, creating videos automatically with the customer's name goes against the terms of use of the social platform.
Often, we recommend using a video landing page. This helps you track user behavior. For example, Pirsonal Pages is a dynamic landing page for personalized videos. Since it works with Pirsonal Player, an interactive video software, you can see full video and engagement analytics.
Strategies to Send Personalized Videos by Email
Is it a good idea to embed personalized videos in your email marketing campaigns? It depends. There are different possible scenarios:
Playing the video in the email itself. This is the one most people refer to when they talk about embedding videos in email campaigns.
Attaching the video file to the email. This is not a good idea. Video files are often heavy and email clients and servers can see the email as spammy. This is something you want to avoid. Also, it delivers the wrong user experience and this can damage your email conversions.
Using animated GIFs from videos. This option is similar to embedding the video and often goes along with this one. Basically, if the email client doesn't support video content, there is a fallback option with an animated GIF. I strongly recommend this option if you add videos to your email campaigns.
Linking to a landing page with a video. Either through a video thumbnail, button, or text with a link. This one is my favorite. I'll explain why in a moment. The video thumbnail can also be an animated GIF and, in some cases, even have some personalization. This is common practice with personalized video marketing.
Watch the following video to learn more about this.
Why Is Distribution Optimization Important in Video Personalization?
To understand why optimizing the distribution methods are important, let's go over an example.
Let's say that you have a hundred thousand people in your database. However, only five percent of them open on a regular basis your email marketing campaigns. In general, this is a terrible email open rate.
If you create a personalized video campaign to engage with all of them, you will throw 95% into the trash. As a result,  you'll waste time, and resources and will hurt your marketing budget. Also, you will not achieve your KPIs and goals.
Hence, optimize the distribution efforts before you hit send. Along with the distribution methods you choose for the video personalization campaign, make sure that the content is aligned with the needs of the target audience.
How to Optimize the Communication Channel for Personalized Video Marketing?
To succeed with personalized video marketing, you need to optimize the communication channel and messages in advance. My recommendation is to warm your audience up in advance.
On average, start sending messages 30 days in advance. For example, imagine you want to send an email campaign with personalized videos. Then, based on my experience, my recommendation is to send between 4 and 10 previous emails. This will give you enough opportunities to warm your audience up and A/B test messages.
Do this with caution, though. Select a control group first. Then, expand the campaign as you get results.
#3 Right Audience Segmentation
The best personalized video campaigns tailor messages to a specific target audience. No matter the type of content you create, a personalization strategy is more effective when you narrow it down.
So, why is audience segmentation important? Creating a high-quality video for marketing personalization doesn't guarantee success. If the video is not tailored to the needs, concerns, and desires of potential customers, you will not achieve your goals.
For example, a loyal customer segment has different needs than a segment of new customers. Satisfied customers tend to proactively engage with a brand. Likewise, audience demographics can play an important role in your segmentation strategy.
How to Segment a Personalization Strategy
There are different ways organizations can segment their marketing audience. Instead of targeting a general audience, bring it down to a specific target audience. Then, bring it down to a specific buyer persona. From there, be even more specific and base your personalization strategy on an augmented buyer persona.
Let's see this with an example. Let's say you manage the customer experience for an insurance company. Instead of sending the personalized videos to the complete customer base, select a specific marketing segment. Once you have done this, narrow your segmentation to the buyer personas that are relevant to the campaign.
For example, new customers like John. Customers like him, bought this product because they wanted to save headaches while they travel to other countries. They like to travel to the European Union.
Now, how can you bring it down to the augmented buyer persona? First, let's discuss what's an augmented buyer persona. To keep it simple, an augmented buyer persona is when you take into account what you usually know about customers like John (buyer persona), and what you actually know about the particular customer. This means that you use customer data gathered through a CRM, marketing automation tool, or even email marketing.
So, how can you use this augmented buyer persona in this example? We know that Mike is a customer similar to John. He is a man, between 20 and 30 years old. Also, he has already been to France. In the same way, he has shown interest in traveling with his wife and dog.
We know all this, because of the information he has proactively or passively provided.
With this information, the marketing and customer experience teams can create tailored messages. They can go deeper, not just with audience demographics, but also into behavioral information.
#4 Great Campaign Execution
Another characteristic of successful video marketing campaigns with personalization is sharp execution. This can become a blocker in many cases. Thus, it is something to take into consideration from day one.
In most cases, personalized video projects can be live in 30 days. What usually takes more time in the production of the video template.
Let's remember that we are talking about a pilot program or even a POC. Often, what you want to see are clear indicators that this works. With this, you can then iterate, improve and scale.
Even so, many organizations spend too much time on the production of personalized video templates with online video editing tools.
So, how long should this take? On average, whatever it already takes to produce a video, plus 1-3 days for average cases. A lot of this has to do with the video editing tools you use. Also, it has to do with the software you use to create personalized video templates.
Tools like Pirsonal Editor help you create templates for personalized videos fast. Also, with our video automation software, you can take care of all aspects without IT help. For organizations in need of some extra help, with Pirsonal Professional Services, we also take care of the execution of the campaign.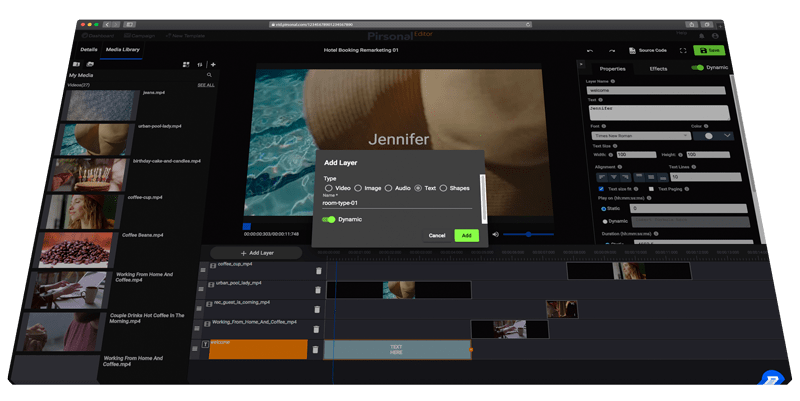 With everything under the same roof, brands are able to skip many technical details. This way, they can focus on the success of the campaign.
In the corporate world, a high production quality standard is important. Still, video marketers need to find a balance. This will help them save post-production time. Hence, they'll launch the campaign sooner.
How To Make Personalized Videos From A Spreadsheet
In many cases, to save time with the technical details and integrations, it is faster to create personalized videos from a spreadsheet. Watch the following video to learn how.
#5 Effective Calls to Action
The fifth characteristic of successful personalized video pilots is that they have a clear call to action (CTA). In general, there are two types of campaigns:
Video campaigns are intended to get video views.
Video campaign to make people take action.
Among the forms of content, video offers unique ways to interact with viewers. Most successful personalized video campaigns help people to take action. You can easily do this with an interactive video player like Pirsonal Player.
Pirsonal Player helps you add video CTAs with personalization at scale and automatically.
Why Are Calls to Action Important in Video Marketing?
In a digital marketing strategy, video calls to action offer viewers an easy way to take action. Thus, customers decide what to do next. With personalization, you are able to tailor the content of the call to action. Hence, you deliver a personalized experience.
This way, video calls to action with personalization are powerful tools in your digital marketing strategy. Viewers are able to interact with the content in a deep way. This provides a positive experience that makes them more likely to convert.
Examples of Video CTA with Personalization
Take a look at the following personalized interactive video. It shows how "Jennifer" has three options to choose from based on who she is.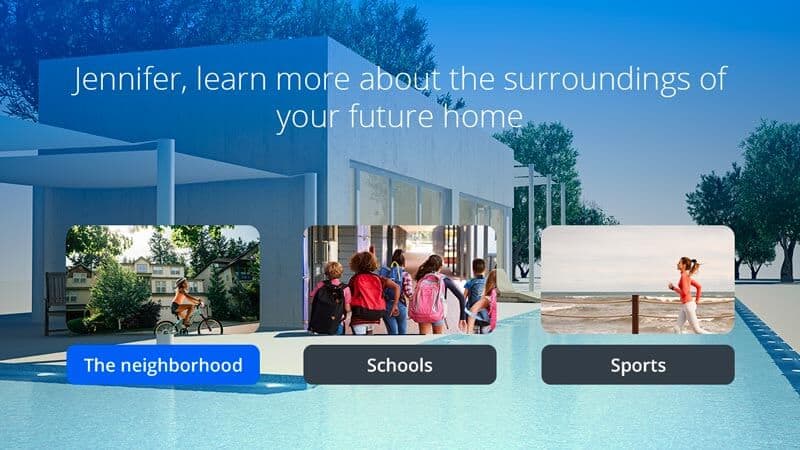 The following image shows the personalization tags for this interactive video with personalization.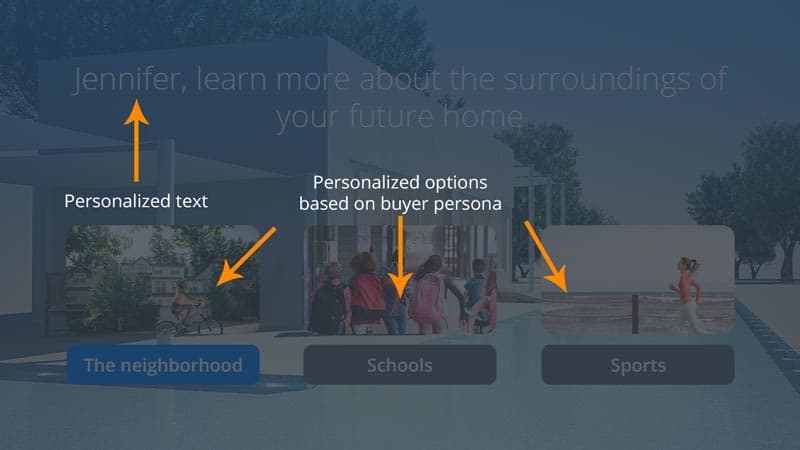 7 Mistakes You Want to Avoid When You Make Personalized Videos
Time and resources. Creating a personalized marketing campaign that makes sense takes time. However, on many occasions, organizations make a decision late in the process and manage times that are not realistic with respect to their campaign objectives. The average time to launch a campaign is 1 month.
Lack of strategy. The strategy is the most critical aspect of any successful personalized video program. Take the time to analyze your goals and target audience. Define how this impacts content and technical execution.
Irrelevant messages. You can create personalized messages and still be totally irrelevant to your lead's needs, context, and concerns of your target audience. Use augmented buyer personas. Watch this video to learn more about this.
Wrong distribution. Most organizations use email to communicate with their leads and customers. Here is the bad news: If your opening rates are horrible, chances are that a campaign with personalized multimedia content won't do that much. First, you would have to build some trust and engagement. Optimize distribution and choose the right channel according to the audience.
Wrong data. We have "the power" to create hundreds of thousands of personalized videos, landing pages, calls to action, and more automatically. But this power equals the power of making mistakes at scale.
Lack of retargeting and remarketing. Always, always, always make sure to create follow-up stages or campaigns based on user behavior.
Wrong cost structure. Choosing personalized video software doesn't always come down to the price. A few factors go into the pricing of personalized videos. Read this article to learn more about how to understand personalized video software pricing. It will help you choose what fits your needs.
Conclusion
Upgrading your marketing efforts with personalized videos can become a powerful marketing tool. Nevertheless, organizations that succeed with video personalization have these characteristics in common.
These brands are clear about their goals and KPIs. Thus, from these KPIs, they define a strategy that streamlines the editing process, post-production, and the successful launch of the personalization initiative with video.
These details allow them to allocate resources, validate ROI, and scale. So, more than a marketing and customer experience trend, they strategically use personalized videos to boost customer engagement and sales conversions.
Dynamic video software like Pirsonal helps organizations save time, resources, and money. Through a SaaS platform and optional Professional Services, brands can launch a personalized video initiative in no time. Anyone within your team can manage the software, from developers to people with no creative skills.
Try Pirsonal free today, or get in touch to request a free consultation. We are here to help you engage with your saturated audience, one individual at a time, and automatically.