Marketing automation helps businesses interact with buyers throughout the customer lifetime. This is why more businesses have good reasons to start with it. However, many organizations think that automation makes their marketing communications cold. This is why I decided to investigate if marketing automation can help businesses be customer-centric.
In my analysis of different market reports, I found that the efficiency marketing automation provides can help businesses become customer-centric when they personalize the customer's journey and messages. This is seen as a key factor in the growth of companies. It also shows their ability to better meet customer needs, instead of focusing on performing tasks.
In this article, you'll learn how to build a customer-centric marketing automation strategy. You'll learn specific personalized marketing techniques that you can apply to your marketing automation strategy so that it becomes customer-centric, no matter the size of your audience or the software you use.
What Does Customer-Centric Mean?
Consumer-centric simply means that the needs and wants of the consumer are always the number one priority. This applies to anything from marketing automation to customer service and support. A customer-centric organization always keeps the consumer in mind and works to make sure they become loyal customers.
Similarly, a customer-centric business focuses on customer experience and long-term engagement. For example, a customer-centric business might create a loyalty program to reward loyal customers for their continued business.
With marketing automation, a customer-centric approach can result in persistent customer relationships and higher levels of customer satisfaction. Marketing automation facilitates this with timely, relevant touch-points across the customer journey.
Wondering about the difference between customer-centric and consumer-centric? The customer is the one who makes the purchase decision, and the consumer is the one who actually uses it. Sometimes it can be both!
Customer Centricity Stats For Automated Marketing
Benefits Of Marketing Automation For Customer Centricity Culture
In customer-centricity culture, marketing automation can bring many benefits. First, marketing automation can help you target customers more effectively. By using data from your customer relationships, you can create targeted marketing campaigns and workflows that are more likely to resonate with current customers.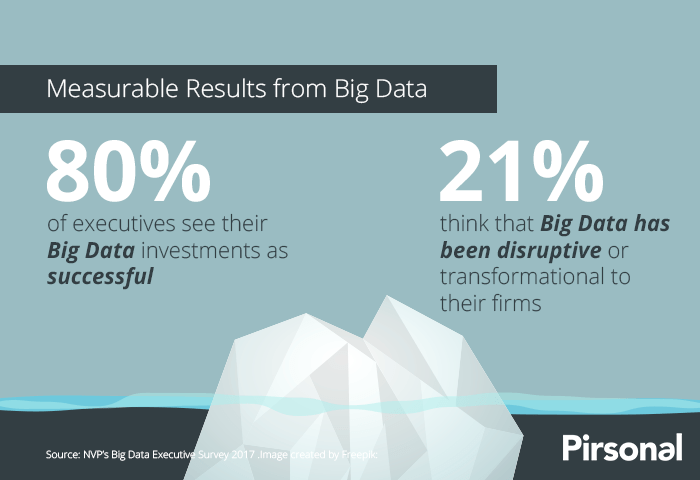 Second, marketing automation can help you save time. By automating repetitive tasks, you can free up time to focus on more strategic tasks. In return, this helps you allocate more time and resources to customer satisfaction. But it also helps you free up resources to scale lead engagement across different channels.
Third, marketing automation software helps businesses personalize messages at scale. This goes from video personalization to uplifting customer loyalty to email marketing automation. Thus, organizations can provide relevancy through tailored messages that help first-time customers become loyal customers.
The Importance Of Being Customer-centric Across The Customer Journey
A personalized customer experience is the new competitive battleground. In order to win and increase customer retention rates, businesses need to be customer-centric across the entire customer lifecycle. A customer-centric company needs to put itself in its customers' shoes and see the world through their eyes. Only then can they design meaningful experiences that meet and exceed customer expectations.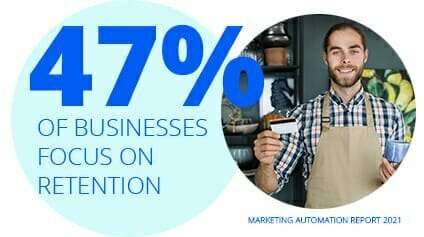 The benefits of being customer-centric are clear, especially for organizations with a customer relationship management (CRM) strategy. Businesses that are able to create a seamless, holistic customer experience are more likely to retain customers and grow their business.
However, creating a customer-centric business is no easy feat. It requires a complete overhaul of the way businesses operate and how the customer base thinks.
Hence, every single employee needs to be aligned with the company's customer experience goals. Only then can businesses hope to deliver a consistently positive customer experience at every touchpoint.
The Role Of Personalization In Customer-centric Marketing
Personalization is a key component of any successful customer-centric marketing. In fact, 73% of consumers expect a personalized digital marketing experience. With personalization, businesses create a more tailored and customized experience for their customers.
This can lead to higher satisfaction levels and repeat business. Additionally, personalization can help businesses to stand out from their competitors who may not be offering such a personalized experience.
As a matter of fact, the success rate of selling to a customer you already have is 60-70%, while the success rate of selling to a new customer is 5-20%. This is one of the main reasons why brands need to work on the relationship with valuable customers with personal messages that build trust.
In order to show that you are customer-centric using marketing personalization, you need to be able to target your audience with laser precision and serve them content that is relevant to their specific needs and interests.
With marketing automation, this could be done through segmenting your email list, tailoring your social media posts, or creating targeted dynamic ads. No matter what method you use, the key is to make sure that you are always putting your customers first and giving them what they want, aligned with your business goals.
Types Of Content Brands Can Personalize Across The Customer Lifecycle
With personalization and marketing automation platforms, you can improve your customer relationship. These are some types of content you can personalize with marketing automation tools across the customer lifecycle: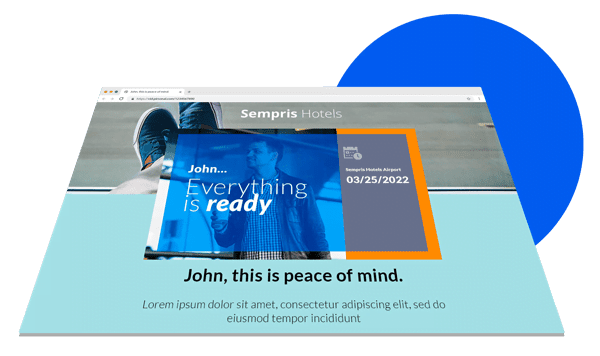 Videos
Images
Calls-to-action (CTAs)
Emails
Landing pages
Websites
Direct mail
Audio with voiceover (TTS or recorded by a human)
Music / Soundtracks
Banners
Ads in any format (TV, display, …)
Documents (PowerPoint, PDFs, …)
Content marketing (blogs posts, …)
And more.
Creating A Personalized Marketing Map To Support Your Customer-centric Automated Marketing
Most businesses understand the importance of customer-centricity and personalization, but few know how to properly implement these strategies.
This is why I created an easy framework that helps businesses explore personalization opportunities throughout the customer's lifecycle.
I call this framework the personalized marketing map. It takes into account the following aspects:
The customer journey, as well as the marketing or sales funnel.
The individual's goals at each stage.
Your organization's goals at each stage.
The information the customer provides at every stage.
The communication channel customers use at every stage.
The type of personalized message that is a better fit for that particular individual at each stage.
The following image shows the personalized marketing map: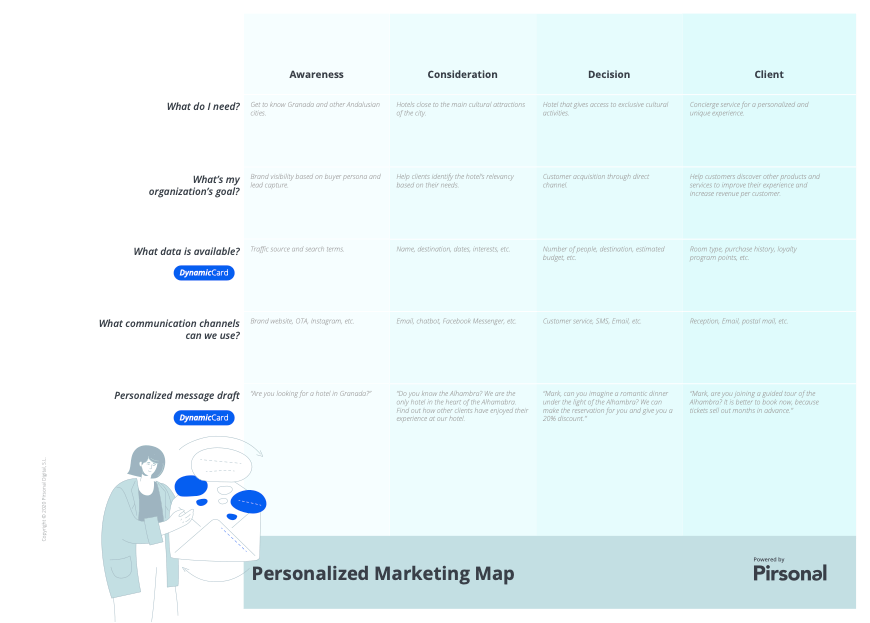 The personalized marketing map is a creative and strategic exercise. It helps marketers understand customer interactions and how to use personalization to make people take action based on their needs and the organization's goals.
With the help of marketing technology, businesses can efficiently manage customer relationships. Brands can then personalize the different touchpoints that add value to the relationship to help customers succeed. For example, to welcome new customers with personalization.
Example Of A Customer-Focused Brands That Automate Personalized Video
Personalized video marketing is helping brands increase engagement and sales across the customer lifecycle. Hence, it is one of the main applications of customer-focused marketing with automation.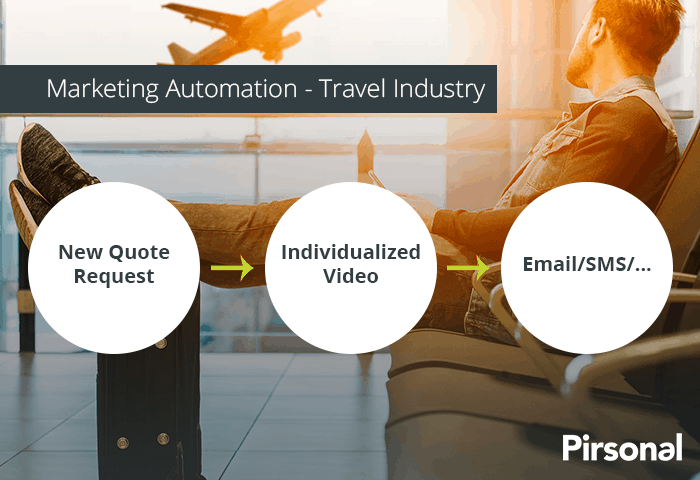 Flight Centre Travel Group accelerates its engagement process with video personalization and dynamic landing pages. Whenever a lead requests information, a personalized video is sent to the lead by email. To make this possible, they use Pirsonal's video personalization platform.
Whenever a lead requests information, a sales agent submits a web form. This triggers the creation of the video. Within seconds the video is ready and then the email marketing automation tool sends an email with the video to the potential customer.
The following image shows some of the personalization tags from the variable data video.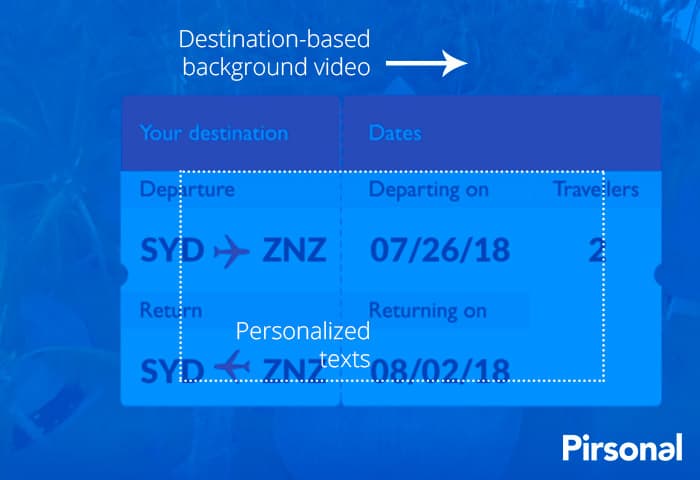 BMW Financial Services uses personalized videos to help new customers understand the terms of their contract. With this, they reduce friction and churn. At the same time, they improve customer satisfaction and lifetime value.
In the videos, they personalize the name of the customer, but media content like images, video clips, and audio. The following image highlights some of the variable data fields.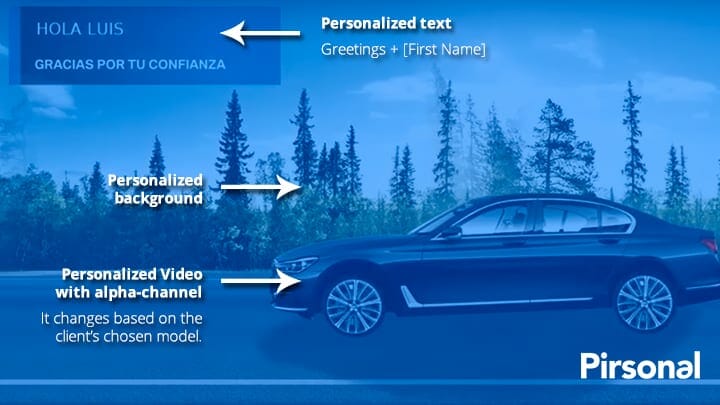 On a weekly basis, the bank onboards new clients. In the onboarding message, they automatically add a personalized video, either by email or SMS.
In a similar way, fitness leader Zumba also uses Pirsonal's personalized video software to support its marketing efforts. To help instructors market their class globally, they made over 600,000 of minutes of personalized videos. Each personalized video features the instructor's information.
These videos are also sent by email. Moreover, the brand improves its relations with its customers (instructors), provides powerful marketing collateral, and generates new revenue.
How Do You Show Customer-centric?
Just like the popular song "love is a verb", organizations should make customer-centricity a verb. This is how customers can see customer-centricity in action. Then, marketing automation software will help them execute that vision.
These are some critical ways your business can show customer-centricity in action:
Use recurring customer surveys to constantly understand the customers' needs.
Identify where customers churn with analytics.
Talk to customers that have churned to learn from your mistakes and find value proposition opportunities.
Map the customer journey based on segments and personas.
Gather customer data across the customer journey to know more about your granular audience.
Define marketing segments and use localization to adapt to their needs.
Create buyer personas to serve clients based on common needs.
Go beyond the buyer persona with augmented buyer personas to serve individuals based on specific needs.
Larger organizations should focus more on customer retention.
Create personalized content strategically across the customer's journey.
Incorporate marketing technology to support operations.
Businesses that show a customer-centric approach, are always willing to go the extra mile to ensure that the customer is happy. At the same time, this attracts prospective customers, which is one of the key benefits of this culture.
A customer-centric business will always be looking for ways to improve the customer experience and make it easier for customers to do business with them. They will also go out of their way to build relationships with their customers and really understand their needs.
Why Businesses Need Customer-centric Marketing Automation Strategy
If you're not careful, marketing automation can hurt your customer relationship. This is why it is vital to first understand the type of interactions your customer base needs at every stage of the journey. And then establish how technology can help you serve them better through automation.
Businesses need a customer-centric marketing automation strategy in order to create long-term relationships with their customers. By understanding their customers better and providing them with personalized content, businesses can keep their customers engaged and excited about their products or services.
In the end, marketing automation can help businesses to personalize the touchpoints and messaging across the customer lifecycle. As a result, this makes the customer experience more seamless and tailored to the needs of granular audiences.
When businesses understand the customer journeys and use data to inform decisions and create relevant messages, businesses create a more personalized experience that builds loyalty and keeps customers coming back.
The Role Of Artificial Intelligence
Marketing automation and artificial intelligence (AI) can help you manage complex customer journeys at scale. Larget organizations often benefit from this. However, AI is more and more accessible in the market.
The potential of AI is vast, and its capabilities are constantly expanding. With AI, you can go beyond simple automation and get a deeper understanding of your customers to create truly personalized experiences.
You can use data to anticipate their needs and deliver the right message at the right time. Thus, AI can help you create more efficient processes and optimize your marketing campaigns to maximize ROI. By leveraging the power of AI, you can stay ahead of the competition and deliver the best possible experience to your customers.
How Do You Build A Customer-centric Approach To Marketing Automation?
You can build a customer-centric approach with marketing automation in a few ways. Firstly, identify your target audience and what they want or need. Once you know this, create relevant and targeted content that will speak to them through tailored long-term touchpoints.
It's also important to segment your audience, so you can understand how to connect with them. Finally, track and measure your results, so you can continue to improve your customer-centric approach.
There are a few key ways to focus on customers when it comes to marketing automation. First, knowing who the customer is and targeting them specifically is key. Second, making sure the customer is always at the forefront of decision-making is crucial.
Other important customer-focused behaviors in marketing automation include always being responsive to customer questions and issues, being proactive in offering solutions and help, and making it easy for customers to do business with you. Automating marketing tasks can help free up time to focus on these important behaviors that will keep customers coming back.
Conclusion
In conclusion, video marketing automation can help brands become customer-centric. With the help of software and tools, it makes it easier to collect customer data and segment customers. By segmenting customers, brands can create personalized marketing campaigns that are relevant to each customer.
In addition, marketing automation helps brands track the results of their marketing campaigns and make adjustments accordingly.
Marketing and customer experience should be customer-centric in order to build long-term relationships with customers. By understanding customer needs and wants, businesses can tailor the experience that will keep customers coming back.
Businesses should invest in marketing teams that have a customer-centric mindset. These skills give them the ability to anticipate customer needs and exceed their expectations. It is about creating a relationship with customers based on trust and mutual respect.
Most brands understand that they need to personalize their communications to drive customer engagement. However, they don't know where to start.
At Pirsonal, we help you make your saturated audience take action with a specialized consultancy and with personalized video marketing and software that adapts to your game. Contact us now to analyze your needs and help you win! Or request a free trial now!