This has been a really exciting year for my team, not without challenges. As a marketing technology (martech) company, we created Pirsonal to help companies accelerate sales and increase engagement by evoking a reaction from their segmented, individualized audiences. We empower the marketing communications for companies like Mitsubishi, Zumba or FlightCentre with relevant 1 to 1 messages.
We believe that multimedia and marketing automation have the power to do this in the most effective way, simply because that's what we all understand. Making this accessible to any organization around the globe is one of our next steps, and this affects absolutely everything we do or plan to do.
I know, there is a lot of "we" in just two paragraphs. This is because I'm proud of my team.
Driving sales and customer engagement through personalized videos marketing is not as easy as it sounds. It requires experience, the right technology partner, and platform. It also implies being creative and understanding how marketing automation works. This is why our partners choose us.
But it is not only about the videos or even about our technology. If you and I have spoken before, chances are that you've heard this from me. It seems contradictory coming from the CEO of a company that has just been recognized as one of the top 10 martech startups that are impacting the industry thanks to its personalized video platform, but it is not.
My team and I believe in integrated marketing communication strategies, that use the right message created for the right individual at the right time. Sometimes this will be powered by our personalized video technology, but sometimes it will be just an SMS or an animated gift automatically extracted from the personalized video or by a dynamic call to action within a personalized landing page. Or even just a call.
As I usually say…
Whatever it takes to evoke a reaction from an individual according to your business goals.
Pirsonal – A Top Martech Company
Marketing Tech Outlook has chosen Pirsonal as one of the main marketing technology companies in 2018. The Magazine reaches out to 41,000 marketing executives, mostly in the US. They keep the readers abreast of the recent trends in the marketing industry and profound insights of the changing industries from the CMO's of various companies.
Pirsonal was selected by a distinguished panel of CEOs, CIOs, VCs, industry analysts, as well as Marketing Tech Outlook's editorial board. Our company was recognized as a leading marketing personalization technology firm, based on a track record of innovative technology solutions.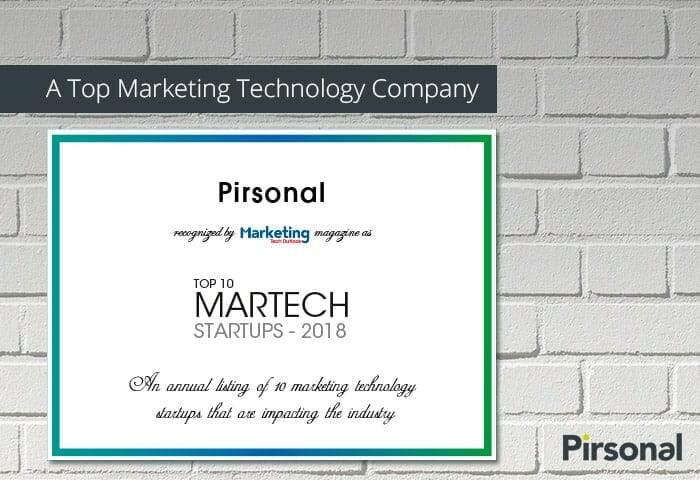 It serves as an information guide to the changing scenarios of the market with the introduction of the novel innovative technology and solutions for CMO's and other C-suite. And it makes sense. Marketing technology has drastically changed in the last decade. It has because people like you and I have also changed. And guess what? It will continue to change a lot more in a way we can't even imagine yet.
At Pirsonal we've understood this. This is why and we've made our mission to evoke a reaction from our clients' segmented, individualized audiences. I'm pretty sure the way we successfully do it now will change in a few years. Why? Because people change. We want to become the world's leading company that helps other companies better connect with their audiences making them happier, while we bless our team, families, stakeholders, and society wherever we are. The only way to get there is by loving what we do, loving others and being excellent as a team, company and individually.
Other Companies From the Top 10 Martech Startup – 2018
Besides Pirsonal, another 9 companies were also selected. Here you can find the magazine link and here is the list of these martech companies:
engageSimply: Fuses the science of real-time intent topic targeting and contextual programmatic technology to deliver a platform that lets advertisers deploy acquisition marketing at scale.
Jabmo: Offers solutions and services that capture anonymous buying activity and execute personalized account-based marketing.
Keyper Marketing: Delivers a platform to help generate new customers through digital marketing at a healthy ROI.
Native Ads: A content discovery and in-stream native advertising platform that facilitates the native ad buying and selling process for publishers and advertisers at scale across websites, mobile web, and apps.
PowerPost: An enterprise-level publishing platform that streamlines content marketing and turns brands into Power Publishers.
Prism Global Marketing Solutions: Develops solutions to create marketing and sales campaigns for driving awareness, engaging customer, and improving leads.
Signalayer: Offers a cloud-based engagement optimization platform to help brands create engaging marketing experiences for their customers by enhancing UX.
Streampage: Provides automated marketing solutions to create strong real-life relationships and boost growth for small businesses.
TextWik: A powerful SaaS provider of innovative cloud communications SMS, MMS, Voice messaging and integrated Email marketing software to organizations of all sizes to easily capture more leads, connect and engage with their customers on the mobile channel.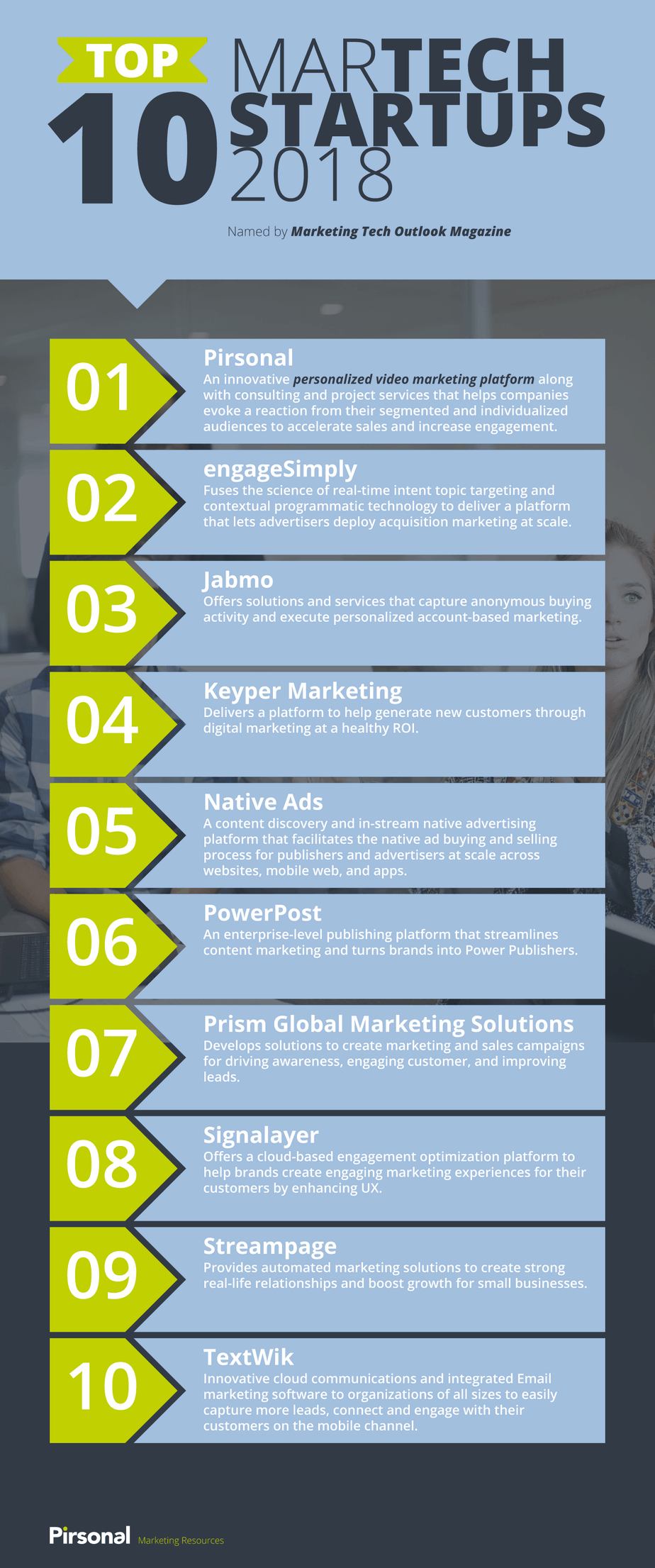 Martech Market Size
Did you know that 85% of marketers use an email tool? Yes, that's martech too. The majority also use social media and CRM tools, whereas experience optimization and collaboration tools are currently used by around a third (37%).
Last year, a research conducted by Moore Stephens and WARC valued the UK & US martech market at a combined worth of $34.3bn a year. This research indicates that martech use in the UK and US is set to grow by 10% over the next year. This tells me that we operate in a strong industry that is continually consolidating and diversifying. In general, brands expect martech budgets to increase by 10% over the next 12 months. Another surprising aspect of the martech market is that 50% of brands don't have the tools they need. Driven by a wealth of consumer data and the fast-paced, real-time nature of marketing like, for example, with personalized video marketing, and consumer purchase decision-making, martech tools are optimizing and automating the delivery of marketing messages at scale.
The marketing technology market has grown at a phenomenal rate over the past few years as marketers are required to do more, at a faster pace, than ever before. Tools that can assist or automate parts of this job are on high demand, especially as the evidence for their return on investment grows.
Amy Rodgers, Research Editor, WARC
I'm pretty excited and grateful for what comes next, God willing. If you want to know more about what we do at Pirsonal and how, please feel free to reach out. We'll be happy to help.