Localized digital marketing has become increasingly important, especially among brands with a strong presence through social channels.
In the majority of social platforms, video is king. However, marketers are concerned about the time and resources they need to consistently produce high-quality video content. Even more when this content needs to promote brand awareness and boost audience engagement within local communities.
This concern increases, especially as companies with a global outreach target specific locations. As studies show, customers want personalized and engaging experiences that align with brand standards.
Creating this type of video content requires innovation and creativity to effectively engage with target audiences in different locations. Therefore, brands need to create personalized, attention-grabbing video content in a fast, scalable, and cost-efficient way.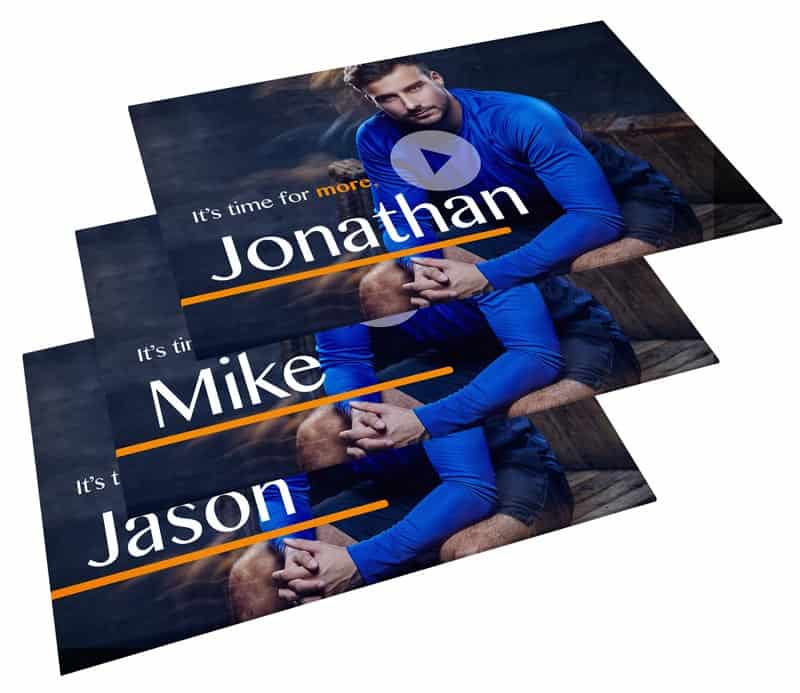 Today, you'll learn how marketers can use video automation and personalization in their localized digital marketing. I'll guide you through how the global fitness brand Zumba used localized, personalized videos to engage with a global audience in seven languages.
I'll cover this from a strategy and execution standpoint. This way, you'll clearly understand how a successful personalized video marketing strategy is articulated and executed. In this case, as part of a localized marketing strategy.
You'll discover how they raised brand awareness, delivered top-notch personalized video content to 30,000 instructors, and boosted website traffic with branded videos created in bulk.
What's localized digital marketing
Localized digital marketing is a marketing strategy that focuses on targeting specific geographic areas or local communities via digital channels such as social media, email, WhatsApp, and search engine optimization.
This approach aims to connect with potential, local customers by tailoring marketing messages and promotions to their unique needs and preferences.
These needs are often related to the culture of the local audience. Every country, city, and even town has different ways of doing things.
Even different perceptions and values.
For example, I've lived in Panama, Costa Rica, Morocco, and Spain. In my family, there is a bit of everything. Spanish, Mexican, Moroccan, Panamanian, and US blood.
In general, I can clearly see the difference in cultures and how this impact the way companies should target their local audiences, wherever they are.
This has become increasingly easier through digital channels, because there are no geographical barriers, because you can target individuals wherever they are.
You see this quite a lot when you analyze the way companies in the US or in Spain target people that leave in those countries but are originally from Latinoamerica.
Each one of us has a different background and context. As consumers, we all value different things.
This has a direct impact in the way local audiences perceive marketing messages. This also means you should take it into account when crafting marketing campaigns for a particular market, or all of them.
As a result, digital marketing that is tailored to specific geographic areas or local communities can be more effective than other strategies. It allows businesses to customize their messages based on certain cultural factors.
Businesses can drive engagement and sales by creating targeted campaigns that resonate with local consumers through understanding their unique needs, preferences, and behaviors.
Why localized digital marketing is important to global brands?
Global brands target individuals that in one or another way are part of local markets. Localized digital marketing is more effective than traditional mass media advertising because it allows businesses to tailor their content to specific customers, delivering personalized messages that address their unique culture, interests, and needs.
This can lead to higher conversion rates and return on investment (ROI) for businesses. Even better, digital localization can help brands get a better return on ad spend (ROAS).
Moreover, the rise of mobile devices and location-based services has made localized digital marketing even more effective.
Mobile devices allow businesses to send personalized push notifications to customers when they're near their stores, creating urgency and increasing foot traffic and sales.
Localized digital marketing is an effective way for businesses to engage their target audience, and increase brand awareness, customer loyalty, and sales.
For example, as you'll see in the case study below, a global fitness brand can use localized digital marketing to target customers in different regions by creating region-specific social media campaigns.
They can also use targeted email marketing to promote membership discounts or personalized fitness plans based on the needs of the local community.
Additionally, the brand could optimize its website and local business listings for local search terms to increase visibility in the area.
Overall, localized digital marketing is an effective way to reach and build personal connections with customers and can boost brand awareness, customer loyalty, and sales.
Why personalization is no longer optional in a digital localization strategy
To increase audience engagement as part of a digital localization strategy, personalization is key. Why? A report by Accenture, "The Rise of the Hyper-Relevant CMO," reveals that 72% of consumers expect personalized marketing messages from brands that meet their specific preferences and needs.
In fact, 24% of organizations prioritized personas, targeting, and/or personalization in 2022 according to the State of Digital Customer Experience Report 2023. This brings serious opportunities to marketers that want to localize their digital marketing.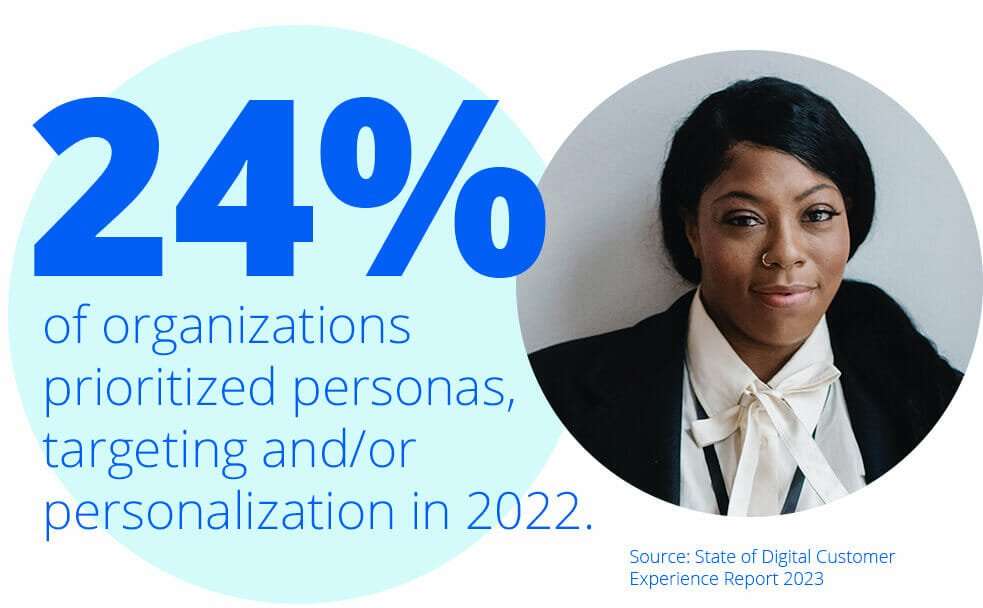 This means that your potential customers will probably ignore any message that is not truly relevant to their needs. This is why personalized and localized digital marketing strategies with engaging content are no longer optional.
Both innovative strategies are essential for companies to remain competitive and to target audiences that are constantly bombarded with irrelevant media content wherever they go.
Most companies struggle with creating localized, engaging content that builds brand awareness, keeps their target audience interested, and prompts action.
One reason this occurs is that the content is intended for a broad, not local, audience.
Companies that fail to adapt to this trend risk losing potential customers to competitors who offer more tailored and relevant messaging across digital channels.
As I mentioned earlier, when talking about engaging audiences through digital content, we all know video is king. From explainer videos to video ads, a strong digital localization strategy goes hand in hand with a video marketing strategy.
The latest trend in video marketing takes content relevancy into account so that viewers not only pay attention but also act. This is what personalized videos do.
Resource: Creating a successful personalized marketing campaign
What's a personalized video
Personalized or data-driven videos are videos automatically created for customers using structured data. Most brands personalize information like the name of the customer, but depending on the video personalization software, every aspect of the video can be personalized.
This is possible thanks to templates. These templates have what we call dynamic fields or layers. Similar to what merge tags are in email marketing. These dynamic fields can be images, text, video clips, audio content, and more. However, conceptualizing and designing the elements for a data-driven video requires a different mindset.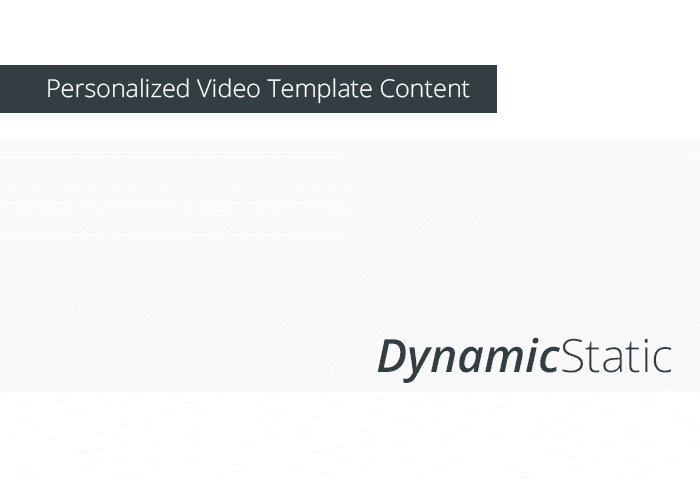 Personalized videos allow brands to connect with audiences on a more personal level. At the same time, with data-driven videos brands can stand out from the competition by creating a unique and customized experience for viewers.
There are many ways brands can use customer data to create personalized messages. Here is an example of a personalized video:
There are many ways brands can do personalized video marketing. I created a full guide about personalized video marketing loaded with examples, case studies, and strategies that will inspire your team. Make sure to read it to learn how to connect with your segmented audience with 1-to-1 videos.
The majority of marketers use video to build brand recognition and engage with specific audiences. It is the type of content with the highest engagement. But, when compared to other types of content, video creation can be complex, tedious, and slow.
While video can be the most engaging content for audiences, marketers often struggle with using it for localized marketing across various digital channels.
But it doesn't have to be that way.
Brands can easily tailor videos to specific target audiences, just like they do with text and image personalization in email marketing campaigns. This is possible with a flexible personalized video platform that adapts to any campaign workflow.
This is one of the reasons why video personalization has become one of the main video marketing trends marketers are paying attention to, along with AI videos and interactive videos.
They can then share these videos through various channels, such as social media platforms (Facebook, Twitter, YouTube, and more) and direct messaging services (email, WhatsApp, SMS, and more).
If you are curious about how to create personalized emails that work, watch the following video now:
Let's now cover why using video in your next localized digital marketing initiative. This will also help you understand in more detail why Zumba succeeded with its localization marketing with personalized videos.
Case Study: Direct Mail Response Rate Went Up By 500%
6 reasons brands should use video in localized digital marketing
A good video marketing strategy is often considered to have one of the highest returns on investment (ROI) compared to other marketing efforts. A well-crafted strategy simply pays back.
A HubSpot study shows that video is the most captivating content type on all social media platforms. And 54% of followers crave more of it from brands.
Additionally, according to a report by Wyzowl, 84% of consumers have been convinced to make a purchase after watching a brand's video.
The same organization found that 94% of marketers say video helps customers better understand products and services.
Why video generates high returns in digital localization marketing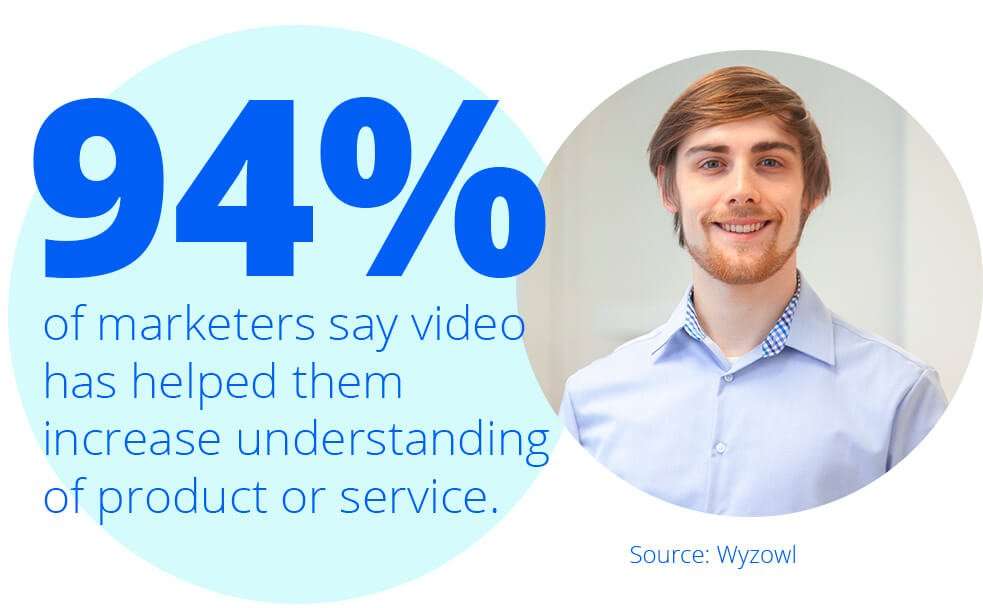 Therefore, it is safe to say that video is an effective type of content for generating high returns for brands for the following reasons:
Video is an effective form of content that can capture and maintain viewer attention more than text or images.
Videos are versatile and can serve various purposes like demoing products, and promoting brands and can be shared across social media, WhatsApp, email, and websites.
Video can be personalized. Personalized videos can be automatically created for specific audiences, which can increase engagement and lead to higher conversion rates than generic videos. Why personalize videos for customers? Personalized videos deliver higher view-through rates (around 80%) when compared to generic videos (around 50%).
Videos are easily shared on social media, expanding brand reach and driving traffic to a company's online presence.
Using videos to drive conversions, like signing up for a newsletter or buying a product, is possible by incorporating interactive calls to action while highlighting product features and benefits.
Video is the only digital content that combines the four dimensions of the customer experience, which is one of the reasons why it is so effective.
If you want to know more about the role of video in the four dimensions of the customer experience (CX),  I have good news for you. I wrote a full analysis of the importance of video in CX.
Be sure to check it out and discover what type of video helps achieve your marketing objectives as per audience requirements at each stage of their journey.
I have spent the last ten years assisting B2B and B2C organizations, like Nascar, Papa John's, and BMW Financial Services, to connect with their different audience segments through scalable videos, and know they initially faced similar challenges.
The most attractive content type across all audiences also comes with its challenges that I'll briefly explain from three perspectives.
Guide: How to personalize the customer experience?
7 video creation challenges in localized digital marketing
From a production perspective, producing consistent, high-quality video content is a challenge for brand and marketing teams due to the considerable time and resources required.
From a content perspective, even more, when talking about video, language localization and personalization are even greater challenges. The content needs to resonate with their target, local audience.
From a brand perspective, global brands require strong brand recognition across all channels. Brand teams also need to deliver a unified experience across all markets as their brand is a crucial asset.
This is, in fact, one of the key challenges of user-generated content (UGC) when used as part of a brand strategy.
As a result, many marketers avoid the challenge of combining production, scalable video creation, and brand standards, even though video has the highest engagement rates across all audiences.
Overall, video creation at scale is a common pain point for video marketers as well, and many are actively seeking solutions and best practices to address this challenge.
Case Study: Scaling media production with automation
Bulk video creation challenges for video marketers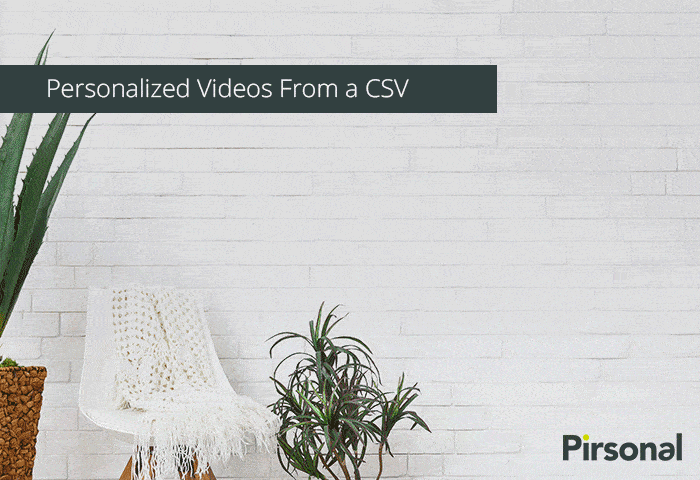 Based on my experience, research, and conversations with brands and agencies, here are the top 7 challenges that marketers and video creators encounter when manually producing high-quality videos in bulk:
Lack of resources: This includes a lack of budget, time, skilled personnel, equipment, and technology.
Maintaining brand consistency: With the increase in the number of videos created, maintaining brand consistency becomes a challenge. Ensuring that each video aligns with the brand's messaging, tone, and values can be difficult.
Producing engaging content: Creating videos that can capture and maintain the audience's attention is challenging, especially with the increase in competition.
Meeting production deadlines: Creating videos at scale comes with strict deadlines, and meeting these deadlines can be a challenge, especially when working with external partners.
Balancing quality and quantity: The pressure to create a high volume of videos can lead to a compromise on quality.
Adapting to various platforms and devices: Videos need to be optimized for different devices and platforms, which can require additional resources.
Measuring ROI: Measuring the effectiveness and ROI of video content can be challenging, especially for brand campaigns in localized digital marketing.
But as I mentioned earlier, it doesn't have to be like this.
You can boost audience engagement, raise brand awareness, and stimulate local action with bulk video creation. To do this, you need to think creatively, have a solid strategy, and choose the right platform and tools to automate video creation in marketing.
How to use video and personalization in your digital localization strategy
In digital localization marketing, there are many strategic ways you can use video to engage with viewers across the customer journey. Not every type of video works the same way.
If we are talking about localized marketing and personalization, it also means that you need to pay close attention to the type of videos your potential customers need so that they perform the particular actions your organization expects.
These actions differ depending on the stage of the funnel and buying cycle. In general, in marketing, these are the stages:
Awareness.
Consideration.
Decision.
Purchase.
And then, it goes back to any of these stages depending on the lifetime value (LTV) and customer engagement strategy.
So, how can you know what type of video you should use at every stage?
To make this easier, I developed a marketing framework you can also use in your localization strategy. It's called a personalized marketing map.
A personalized marketing map is a tool we use to help brands know and visualize the type of personalized customer interactions and pieces of content an audience should see in order to take action.
In the following video, I explain this concept in detail. Watch it now to learn how to use video strategically in every stage of the customer journey and/or funnel.
In the PDF below you'll find an example of a personalized marketing map and how to use video across the journey. It is based on a hotel since it is something we all can relate to.
Take a look at it and keep reading to understand how this is connected to the strategy followed by Zumba.
As you can see in the PDF above, the personalized marketing map takes into account the following aspects of your marketing:
The marketing or sales cycle (awareness, consideration, decision, purchase—and the loops continues).
The customer data you have access to at each stage.
The type of content that better fits the user's needs based on the four dimensions of the customer experience. In this case, I focus on the types of videos that better perform at every stage.
Your business goals at every stage.
The customer's goals and context at every stage. Your customer's goals are directly related to the type of content they need to consume in order to continue the conversation with your brand.
When you use this personalized marketing map, you can ensure that your digital localized marketing efforts are focused and effective. You also ensure that you are reaching your target consumers.
This type of marketing strategy can be used for both online and offline personalized marketing initiatives and can be customized to fit your unique needs.
Now, let's see how Zumba's brand and marketing team succeeded even though they faced the same challenges.
Zumba's 30,000 personalized video success story: The Power of branded video, personalization, and localized digital marketing [Case Study]
Zumba was created by a Colombian dancer and choreographer, Alberto "Beto" Perez, in the 1990s.
Although the program was initially targeted toward fitness instructors and gyms, it soon gained popularity among consumers seeking a lively and exciting workout.
Zumba is now a worldwide fitness phenomenon and brand, with classes in 180+ countries led by thousands of instructors and participated by millions of people.
This growth is thanks to their popularity online and the presence of certified instructors in local markets across the globe.
In a sense, every instructor has their own following and community. And at that time they had more than 30,000 certified instructors for one of their brands across seven languages.
Their audience consumes video content online all the time, which has helped them build a global brand that everyone recognizes.
A global brand with strong audience engagement in local markets through certified instructors
Zumba is a global brand that has achieved remarkable success by building strong brand recognition through local markets. They understand that local instructors are key to their success.
These instructors are like brand ambassadors who interact with their local audiences wherever they are, representing the Zumba brand.
The stronger the Zumba brand is, the more engaged the audience of every instructor becomes.
This builds a bigger, loyal customer base that is passionate about the Zumba brand, no matter where they are in the world.
Through this approach, Zumba has been able to create a strong global presence while maintaining a local touch in each market through certified instructors.
This is why the brand concentrates on giving instructors marketing and promotional materials to connect with their local audience across physical and digital channels.
Using branded video in localization marketing to drive web traffic and conversions
Zumba understood that using video in their localization marketing strategy could help them achieve three of their marketing and brand goals.
First, video could help them raise brand awareness while performing display ad campaigns so that conversions to their website increase.
Second, instructors need quality marketing content, and educational online video content has a high perception for them and their audiences. And, in digital, there is nothing better than video to do this.
Third, the instructors' audience has a strong desire to learn more through video content that keeps them both entertained and engaged. For instance, the audiences are big social video consumers.
By combining these three goals, Zumba could boost marketing and advertising conversions, driving more website traffic and helping potential clients find local instructors.
Guide: Using personalized videos in the customer journey
A diverse audience needs a smooth branded video experience
Zumba had two types of audiences for this online video marketing campaign. Both audiences needed a unique experience through online video.
First, their certified instructors. This audience needs high-value marketing content that keeps them engaged, helps them attract new clients, and raises brand awareness through branded, educational content.
Second, the instructors' audiences. These are the instructors' customers in their respective local markets. These customers learn from the instructor while at the same time are big advocates of the brand, attracting new customers through their local network.
Both audiences, facilitators, and trainees, consume video on a daily basis.
Many people use social media platforms like YouTube, Facebook, and Twitter to communicate, and some also use personal messaging platforms like WhatsApp, especially in regions like Latin America, Asia, and Europe.
Zumba had to find a unique approach to engaging both audiences through visually stunning content that accurately represented the brand and kept engagement levels high.
Creating branded video content at scale without the manual editing
As you've learned, in modern digital marketing, localization and personalization go hand in hand. This also applies to video marketing.
This is why Zumba needed to personalize videos for instructors so that they could achieve higher campaign and brand engagement.
If generic videos already offer higher engagement rates when compared to other types of content, personalized videos are around 116% more effective than generic videos.
Both, in terms of video views because they are targeted but also in terms of click-through rates because personalized calls-to-action are about 200% more effective than generic ones.
Zumba needed to leverage the power of video personalization in its localization marketing game to achieve this type of performance.
As you know by now, Zumba is an extremely visual brand.
They have capitalized on how vivid their brands, audiences, and fitness programs are. This is something their customized videos also needed to express.
Their first campaign with personalized videos needed long-form videos with top-quality training content with global influencers that their audience could easily recognize.
These videos needed to deliver a lot of value to their global, localized audience.
Because of this, the brand team at Zumba realized that a 20-minute Zumba session featuring successful brand ambassadors and fitness experts would be ideal.
However, Zumba didn't have experience creating localized and customized videos in bulk. With thousands of instructors and seven languages to cover, this seemed like a big logistical challenge.
These were the languages they needed to localize in the videos:
English.
Spanish.
French.
German.
Portuguese.
Italian
Korean
A manual process to create video content for thousands of instructors in each language would require a significant amount of time, resources, and effort.
Without an effective video personalization platform, the brand and marketing team would struggle to keep up with the demand for personalized content.
At the same time, they could potentially risk losing the engagement and loyalty of their instructors and their audiences.
A tight deadline requires fast video rendering
Rendering 20 minutes of full HD video content on an average computer or non-optimized cloud could take up to 5 hours. Now, imagine they needed to render 30,000 videos with a 20-minute length each. That's 600,000 minutes of full HD content!
With this scenario, video rendering on average computers or non-optimized servers could take 150,000 hours! That's 6,250 days! There is no way this could be efficient, or even ROI-positive!
But Zumba needed 30,000 videos in a short period of time to accomplish a specific marketing campaign deadline. They needed each instructor to have their own personalized video, and they needed instructors to be able to share it online.
These videos needed to be fully rendered, delivered, and distributed in less than 2 weeks.
If we do the math, 30,000 videos x 20 minutes = 600,000 minutes of videos that needed to be rendered in less than two weeks.
Finding a robust personalized video platform able to render a high volume of videos in bulk
The Zumba marketing team realized that they could leverage software to personalize videos in bulk. However, finding software to personalize videos in bulk can be hard, especially for beginners but even for expert video marketers.
There are many things to take into account when choosing a personalized video platform. For instance:
The number of videos that need to be processed. In this case study, 30,000 videos.
The duration of the videos. Zumba's videos were going to be 20 minutes long.
The rendering speed. The marketing team needed the videos ready in less than two weeks, as this initiative was part of a global marketing campaign.
Security and data protection. To use customer data in videos, brands must comply with strict security and data protection standards to avoid legal repercussions and protect customer privacy.
Professional services. This was this team's first time working with personalized videos. They needed guidance but also a team that could help their customers with any questions.
Distribution. These videos were going to be distributed through Zumba's email marketing tool of choice.
Flexibility. Every marketing team is different. Needs and projects are dynamic. This is why working with a flexible personalized video service is key.
I explain some of these topics in the following video. Watch it now to learn how to choose a personalized video platform and how your needs impact pricing.
Zumba chose Pirsonal's personalized video platform to scale video creation
In my experience, most personalized video platforms are either too limited or too much. They don't adapt to the needs and expertise of most marketing teams and even agencies. As a result, this type of project gets truncated.
The following table describes how Pirsonal compares to other personalized video platforms, including great services like Idomoo and Vidyard. The information comes after analyzing publically available information from Capterra regarding personalized video software.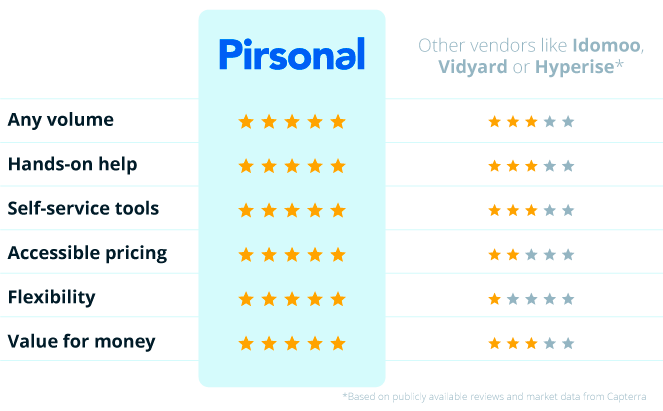 In this case, we adapted to the volume needs the brand had in a limited period of time. We also provided the expert help most teams need to succeed when they start with video personalization.
Their team, for example, didn't have the bandwidth or interest to access our self-service tools. They needed the project executed on their behalf with the content they would provide.
This is why we knew Pirsonal was a good fit for this project.
So we took the time to understand Zumba's needs and came back with a plan that involved two critical parts.
First, the flexibility, scalability, and speed our personalized video platform provides.
Second, our hands-on approach basically complements the needs of our clients depending on the requirements of their projects.
And this is how we helped Zumba build an innovative, creative, and scalable campaign with data-driven video—their way.
Relying on Pirsonal's professional services
Our service team adapted to Zumba's marketing team's needs at all times. To illustrate, we suggested effective tactics for reaching their intended audience through video, boosting video views, and utilizing social media channels to generate website traffic.
While the benefits of video marketing are clear, successfully scaling and implementing a personalized video strategy for optimal campaign performance is a unique challenge.
The majority of our clients didn't have experience with personalized video marketing until they started working with us. At Pirsonal, we understand this well, so we have a hands-on approach that our clients love.
My colleague and I collaborated with their brand director, instructor support, and creative team to ensure a seamless experience tailored to their requirements.
Our operations team worked behind the scenes to ensure the platform scaled properly while our service team created personalized landing pages based on their design specifications.
This way, all assets were brand-compliant at all times.
If you are considering personalized video marketing, watch the following tutorial to learn how to structure a personalized video project from an operations perspective:
By taking care of all these details, the brand and marketing teams at Zumba could focus on other critical aspects of the campaign.
The general workflow was as follows:
Their team designed the video and web assets.
Our team created a custom video template with dynamic fields and landing page CMS.
Their team provided a spreadsheet with the data for the video personalization.
Our team created the videos and landing pages for each instructor from the spreadsheet.
Our team delivered a spreadsheet with the video URLs and relevant metadata.
They launched the campaign from their email marketing tool.
Sending personalized videos to instructors by email
The majority of brands communicate with their leads and customers through email. In fact, most of our clients use email to send personalized videos to customers.
In this case, Zumba chose email to send the videos to their customers. Using video in email marketing campaigns can increase the email open rate as well as the CTR.
Their team designed an attractive, conversion-oriented email. In the email, they placed a video thumbnail that led users to the personalized landing page and video. Below you can see an example of this email.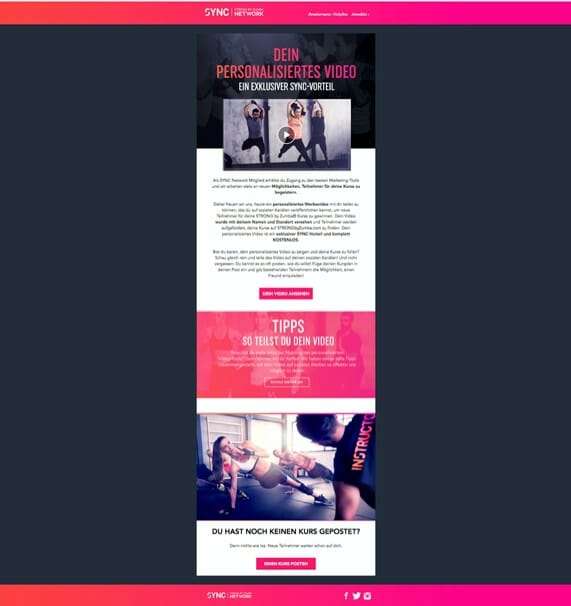 If you want to learn how to use video in your next email marketing campaign to get higher conversion rates, make sure to watch the following tutorial and analysis now.
Resource: How to optimize email marketing campaigns with video
Scaling video production in bulk through a robust cloud infrastructure
Pirsonal's private and secure cloud infrastructure produced 30,000 data-driven videos in under a week, averaging 150 videos per hour, equaling 3,500 minutes of video per hour. Remember that every video was 20 minutes long.
Rendering 600,000 minutes of HD video content is a challenge most video personalization software can't commit to. But Pirsonal's capabilities adapt to any type of processing power based on the needs of our clients.
This was possible thanks to our robust and secure infrastructure, which in this case used our servers in US-based data centers.
This fast video creation and delivery helped them launch on time and wow their two types of audiences.
All videos were hosted by us on their behalf. For this, we used a content delivery network (CDN) so that their distributed audience could have a smooth viewing experience across devices.
Tracking dynamic video analytics with Google Analytics
For B2C brands, tracking analytics with Google is key. The same applies to interactions linked to this creative video campaign.
Even if Pirsonal provides analytics, what made more sense, in this case, was to use Google Analytics with Pirsonal's interactive video player.
This allowed them to learn more about their instructors' audience, the top-performing videos, and how these videos were associated with website and advertising conversions.
I also shared weekly reports to help them understand the impact of this initiative.
Even if every one of the 30,000 videos was tracked and identified, no personal information was ever shared with Google Analytics. This is because Pirsonal only uses anonymous IDs to identify every video, and we never share anything but these IDs in the URL.
For your information, some video personalization alternatives in the market, though, have a different approach we do not recommend.
Some share sensitive information with the merge or dynamic video tags with customer data in the URL. This imposes serious security and data protection issues and damages viewers' trust.
Improving localized advertising engagement with personalized videos
Once the personalized videos were created, Zumba also used the power of online advertising to target their instructors' audiences with ads.
Back to the personalized marketing map I referred to earlier, they strategically used video in the following stages:
Awareness: This approach is unusual for personalized video marketing. However, it worked well because the videos were personalized by the brand to the instructors, and share with the end audience by the instructors. So, the personalized videos were a bridge between the brand and the end audience. The instructors were the bridge that successfully connected both audiences.
Consideration: With personalized videos sent by the instructors to their audiences, they helped potential customers live the Zumba experience through a unique, tailored video.
Decision: With timely personalized videos, a percentage of leads and contacts finalize their buying decision.
At the same time, the brand used online ads. These ads played an important role to elevate the brand and help potential customers access the brand's website.
This way, these audiences received two types of brand impacts. First, the organic one through the instructors' initiative using email, Facebook, Twitter, and the direct personalized landing page link.
Second, through online ads and retargeting.
This helped them build a successful campaign that was followed by other campaigns with personalized videos also with short-form video content.
For those into video advertising, data-driven advertising with dynamic videos offers a great opportunity for brands looking to improve ROAS. These types of ads are really effective because they adapt to specific audience segments, instead of being generic. I wrote an article about dynamic videos with data-driven video ads so that you can learn more about this.
Key Takeaways: A successful localization and personalization campaign with video
Pirsonal's data-driven video automation solution helped Zumba to deliver quality personalized video content to thousands of instructors worldwide.
The scalable and flexible nature of our solution enabled the brand and marketing team to meet tight deadlines, reduce costs and increase efficiency in digital localized marketing.
Pirsonal's hands-on service ensured that the data-driven videos were delivered with quality and personalized touch, even at scale.
By leveraging the power of data-driven content, automation, and cloud technology, Pirsonal's solution enabled Zumba to create 600k minutes of personalized and localized long-form videos in less than a week.
This impressive feat was achieved with the help of Pirsonal's Professional Services and video personalization platform. This enabled Zumba to successfully engage with its global audience in a personalized way, driving more web traffic.
Just like Zumba, your brand and team can leverage the power of localization and video personalization to boost higher audience engagement. We would love to help! Contact us now.
Pirsonal's data-driven video automation solutions provide the flexibility, scalability, robustness, and compliance most marketing teams and agencies need. Pirsonal's hands-on service optionally helps to execute and deliver the solution while making it easier for non-technical teams to use the software at their own pace.