Dynamic video software
Your customers change all the time.

Now, your videos too—dynamically.
Don't force your audience to adapt to your videos. With automated dynamic video software by Pirsonal, now you can make dynamic videos that adapt to your customers—not the other way around. Plus, you get all the help you need to enhance customer experience with dynamic video communications at scale.
Examples of dynamic videos
Take a look at the examples of dynamic videos below. As you can see, a dynamic video is an ever-changing video that adapts to the customer's journey. These videos are automatically made at scale with dynamic video software in close to real-time.
Brands and agencies automatically make dynamic videos with Pirsonal in a simpler, faster, and more scalable way. We walk with you to help you succeed.
Understanding dynamic videos in marketing
What are dynamic videos in marketing?
Dynamic videos are data-driven videos with personalization tags or dynamic placeholders. With these placeholders, you personalize different parts of the video with text, images, video clips, voice-overs, music, vector objects, properties, scenes, and more.
Since different parts of the video change when required, you automatically make videos more dynamic and engaging. The goal is to target specific viewers that are prompted to take action because of the relevance of the video content or to keep the video content up-to-date.
Marketers use these videos in three types of video marketing and advertising strategies:
Real one-to-one marketing communications: Every contact sees a unique video. These unique dynamic videos are sent by email, SMS, WhatsApp, or similar channels to potential buyers and customers. These videos are often powered by first-party data from customer relationship management (CRM) software data.
Dynamic video ads: A group of people with similar characteristics sees a unique video. Advertisers create dynamic ads with dynamic video content to exclusively target potential buyers. These videos are often powered by third-party data from advertising platforms like Facebook Ads or YouTube Ads in conjunction with first-party data.
Dynamic product videos: When a product's features, pricing, or information constantly change. In this case, videos are dynamically updated to reflect the latest meaningful changes in a product's specifications.
Why use dynamic videos in your video marketing strategy?
As we move into 2023, it's important for brands to make marketing more dynamic to best increase audience engagement. Video has proven to be the type of content all audience segments love and better engage with.
However, according to McKinsey, consumers expect personalization from the brands and businesses they choose. In fact, 76% of them get frustrated when they don't find it.
Thus, one-size-fits-all video content is no longer the way to go when targeting specific market segments and individuals with video.
One way to considerably increase engagement with videos is by making them dynamic. Today this is possible thanks Pirsonal's dynamic video software.
With Pirsonal, every part of the video can be dynamic, automatically. Also, the unique video content is ready fast and in an ROI-effective way.
Brands and advertising agencies choose Pirsonal's video software because it is simple, flexible, and scalable. However, according to customers' reviews, one of the key reasons why they partner with Pirsonal is because of the customer support and Professional Services that help them succeed in dynamic marketing with video.
Then, the main goal behind dynamic videos is to make the video content highly relevant and up-to-date so that viewers pay attention, engage, and take action. Dynamic videos are, as a result, more effective than generic videos because they reflect the latest relevant information.
When brands and advertising agencies partner with Pirsonal, we provide an accessible solution but also specialized services that help them successfully launch dynamic marketing projects with video.
Effective video marketing with dynamic videos
In our experience, the most effective dynamic videos for one-to-one marketing strategies show interactivity options to boost viewer engagement right from the video. This comes in different fashions, from personalized calls-to-action to allowing the viewer to navigate or choose a specific path in the video.
The following image shows a screenshot of a personalized call-to-action in a dynamic video. The viewer can choose between three options, which are presented based on the viewer's buyer persona.
Automatically add text to full HD videos
Fitness brand Zumba automatically made over 600k minutes of video with personalized text to support their localized digital marketing in 7 languages. These videos were rendered in less than a week thanks to Pirsonal's fast video rendering servers.
Automatically add voice-overs, images & video to videos
Ecommerce travel brand Opodo automatically added voice-overs, images, text, and animated video clips to videos to support their upselling and loyalty strategy. Pirsonal automatically created these automated videos which they sent by email.
Automate user-generated video content
Pizza brand Papa John's automated user-generated video content with Pirsonal's video automation software. Every customized video was ready in less than 5 seconds and helped the brand build a highly engaging online video campaign in no time.
Benefits of dynamic videos for brands and advertisers
There are three main benefits of dynamic content creation in data-driven marketing strategies.
Dynamic videos offer increased viewer engagement
Companies that use personalization to create dynamic video content that matches products and customer sentiment, intent, and context are more successful. This is a common practice in B2C dynamic ads, but also in B2B personalized email marketing campaigns.
As a result, these types of videos have superior viewer engagement and higher conversion rates when compared to generic, one-size-fits-all videos from your competitors.
In fact, as reported by Invideo, dynamic videos with personalization are between 35% and 116% more effective than generic videos. Dynamic videos are in the same category as personalized videos.
Dynamic videos help brands deliver a personalized customer service
Dynamic content allows brands to provide clients with the best customer service possible. Studies show that 73% of consumers prefer brands that personalize the customer experience.
You can use client information, stats, and more to create one-on-one experiences that will endear customers to your brand for life.
For example, use dynamic videos to share reports with clients or to update data from a live product feed. This will help you show relevant information to clients., web visitors, and users.
Dynamic videos deliver greater personalization
With dynamic content, you can create a more personalized experience for each viewer, which can help to build loyalty and trust with dynamic marketing and video. This is thanks to the power of audiovisual and interactivity options right from the video.
In a world where consumers are bombarded with marketing messages from all sides, it's more important than ever to create a personalized video experience that speaks to each individual or target audience.
Dynamic video content creation can help you do just this, by tailoring your content to match the interests and needs of each user. And the experts agree. Video content converts better than other types of content and 71% of consumers expect personalization from your brand.
In turn, this boosts engagement, loyalty, and trust—all essential ingredients for success in 2023 and beyond. So if you're looking to get ahead of the competition, dynamic video creation is the way to go!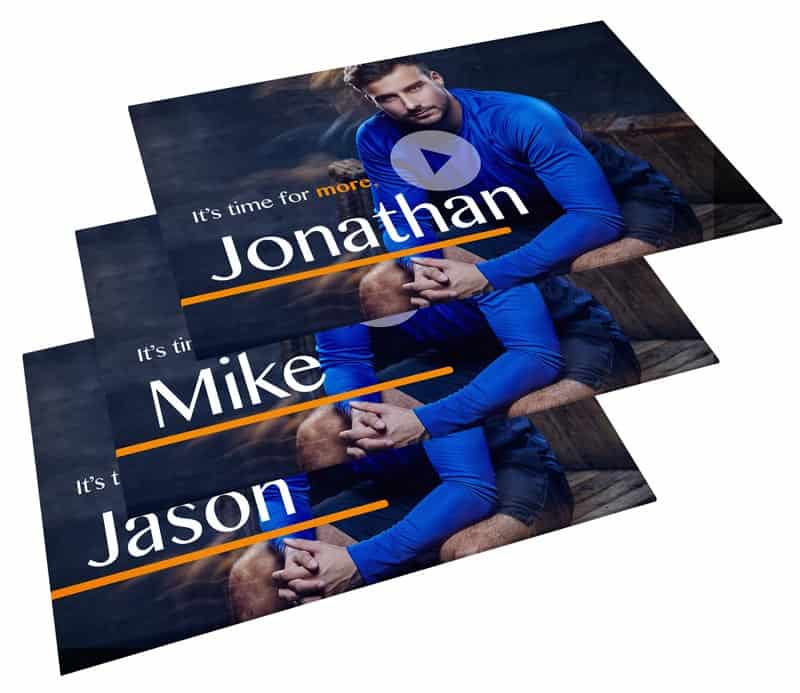 94% of marketers say video has helped consumers increase their understanding of product or service
"Using Pirsonal was a satisfactory experience. It met the objectives of our project and the customer service was exceptional."
Pablo D,
Developer, Broadcast Media
And get free onboarding. No credit card required.
Busy brands and agencies choose Pirsonal to create dynamic videos in a simple, scalable, and integrated way. We walk with your team to help you succeed.

"great personalization possibilities"

"leaders in the space"

"amazing team, excellent service"
Why Pirsonal?
#3 Get help when you need it
Software to create dynamic videos
Dynamic video creation with software that adapts to your workflow and a team that helps you succeed
Keeping your videos up-to-date at scale is hard. You need to keep track of all the changes you make and upload them on time. It's a lot of work to update or create every video, so you end up with old content or outdated information that doesn't drive your target audience's attention.
Pirsonal's dynamic video software solves this by helping you automate personalized videos with dynamic content in and around the video. Now you can create dynamic marketing videos that adapt to your target audience's needs and to your own workflow in a simple, scalable, and cost-effective way.
And there is a big plus. Our team literally walks with you to help you succeed.
Get custom templates
Dynamic videos are powered by templates. Get yours from our Professional Services team or built it with Pirsonal's free online video tool.
Connect your data source
Connect your dynamic video templates to any data source. From spreadsheets to custom apps connected to our dynamic video API. You decide when to create dynamic videos.
Dynamic video creation
Pirsonal's dynamic video maker fully personalizes videos with multimedia content so that your audience always has up-to-date videos that are dynamic, scalable, and cost-efficient.
Create real dynamic videos for marketing and advertising
With Pirsonal's dynamic video software, you automatically create downloadable dynamic videos in the cloud.
From e-commerce product videos to video ads, dynamic videos provide a unique way for brands to stay relevant with their marketing and advertising videos, no matter the size of the audience.
Thanks to Pirsonal's advanced video technology, any part of the video can be dynamic. For example, video creators often dynamically change the background of videos.
Content that can be dynamic in a video with Pirsonal:
Dynamic text overlay.
Dynamic images.
Dynamic video-in-video (animations, motion graphics, and more).
Dynamic audio (soundtrack, voice-over, and more).
Properties (colors, sizes, positions, length, and more).
Effects (fade in/out, zoom in/out, filters, and more).
Dynamic scenes.
Dynamic video maker
Easily make dynamic videos online
Pirsonal's dynamic video software helps you create dynamic videos—easily. Our dynamic video maker adapts to any digital workflow so that your audience always has fresh video content that helps your unique target audience take action.
For example, you can create dynamic videos automatically from a spreadsheet, connect to tools like Zapier, or use Pirsonal's dynamic video API to make dynamic videos from any database or application.
Make your marketing dynamic with videos that adapt
Make every part of the video dynamic at scale.
Save go-to-market time and resources. with integrations.
Succeed with expert advice from our Professional Services team.
Automated video templates
Create your own templates from any browser or get them done-for-you
Customized videos are made from templates. However, often busy marketing teams and agencies don't have the time or the resources to create these templates.
So their video automation project dies and so does one of the best creative ways to engage with audiences at scale with video.
This is why we created Pirsonal Editor. A free video tool that helps you create templates for automated video generation from any browser.
With Pirsonal Editor, you create templates for video automation in no time. You can even use media assets made with After Effects, Premier, Canva, and more.
Want to save time or resources? Let us create a custom template for you!
Steps to create templates for dynamic videos:
Import your own media assets.
Add as many dynamic layers as you need.
Or save time with our Professional Services.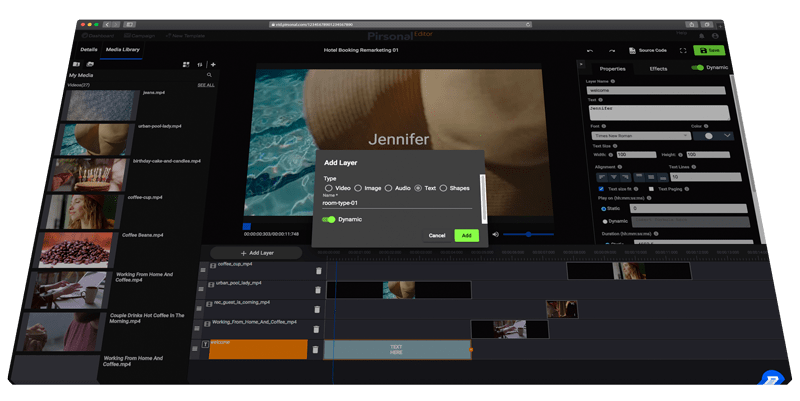 Automatic dynamic video editing
Enhance dynamic videos automatically
With Pirsonal's cloud dynamic video software, you can automatically enhance the quality of dynamic videos with effects and filters. For example, trim video and audio content, change volumes and alter images and video clips with filters.
Creative video teams and agencies also use advanced video editing techniques like alpha channel and chroma key.
Effects and video editing options for online dynamic videos:
Chroma key (green background) in video and images.
Alpha channel (.mov, Apple ProRes 4444).
Video and image transitions.
Fade in and fade out.
Zoom in and zoom out.
Movement and positions (X, Y).
Image filters (black and white, sepia, and more).
Video and audio volume.
Dynamic video and audio length.
Autocut and trim.
Remove silence.
And more.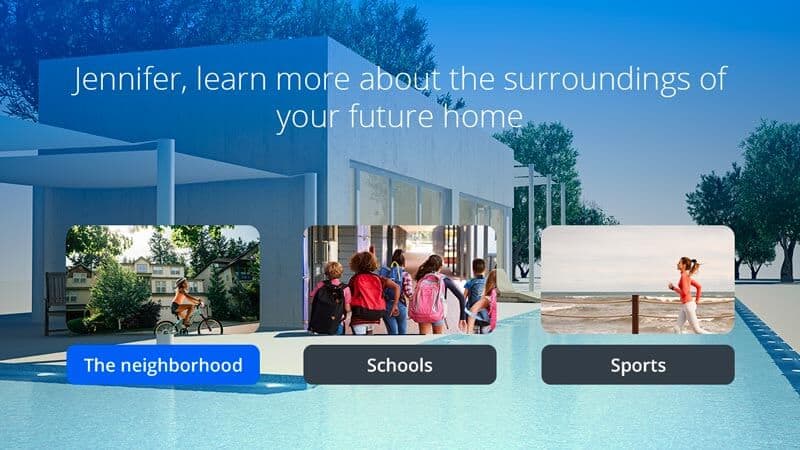 Interactive dynamic videos
Boost viewer engagement with interactive dynamic video
With Pirsonal's interactive video player, you can automatically add clickable, dynamic content to any video so that viewers take action right from the videos and you boost conversions.
Automatically add personalized calls-to-action to dynamic videos.
Instantly boost engagement with dynamic video landing pages.
Improve campaign performance with video analytics.
Dynamic video landing pages
Make your brand stand out with dynamic video landing pages
Video landing page content you can personalize:
Logo.
Banner image.
Title.
Description.
PDF, web forms, and more.
CSS.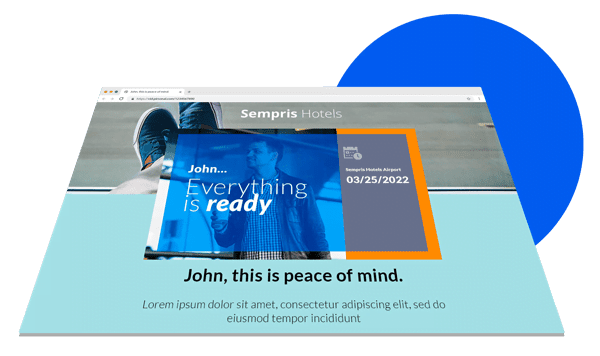 Faqs about dynamic videos
How fast can I render dynamic videos automatically?
It depends on the dynamic video technology you use. For example, real, downloadable dynamic videos of 60 seconds can be rendered in 10 to 20 seconds or faster depending on your plan. HTML, interactive videos with dynamic overlays can be ready in real-time. Both video technologies are compatible and supported by Pirsonal.
Can we create dynamic videos free?
Pirsonal provides a free trial to help you try our dynamic video solutions at no cost. Subscription plans start at 149 USD to create 1000 minutes of real dynamic videos per month.
What's the best dynamic video software?
According to customer reviews, Pirsonal is one of the best dynamic video editing software on the market! Although there are some competitors who offer similar services, most of them aren't as scalable flexible, and fast as Pirsonal's.
However, most of our customers value our responsive support and expert Professional Services that walk with you to help you succeed.
Can we get help with the execution of dynamic marketing with video?
Yes. At Pirsonal we provide expert Professional Services to help you with dynamic marketing strategy with video. We strategy consulting, creative services, and video API implementation so that you can focus on other important aspects of your dynamic marketing project with video.
What's the difference between a personalized video and a dynamic video?
These two terms are used interchangeably. The variable data from dynamic videos can change, and so will the content of the video based on these changes. However, the variable data from personalized videos will not change once the video has been rendered.
Thanks to Pirsonal's interactive video player, you can add dynamic content to customized and automated videos as well, even if these videos weren't rendered by Pirsonal.
Can we change the background of videos dynamically?
Yes, you can automatically change the content of the videos dynamically, including the background.
You can also apply image transformation and effects to these images to make the videos more dynamic, such as filters (black & white, sepia, chroma key, colors), aspect ratio (preserve, crop, stretch), and more.
Can we download dynamic videos?
It depends on the Pirsonal solution you use. When you create real dynamic videos with Pirsonal's dynamic video software, we'll host the videos for you. Since Pirsonal's video technology creates real dynamic videos at scale, you can download these videos from your account.
Thanks to Pirsonal's integration with Amazon S3, you can also host the customized videos in your own Amazon S3 bucket, from which you can easily download them. This can be done either from your AWS account or even from an FTP.
If you instead only use Pirsonal's interactive video player to add dynamic overlays to videos, these clickable overlays can't be downloaded, only the video files.
Do I need After Effects (AE) to make dynamic videos online?
No. Pirsonal is a complete solution that manages the full dynamic video editing cycle in the cloud, including rendering, transcoding, and more. You can, however, use AE and similar software to design the assets for the templates. Then, with Pirsonal Editor, your team or ours can build a branded template for dynamic videos from any browser.
Create a Personalized Video Now
Enter your name to automatically create a customized video, dynamic landing page, and interactive video call to action.
Busy marketing teams and agencies automate video generation in a fast, flexible, and integrated way with Pirsonal's video technology and Professional Services
Be the next one — We'll help