Customer retention managers and specialists are growing among B2B businesses. But more often than not, customer retention lies on marketing managers.
Retention is one of the biggest challenges marketing teams face, especially when companies cut budgets.
For many businesses, attracting customers is the easy thing.
Keeping them, though, it's a different conversation. This is one of the reasons only 47% of businesses focus on retention.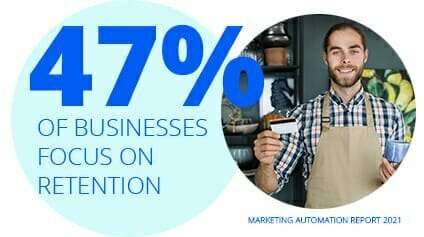 So, can marketing leaders improve customer retention in B2B companies?
Yes. To improve customer retention in the B2B landscape, first, it's crucial to understand your customer's needs and build strong relationships with them.
Personalizing experiences early on and supporting sales, customer service, and product teams is a great approach.
This means that you need to gather, analyze and use customer data to provide a superior experience.
The type of experience that builds loyal customers and attracts new ones.
But there are many other aspects you need to take into account to increase customer loyalty as a B2B marketer.
This article will explore effective ways in which marketing managers can improve customer retention in B2B companies.
Understanding Customer Needs
Marketing managers should invest time and effort in understanding the specific needs and preferences of their B2B customers.
There are many reasons why this is important.
I would like to highlight three of them:
To properly position B2B products and services.
To create marketing materials loaded with targeted messages that align with your customer base.
To determine the necessary tools for a customer retention plan from a marketing perspective.
Even when most marketing teams know the theory, putting this into practice is often a challenge.
At least, this is what I've faced over the two decades working exclusively with businesses. Ten years in the SaaS space.
One of the best ways to understand your target audience in B2B marketing is by analyzing the context behind the data.
And we know that data is gold. But it's only useful if you know what it means.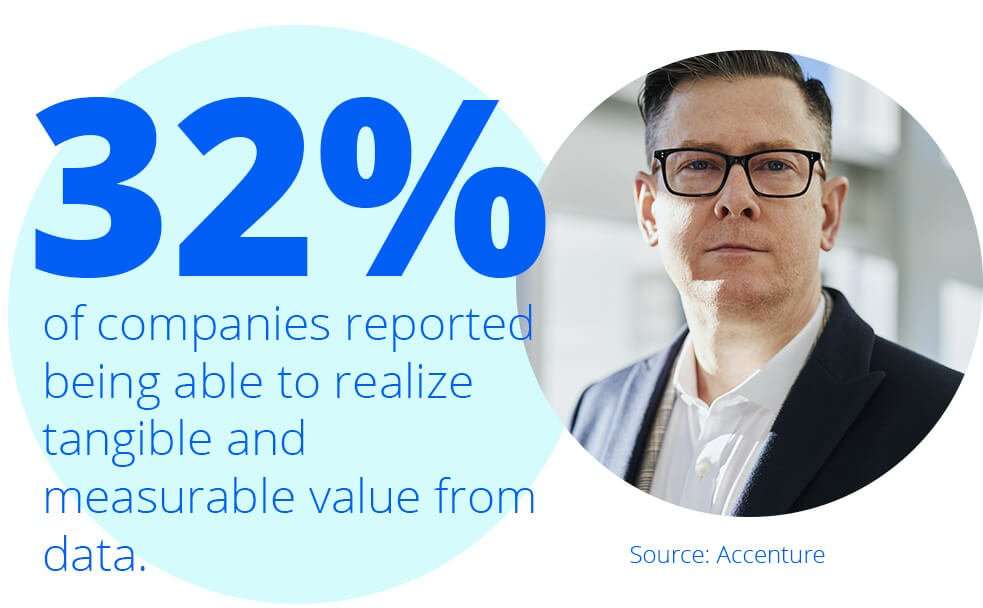 I believe that marketing is a conversation.
And the best conversations are based on mutual context.
Then, the better this context is, the more effective and beneficial the conversation is on both sides.
This requires mapping the full journey of the new customer so that the customer can find success fast.
Watch the following video to explore new ideas.
Understand your customers' needs and provide personalized content and experiences that match their concerns and goals.
I'll share how to provide this experience in a moment.
As you can see, creating personalized videos for new customers has proven to be an effective way to increase the number of loyal customers.
This is the missing piece in many marketing strategies.
This can be achieved through market research, surveys, and customer feedback.
But there are many more ways. Here you have a few ideas:
Talk to sales and customer support reps. They constantly talk with customers and know more about the blockers, concerns, objections, and success stories.
Analyze online customer reviews in portals like Capterra or in any other vertical that applies to your industry.
Use AI tools such as ChatpGPT to analyze insights and customer data from your CRM, marketing automation, and website analytics tools.
The goal is to truly understand the meaning of your structured data.
From a customer acquisition perspective, this is gold.
This will help you create new strategies to target potential customers. You'll simply know more about your ideal customers thanks to your knowledge of current customers.
By gaining insights into their customers' pain points and goals, marketing managers can tailor their strategies and offerings accordingly.
Keep something in mind. You need to have mechanisms in place to gather, analyze and understand this information.
Also, this often comes after many interactions with customers.
So make sure to track customer interactions and data across the full customer journey, even before the customer buys.
Building Strong Customer Relationships
Developing strong relationships with B2B customers is vital for improving customer retention. And this is one of my favorite aspects of the digital landscape when compared to B2C.
Marketing managers should focus on building trust, delivering on promises, and fostering open lines of communication.
This is one of the reasons why many companies have Account or Success Managers. These roles provide a unique position to actively listen to the client's needs.
This is the approach we follow at Pirsonal. All of our clients have an assigned Account Manager that walks with them to help them succeed.
Added to this, depending on their subscription plan, they have access to 1-to-1 monthly or quarterly strategy sessions.
Since most businesses don't have experience with personalized video marketing, having this close approach helps us educate our clients as well.
It is a win-win situation.
This type of interaction facilitates real-life feedback based on the needs of the customer. Which helps customers succeed with the solutions offered by the organization.
Regular interactions, such as personalized emails, phone calls, or face-to-face meetings, can go a long way in nurturing these relationships.
So make sure to make these interactions a top priority of your marketing activities.
Personalizing Customer Experiences
Tailoring the customer experience (CX) to individual B2B clients can significantly enhance customer retention.
Don't leave it to only one top-notch experience, though.
The sum of many great customers experiences results in higher customer engagement.
Then, higher customer engagement translates into higher customer retention rates.
There are many ways marketers can support customer enablement teams.
Watch the following video to learn how to start or update a personalized marketing program within your organization.
As you can see, this will help you find many engagement opportunities to deliver personalized content that keeps your customer's attention intact.
Apart from the ideas you'll find in the video, there are other practical ways to tailor your customer's experience.
Here are some examples of relevant content:
Add personalized product recommendations across channels such as email, in-app notifications, or the customer's preferred channel.
Give agents ready-made messages so they can offer personalized content and support that matches your marketing.
Work with your sales team to offer exclusive deals based on clients' preferences and buying history to achieve success in marketing.
To make your organization offers a real personalized customer experience, make sure to at least use customer personas.
Many leaders wonder if they are important while personalizing the customer experience.
They use it for their SEO and social media marketing but miss the opportunity to use them in their customer retention programs.
Well, they are critical to achieving above-the-average results.
The reality is that many of your competitors are already using some kind of personalization in their marketing and CX strategies.
Most CRM, email marketing, and marketing automation software provide some level of personalization.
No matter the company size, nowadays, every brand has access to them.
So having customer or buyer personas is still important in B2B marketing, along with customer segments.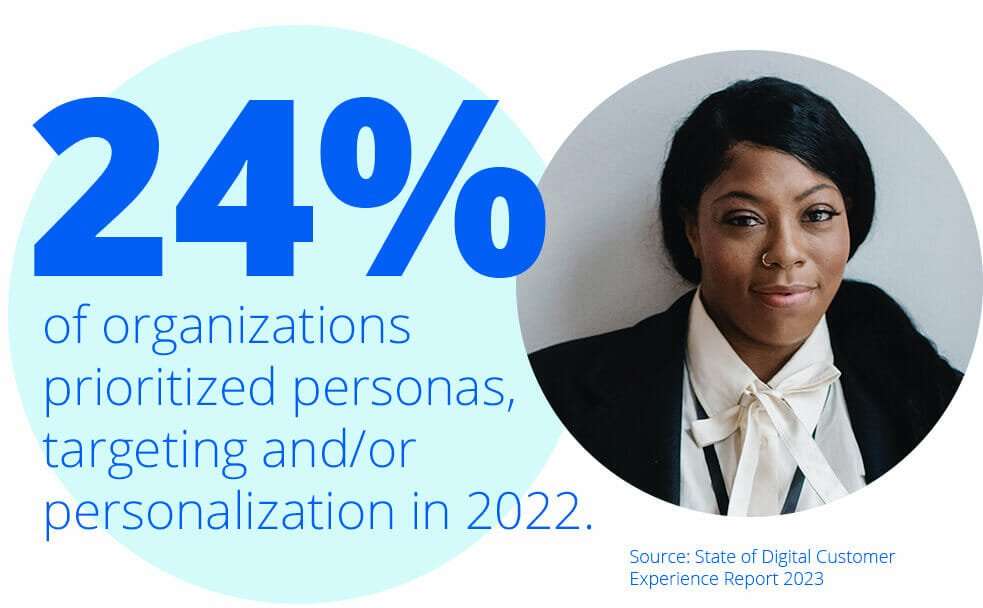 Using them will give you a competitive advantage and will help you effectively impact your target audience.
This is why according to the State of Digital Customer Report 2023, more and more organizations are prioritizing personas, targeting, and/or personalization.
For instance, personalized customer onboarding offers a unique way to wow customers and to help them achieve success based on their terms.
Here is an idea: To successfully welcome new customers, marketing and customer experience teams should have a personalized customer onboarding strategy.
In the following video, I explain how a customer onboarding video helped an organization provide a superior experience while accelerating payments.
https://www.youtube.com/watch?v=VJ6gBEGUkOQ.
To give a tailored customer experience, you need to know your audience well and use this information for your marketing.
Providing Exceptional Customer Support
Prompt and efficient customer support is critical for retaining B2B customers. Marketing managers should ensure that their teams are well-trained, responsive, and knowledgeable.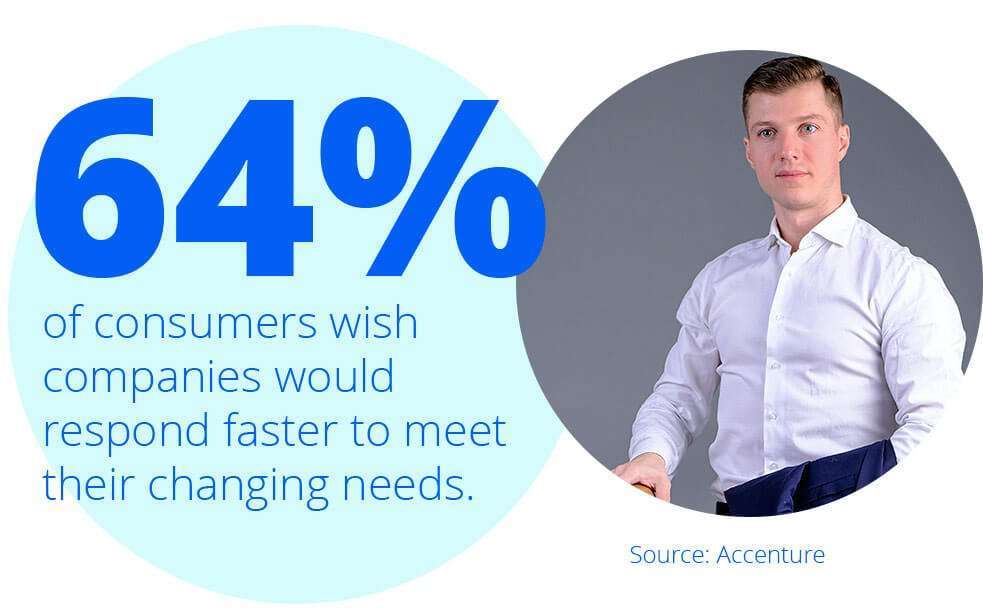 In fact, Accenture reports that 64% of buyers want faster responses to their needs. Their research focused on B2C buyers.
But, guess what? B2B customers are also humans :-p.
Let's face it.
Happy customers bring more customers on board.
Sad customers leave soon.
And this is bad news.
Customer complaints push potential customers away.
This is one of the reasons why more and more brands are becoming customer-centric and rely on automation to scale different interactions across the customer journey.
Implementing robust support channels, such as dedicated helplines or live chat options, can also improve customer satisfaction.
You mitigate issues faster before they scale.
In a report, Zendesk found that 70% of customers are irritated when their call is transferred from one department to another. Then, customers need fast answers.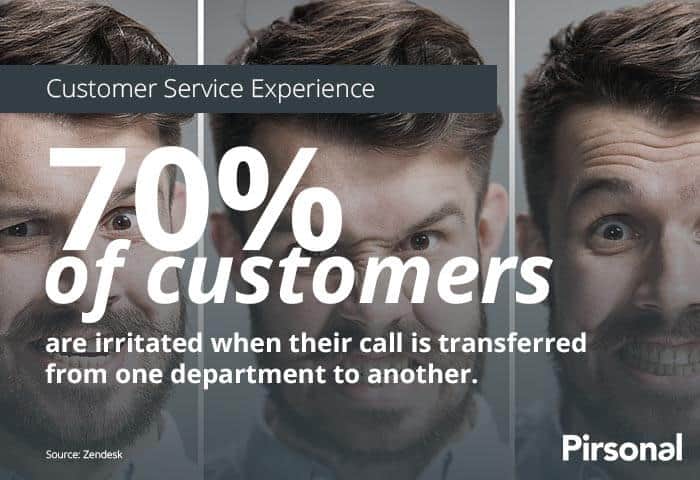 At Pirsonal, for instance, we have found the majority of our clients appreciate that fast, detailed responses.
We then use their questions and responses to update our knowledge base with educational content.
Similarly, having video calls with clients helps them know how they express themselves about our personalized video software.
Then, when we see patterns, we use this information in our digital marketing.
Offering Value-Added Services
One effective way to enhance customer retention is by offering value-added services alongside core products.
Yes, I know, this is often in your sales and revenue teams' hands.
However, even if you all have different metrics, you need to work together toward a common goal.
Simply put, attracting the wrong customer doesn't help your sales team.
Similarly, increasing pricing won't make sense if your customers leave soon.
However, attracting customers because of the right value-added services, either digital services or Professional Services, will help your sales team close more deals.
At the same time, this will help your revenue team find new opportunities to build upsells.
This is especially true if you do account-based marketing. Different user personas have different needs.
Having an answer to those needs and challenges your product or service can help with could translate into new revenue opportunities through value-added services.
Marketing managers can identify additional services that complement their offerings and provide increased value to their B2B customers.
Then, you can use this information in your marketing efforts.
This could include training programs, custom implementation, industry insights, or exclusive access to resources outside publicly available marketing channels.
Encouraging Feedback and Continuous Improvement
Marketing managers should actively seek feedback from their B2B customers and use it as a basis for improvement.
Many companies won't pay attention to this. They'll leave it to the customer service team.
But this can be a huge competitive advantage.
By implementing feedback mechanisms and acting upon customer suggestions, marketing managers demonstrate their commitment to enhancing the customer experience and building long-term relationships.
Add feedback-gathering tools to your product. Also, proactively ask customers for their opinion. Then, find patterns in the answers of many.
This will open new products, services, and digital marketing opportunities.
Don't keep this information to yourself. Share it with your product management peers.
This will reinforce a customer-centric culture in your brand.
Also, share your insights with your sales team.
Marketing, Sales, Customer Support, and Product teams should work together, even if they have different KPIs.
Leveraging Data and Analytics
Data and analytics play a crucial role in improving customer retention.
Thanks to AI, analyzing and understanding big amounts of information has become easier than ever.
Marketing managers can use customer data to identify buying habits, and potential risks of losing customers, and create focused marketing campaigns.
This is similar to what B2C marketers do when they create targeted campaigns.
By analyzing data, they can make data-driven decisions that lead to better customer retention strategies.
Marketing leaders must constantly optimize the performance of their marketing.
Data and analytics are key components to help you understand the "why" and the next steps to improve customer retention rates.
This is one of the reasons why we offer simple ways to understand personalized video analytics depending on the type of user:
Simplified graphs.
API with real-time detailed information.
Simplified contact list.
CSV with detailed information.
This information, along with the data from your other marketing tools, help customers understand what is working and what to do next.
Nurturing Long-Term Partnerships
Marketing managers should aim to cultivate long-term partnerships with their B2B customers.
In fact, when compared to B2C, this is one of the areas where B2B marketing shines.
This involves regular engagement over a period of time, fostering mutual trust, and demonstrating the value that the company brings to the table.
By positioning themselves as trusted partners, marketing managers can increase customer loyalty and retention.
To succeed when you nurture long-term relationships in B2B marketing, I've found that customers love to talk to the same person.
For example, even when we have customer support channels, often customers reach out directly to me.
Sometimes, I can help right away. Sometimes, our support or pro services team will help.
The beauty of this is context. Since in B2B we prioritize long-term relationships, the more you know an account and its users, the better.
However, take into account that B2B customers and buyers change companies.
My recommendation here is to be in contact with other peers within the organization.
This way, you won't lose the connection with the organization because you'll always have someone to continue the conversation.
Aligning Marketing and Sales Efforts
To improve customer retention, marketing managers should collaborate closely with the sales team.
By aligning their efforts, both teams can work towards a common goal of satisfying customers and maximizing retention.
Sharing customer insights, coordinating campaigns, and streamlining the customer journey are some ways to achieve this alignment.
Also, make sure to use video to connect with your audience.
Provide tailored video content to your sales, customer service, and product marketing teams to help them engage with customers.
Video can help you build brand awareness. No matter the size of your organization, thanks to the democratization of video creation tools, this is now available to every team. Including your competitors'.
A report by Wyzowl shows that 94% of marketers say video has helped them increase their understanding of their offering.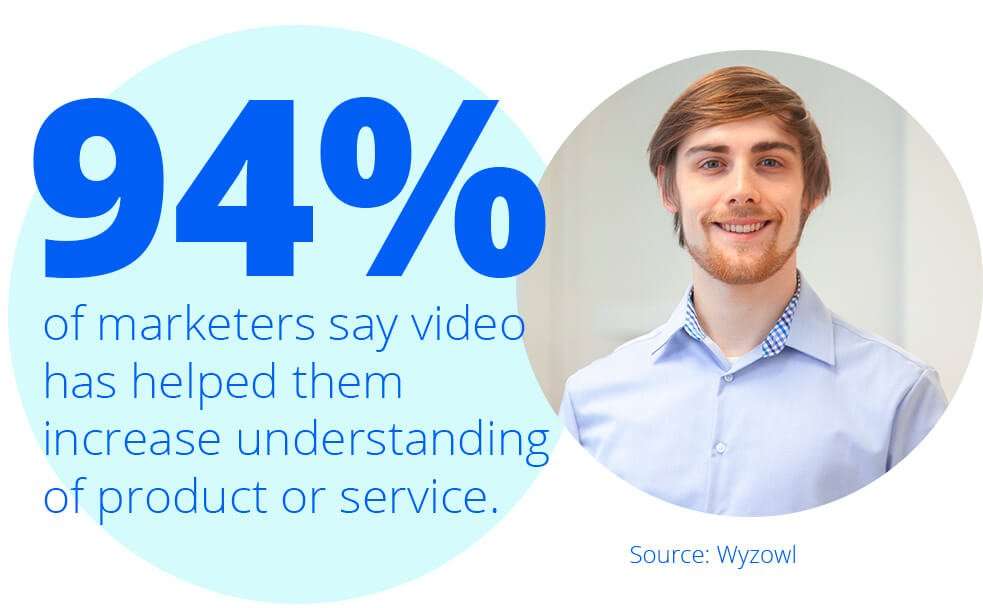 Every team within your organization have different metrics, priorities, and background.
By working together, your organization will serve every single customer better.
It is that simple.
Or at least that's the theory.
Here is how to effectively do this:
Establish clear and aligned goals.
Foster open communication channels.
Develop a shared customer profile.
Implement a closed-loop feedback system.
Leverage technology solutions.
Implementing Customer Loyalty Programs
Customer loyalty programs can be an effective tool for enhancing customer retention in B2B companies.
Marketing managers can design loyalty programs that offer exclusive rewards, discounts, or incentives to customers based on their level of engagement or purchases.
You see this happening quite a lot in hotel marketing and guest experience initiatives.
More and more hotels are leveraging marketing automation to boost their loyalty program.
The hospitality industry is a great example.
Hotels use loyalty programs to bring more guests back. Birthdays, anniversaries, and holidays are great opportunities for them.
Take a look at the following image. It shows how an individualized video is made when a hotel guest makes a reservation to boost guest engagement.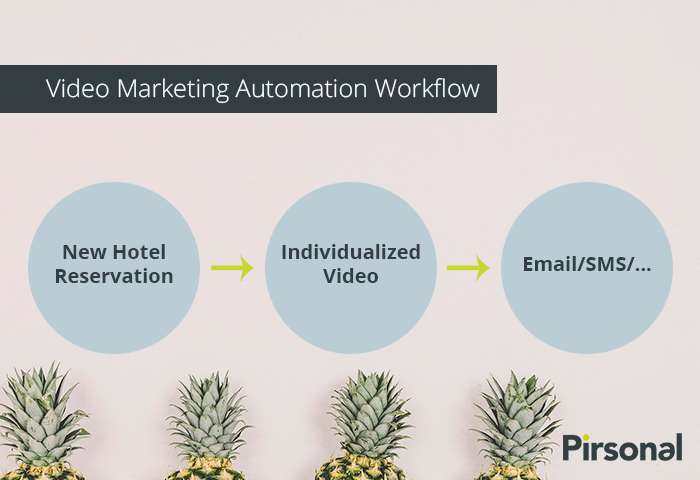 So, as a B2B marketer, find your opportunities based on the product and service your organization offers, no matter the industry.
Then, customer loyalty programs help B2B businesses know more about their repeat customers.
At the same time, by constantly improving your offering, you can avoid delivering a bad experience.
These programs foster loyalty and encourage customers to continue doing business with the company.
Enhancing Communication Channels
Effective communication is essential for customer retention. Marketing managers should ensure that communication channels are easily accessible, and responsive, and provide timely information.
This includes regular updates, notifications about new products or services, and addressing customer queries or concerns promptly.
In B2B sales, having a dedicated manager for buyers is crucial, particularly if the annual contract value (ACV) is high.
Also, you can build effective B2B marketing strategies around these channels. Make sure to choose and use channels your customers already feel comfortable with.
For instance, personalized videos are effective in B2B marketing.
Why?
B2B audiences are smaller than B2C.
Also, B2B customers are more loyal and have a higher customer lifetime value (CLV) than B2C customers.
B2B data management teams can provide structured data to enhance marketing and customer experience strategies.
This makes the case to include personalized videos in an average B2B marketing budget.
In fact, adding personalized videos to a marketing plan goes hand-by-hand with delivering a superior customer experience.
As a result, this also collaborates with the customer retention programs, delivering better rates than average.
Delivering Consistent Branding
Consistency in branding helps build trust and recognition among B2B customers.
A strong brand will make your company stand out from competitors. Your business will earn the trust of current clients, and increase profitability as they are willing to pay more for brands they trust.
Marketing managers should ensure that all customer touchpoints reflect the company's brand values, tone, and messaging.
This consistency creates a cohesive customer experience and reinforces the company's reputation, leading to improved customer retention.
Managing Customer Expectations
Setting clear and realistic expectations is vital for maintaining strong customer relationships.
Marketing managers should communicate clearly about product features, pricing, delivery timelines, and any limitations.
By managing customer expectations effectively, marketing managers can minimize dissatisfaction and improve customer retention.
This is especially challenging for sales and onboarding implementation teams.
Simply put, you attract the audience. Then, they deal with them.
Take this into account: 50% of individuals are likely to switch brands if the organization doesn't anticipate their needs, Salesforce reports.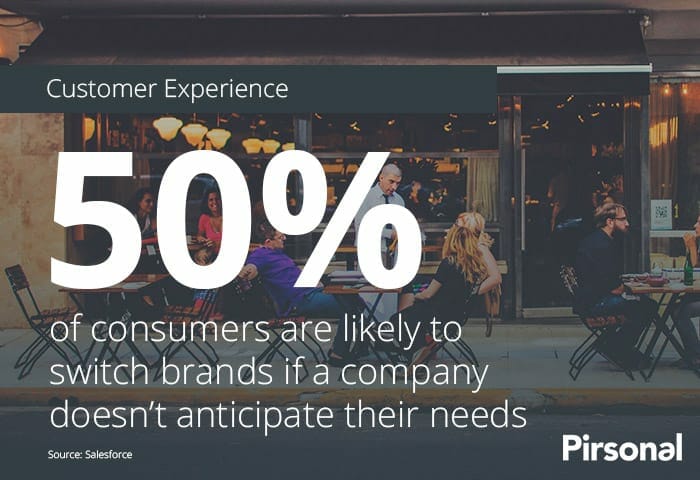 I've learned this the hard way. I'm the type of person that loves serving other people and making sure they are happy.
However, it is important to note more often than not customers wrongly think they know what is best for them.
But here is the deal… Your organization has experience with many customers like them and can help them succeed faster based on patterns of success and failure.
If they succeed, customer retention increases. If they don't succeed, your organization loses money.
So be transparent with customers about the capabilities of your solutions, what they can anticipate, who the optimal users are, and if there are any mandatory onboarding prerequisites.
If you offer a complex product or service, it is often better to deliver personalized onboarding sessions that set them to success.
Depending on the type of persona, you'll find that some customers won't agree with this. However, you need to set the tone, reason, and value based on their needs and your goals.
Monitoring Competitor Activities
To stay competitive and retain B2B customers, marketing managers should monitor competitor activities closely.
By understanding their competitors' offerings, marketing managers can identify gaps, differentiate their company, and provide unique value propositions to their customers.
This is especially useful when the product marketing team leads product positioning.
You need to offer competitive advantages that adapt to the value your target audience desires and is willing to pay for.
Measuring and Analyzing Retention Metrics
Measuring and analyzing retention metrics is essential for understanding the effectiveness of customer retention strategies.
In many cases, this will be a task led by an intelligence team.
Regardless, make sure to measure key interactions. Then, analyze this information along with the other departments of your organization.
Don't get too crazy with metrics.
Choose the ones that align with your short, mid, and/or long-term goals depending on the maturity of your organization.
These are the most common retention metrics:
Customer churn rate.
Customer lifetime value (CLV or LTV)
Repeat purchase rate.
This data provides insights into the success of their efforts and helps you refine your strategies for better customer retention.
Final Thoughts
Improving customer retention in B2B companies requires a holistic approach.
Focuses on understanding customer needs, building strong relationships, personalizing experiences, and continuously refining strategies.
Use these strategies as a B2B marketing leader to increase customer satisfaction, loyalty, and long-term success for your team and organization.
FAQs
How long does it take to see results from customer retention strategies?
The timeline for seeing results from customer retention strategies can vary depending on factors such as the industry, target market, and the specific strategies implemented. For example, in our case at Pirsonal it takes us between 3 and 6 months.
It's important to monitor and analyze relevant metrics over a sustained period to assess the effectiveness of the strategies.
What role does customer support play in improving customer retention?
Customer support plays a crucial role in improving customer retention. Prompt and effective support helps address customer concerns fast, builds trust, and enhances overall satisfaction that beats your competitors. It shows customers that their needs are valued and reinforces their decision to continue doing business with the company.
Are loyalty programs effective in B2B companies?
Yes, loyalty programs can be effective in B2B companies, but they are not common. Well-designed loyalty programs offer incentives, rewards, and exclusive benefits that encourage customers to remain loyal to a particular vendor. They can strengthen relationships, increase customer retention, and even generate referrals within the B2B network.
How can marketing and sales teams work together to improve customer retention?
Teams in charge of marketing and sales can work together by sharing information about customers, case studies, and white papers, making sure their messages and campaigns match, and working together to guide customers through their experience. By working together, they can provide a seamless experience, understand customer needs more comprehensively, and address them effectively, ultimately improving customer retention.
Can data analytics really make a difference in customer retention strategies?
Yes, data analytics can make a significant difference in customer retention strategies. By leveraging data, marketing managers can gain valuable insights into customer behavior, preferences, and trends. This data-driven approach allows for targeted and personalized strategies that effectively address customer needs and increase retention rates.