Large sales teams in the real estate industry face an exceptional challenge: forging meaningful connections with leads and customers through engaging content.
To tackle this formidable task, Weichert, a renowned real estate brand, embarked on a pioneering journey to revolutionize their sales enablement strategy.
Through the strategic integration of personalized video automation, Weichert not only developed a creative and distinctive video tool for engaging with real estate prospects but also witnessed a substantial boost in internal alignment among their sales partners.
In this enlightening case study, I'll delve into the extraordinary success story of Weichert and explore why personalized video automation stands as a game-changing solution for empowering large sales teams.
Meet Weichert: Masters of Real Estate
Weichert is an esteemed real estate company with a robust presence in the United States. The company specializes in diverse facets of the real estate industry, encompassing residential and commercial real estate brokerage, relocation services, mortgage lending, and property management.
Renowned for its extensive network of real estate professionals and unwavering commitment to customer service, Weichert has earned its place as a prominent player in the real estate market.
This case study casts the spotlight on Weichert's "All under one roof" campaign, an initiative that underscores their commitment to delivering comprehensive services to homebuyers and sellers.
The Weichert Challenge: Crafting a Memorable Narrative
Weichert faced a formidable challenge. The marketing and creative leadership of this real estate powerhouse aimed to enable their sales force to promote the "All under one roof" initiative in a memorable, visually captivating, and engaging manner.
This concept was pivotal in articulating the value proposition of the brand in a fiercely competitive market.
Furthermore, the task involved catering to a sales force exceeding 6,700 agents distributed across the United States, each eagerly seeking marketing content.
In the era of social media and digital marketing, the demand was not merely for engaging content but also for content that could be tailored to the scale of their vast sales team.
Video content became the perfect solution. In the realm of real estate, video reigns supreme, blending the emotive power of visuals and audio content.
However, with thousands of sales partners dispersed across the United States, the challenge was twofold: facilitating effortless creation of branded videos and ensuring their relevance across diverse locations.
Video creation can be a time-intensive endeavor, and most sales professionals lack video editing experience and the requisite tools.
The Quest for Personalized Video Automation
Weichert had previously collaborated with an agency to produce campaign videos. Building on this foundation, they conceived an ingenious idea: Why not leverage the existing videos and customize them for each sales partner?
Manual creation of every video was a herculean task, prompting them to explore the scalability offered by cloud video rendering.
With this vision in mind, they tasked their agency with seeking a personalized video automation vendor capable of working with their pre-existing video content, albeit with slight modifications.
The goal was clear: find a partner capable of streamlining video customization at scale, eliminating the need to painstakingly craft each video individually.
Doing so would help them improve customer experience and convert more leads into customers.
Moreover, ensuring a seamless user experience for sales partners was paramount, given the impending deadline tied to the "All under one roof" campaign.
The agency ventured into the market to identify a suitable vendor, mindful of the often sluggish responsiveness of video automation software providers.
The following comparison table shows how customers in the industry rate personalized video software. As you can see, some of them are not well-rated in terms of customer support (what we call hands-on help).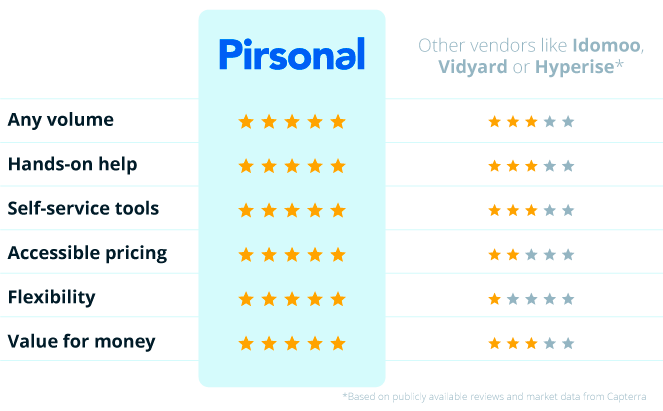 Best Video Marketing Strategies For Real Estate
Enter Personalized Video Automation with Pirsonal
Weichert's solution materialized in the form of personalized video automation, empowered by Pirsonal's cutting-edge software.
Watch a sample of an automated video based on Weichert's branded template.
As you can see, Pirsonal's software automatically customizes the video based on the home buyer or seller's location and the sales partner's contact information and value proposition. In this example, we used sample data.
Pirsonal equips brands and agencies with the capability to automatically craft customized videos for customers efficiently, swiftly, and securely.
Pirsonal's technology enabled the creation of bespoke, branded video templates equipped with dynamic fields, akin to the personalization techniques employed in email marketing.
Crucially, these videos could be rendered in high definition (HD), an imperative for businesses that prioritize branding and showcasing high-quality products, like realtors do.
The automation aspect meant that videos could be swiftly generated from these templates, seamlessly incorporating specific agent data.
The Seamless Integration of Pirsonal's Automatic Video Editing API
While the focal point of this case study does not revolve around technical minutiae, it is worth highlighting the seamless integration of Pirsonal's API into Weichert's existing systems.
This integration facilitated a single sign-on experience for sales associates, delivering a user-friendly and expeditious process.
This integration held particular significance in the context of the highly regulated real estate industry, where sales partners must adhere to validated information standards in their marketing endeavors.
By integrating Pirsonal's customized video software within Weichert's partner portal, data accuracy in customized videos was assured.
Sales partners didn't need to know about video editing. They simply needed to request their video through an easy, fast process within Weichert's partner portal.
Fast Video Rendering in the Cloud
Pirsonal's cloud-based technology enabled the rapid rendering of personalized videos, affording brands like Weichert the agility to respond to the demands of automated, real-time video creation in seconds or minutes—not hours.
This feat was achieved through the utilization of Pirsonal's potent and secure servers.
Furthermore, Pirsonal's ISO 27001 certification reinforces both organizations' commitment to data security, aligning seamlessly with the compliance requirements prevalent in the industry.
Responsive Support: A Pillar of Success
Weichert's journey was punctuated by responsive support from the Pirsonal team. Prompt responses and an in-depth comprehension of Weichert's distinct requirements facilitated a seamless implementation process.
About this, Stephen Frederick, former Director of Creative Services at Weichert Companies noted:
"We decided to work with Pirsonal because of their personal interaction. You got answers right away."
Internal Traction: An Indicator of Success
One of the pivotal success indicators for Weichert was the internal traction they garnered. The speed at which their teams embraced automated video creation reflected the solution's effectiveness.
According to Frederich, the fact that Weichert's sales associates eagerly embraced this innovative video automation tool served as a compelling testament to its value.
The Dominance of Video in Real Estate
According to Wyzowl, 78% of marketers say video helps them increase sales. In the world of real estate, visual content holds sway.
But also, personal interactions are one of the tools realtors use to connect with home buyers and sellers successfully.
In an industry where visuals hold tremendous sway, personalized videos serve as a potent tool for showcasing properties, sharing insights, and engaging with clients.
This is why high-quality, automatically generated, customized videos stand as an effective medium for showcasing properties, sharing market insights, and forging connections with clients.
Large sales teams and partners, often numbering in the thousands, necessitate an efficient mechanism for creating and disseminating such videos.
They empower large sales teams to efficiently create and disseminate compelling content, paving the way for success in the dynamic real estate landscape.
Using Personalized Videos in the Customer Journey
Becoming an Authority in the Field
Pirsonal's unparalleled expertise in personalized video automation elevated Weichert to the status of industry authority.
Since 2017, Pirsonal has successfully helped brands like Zumba, Bosch, Siemens, and Reuters in video automation projects.
Our consistent track record of success, coupled with the capacity to cater to large sales teams, and production and creative teams, positioned us as the go-to solution for brands seeking to elevate their sales enablement.
The Splendor of Video Automation in Marketing
In summary, video automation liberates businesses from the shackles of laborious manual processes.
It operates within a secure cloud environment, upholding the tenets of data privacy and security.
Videos are crafted from bespoke, branded templates, ensuring a consistent visual identity.
Also, with Pirsonal, it's not just about automatically making videos at scale.
Brands can successfully connect with individual viewers through in-video interactions and dynamic landing pages that help viewers take action right from the video.
These templates encompass dynamic fields that autonomously populate with relevant data, mirroring the personalization principles seen in email marketing.
The end result? A personalized, captivating video primed for dissemination to leads and clients.
Need Help With A Personalized Video Project?
Crafting your first personalized video project to engage with real estate buyers and sellers can be daunting, but expert help is available.
At Pirsonal we offer scalable personalized video automation software and dedicated, expert help to guide you through the process so that your organization creatively uses video to boost engagement and brand recognition across the customer journey.
Contact us today. Let us know your goals, and we will give you tailored recommendations once we've evaluated the best way to help you.
Conclusion: Empowering Sales Enablement
Weichert's remarkable journey with personalized video automation stands as a testament to the colossal potential of this technology in revolutionizing sales enablement.
The ability to deliver personalized content at scale, seamlessly integrate APIs, provide responsive support, and ignite internal enthusiasm are all pivotal elements that fueled their success.
In the ever-evolving realm of real estate, video automation has evolved into an indispensable asset for large sales teams and partners.
As a vanguard in this field, Pirsonal continues to blaze the trail, transforming personalized video engagement into a tangible reality for brands across diverse industries.
We are dedicated to empowering your marketing, sales, and creative teams to achieve this goal.
Want to see examples, get valuable feedback, and understand how personalized video automation can help your brand engage with your audience in a unique way that catches their attention and prompts them to take action? Contact us today.