Video creation is one of the most profitable activities for media producers, advertisers, and publishers in the sports industry—and video automation helps them achieve new audiences and distribution milestones.
Interesting fact: The FIFA World Cup is FIFA's largest revenue generator. From broadcast rights to TV rights agreements and the creation of video clips for social media platforms, the series continues to pull in billions of dollars each year.
There is a reason for this. Simply put, soccer fans love video content. This is why the sports industry invests millions of dollars every year in video content creation.
In such a competitive landscape, this means publishers need to be able to quickly produce and publish short and long-form video content through different platforms. This helps them stay relevant and make the most of their ad revenue.
Sin embargo, scalable and professional video editing can be a time-consuming and expensive process. The difficulty is accentuated when discussing creating short and long-form content in real-time.
Después, scalable professional video creation in the sports industry requires well-coordinated production teams that work at speed. It also requires specialized video editing tools and dedicated hardware that is able to quickly render video content at scale.
On top of this, another challenge media production teams face is that they don't have the skills or technical expertise to create a scalable video creation workflow that adapts to their particular needs.
How elite soccer teams create videos automatically with Pirsonal's automatic video editing software
Many media production and technical managers wonder if automatic video editing is possible. The good news is that media production teams can leverage the power of artificial intelligence (AI), live data feeds, and cloud video rendering to automatically create videos online.
Sounds complex? Well, with the right technology, automatic video editing software, and an expert team that walks with you, it isn't.
But, what's automatic video editing? Automatic video editing is a process of editing video footage with little or no input from the user.
This is the case of our certified Partner Agency working on a project for a well-known soccer organization and in partnership with one of Europe's main media publishers.
Their goal was to increase their client reach to new audiences, find unique revenue opportunities with video, and decrease the cost associated with video production.
Combining their expertise in data, AI, automation, and creativity, they used Pirsonal's automatic video editing software and API to build a video automation workflow that automatically creates videos at scale during and after soccer games.
Automatically repurposing video content
This brand has been able to leverage video automation software to quickly and cost-effectively increase its media inventory with unique video summaries of soccer games.
By automatically repurposing TV content, teams are able to take existing footage, such as highlights and game recaps, and turn it into digital assets that can be shared with fans across multiple channels, platforms, and devices.
Their dynamic video content provides:
Game results and summary with official footage,
Information about the teams' performance,
Storytelling with natural language generation (NLG),  an artificial intelligence (AI) tool to produce written or spoken narratives from a data set.
Y más.
This not only helps teams reach a larger audience but also allows media producers to monetize the video content, creating a steady stream of revenue.
Additionally, video automation software makes it easier for teams to produce high-quality content in a fraction of the time and cost of traditional methods. All this is from the hours of content already created for every soccer game.
This allows teams to focus their resources on creating original content that is unique and engaging, while still being able to reach a wide audience.
High-quality video content from live and official data feeds
By leveraging video automation with Pirsonal's cloud video software, this sports organization creates high-quality video summaries in no time. Publishers and advertisers love this type of short-form content because it keeps fans informed and engaged.
This content is powered by official media content from their digital data feeds in real time. This is images, video clips, audio files, and text content relevant to every soccer game.
Pirsonal's engine creates real individual video files in MP4, OGG, WebM, or MPGE in the highest quality, following the brand's standards.
Branded video templates avoid repetitive video editing tasks
Branded video templates are a great way for publishers and media teams to scale video production projects. All this without having to go through the tedious process of repetitive video editing tasks to create hours of content for video platforms.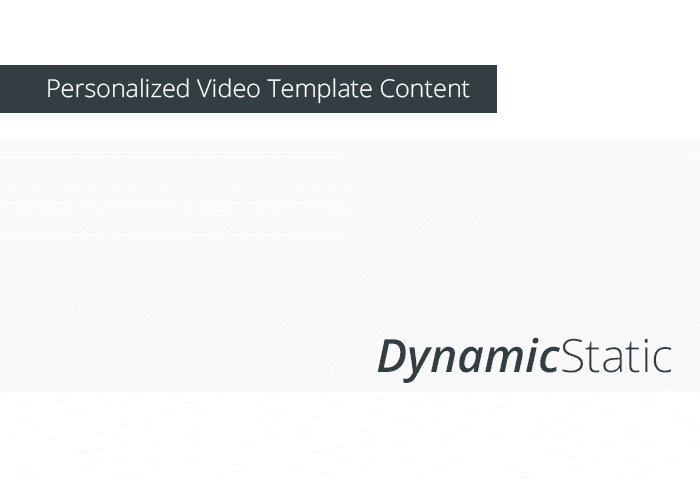 From automated video trim online to removing sounds and automatically respecting the image aspect ratio, Pirsonal's video platform takes care of all aspects.
These templates define the look and feel of every automated video. So, through video templates, Pirsonal's automatic video editing software receives the specifications for every individual video, no matter the number of videos.
Templates have dynamic and static layers or objects. Dynamic objects are images, video footage, audio files or text that are automatically inserted into a video and change on a video basis. For instance, the name and logo of a soccer team.
Static objects are those that are fixed. For instance, background music or a transition with an alpha channel or chroma-key (green screen).
Pirsonal's video automation solutions provide three ways of creating templates that perfectly adapt to the challenges presented by this organization.
Pirsonal Editor: A drag-and-drop, browser-based video tool to visually create templates for automated video production. It allows basic and advanced users to create their own automated video templates using assets from any video editing software, including After Effects (AE), Premier, and more.

Pirsonal Script: An easy-to-understand scripting language in JSON to create programmable videos. Since it is based on JSON, it is extensible, easy to integrate with any development, and easy to learn following our documentation.

Pirsonal API: Through our automated video maker and API, this organization can easily create and modify templates.
One of the critical aspects of this project is that no soccer game is the same. The number of players and more can be totally different.
With this, our video automation software supports dynamic templates, variables, and objects.
This provides unique flexibility to add and remove scenes, and objects, or even automatically detect the right duration for a video or audio clip. Also, Pirsonal's automatic video editing software supports dependencies between objects.
Media production teams can focus on other creative and strategic projects
Pirsonal's video automation software streamlines the process, saving hours of content creation.
This allows media production teams to focus on other creative and strategic projects such as creating strategic video campaigns, advertiser relationships, and more, which helps this organization to stay relevant and generate new revenue streams.
By automating the creation of videos, media production teams can create more content in less time, freeing up resources to focus on other projects.
Además, the software can help teams enhance their video production efforts by providing advanced editing tools, analysis capabilities, and other features that can be used to create powerful, engaging content.
Why publishers love automated video creation
Video automation allows brands and media organizations to save production costs, accelerate the creation process through cloud rendering, and create any number of video content without increasing the head count.
Let's see this in detail.
Case Study: Localized Digital Marketing With Automated Videos
Automated video production is low-cost
Automated video production is a low-cost solution for any media organization that wants to create high-quality content quickly and easily.
Video automation software helps teams streamline their video creation processes, allowing them to produce more videos in less time. The software automates content creation, editing, and distribution processes, reducing the need for manual labor and expensive equipment.
Additionally, the software eliminates the need for multiple people to be involved in the production process, reducing labor costs significantly.
With automated video production, media teams can create high-quality content quickly and efficiently, allowing them to focus on the game instead of worrying about production costs.
Automated videos in close to real-time
Fast video rendering helps publishers have quality video content before anyone in close to real-time. This is particularly beneficial for elite soccer teams that need to release videos quickly in order to engage with their audiences.
With video automation software, these media production teams are able to quickly and automatically capture, edit, and deliver their video content without human interaction.
The software allows them to create high-quality videos with minimal effort, ensuring that they can keep up with the latest trends and produce content that is more engaging than ever before.
In addition, they are able to produce videos that can be easily shared on multiple platforms, allowing them to reach a larger audience and increase their viewership.
With the help of video automation software, these soccer teams are able to stay ahead of the game and produce quality videos.
Video automation is accessible
With video automation, scalability is not scary anymore. In addition, video automation doesn't require video editing experience once a template is ready.
Pirsonal provides different video tools that adapt to different types of users. From an online video editor to create templates to automatic video transcoding.
Pirsonal Professional Services or our Partner Agencies also provide the right support to help organizations succeed.
Automated video production boosts efficiency
Video automation software enabled media teams, soccer teams, publishers, and advertisers to produce high-quality, engaging videos quickly and cost-effectively.
Further, the software allowed teams to create multiple versions of their content in different languages, enabling them to reach a wider audience.
As a result, media and publishing teams were able to create more content, generate more traffic, and reduce costs. Ultimately, the case study demonstrated the powerful impact video automation software can have on scaling video production for elite soccer teams.
You can replicate their success today! Contact our video automation experts now. We'll understand your requirements and guide you step by step so that you succeed with your video automation project. Contact us today!