Software de video marketing personalizado
To Make Your Audience React
Engage with your unique audience, one at a time, with a flexible, cost-effective personalized video platform that adapts to your needs.
Integrate with any data source
To Get Your Customers' Attention, You Need To Talk To Them Individually
But there's a problem…
Your competitors are crushing it
You've heard personalized videos are costly
Your customers don't understand your messages
Your 1:1 messages fail to WOW
You aren't a marketing automation ninja
You don't have tons of creative or technical resources
Una herramienta de marketing con vídeos personalizados
¿Qué es Pirsonal?
We understand how it feels. You know that video works, that personalized marketing, and marketing automation are the way to go. We know that personalized videos are 116% more effective than generic videos.
Imagine a self-service personalized video marketing software that made it easy, flexible, and cost-effective.
Pirsonal takes personalized videos to the next level, powered by marketing individualization. A flexible software and a platform built to connect with your customers. Say "Hello" to sales acceleration and compromiso con el cliente.

Josías De La Espada, CEO de Pirsonal.
CASOS DE USO
Pensamos en tu éxito
Unique Customer Experience
Zumba does personalized video marketing powered by Pirsonal to help instructors engage with localized audiences in 7 languages.
Más ventas
Flight Centre achieves higher closing rates by using Pirsonal's Personalized Video Marketing Platform within marketing automation workflows.
Incrementa el beneficio por cliente
Opodo creates timely personalized videos to encourage customers to buy more and increase loyalty and brand awareness before flight departure.
Why Pirsonal?
A flexible personalized video marketing software for modern customer engagement
A platform for any team member
A consistent experience for marketing automation and campaigns
A service that scales and grows as you need
All-in-one
Software de video marketing personalizado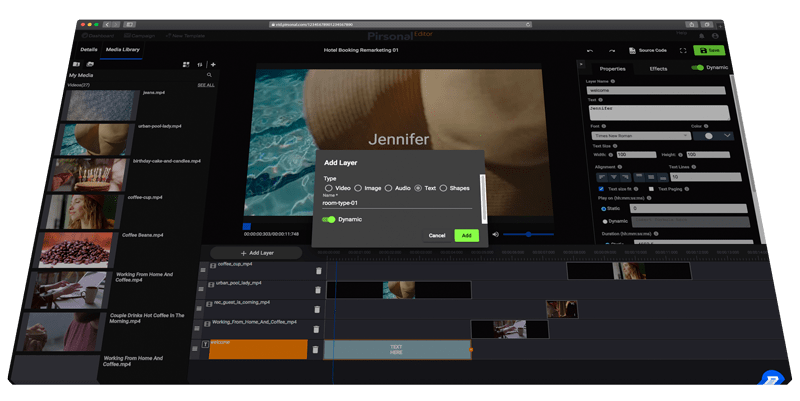 Pirsonal Editor
Create your own templates in a blink
Pirsonal Editor is a flexible, drag&drop, browser-based video editing software that helps you create dynamic templates for your personalized videos in no-time. Regardless of your skills, this is your tool.
Pirsonal Campaigns and Integrations
Conectado a tus herramientas de marketing
Start with a CSV or automatically create an vídeos personalizados for every lead you capture on your landing page with Hubspot or Unbounce. Send the video by email with Salesforce or Mailchimp, or even by SMS with Twilio or Beepsend. No matter what personalized marketing software you use, we´ve got your back with more than 2000 integrations and counting.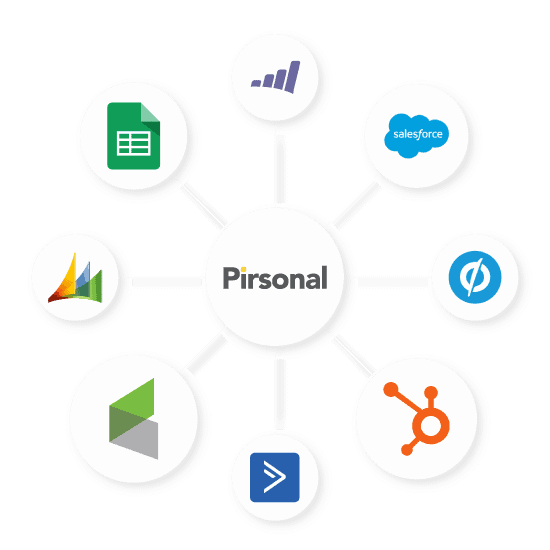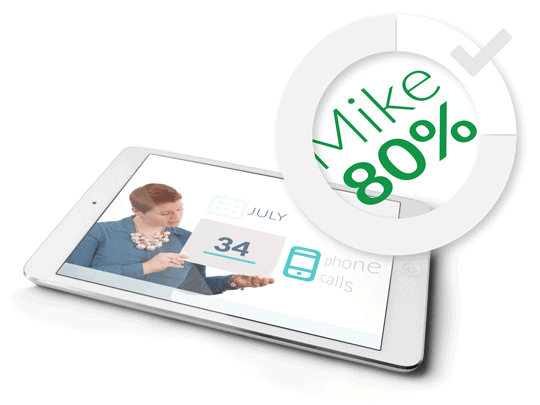 Pirsonal Player
Interactuar personalmente con cada individuo
Pirsonal Player lo ayuda a interactuar con cada individuo de manera personal, en cualquier pantalla, para ayudarlo a obtener mayores conversiones de interacción. El reproductor de video individualizado HTML5 de Pirsonal ofrece llamadas a la acción personalizadas para cada cliente potencial o cliente específico, de forma automática. El reproductor de video de Pirsonal también puede integrarse en cualquier sitio web.
Pirsonal Pages
Capta instantáneamente la atención de tu cliente
Pirsonal crea automáticamente una página de destino personalizada para cada cliente potencial. Cree una experiencia aún más atractiva para cada individuo al incorporar también cualquier herramienta de terceros en la página de inicio de video individualizada: desde formularios web a chats en vivo.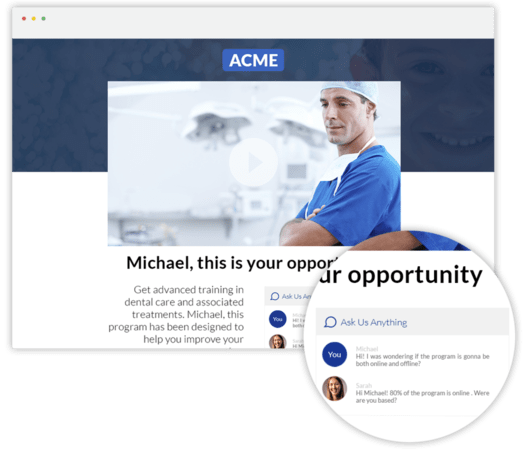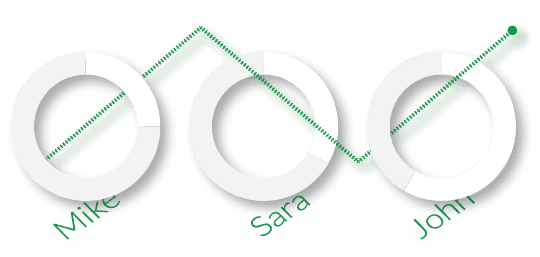 Pirsonal Intelligence
Track individual engagement and reactions
Haga un seguimiento no solo de las vistas, sino también de las relaciones de participación con Pirsonal Analytics y Google Analytics. Conozca el comportamiento específico de sus clientes cuando vean cada video personalizado y creen disparadores en función de su reacción.
Pirsonal API
Tailored to any marketing automation workflow
Create fully personalized video automation workflows through the Pirsonal API. Create videos, update information on personalized landing pages, as well as personalized calls-to-action in real-time with a simple method. Get information about analytics and, in short, take total control to create campaigns completely tailored to your needs.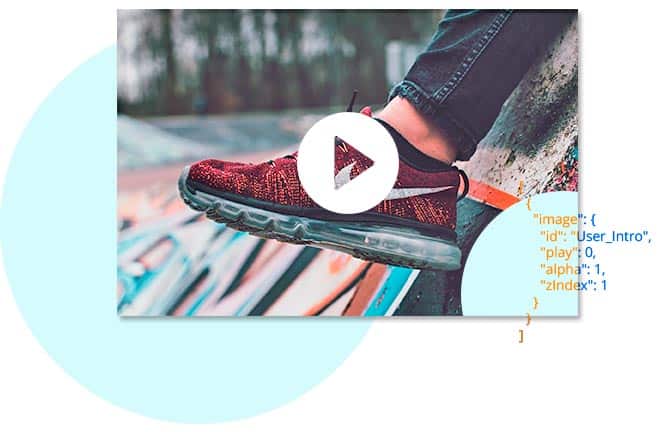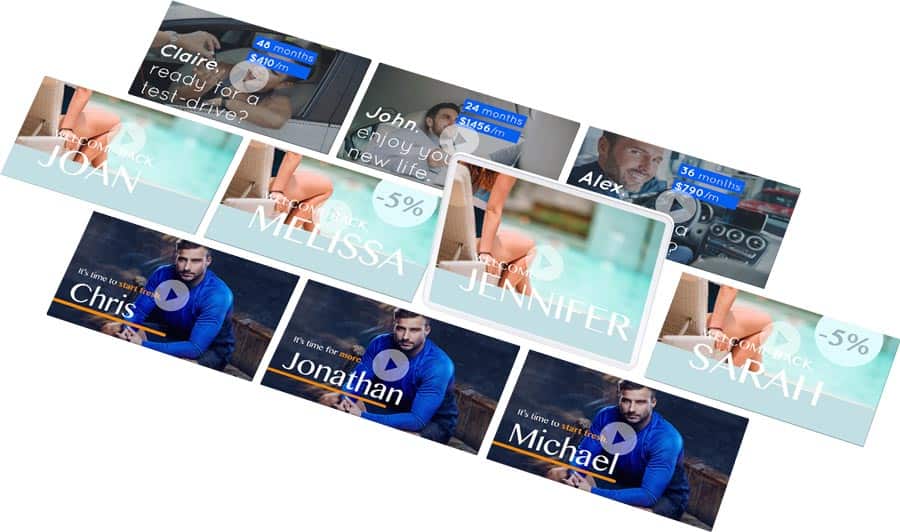 Pirsonal Script
Gain full flexibility
If you are a developer, create personalized video templates on the fly thanks to Pirsonal's documented, JSON-based scripting language: Pirsonal Script.
Create a Personalized Video Now
Enter your name to automatically create a personalized video, landing page and call to action.
Self-service or done for you
Your plan for boosting customer engagement starts with personalized videos
Use a template
Start with an existing personalized video template or create your own with Pirsonal Editor or Pirsonal Script
Connect your data source
Create personalized videos automatically from a CSV, any of our +2,000 integrations (Zapier), or our API
Wow your customers
Connect Pirsonal to your favorite marketing automation software to send personalized videos automatically.
Más ventas y clientes más fieles
Or talk to Sales now: EE.UU. +1 (914) 336-4549 | Europa +34 (912) 485-775