Easy Video Editing To Create Personalized Video Templates
Pirsonal Editor is a flexible, drag&drop, browser-based video editing software that helps you create dynamic templates for your personalized videos in no-time. Video editing to create personalized video templates for your marketing just got easy, fast, and cost-effective.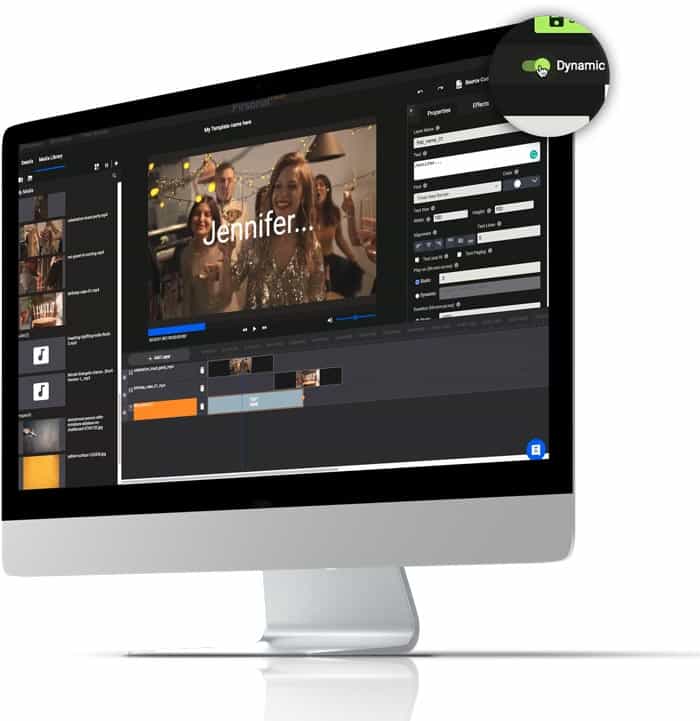 Create your own personalized videos templates
Pirsonal Editor is a video editing software to create personalized video templates in a snap. If you value your time and ease of use, this is your tool.
Start with an existing template, create a personalized video template from scratch, or import media assets from other video editing tools like After Effects or Premiere.
Pirsonal Editor works with Pirsonal, the personalized video marketing software. It allows you to make any media object dynamic. Images, videos, audios, and text can be dynamic.
Dynamic content
Real-time preview
No skills required
Create personalized video templates in a snap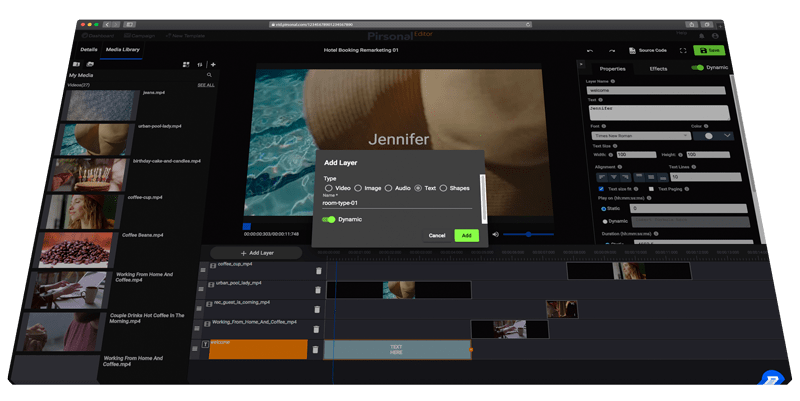 Drag & drop
Intuitive drag-and-drop video editing software to create personalized video templates from any browser and empower your marketing. Create unique stories that resonate with each individual automatically.

Contenido dinámico
Add as many dynamic layers as you need, change them with a click. Pirsonal Editor makes any video, image, audio, and text dynamic so that you can create personalized videos powered by any data source.

Real-time preview
Save time and resources with Pirsonal's real-time personalized video template preview and rendering. Once your template is ready, the Pirsonal platform will create unique personalized videos in any video format.
Why a video editing software to create personalized video templates?
Not everyone has the skills, time, and resources to use a video editing software like After Effects to create templates for personalized video campaigns.
We created a video editing software to create personalized video templates. An easy-to-use video tool, designed so that anyone can create templates for personalized video campaigns in a blink.
Software de video marketing personalizado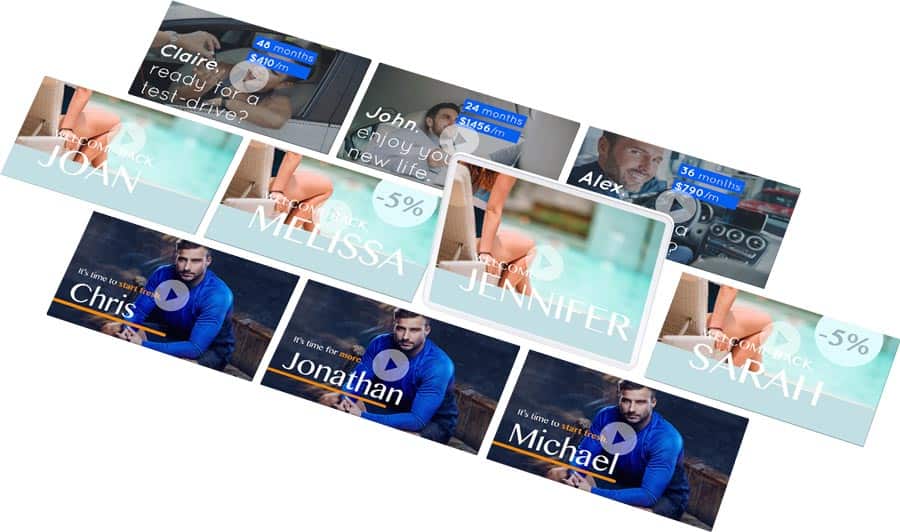 Pirsonal Videos
Increase customer loyalty, sales, and engagement with Pirsonal's personalized video marketing software. A complete, scalable, and secure solution to create personalized videos online.
Pirsonal Pages
Increase brand awareness and conversions with data-driven personalized landing pages. Pirsonal Pages are landing pages automatically created for each personalized video.
Pirsonal Player
Build individualized messages that resonate with each customer. Pirsonal Player is an interactive personalized video player with behavior-based personalized calls-to-action.
API e integraciones
Integrate with any software and with our API. Connect the full power of video personalization to your own data source, based on your triggers and marketing automation.
Pirsonal tiene más características
Una plataforma segura de video personalizada
Nos tomamos muy en serio la seguridad de los datos. Desde el procesamiento de video protegido hasta el cifrado de datos y el alojamiento seguro de videos.
Magic link
A través de Magic Link de Pirsonal, los videos se crean automáticamente cuando una persona hace clic en un enlace. Detrás de escena, ya sabemos los datos y la plantilla que se fusionarán.
Sistema de webhook protegido
Un Webhook es una notificación de envío de los servidores de Pirsonal a la suya o a cualquier software. A través de nuestra plataforma, pueden estar protegidos por contraseña. Pirsonal se comunica instantáneamente con cualquier aplicación en el momento en que se crea un video para integrarlo en un correo electrónico, SMS, CRM o cualquier sistema.
Personalized Video Hosting
Every plan comes with secure personalized video hosting so that you don't need to worry about hosting your personalized videos.
Integración de Amazon S3
Pirsonal integrates with Amazon Webservices so you can securely host the Personalized Videos in your own S3 bucket.
Usa tu propio video hosting
Use your own video hosting, integrate the Integrated Video files wherever you want through Pirsonal's API, the Personalized Video marketing Software for developers.
Metadatos personalizados
Adjunte cualquier información relevante a cada video, desde una identificación de cliente, un número de teléfono o un correo electrónico. Pirsonal facilita la integración y administración de cada video con cualquier flujo de trabajo de automatización.
Codificación de video
Pirsonal takes care of the video encoding so that every Personalized Video works on any type of platform.
Perfiles de salida de video personalizados
Pirsonal's Automatic Video Editing platform takes care of the complete processing, transcoding and rendering of your Personalized Videos. Create the video in one or several formats and resolutions, create custom video profiles.
Plantillas flexibles
Create Personalized Video Templates on the fly thanks to Pirsonal's documented, JSON-based scripting language: Pirsonal Script.
Creador de plantillas
Start from an existing personalized video template and Make it your own. Or simply use Pirsonal Editor or Pirsonal Script to create your own templates from scratch.
API e integraciones
Create custom products by using Pirsonal's API. There are also thousands of integrations available you can use thanks to our Zapier app.
Más ventas y clientes más fieles
O hable con Ventas: EE.UU. +1 (914) 336-4549 | Europa +34 (912) 485-775