Making personalized videos is often seen by marketing leaders as an innovative way to improve customer experience, increase retention, and boost engagement.
Utilizing personalized videos can capture customer attention and encourage them to take action. For example, this video explains what a mortgage forbearance is and offers guidance on the next steps for the customer.
But the fact that personalized videos are trending engagement tools doesn't mean they'll work on every occasion.
Here is why.
If the open rate of your marketing channel is low, your target audience lacks a compelling reason to watch the tailored video, the content and call to action of the videos are not aligned with your business goals and audience, and your campaign is not optimized, it is highly likely that your video personalization campaign will result in failure.
Therefore, understanding how to make a personalized video campaign will help you create a successful strategy to engage customers and hit your business goals.
To succeed at making personalized videos in marketing, focus on these areas in this order:
Goals, KPIs, and metrics.
Marketing channel and content.
Landing page content.
Interactive call-to-action.
Data-driven video content.
In this article, you'll learn how to do this. Keep the following infographic as a visual reference as you iterate.
Let's start by understanding why personalized videos are beneficial in marketing.
The case for personalized videos in marketing
Reports show that 76% of people hate irrelevant communications (McKinsey & Company). Similarly, the majority (71%) prefer personalized experiences from companies.
Because of this, businesses need to find effective ways to make marketing campaigns and messages highly targeted and relevant.
Otherwise, the majority of customers will keep ignoring most of your campaigns. When this happens, the overall effectiveness of marketing decreases.
This is why, according to a recent report by Ascend2, 51% of marketers acknowledge that the most significant advantage of personalization in marketing is the ability to provide customers with an exceptional experience.
When businesses deliver a personalized experience, customer engagement increases and marketing efforts become more effective.
If your marketing is more effective, it also drives higher revenue.
In fact, an impressive 50% of marketing leaders believe that implementing personalization strategies effectively boosts revenue.
Check out this infographic to discover the critical advantages that marketing leaders derive from incorporating personalization into their marketing strategies.
Thus, leveraging personalization can help marketing teams create messages and experiences that better align with their customers' expectations.
And, sure, there are different types of content brands can personalize to engage with customers.
But there is one that both brands and audiences love.
And it happens to be a quite profitable one.
You are right: It's video.
En realidad, 78% of marketers say video helps them increase sales (Wyzowl).
Due to the power of video to communicate simple and complex information, it is one of the best sales and engagement tools any business can use.
Despite this, numerous businesses still produce videos that fail to cater to the context of specific audiences.
As a result, their target audience also ignores them. And, even worse, these videos fail to achieve their intended purpose.
Recuerda…
With the majority of leads and customers wanting more personalized content, your videos also need to be relevant so that your brand hits the target.
Debido a esto, marketing leaders need a more relevant type of video that grabs their audience's attention and helps them move forward in their journey.
Here is how…
Combine both things, personalization and video, and you have a powerful engagement tool.
¿Por qué?
Because personalized videos are about 116% more effective than generic videos.
This means that, in order to effectively communicate a tailored offer to customers, help them engage with the content, and take action, businesses can leverage personalized videos.
With individualized videos, your organization can grab the attention of the majority of customers.
Plus, as you'll see later in this article, if these videos are interactive, every customer can also be presented with a tailored call to action (CTA).
Personalized calls-to-action are around 200% more effective than generic ones.
Now, let's discuss the essential steps that most marketing teams need to take in order to create personalized videos that will significantly boost engagement.
To create effective personalized videos, follow these steps and recommendations in both situations: when making personalized videos for the first time and when you want to improve conversion rates for videos you have already created.
Download these steps and share them with your team so that you can boost engagement with personalized videos in your marketing.
Step 1: Set Clear Campaign Goals Before Making Personalized Videos
Wrongly, personalized video creation is considered by many marketing leaders as the ultimate goal.
However, in my experience, the goal should never be just to make 1:1 videos.
Con el derecho personalized video making software, that's easy, and it can even be automated.
En lugar de, the goal should be to direct viewers to take action that aligns with your goals and objectives, whether it's immediate, in the near future, or in the long term.
That's how you engage with customers, prove to be helpful, and achieve your particular business goals.
This requires you to have specific KPIs and marketing metrics en su lugar.
KPIs evaluate performance according to important business objectives, while metrics measure performance and progress for specific activities in your business.
Después, successful personalized video programs need to target specific KPIs achieved through different metrics.
A ver cómo.
Using Personalized Videos in the Customer Journey
Choosing KPIs and Metrics to Make Personalized Videos for a Campaign
Imagine a service company with 5,000 customers determined to achieve a 15% increase in sales from its current customer base by the end of Q4.
This objective can be achieved through the strategic approach of upselling products that perfectly align with each customer's unique persona.
In order to achieve this objective, this company can make personalized video content for each customer to attract their attention to a tailored offer and drive them to act fast through an in-video CTA button.
But, wait a minute.
What if you don't have sales-oriented KPIs and metrics?
Well, there are still business goals that should be aligned with KPIs and metrics to keep them on track.
Let's see this with a real-life example.
We helped Mitsubishi from Sweden with their successful campaign to increase brand awareness and generate leads.
One of the biggest challenges in direct mail marketing is getting people to pay attention to the mail piece and respond.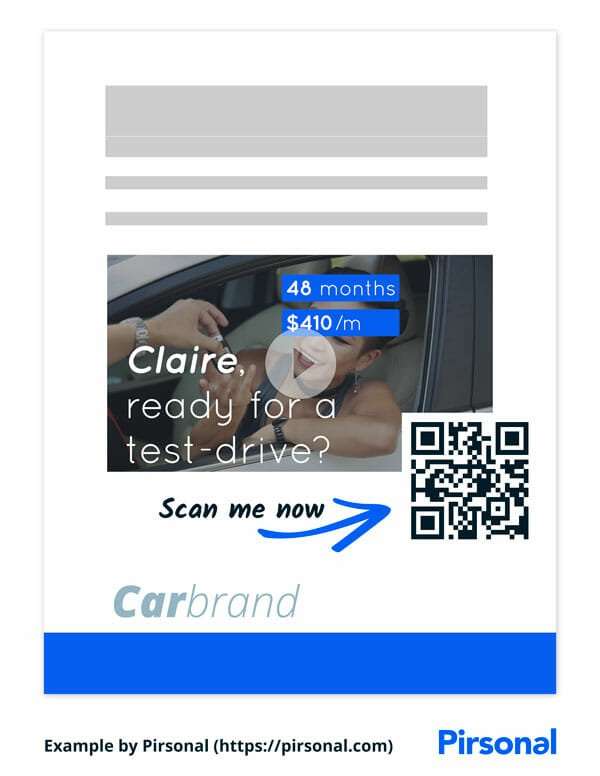 This brand needed to engage with around 20,000 direct mail leads in the context of the brand's anniversary.
One of their objectives was to get a portion of these contacts to engage in digital interactions that could be tracked, in order to continue engaging with them digitally and generate sales in the future.
This is why their marketing team came out with a bright idea:
Making personalized videos with Pirsonal and adding a QR to the direct mail pieces to make them more engaging and boost the response rate.
Disruptive Direct Mail Marketing Example
What about the metrics?
There are a few they could pay attention to, including the number of form submissions or video views.
In direct mail marketing, however, a key metric is the response rate. So their CRM leader paid close attention to this metric.
¿El resultado?
In the initial days of the personalized video campaign, they witnessed an impressive 30% response rate, much higher than the average rate observed in the direct mail industry, which made the campaign a complete success.
Step 2: Optimize Your Marketing Channel to Send Personalized Videos
When making personalized videos to engage with customers, you always need to choose a communication channel to share them with your audience.
For instance, these are some marketing channels in vídeos personalizados:
Correo electrónico
SMS
WhatsApp
QR codes
Páginas de destino
Direct messages (DM)
However, it's not only about choosing the right channel but also about crafting the right message.
There are three reasons why many businesses fail at doing this.
First, many don't proactively engage with their audience through the chosen channel, thus, their audience still ignores their messages.
Second, they don't optimize the performance of these personalized video messages.
As a result, they easily become discouraged when they don't see the desired results on the first attempt, failing to realize that every marketing message needs to be optimized.
Third, the campaign is more likely to be based on emotional response rather than data-driven decision-making due to the lack of specific KPIs and communication channel metrics.
So, how should businesses tackle this?
How to Optimize Your Marketing Channel for Personalized Video Engagement
The rule of thumb is to choose the marketing channel that better aligns with your target audience and with the resources you have available.
For most businesses, this is email since it is their primary communication channel to communicate with leads and customers.
At Pirsonal, we see that the majority of our clients send personalized videos by email.
Since Pirsonal is quite flexible, they either upload a CSV to our video personalization platform to update contacts' details in bulk or leverage integrations (Zapier, Mailchimp, and more) to have a more automated and real-time process in place.
Also, there are multiple methods to track and optimize email messages, utilizing both company-specific and industry-wide benchmarks.
But email marketing comes with a few challenges that could dramatically impact your video personalization efforts.
Simply put, if you have poor open rates, don't expect many more contacts to open emails with personalized videos.
It doesn't mean that it won't happen.
It just means that you need to work on optimizing the distributional channel first.
Por ejemplo, you've probably heard that email subject lines that use the word "video" get more open rates (19%).
And this is true.
But if your individual recipients have been ignoring your emails for a while, it's unlikely that they'll change.
Therefore, it is essential to know your current or upcoming situation. This will help you know how to anticipate the challenges and optimize your communication channel.
There are two different scenarios most businesses face. Each one requires a different approach.
#1 Email campaigns
If you send email campaigns to contacts, first get your audiences ready to receive these emails. This will increase your email open rate.
Do this by giving them a strong reason why they need to open them, read the content, and click on the call to action.
Use personalization to make these messages more appealing to every individual.
You'll normally do this through 5 to 10 email campaigns sent over 1 to 2 months. This obviously depends on your industry, target audience, and offering.
When done right, your audience gets familiar with your brand, value proposition, and senders.
As a result, more contacts open and engage with your emails.
This way, when they receive an email containing access to a personalized video, they'll be more likely to open it and watch the video.
Once your email open rates are at least average to your industry, and you are in general happy with them, you'll then A/B test open rates of email campaigns containing a link or thumbnail for a personalized video.
This is commonly done by testing different email subject lines and the email preview text.
However, don't stay there.
Work hard to optimize the content of your email campaign so that contacts also watch their personalized videos.
Keep reading to learn how to do this.
For many, this won't be a fun process, but it is certainly worth it.
This is why at Pirsonal we help our clients with 1:1 consulting sessions that help them identify and implement improvements to their email marketing campaigns with personalized videos.
Now, let's cover the second scenario.
#2 Automated emails
When sending automated emails to leads and customers, make sure these emails are relevant to their current stage.
Consider, for instance, an insurance company.
Customers must renew their policy annually.
In order to boost the number of renewals, the company can use automated emails with personalized videos, which can be sent precisely 15 and 3 days prior to the renewal date if the customer hasn't renewed the policy.
The following infographic shows how this brand can use data-driven videos to accelerate the renewal process while improving the customer experience.
Why these types of emails?
Automated sends increased by 99.2% and conversion rates increased by 16.8% YoY in 2023 (omnisend).
Automated emails are highly effective for generating sales and improving customer experience with personalization.
But if these emails don't take into account the contact's context, including goals and concerns, then they'll slowly lose effectiveness.
With personalized videos and timely emails, this insurance company takes into account that policy information is hard to understand, and most consumers find it scary, while tailored interactive personalized videos make it easy, accessible, and actionable.
So, in the same way that most successful data-driven videos take the viewer's context into account to effectively communicate the message, automated emails must do the same.
This means that the subject line, preview text, and overall content of the emails need to be optimized according to the customer's context.
Use the same type of performance optimization I mentioned above for email campaigns.
Now, let's cover the email's main content.
Step 3: Using Video to Increase Email CTR
Once your email open rates are optimal, you should also focus on increasing email click-through rates (CTR).
The average email campaign click rate across all industries in the first half of 2023 was 1.33%. This means that marketers need to work hard in order to increase this click rate.
Since most contacts prefer watching video over reading content, using video in your emails will often help you get a higher CTR.
However, in email marketing, there are many ways to give contacts access to a personalized video.
Also, every way relates to different campaign goals and metrics pointing at your KPIs.
Understanding the different ways to add video to your emails, therefore, will help you plan accordingly, optimize, and achieve your objectives.
Watch the following video now to learn the different options for adding video to email campaigns.
As you can see, there are four ways:
Embedding the video in the email campaign. This option is a good fit for branding campaigns that are not expecting a particular action from viewers. Note that simply gaining views is not always the ultimate goal. The goal is to encourage viewers to take meaningful actions. The best way to do this is with in-video CTA, which you can't use when you embed videos in email. Also, many email clients—including Gmail, with a 27.96% market share—can't play video in emails. Key metrics: email open rate, email CTR.
Adjuntar el archivo de video al correo electrónico. This is not a good idea; don't do this. Video files are often heavy and email clients and servers can see the email as spammy. Also, it offers a bad user experience and this can damage your email conversions and reputation. Key metrics: email open rate, bounce rate, unsubscribe rate.
Uso de GIF animados de videos. This option is similar to embedding the video and often goes along with this one. Basically, if the email client doesn't support video content, there is a fallback option with an animated GIF. I strongly recommend this option if you add videos to your email campaigns because it will help you increase CTR. Key metrics: email open rate, email CTR.
Enlace a una página de aterrizaje con un video. Either through a video thumbnail, button, or text with a link. This one is my favorite one because you can also personalize these landing pages. Pirsonal does this automatically. This is common practice in personalized video marketing, and you can also combine this option with embedding the video and using animated GIFs. Key metrics: email open rate, email CTR, video plays, video engagement rate, CTA engagement rate.
Which option should you choose?
Well, it really depends on your goals, KPIs, and metrics.
For most companies, it will be option 4, linking to a personalized landing page that displays personalized videos.
But let's now cover how every option impacts your metrics and KPIs.
Watch the following video now to learn the different implications of every option.
Let's see these options from the perspective of the insurance company from the above example.
Remember, this company wants to boost retention.
Therefore, making interactive personalized videos can help them attract customers' attention and encourage them to immediately take action while watching the video.
These are the different scenarios:
If they embed a video in the emails, it is possible that the email contacts watch the video, but they will not have an easy way to take action. This is why in-video CTAs are a must in most campaigns. Also, many email clients won't play the video in the email.
If you include an appealing video thumbnail and a strong call-to-action button in your email marketing campaign, the CTR will increase. However, three different things can happen depending on where the video is presented.
If the data-driven videos are played from the landing page of services like YouTube or Vimeo, the email contacts will get lost and distracted. It will be very difficult to convince or persuade them to buy or take any action that supports your goals. This is not a good option.
Data-driven videos played from a dynamic landing page can highlight your brand, display personalized CTA buttons, and make the landing page more appealing. Yes, you can achieve this with Pirsonal Pages, which are customized landing pages for data-driven videos. Our clients often choose this option because Pirsonal generates landing pages automatically, saving them from involving their IT teams.
If the videos are played from the product landing page, the contact can buy the product right away and even add more products to the cart. This can be done by embedding Pirsonal's interactive video player or our widget in the landing pages. From this angle, this is the best approach.
So far, you now have clear goals and have optimized the marketing channel. It's time to optimize the content around the personalized video.
Step 4: Optimizing Personalized Landing Pages for Data-Driven Videos
Most data-driven videos are typically showcased on landing pages.
As I previously stated, I highly recommend this option in most situations, rather than utilizing the video pages provided by platforms such as YouTube or Vimeo.
¿Por qué?
When you use a custom landing page to showcase a personalized video, you help viewers focus their attention on your brand, video content, and call-to-action.
By doing so, your chances of successfully achieving your desired conversion goals are significantly enhanced.
However, when you use services like YouTube, viewers can easily get distracted by other videos—including your competitor's—and ads.
Thus, this decreases the effectiveness of your marketing efforts.
Added to this, as mentioned earlier, the majority of customers dislike irrelevant communications.
And, as you can guess, this also applies to video landing pages.
This is why personalization techniques are crucial in order to enhance the impact of data-driven videos on landing pages.
What many marketers miss is that potential viewers still need to press the play button to watch their personalized videos.
When you personalize these landing pages, you help viewers understand why they should play the video.
Also, some viewers will need to read the text to make a decision in relation to the call to action of the video.
With this, using personalization can help you make relevant landing pages that help leads and customers play the video.
Now, how can you create a tailored landing page for every customer?
Easy.
With Pirsonal, you can effortlessly generate personalized landing pages for every single customer, using the same streamlined process you utilize to create customized videos.
This way, whenever you automatically create a personalized video, you also create a data-driven landing page.
To optimize the content of your personalized landing pages, focus first on the main title. Give viewers a reason why they should watch the video.
Then, optimize the video description. I usually recommend focusing the content of the description on the call-to-action of the video.
If the video's call-to-action is related to actions like submitting a web form or accessing a document, I usually recommend embedding that content on the landing pages as well.
With Pirsonal Pages, this is possible thanks to our embed option. Plus, this content can also be personalized.
Now that you've optimized the content of the landing page, let's focus on the in-video call-to-action.
Step 5: Improving Video Conversion Rates With Interactive Call-to-Actions and Personalization
What's the point of making personalized videos if they fail to inspire viewers to take action? Many brands frequently make this costly mistake.
While their videos may appear impressive, they unfortunately lack the ability to truly inspire and help individuals to progress on their journey—even if these videos are individualized to each customer.
The most effective way to do this is through interactive video and clickable calls-to-action buttons.
With Pirsonal, these clickable calls-to-action can also be personalized at scale in two ways:
Content.
Display moment of CTA.
Let's talk about video CTA optimization.
You can optimize these video CTAs to increase engagement and conversions.
Here are some practical ways:
Use personalization to make the content of the CTA highly appealing to every viewer. This will increase video CTR.
Make sure to display the clickable video CTA early on instead of waiting until the end of the video. Instead, place the call to action in the section of the video that captures the viewers' attention the most. In the majority of cases, this represents approximately 30-60% of the timeline. In addition to this, display the CTA at the end of the video.
Automatically display the clickable video button when viewers pause the video. This acts as an exit intent and is a simple trick to increase the visibility of the CTA and in this way increase CTR.
Step 6: Improve Data-driven Video Content
To improve the conversion rate of personalized videos, focus on improving the dynamic and static content. Often, this will be your last performance optimization step.
Simply put, if the video's content is not clearly the root cause of the conversion issues, my suggestion is to prioritize video engagement optimization towards the end.
¿Por qué?
It often requires more time and resources, including script changes, and even designers' help.
To know if the personalized videos are performing as expected, take a look at the aggregated and individualized video analytics.
With Pirsonal's interactive video player, you'll see this information.
Pay attention to the following video metrics:
Average watch time. We measure this in percentage.
The number of times the video CTA was displayed.
los number of clicks on the video CTA.
The average watch time is a definitive measure of how captivating the content of personalized videos truly is.
How to Structure Personalized Video Content to Increase Viewer Engagement
To increase viewer engagement, structure personalized videos in a way that appeals to different audience types.
In this video, I explain this in detail:
Take a look at the following infographic. It summarizes my recommendations taking into account our data after analyzing many personalized video projects.
As you can see, it is important to consider the audience that typically watches each part of the video, the content that captures their interest and motivates them to take action, and the copywriting framework that is most effective for these videos.
Then, to successfully improve the content, it is vital to understand how all stories and videos are structured.
Intro.
Main.
Outro.
Based on my experience, you should anticipate a minimum percentage of users watching each section as outlined below:
Intro: 20% of viewers will only watch the intro of the video. Grab their attention with dynamic content (for example, their name), tell them what's the video about and if there is a particular step they need to take.
Main: 70% of viewers will watch until the main part of the video. Use personalization to increase the interest in the content and make sure the content improves their lives. It is time to show a clickable call-to-action button; don't wait until the end of the video.
Outro: 35% of viewers will watch the complete video. Raise their desire with dynamic content within their context and lead them to a specific, clickable call-to-action. The content of the outro should be focused on this call to action.
In order to maximize your viewership, it is crucial to optimize your video content and call-to-action button, ensuring that a large majority of viewers watch both the primary and outro segments of your videos.
So, how can you tackle this?
Well, it depends on the type of personalized video template you are using and the video personalization tool you've chosen.
Let's start with the templates.
There are mainly two types:
Templates with a fixed structure. The video personalization is placed over a background video. This optimization will require modifying the background video and/or the dynamic content of the video.
Templates with a flexible structure. The template is designed with various movable scenes that enable you to effortlessly modify the sequence of content according to your preference. Using the available video analytics information, modify the structure of the video to increase video and CTA engagement.
With Pirsonal's tools and assistance, you can easily create and customize templates of any type, whether it's your team or our Professional Services team working on your behalf.
Con Editor Pirsonal, our dynamic video creation tool, you can easily make changes to any template using any web browser, regardless of which template you choose.
Pensamientos finales
Personalized videos can help any business boost engagement. Just like any marketing activity, to succeed you should also prioritize performance optimization.
This optimization requires working on critical metrics for your communication channel, landing pages, video call-to-action, and video content.
Marketing teams typically require around 3 to 6 months to effectively optimize a personalized video program in order to achieve its utmost impact.
Without clear goals and objectives, it doesn't matter if you personalize videos to engage with customers or not.
What matters is that every single aspect of your strategy points in the right direction. Then, to succeed at making personalized videos to increase engagement, you need to have clear KPIs and metrics to make the business case.
At Pirsonal, we go beyond just offering flexible personalized video software. We accompany you on a transformative journey, helping you succeed in enhancing customer engagement through personalized videos.
Get in touch with us right away. Tell us your plans to transform engagement using personalized videos. We'll be happy to share ideas, tips, and best practices based on your needs to help you succeed.