Marketing personalization is a game-changer as it supports successful growth strategies in any business's marketing effort. In fact, according to a recent survey, 73% of marketing leaders have had success with personalization as a growth driver, showing its potential.
Tailoring strategies, interactions, and messages to individual customer needs, context, and interests improves your marketing's effectiveness, increases brand loyalty, and drives growth.
However, most marketers are uncertain of the data-backed challenges, benefits, and outcomes that personalization brings to their marketing.
This is why accessing real-life stats can help you understand how personalized marketing performs based on the experience of hundreds of marketers who have already tried it.
This is why I created the following video and article where I analyze the "Trends in Marketing Personalization 2023" survey by Ascend2.
This research sheds light on how businesses are leveraging personalization, the benefits they reap, and the challenges they face.
As you'll learn in this article, it becomes clear that while personalization has delivered success for many, there are opportunities for further improvement and optimization.
Definition of Marketing Personalization
Marketing personalization refers to the process of tailoring marketing strategies and messages to meet the specific needs and preferences of individual customers.
Rather than employing a one-size-fits-all approach, marketing basado en datos takes into account datos de los clientes, behavior, context, and preferences to create targeted and relevant content and interactions.
Unveiling the Power of Personalization: 73% Experience Success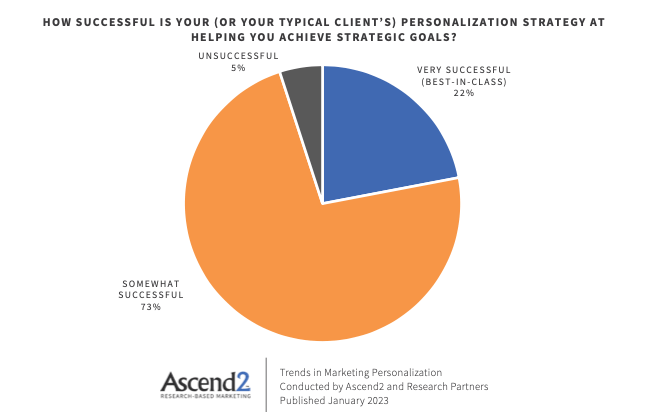 According to the survey, only 22% of marketing professionals believe their personalization strategies to be "best-in-class" in achieving strategic goals.
However, a significant 73% have reported some level of success, indicating that personalization holds promise as a growth driver.
This suggests that businesses can harness personalization to a greater extent and capitalize on the untapped potential it offers.
But there is also a word of caution.
A small 5% of respondents found personalized marketing unsuccessful.
In my opinion, this percentage is optimistic, though.
As I'll cover in this analysis, companies often struggle with personalizing their marketing due to a lack of effective strategy.
Greatest Benefits of Personalization in Marketing
In 2023, marketers are finding that the most significant benefit of personalization is improving the customer experience (CX).
And this also aligns with what we see among our clients at Pirsonal (BMW, Weichert, Zumba, Opodo, and more).
However, it is important to understand the "why" behind this fact.
In my experience, more often than not, the reason why many organizations embrace personalized marketing is that they want to improve customer engagement.
Customer engagement is the solid engine behind superior customer loyalty, increased revenue, and sustained positive experience. Watch the following video to learn more about the benefits of customer engagement for business growth:
With 38% in 2023, increased engagement is the fourth benefit leaders see getting from a successful personalization strategy.
Customer engagement comes from a series of successful experiences. In fact, personalization is what's missing in the customer engagement strategy of many brands.
Watch the following video to learn more about the benefits of personalization in your customer engagement strategy.
Because of this, many brands invest in delivering a superior customer experience so that they can increase different engagement metrics.
I noticed that the top benefit has changed from the previous year. Last year, increased customer retention ranked as the top benefit, but now improved CX is the top benefit.
¿Por qué?
Because retention is also related to customer experience. However, there is a strong market shift in terms of companies trying to improve CX as a competitive advantage.
Remember, more and more consumers, especially younger generations, value CX more than even a strong brand.
Additionally, there is a notable increase in the number of marketers reporting revenue growth and a decline in those emphasizing increased brand awareness.
Here is a comparison table of the benefits obtained through personalization in 2022 versus 2023:
| Benefits | 2023 | 2022 |
| --- | --- | --- |
| Improved Customer Experience | 51% | 43% |
| Increased Customer Retention | 50% | 49% |
| Increased Revenue | 50% | 41% |
| Increased Engagement | 38% | 43% |
| Increased Conversions | 28% | 26% |
| Increased Brand Awareness | 26% | 36% |
| Sales and Marketing Alignment | 14% | 22% |
The Data Dilemma: Only 25% of Marketers Access Personalization Potential
Despite the potential of personalization, only a quarter (25%) of marketers feel they have sufficient access to all the data needed to improve marketing personalization.
Almost half (49%) somewhat agree with this sentiment, highlighting the presence of data silos and restricted access to customer information as significant challenges.
This brings two thoughts to my mind.
To fully leverage personalization, businesses must address these data-related barriers and work towards creating a seamless and comprehensive data ecosystem. Nothing fancy is needed here, though. Simply a structured way to gather customer data across the main digital channels you use to interact with leads and customers. For many, marketing automation software or a CRM is more than enough.
More companies have access to more information than they think. However, they don't gather and format this information in a way that can be used across their different marketing channels.
Watch the following two videos to learn how to overcome these two data challenges when creating personalized content.
This video focuses on how to gather and use data to provide personalized interactions across the customer journey:
This video will help you create personalized messages based on your customer's context and personas compradoras:
En mi experiencia, personalization in marketing requires a creative effort. It's not just about the data. The content related to customer data is very important.
This content and the way it is presented should capture the customer's attention and provide positive experiences that assist them in a specific process.
Otherwise, sooner than later, even your personalized messages will be ignored.
This is one of the reasons why personalized videos are proven to be effective in personalized marketing strategies.
Video is the type of content we all pay attention to. When you personalize them, you make them relevant to the unique viewer's context.
As a result, viewers not only pay attention but also take action.
Is Budget a Real Challenge? Why Personalization Strategies Fall Short
While the survey indicates that budget and resources remain significant challenges for marketers (43%), it is essential to recognize the underlying issues that affect personalization success.
There is a recurring challenge I've seen over and over while helping customers in their personalized video marketing strategies.
And this comes after directly talking to hundreds of marketers in managerial and C-level positions across the globe. Plus, our own surveys and sales data from the last six years.
What we've seen is that a lack of strategy and experience in this field can hinder organizations from capitalizing on personalization's full potential.
When you go deeper into the conversations with decision-makers and their marketing, sales, or CX teams, these are the key challenges companies face.
¿Por qué?
Generally speaking, almost every company out there has access to the same type of personalized marketing software. At least in terms of core functionality.
However, the majority of marketers do not have real-life experience in executing and optimizing personalization strategies across the customer journey.
Personalization is often seen as just a fancy way to impress clients, instead of being recognized as an important part of creating a relevant experience that keeps customers engaged and supports business objectives.
And this is a mistake. Personalization in marketing has serious implications for the effectiveness of your marketing, sales, and CX.
For instance, companies that do it well are about 20% more profitable than their competitors.
A robust strategy, clear goals, and an aligned team are vital components that transcend budget allocation and ensure the effective implementation of personalized marketing.
This is why we walk with our clients so that they can leverage our expertise in personalized marketing to win in their personalized video strategies.
Most Utilized Data for Personalization
46% of respondents reported that interactions with customer service and email activity are the most commonly used data points for personalization.
Understanding individual interests is also a top priority.
This is, in my opinion, a good sign.
As I usually say, modern marketing is a conversation. The best conversations are context-rich.
However, brands need to be able to gather, structure, and use this contextual information in personalized messages and interactions.
Also, this highlights the importance of customer engagement metrics and the need to tailor marketing efforts based on real-time customer interactions.
Personalization's Digital Domination: Email and Websites Lead the Way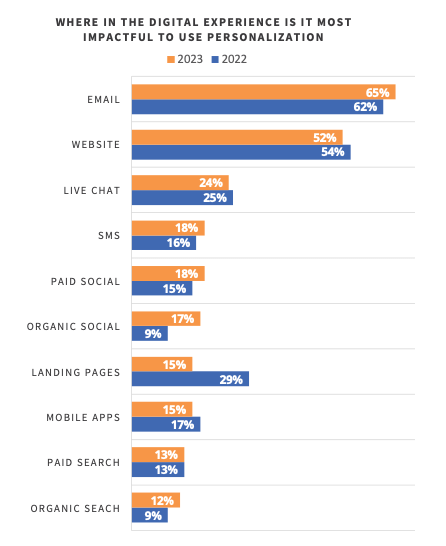 Marketers continue to find personalized customer experiences in emails (65%) and websites (52%) to be the most impactful uses of personalization in the digital space.
This also confirms what we see among our clients.
The majority of them send personalized videos by email to boost click-through rates and engagement.
They use Pirsonal's software para crear videos personalizados.
However, landing pages have seen a decline in significance, while organic social has grown in impact compared to the previous year.
And I wonder why?
Most marketing and CX professionals I talk to don't have access to their organization's CRM or marketing automation software.
So, implementing personalization in landing pages for a particular campaign, funnel, or initiative, requires help from a specific peer in charge of this area.
As a result, this dependency becomes a blocker.
esta es una de las razones del porque Pirsonal software automatically creates personalized landing pages.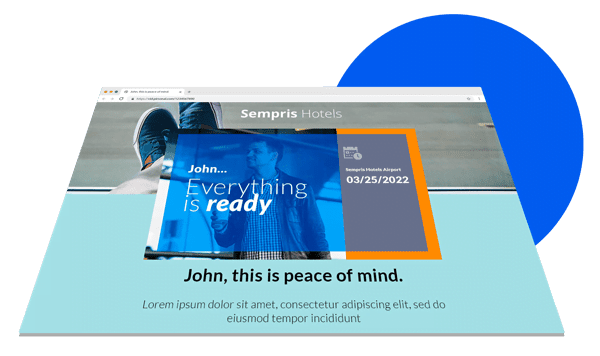 Most of our customers create them without IT or specialized help to simply skip the corporate bottleneck.
This shift indicates the evolving preferences of consumers and the need to adapt personalization strategies accordingly.
Watch the following video to learn more about how to create personalized emails that help you increase email click-through rates (CTR):
The Role of Technology
One of the most crucial factors affecting personalization success is the role of marketing technology (martech).
Surprisingly, only 19% of marketers strongly agree that their marketing technology enables compelling personalized experiences.
As personalization relies heavily on martech, businesses must invest in the right tools and platforms to enhance the efficiency and effectiveness of their personalized campaigns.
The trend is that most marketing tools allow some kind of personalization.
What we see is that the majority of marketers need the tools they use and love to speak to each other.
But many tools do not provide yet that type of flexibility.
By connecting your marketing tools, you can automate personalized messages and interactions. This allows you to scale a customer-centric approach, making your marketing more relevant.
This is one of the reasons why marketers love Pirsonal.
Our personalized video platform seamlessly integrates with any digital workflow, whether you need to create personalized videos from spreadsheets, synchronize with multiple platforms (Zapier, HubSpot, Salesforce, etc.), or even establish customized connections through our powerful API.
Conclusión
The "Trends in Marketing Personalization 2023" survey provides valuable insights into the current state of personalization in the business world. To access the full survey summary and report, click here.
While many businesses have experienced some level of success with personalization, there is ample room for improvement.
Understanding customer behavior, optimizing data accessibility, and addressing underlying challenges beyond budget constraints are critical for realizing the true potential of personalization.
Businesses can strengthen customer relationships and increase revenue by prioritizing personalization and effectively using technology.
This is crucial in a competitive market full of distracted audiences.
Many marketers are trying to start personalization, for instance, with video as it is the most effective content. They've realized the key benefits of their marketing and the way they engage with their audiences.
But most of them don't know where to start.
Therefore, at Pirsonal we help them leverage data-driven video marketing as a powerful tool to help their distracted customers pay attention and take action through highly tailored videos that they can't ignore.
We'll be happy to help you and your team.
Contáctanos ahora to discuss your current situation, goals, and needs. We will provide recommendations, best practices, and examples tailored to your needs.
FAQs
What is the main benefit of marketing personalization in 2023? In 2023, the most significant advantage of marketing personalization is improving the customer experience, as reported by 51% of marketers.
What are the challenges faced by businesses in implementing personalization? The main challenges reported in the survey are limited access to data for personalization (25%) and managing the budget and resources for effective execution (as reported by marketers). However, our direct experience in the field shows that lack of expertise is the challenge.
Which data points are most utilized for personalization efforts? Interactions with customer service and email activity are the most commonly used data points for personalization, as indicated by 46% of respondents. The most customer data used is the customer's first name.
What areas are considered the most impactful for personalization? Marketers find personalized customer experiences in emails and websites to be the most impactful uses of personalization in the digital space.
What role does technology play in successful personalization? Technology plays a critical role in supporting personalization efforts, but only 19% of marketers strongly agree that their marketing technology allows for compelling personalized experiences.